'A Rational Response': For Black Americans, Proximity to Coronavirus Deaths Heightens Levels of Concern
19% of Black adults say they know someone who died of COVID-19, 8 points more than the share of whites who say the same
Key Takeaways
56% of Black adults say they're "very concerned" about COVID-19, compared to 37% of white respondents.

Black adults are 8 points more likely than white adults to have a family member outside their household that has been infected with the coronavirus.

18% of Black adults say they have acquaintances that have gotten COVID-19, and 10% of those people have died from the disease, for a fatality rate of 56%.
The data in this article is drawn from a poll of 2,000 Black adults, gauging attitudes on a variety of social, political and economic issues.
Since the coronavirus took hold in the United States in February, no population has been spared from its devastation, with people of all races, ages, income brackets and geographic areas affected by the pandemic. But while strong majorities across all demographics say they're worried about COVID-19, no group has expressed more pronounced concerns than Black Americans, according to recent Morning Consult polling.
In a June 18-26 survey conducted among 2,000 Black adults, 84 percent said they were "very" or "somewhat" concerned about the pandemic, compared to 75 percent of white adults who said the same in a separate, 2,200-person poll. Black adults, at 56 percent, were also 19 percentage points more likely than white adults to say they're "very concerned" about the virus. Both samples have a 2-point margin of error.
The explanation for such a stark gap appears simple: Black adults were also more likely than other groups to report having seen coronavirus infections and deaths in their families, the data shows. 
Respondents were asked who in their lives have been infected with or died from COVID-19. While the responses among Black and white respondents were within the margin of error when it came to co-workers and members of their households who had fallen ill or died, family members living in a different household were a notable exception.
Eighteen percent of Black adults said a relative living outside their home has been infected with the coronavirus, compared to 10 percent of white respondents who said the same. And though the gap is small -- yet still statistically significant -- Black adults, at 8 percent, were twice as likely as whites to say that a family member in a different household had died of the virus. 
To avoid double-counting respondents who knew more than one person across categories, Morning Consult also tallied unique responses to gauge overall rates of Black and white adults who knew someone who was infected with or died from COVID-19. Black adults were 3 points more likely than whites to know someone who had the coronavirus, but 8 points more likely to know someone who died of the disease.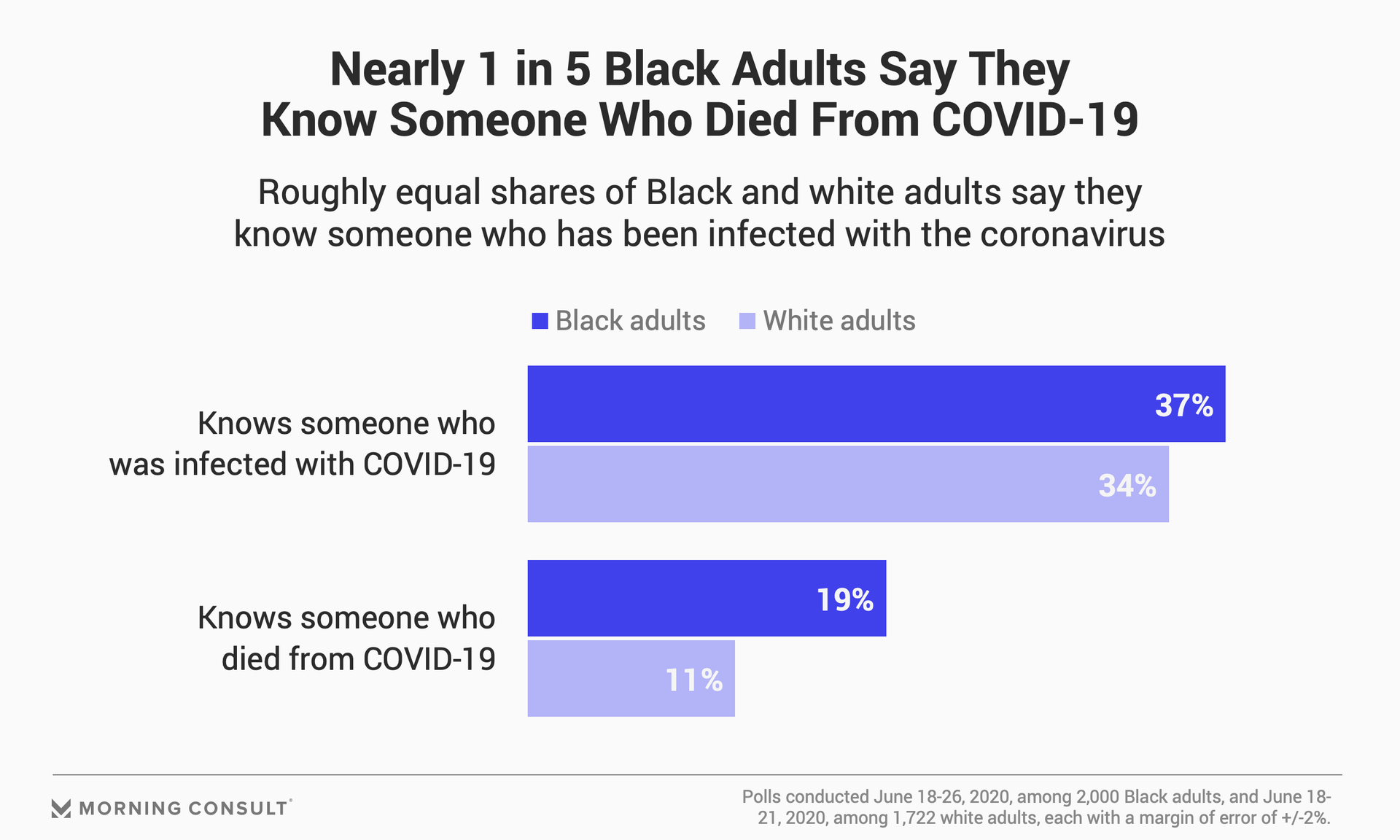 Dayna Bowen Matthew, dean of the George Washington University School of Law and the author of "Just Medicine: A Cure for Racial Inequality in American Health Care," has attended two virtual funerals for family members who died of COVID-19 complications. As a Black woman who has devoted her career to studying racial disparities in health care, Matthew sees the data on levels of concern as "a rational response" from a community highly skeptical that proper support will be directed their way.
"Health care is less accessible in the Black community. Testing has not been directed to the Black community," Matthew said. "And we haven't made a decision to prioritize the Black community with respect to their exposure. So, access to the resources that are needed to address our disproportionate exposure to COVID are not available to us."
Nearly 2 in 5 U.S. adults said they have an acquaintance in their life who has been infected with the coronavirus, including 18 percent of Black adults and 22 percent of whites. But the difference in outcome for those acquaintances speaks directly to the disparities between Black and white Americans: 10 percent of Black respondents said they had acquaintances with COVID-19 who had died from the virus, compared to 7 percent of white respondents who said the same thing.
In other words, 56 percent of Black adults with an acquaintance who contracted COVID-19 said that person had fatal coronavirus outcomes, while white adults said the death rate for their infected acquaintances was 32 percent. 
Access to the resources that are needed to address our disproportionate exposure to COVID are not available to us.
Dayna Bowen Matthew, dean of the George Washington University School of Law and the author of "Just Medicine: A Cure for Racial Inequality in American Health Care"
To Tanjala Purnell, an assistant professor of surgery at the Johns Hopkins University School of Medicine, the numbers reveal how "structural and systemic factors that are so ingrained in society as a whole" have led to Black Americans being more adversely affected by the pandemic. 
"This is literally a group of people who are not being adequately protected by society," said Purnell, who also holds joint faculty appointments in the Johns Hopkins Bloomberg School of Public Health's departments of epidemiology and health behavior and society. "It means that this is a group of people that society should have been taking better care of before now and needs to do an even better job now, so that we can see real change in the future."
Some experts say survey results and previously reported data come short of capturing the starkest levels of inequity exacerbated by COVID-19. Sarah Reber, a David M. Rubenstein fellow in economic studies at the Brookings Institution, co-authored a study, released last month, that analyzed CDC data and found racial gaps in fatal coronavirus infections to be even more substantial than initial reports suggested. 
The Brookings study found that across all age brackets, Black people have comparable death rates to white people at least a decade older. The most significant example Reber and her colleagues found concerning racial inequity was in those ages 45-54, where the death rates for Blacks and Hispanics were at least six times greater than their white counterparts. Given those disparate outcomes, Reber said it was not surprising to her that Black adults expressed much higher levels of concern about COVID-19.
The data indicates "that infection rates are higher among Blacks than among whites, and that makes sense given occupational distributions and things like that," Reber said. "I think longer-term, if you want to make real progress on these kinds of issues, we have to address these deeper inequalities related to systemic racism and housing and education."
So far, the chasm between Black and white adults over fatalities, infection rates and serious COVID-19 concerns hasn't led to any notable differences in testing. Just 8 percent of white adults and 9 percent of Black adults in the Morning Consult polls say they have taken a diagnostic test, while 4 percent of the former group and 6 percent of the latter have submitted to an antibody test. 
Purnell posits that the lack of differentiation between Black and white adults in testing rates points back to issues of structural and systemic racism. She noted that while coronavirus tests have become more ubiquitous over the past few months, accessibility remains a serious problem in many majority-Black communities for a variety of reasons. 
"For example, here in Baltimore, in my city, the average Black adult may not drive a car, or even in D.C." and other metropolitan areas that rely "a lot more on public transportation," Purnell said. 
"There are real barriers in some of these urban communities."
Until those barriers are dismantled, Matthew sees no reason that Black Americans' "justifiable distrust" in society's leaders and institutions would subside, ensuring that concern over the pandemic remains at elevated rates. But the growing national dialogue around systemic racism and acknowledgment of racial health disparities laid bare by the coronavirus also lead Matthew to see this as "a very hopeful moment." 
"We are all suffering as a result of the structural inequality that has disproportionately affected the Black community, from a morbidity and mortality perspective," Matthew said. "The insight I would like to add to the numbers you have found are one: It's a legally constructed divide; and two: The answer is to deconstruct it legally. And it can be done."
Matt Bracken previously worked at Morning Consult as a senior editor of energy, finance, health and tech.
We want to hear from you. Reach out to this author or your Morning Consult team with any questions or comments.
Contact Us