As COVID-19 Cases Surge, Most Americans OK With Sports' Use of Testing Resources
About 3 in 4 U.S. adults say it's OK to use testing resources to facilitate the return of sports
Some public health experts have expressed concern in recent weeks that professional sports properties' constant testing of players for coronavirus could be putting additional strain on an already overburdened system, but a majority of the public says it is OK with leagues using testing resources to facilitate their returns to play.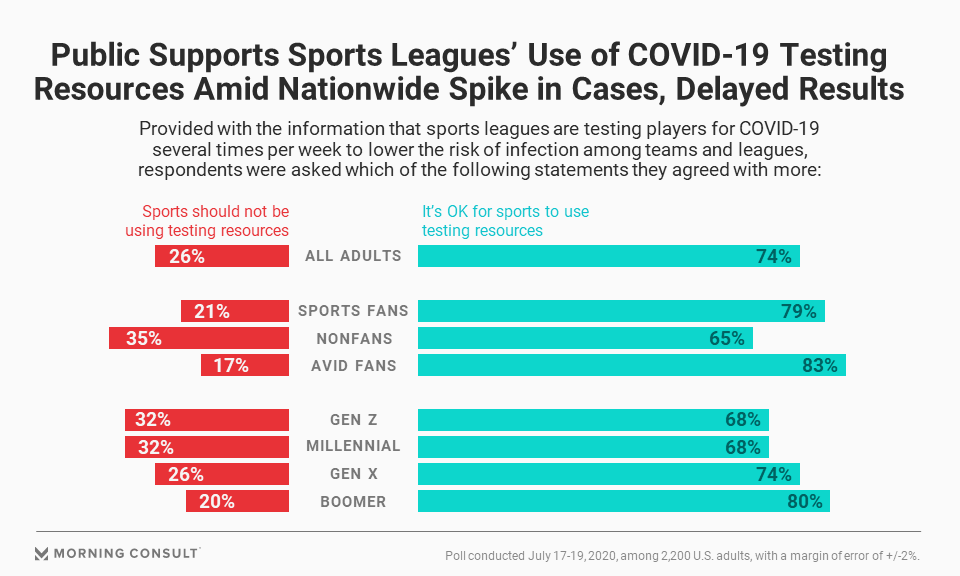 In a Morning Consult poll, 2,200 U.S. adults were informed that sports leagues such as MLS, MLB, and the NBA are testing players for COVID-19 several times per week to lower the risk of infection as they return to play amid the pandemic. With that understanding, 74 percent of respondents agreed it is alright for leagues to utilize testing resources in order to get back on the field or court. The remaining 26 percent said sports organizations should not be using testing resources to that extent.
Testing for coronavirus in the United States has ramped up in recent months, with many patients across the country reporting lengthy delays in receiving their results.
Although it's not clear if and to what extent pro leagues' constant testing is putting a strain on the country's testing infrastructure, Dr. Jean-Claude Tardif, Director of the Research Centre at the Montréal Heart Institute, pointed to several issues stemming from widespread testing delays. Tardif, who is helping to facilitate a global clinical trial of colchicine as a potential treatment for COVID-19, said that in addition to making it difficult to conduct effective contact tracing, extended wait times are a burden on research efforts like his that are seeking a preventive treatment for the virus.
He added that even in the case of a negative result, delayed results keep people in quarantine unnecessarily, away from their jobs and their families.
MLB, which opened its 60-game season on Thursday, tested 21,701 samples between the start of intake screening on June 27 and July 16, just prior to the start of preseason games. Players and other essential personnel will be tested every other day throughout the regular season, which is scheduled to end Sept. 27. The number of active teams will then decrease from 30 to 10, lowering the number of tests needed. Unlike its soccer and basketball counterparts, which have sequestered themselves in a single location, MLB teams will travel between cities to play games. 
Based on MLS' regular updates on COVID-19 testing leading up to and during its return-to-play tournament, Morning Consult estimates it has conducted more than 13,000 tests since early June. Since being forced to drop two teams from the competition due to outbreaks, the league's bubble in the coronavirus hotbed of Florida has held firm. The event at Walt Disney World Resort runs through Aug. 11, though the number of teams has begun to shrink from 24 as the tournament moves past the group stage.
The NBA, which is also in isolation at Disney ahead of its regular-season restart on July 30, has conducted more than 2,000 tests on players and staff from the 22 participating teams since June 23, according to the league's periodic updates. The NBA Finals are expected to run through mid-October.
But estimates on the number of tests that pro leagues are using vary: USA Today estimated MLS, MLB and the NBA are using a combined 19,000 tests per week. For context, the U.S. conducted a record of more than 827,000 tests in one day on July 16, according to the COVID Tracking Project from The Atlantic.
The NWSL is near the conclusion of its own Challenge Cup event, which has involved regular testing, and the WNBA has also been testing its athletes for the better part of a month ahead of its tipoff at a single location in Bradenton, Fla., on Saturday.
The NHL has taken a different approach, opting to take its 24 playoff teams to Canada, which has been more effective in suppressing the spread of COVID-19 than the United States. The league was reportedly planning on making Las Vegas one of its two hub cities for the postseason, but ended up going with Toronto and Edmonton based on the worsening health situation in the United States.
Alex Silverman previously worked at Morning Consult as a reporter covering the business of sports.
We want to hear from you. Reach out to this author or your Morning Consult team with any questions or comments.
Contact Us