Over 2 in 5 Voters Believe $75,000 Is the Right Income Cutoff for Stimulus Payments
Just over a quarter said the threshold should be lowered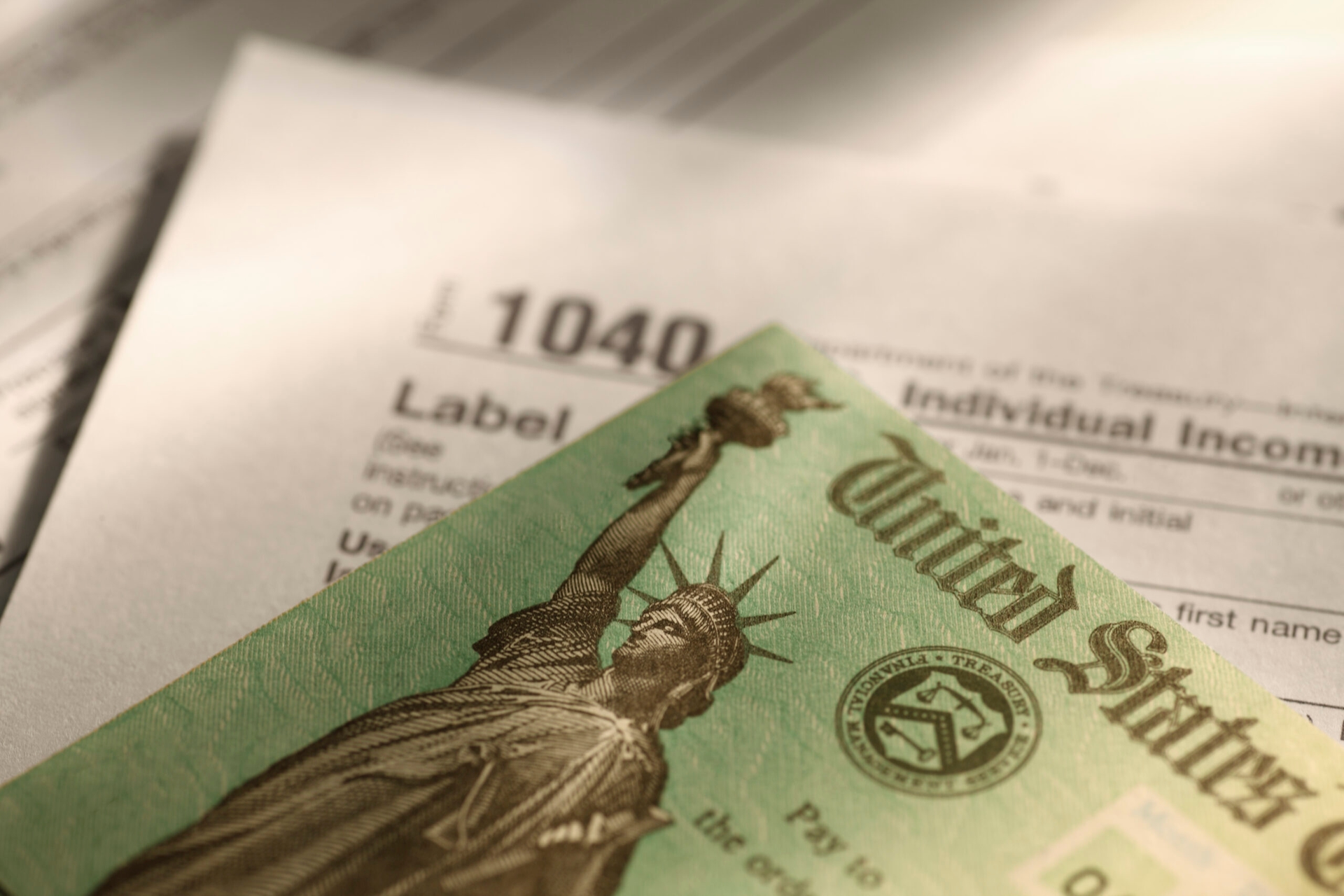 Key Takeaways
44% said the current income threshold of $75,000 for Americans to receive full direct payments should remain unchanged in coronavirus stimulus bills.

72% of voters said they support the $1.9 trillion stimulus plan, which includes the $75,000 threshold.
More direct stimulus payments could be coming soon, as policymakers assemble the next economic relief package. The debate about who should receive those payments is still up in the air, but a new survey indicates many voters are on board with the Biden administration's proposed income threshold for stimulus checks.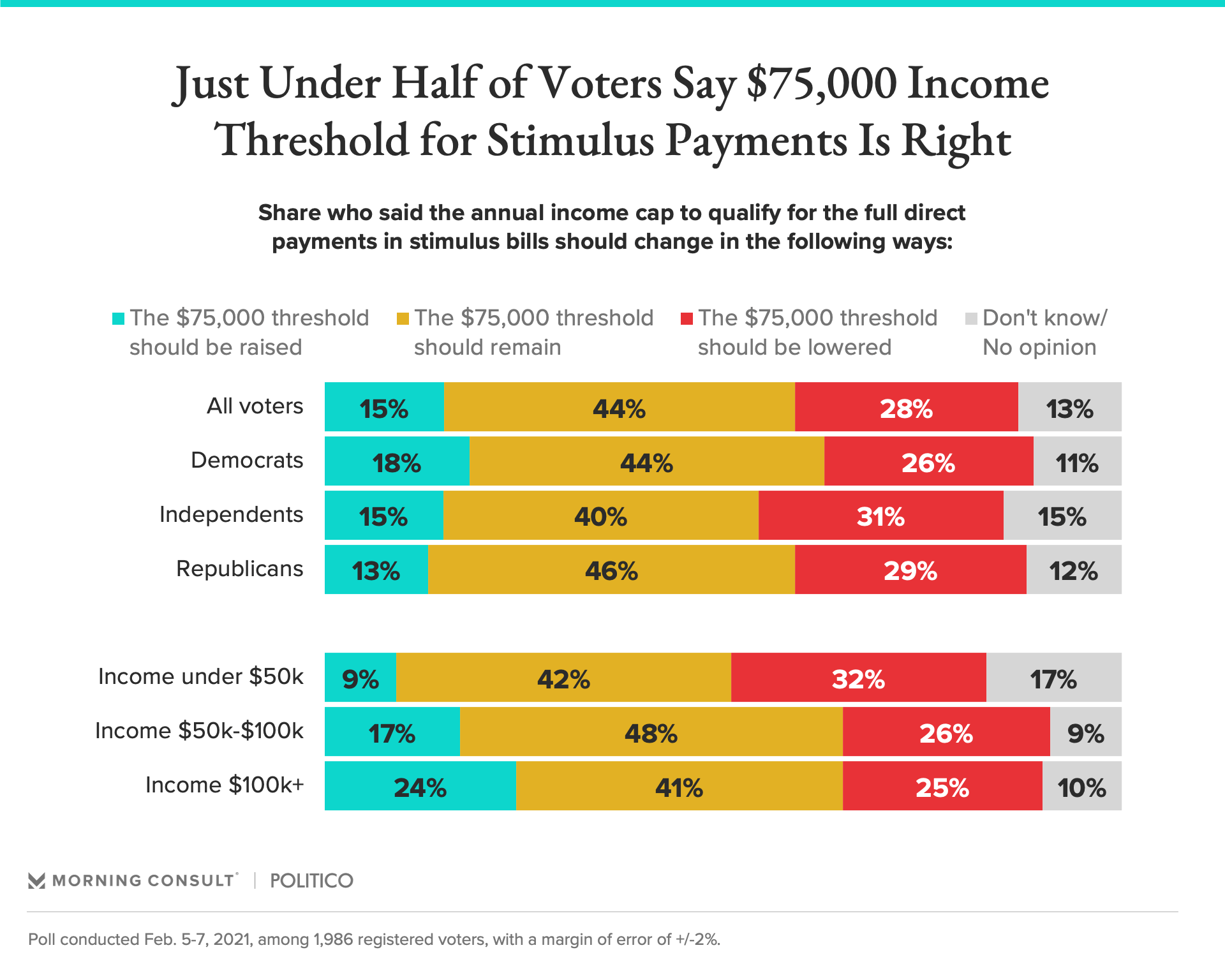 Nearly half of voters (44 percent) say that the current income threshold set in President Joe Biden's $1.9 trillion stimulus proposal -- $75,000 a year for a single person -- should remain the same in future stimulus bills, according to the Morning Consult/Politico poll. 
Twenty-eight percent said the threshold should be lowered so that only lower-income Americans receive the proposed full payment of $1,400 per person. Some policymakers, including moderate Democrats such as Sen. Joe Manchin (D-W.Va.), have pushed the Biden administration and other Democratic lawmakers to consider the idea of lowering that cap to $50,000 for individuals. 
Fifteen percent said it should be raised so that more Americans receive the stimulus payments. 
Despite disagreements between Democratic and Republican lawmakers about the income threshold for stimulus payments, voters in both parties expressed roughly the same amount of support for the $75,000 cap as the overall electorate. Forty-four percent of Democrats said that threshold should remain, and 46 percent of Republicans said the same.
The bigger differences occurred between income groups. Of those who make less than $50,000 annually, 9 percent said the $75,000 cap should be raised, compared to 17 percent of middle-income earners ($50,000 to $100,000) and 24 percent among those who earn more than $100,000. 
Overall, Biden's economic stimulus proposal remains popular among voters, with 72 percent saying they strongly or somewhat support the plan, which includes the direct payments, $350 billion in emergency funding for state and local governments, education funding to help universities and K-12 schools reopen and an extension for increased unemployment benefits. Twenty-one percent said they somewhat or strongly oppose the plan. 
Overwhelmingly, Democrats back the plan at 87 percent. And more than half of Republicans (58 percent) said the same.
A plan presented by GOP lawmakers, which calls for $1,000 in direct payments to Americans making less than $40,000 per year as part of a $618 billion aid package, has the support of 63 percent of voters, including 64 percent of Democrats and 63 percent of Republicans.
The survey was conducted Feb. 5-7 among 1,986 registered voters and has a margin of error of 2 percentage points.
Claire Williams previously worked at Morning Consult as a reporter covering finances.
We want to hear from you. Reach out to this author or your Morning Consult team with any questions or comments.
Contact Us