Mandatory COVID-19 Testing for Students Has Broad Support; Over Half Would Back Requiring Vaccinations
Sentiment for the measures among parents nearly matched that of the broader public
Key Takeaways
73% of U.S. adults and parents said students should be required to undergo coronavirus testing before returning to schools or colleges.

53% of adults and 52% of parents say students should be required to receive a COVID-19 vaccination if one is approved by the FDA in the academic year.

Nearly identical shares supported the same measures for employees to enter their workplace.
The coronavirus pandemic has put into question whether education, government and health officials can guarantee a safe return to school for students. 
In July, the Centers for Disease Control and Prevention issued guidance for K-12 schools on COVID-19 symptom screening for reopening schools, in which the CDC said it "does not currently recommend universal symptom screenings (screening all students grades K-12) be conducted by schools." But as more schools prepare to reopen for the academic year, a new Morning Consult poll shows that a large portion of the public supports mandatory tests for all students.
In the Aug. 9-11 survey, 73 percent of adults said COVID-19 testing should be required for students before they return to schools or colleges, compared with 16 percent who opposed mandated testing. An identical share of parents said they also backed mandatory testing, while 18 percent said it should not be required.
The survey was conducted among 2,200 U.S. adults and has a margin of error of 2 percentage points. The subsample of 1,027 parents has a 3-point margin of error.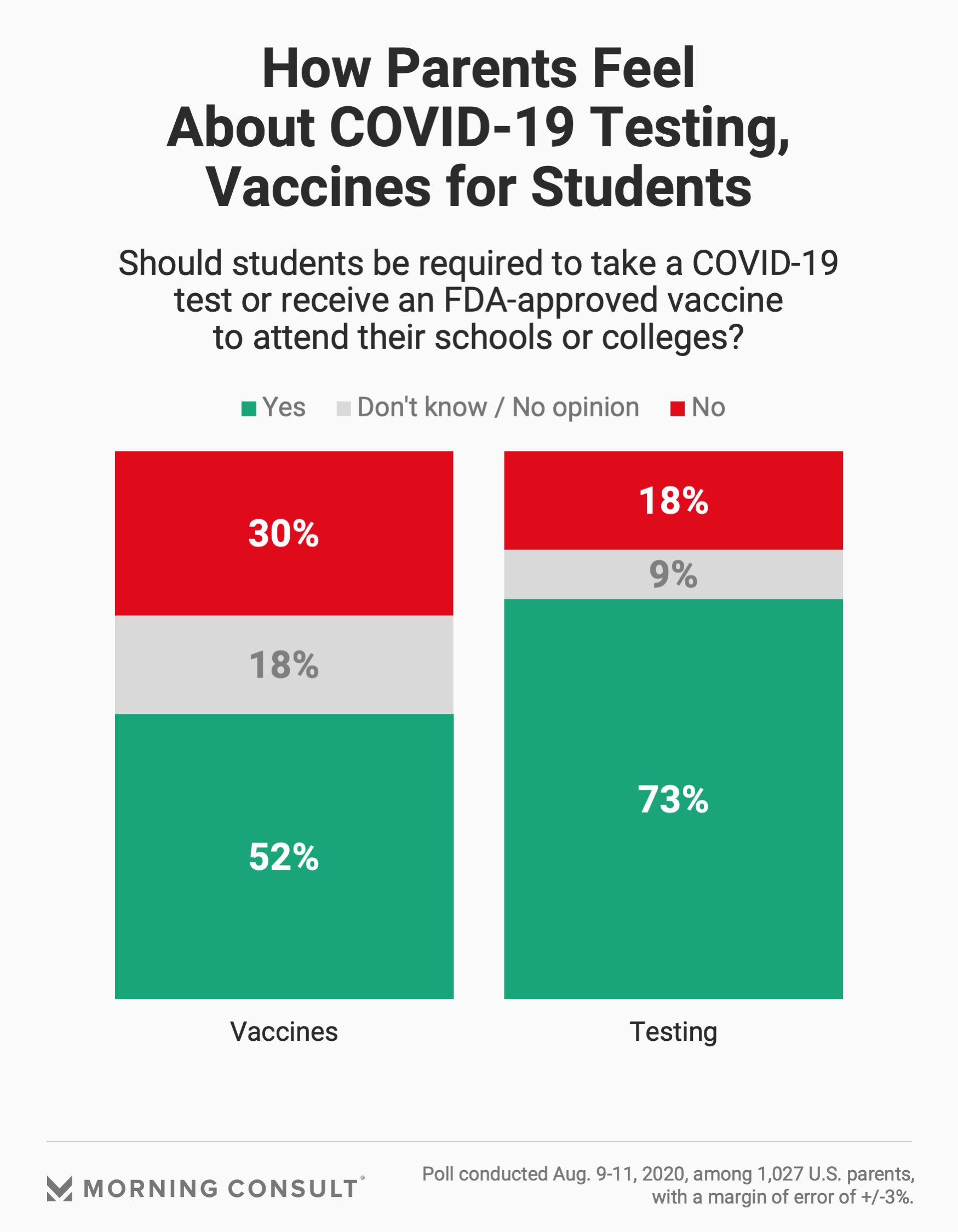 Some schools have already reopened this month, and in some instances, photos circulated widely on social media have shown crowded hallways with few students wearing face masks. More than 900 students and faculty members in one Georgia county district have been told to quarantine shortly after their schools reopened, according to a New York Times report.
One prospect for ending the pandemic and allowing students, employees and the public to return to normal has been vaccines, with several pharmaceutical and biotech companies currently testing their candidates in clinical trials and U.S. health officials aiming for an approved vaccine by the end of this year or early 2021. Health officials have stressed that mass inoculation would be necessary to control the spread of the coronavirus, but the new survey indicates that only about half of the public would be on board with requiring vaccines for school attendance.
Just over half of adults (53 percent) said students should be required to receive a Food and Drug Administration-approved coronavirus vaccine in order to attend school or college this academic year versus 27 percent who said a vaccine shouldn't be mandated. Parents shared a similar sentiment, with 52 percent saying yes to a vaccine requirement and 30 percent saying no.
In addition to their feelings on students, adults were also asked about testing and vaccine requirements for employees returning to their workplaces. The public had nearly identical sentiments about the testing mandates for workers as they did for students, with an equal share (73 percent) supporting required COVID-19 testing for employees and 17 percent objecting. The same could be said about mandatory vaccinations, with 53 percent of adults saying coronavirus vaccines should be required for employees to enter their workplace and 28 percent opposing such a measure.
The first chart in this story was updated to correct a visual misrepresentation of Democratic support for testing and vaccines.
Brian Yermal is a research editor on the Industry Intelligence team, where he edits the team's email newsletters, written analysis and reports. Brian previously worked as a copy editor at the Altoona Mirror newspaper in central Pennsylvania. He graduated from Penn State University with a bachelor's degree in journalism.
We want to hear from you. Reach out to this author or your Morning Consult team with any questions or comments.
Contact Us