Many GOP Voters Hold Strong Views on Critical Race Theory. Democrats? Not So Much
Open-end test reveals conservative messaging on the topic has found its target audience
Key Takeaways
30% of GOP voters said they've seen, read or heard a lot about critical race theory, compared with 21% of Democrats.

48% of GOP voters view critical race theory negatively, including 42% who do so strongly.

32% say critical race theory should be taught in schools; 36% disagree.
Amid a spike in attention from conservative media outlets and leaders on the right regarding critical race theory, a new Morning Consult/Politico survey finds discussion of the topic resonating more deeply with Republican voters than their Democratic counterparts. 
In turn, Republicans in the electorate have sharper views about the concept – as revealed by an analysis of open-ended responses among those who reported the highest level of awareness.
According to the June 18-20 survey, 3 in 10 Republicans said they'd seen, read or heard "a lot" about critical race theory, compared with 21 percent of Democrats. The skew toward Republican consumption ranked among the largest of roughly 200 other news events and topics tested so far this year, placing it alongside other issues of interest to conservatives such as immigration, increasing gas prices and the Dr. Seuss controversy.
The academic and legal theory, which The New Yorker detailed was elevated last summer by conservative activist Christopher Rufo, has gained prominence on the right over the past year. It is central to Washington's debate over police reform and other issues of equity in American life that were brought to the forefront during the nationwide Black Lives Matter demonstrations that followed the police murder of George Floyd last year.
A key tenet of critical race theory is that racism is systemic, with deep roots in America that go back to its founding and the embrace of slavery until after the Civil War. The idea seeks to force white Americans in particular to face tough questions about their own actions and those of their ancestors.
Republicans such as Sen. Ted Cruz (R-Texas) have said that the subject is meant to "turn us against each other" under the idea that America is "fundamentally" and "irredeemably racist." That sentiment was a common one among Republican voters who reported being well-informed on the topic, but was also shared by a sizable chunk of self-described independents – a sign that high-level GOP messaging has broken through to a number of voters.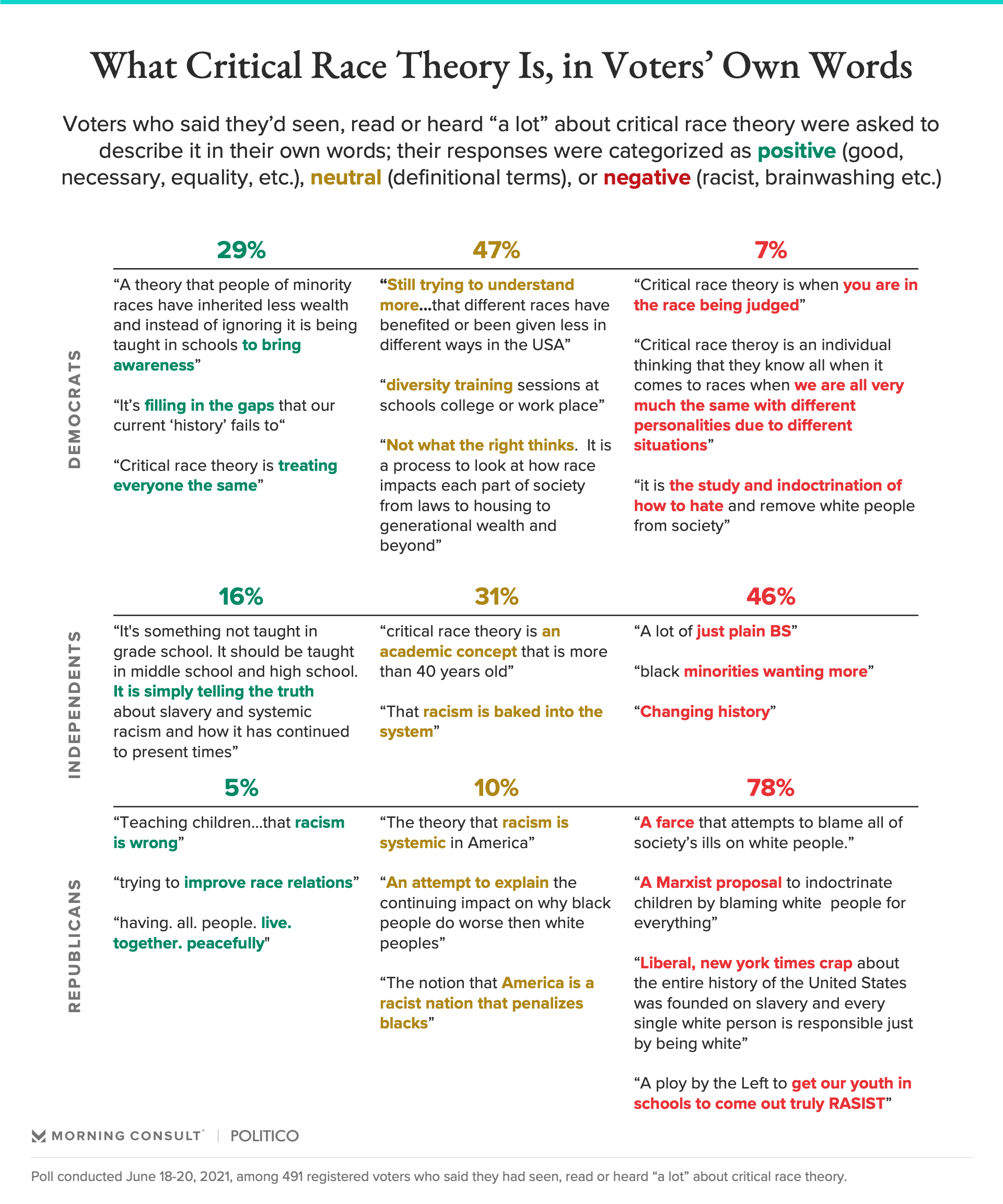 The poll asked those who said they'd seen, read or heard "a lot" about critical race theory to describe it in their own words. Among informed Republican respondents, nearly 4 in 5 expressed negative sentiment, with one calling the theory a means to make white "people feel guilty about being white" and another saying it is a "way to villainize one race over another with twisted history."
The largest share of informed independent voters (46 percent) described critical race theory using negative terms, such as "BS" or "anti-white racism," compared with just 7 percent of Democrats, one of whom characterized the idea as trying "to combat racism by being racist against whites."
About half of Democrats who said they were informed on the subject expressed neutral views, with less combative language describing the "history of racism in America" or "a movement of civil-rights."
Among those informed voters with positive views on the subject, there was talk of telling the "truth" or having "serious" conversations. Another talked about how she has been talking to her children about the issues for a while now.
"Teaching how [A]merica favors whites although a lot are unaware that we have systemic racism," wrote one Democrat in describing critical race theory. "As a middle age[d] white woman I want you to know I have been teaching my kids that all of their lives."
Along with the open-ended test, the quantitative part of the survey found a similar strength in responses among the larger Republican electorate and weaker views among Democrats and independents.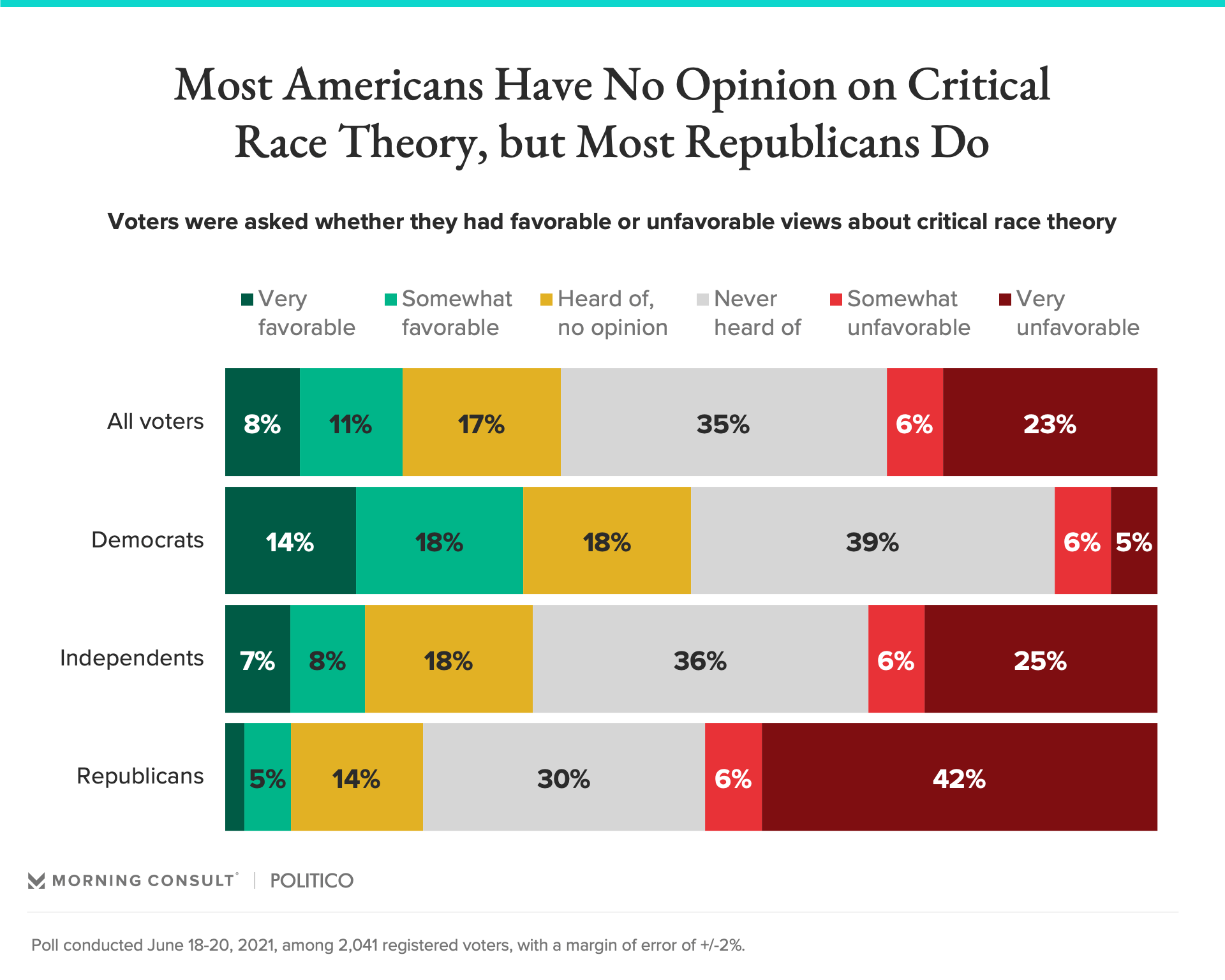 A third of Democrats (32 percent) said they had favorable views of critical race theory, including 14 percent who said they favor it strongly. Among Republicans, 48 percent view it negatively, and all but 6 percent hold that view strongly.
Asked about the issue more broadly, the survey found that the bulk of the electorate is largely unsure whether critical race theory is a positive or negative thing for society, with a key exception among Republican voters.
But voters overall lean slightly against it being taught in K-12 schools, the subject of an outcry among some state Republican officials. Nationally, 36 percent say it should not be part of the curriculum and 32 percent say it should be included.
Eli Yokley is Morning Consult's U.S. politics analyst. Eli joined Morning Consult in 2016 from Roll Call, where he reported on House and Senate campaigns after five years of covering state-level politics in the Show Me State while studying at the University of Missouri in Columbia, including contributions to The New York Times, Politico and The Daily Beast. Follow him on Twitter @eyokley. Interested in connecting with Eli to discuss his analysis or for a media engagement or speaking opportunity? Email [email protected].
We want to hear from you. Reach out to this author or your Morning Consult team with any questions or comments.
Contact Us