Twin Scandals Have Nearly Erased Cuomo's Pandemic-Driven Popularity Gains
Nursing home deaths, sexual harassment allegations drag down New York governor's popularity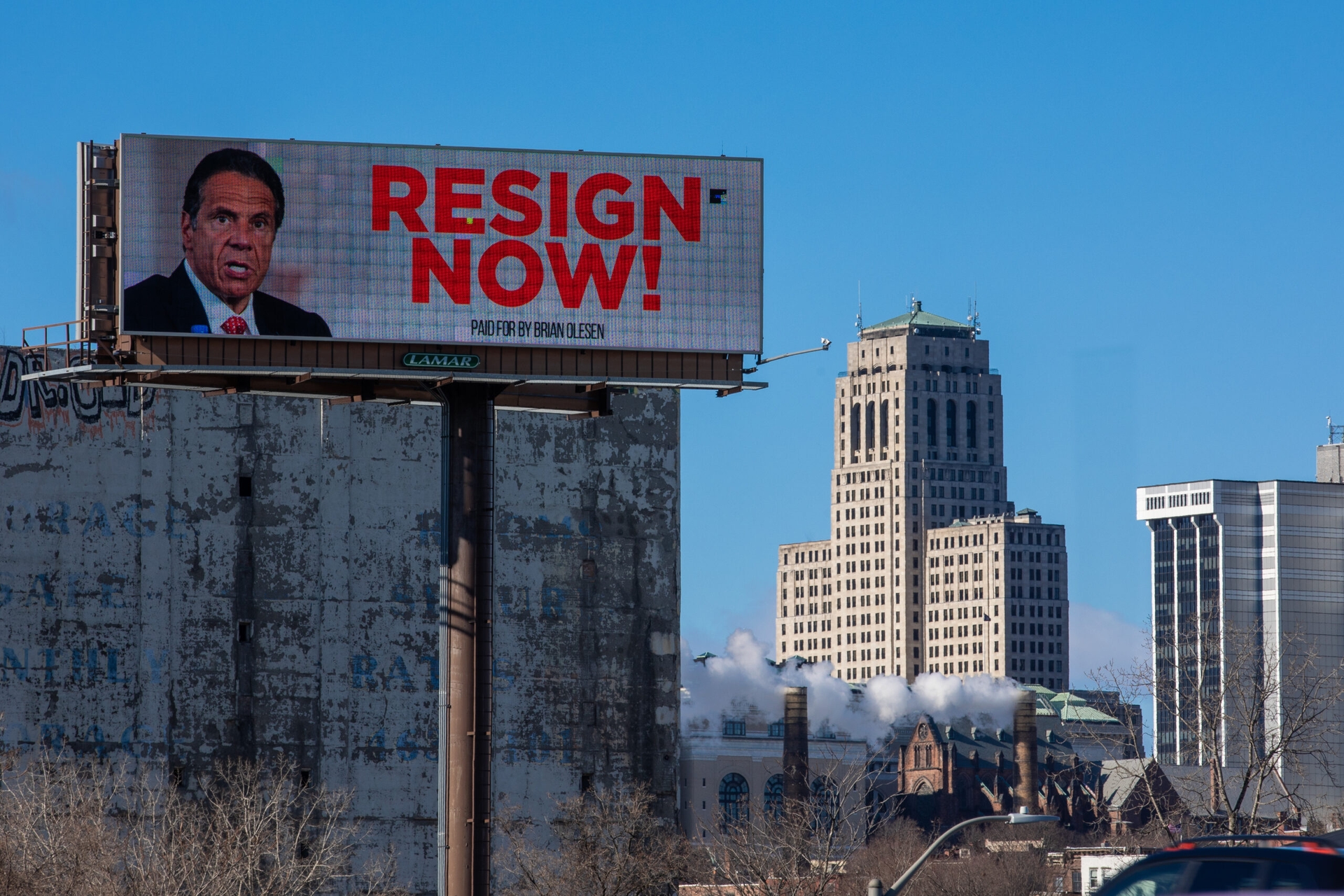 Key Takeaways
Gov. Andrew Cuomo's approval rating is down 11 points, to 52%, since the nursing home scandal broke.

73% of New York Democrats approve of Cuomo's job performance, down 7 points since the Feb. 24 harassment allegation, and down 13 points since a Jan. 28 nursing home report.

The Democrat is still more popular than he was a year ago, and his standing is roughly in line with early 2019 levels.
The weight of two scandals is threatening to wipe away the popularity New York Gov. Andrew Cuomo has gained during the course of the coronavirus pandemic. 
Since late January, when a scandal emerged involving his administration's alleged underreporting of COVID-19 nursing home deaths, the share of New York voters who approve of Cuomo's job performance has fallen 11 percentage points, to 52 percent, according to Morning Consult Political Intelligence tracking. Most of that movement preceded Feb. 24, when former Cuomo aide Lindsey Boylan's allegation of sexual harassment prompted more women to speak out against the third-term governor.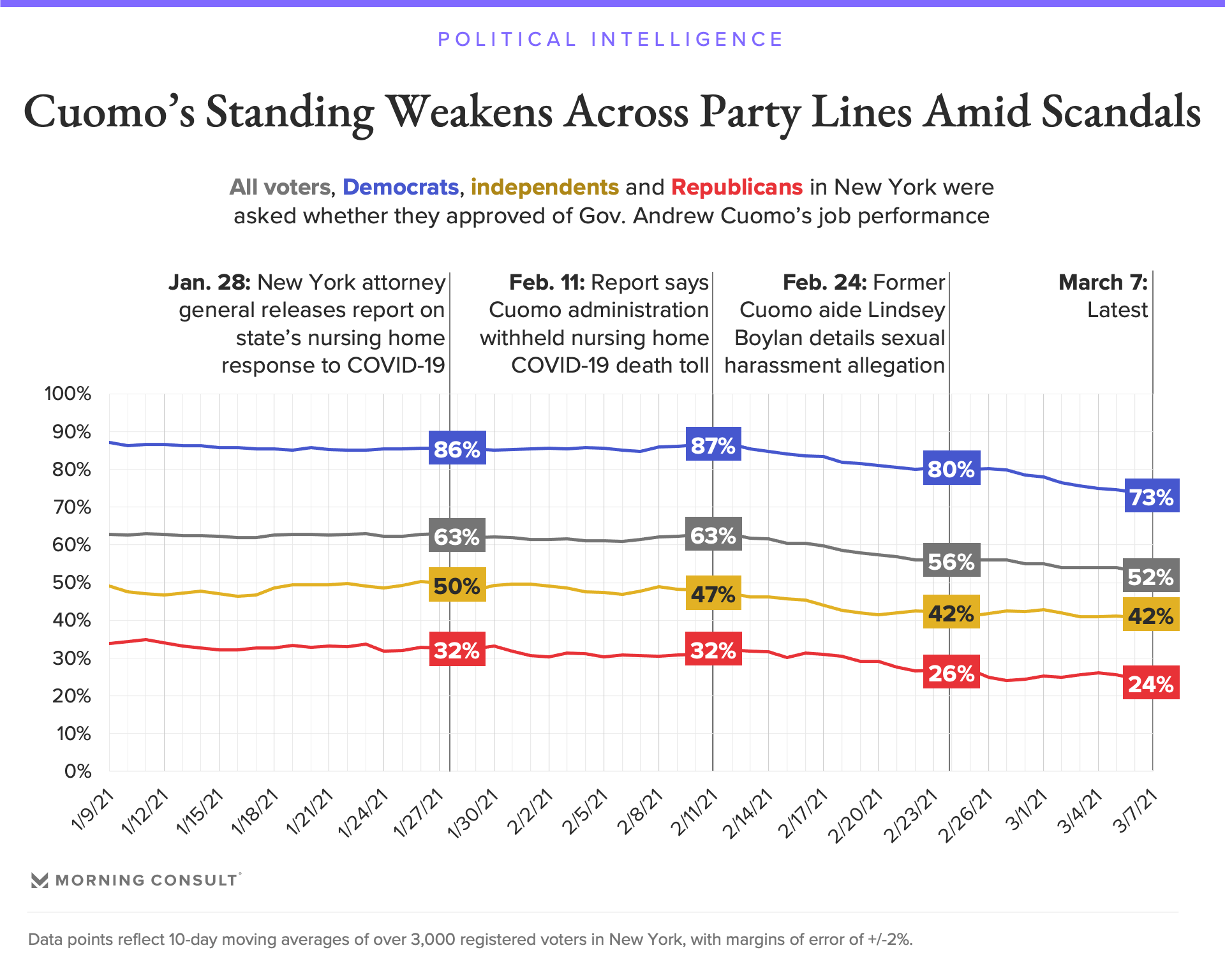 The issues of sexual misconduct and workplace harassment in the Cuomo administration, which prompted the state Legislature's top two Democratic leaders to push for his resignation Sunday, has taken a particular toll on the governor's standing with the Empire State's Democratic base. 
Nearly 3 in 4 Democrats (73 percent) still approve of Cuomo, who has bucked calls to resign and has not withdrawn from plans to seek a fourth term next year. But since surveys conducted before and after Boylan detailed her claims in a Medium post, Cuomo's job approval rating has fallen 7 points among Democrats – matching its decline following a New York Post report that a top Cuomo aide told state lawmakers the administration had sought to hide nursing home deaths from federal prosecutors in the Trump administration. 
While polling suggests that the accusations of sexual misconduct have hurt Cuomo with Democrats, they do not appear to have had as much of an effect on Republicans or self-described independents, who were more likely to respond to the New York Post report and related fallout than the more recent allegations.
Cuomo's political pain appears sharp in context, but the polling shows that his sky-high job approval rating was an outlier for his third term – buoyed by his initial response to the COVID-19 pandemic.   
The latest surveys, conducted Feb. 26 through March 7 among 3,317 New York registered voters, found Cuomo's job approval rating is higher than it was when the pandemic was declared nearly a year ago, and roughly in line with where it was when he began his third term in early 2019.
Eli Yokley is Morning Consult's U.S. politics analyst. Prior to his current role, Eli was Morning Consult's senior reporter covering U.S. politics. Eli joined Morning Consult in 2016 from Roll Call, where he reported on House and Senate campaigns after five years of covering state-level politics in the Show Me State while studying at the University of Missouri in Columbia, including contributions to The New York Times, Politico and The Daily Beast. Follow him on Twitter @eyokley. Interested in connecting with Eli to discuss his analysis or for a media engagement or speaking opportunity? Email [email protected].
We want to hear from you. Reach out to this author or your Morning Consult team with any questions or comments.
Contact Us