Cuomo's Approval Rating Stabilizes Amid Calls for Resignation
75% of New York Democrats approve of the third-term governor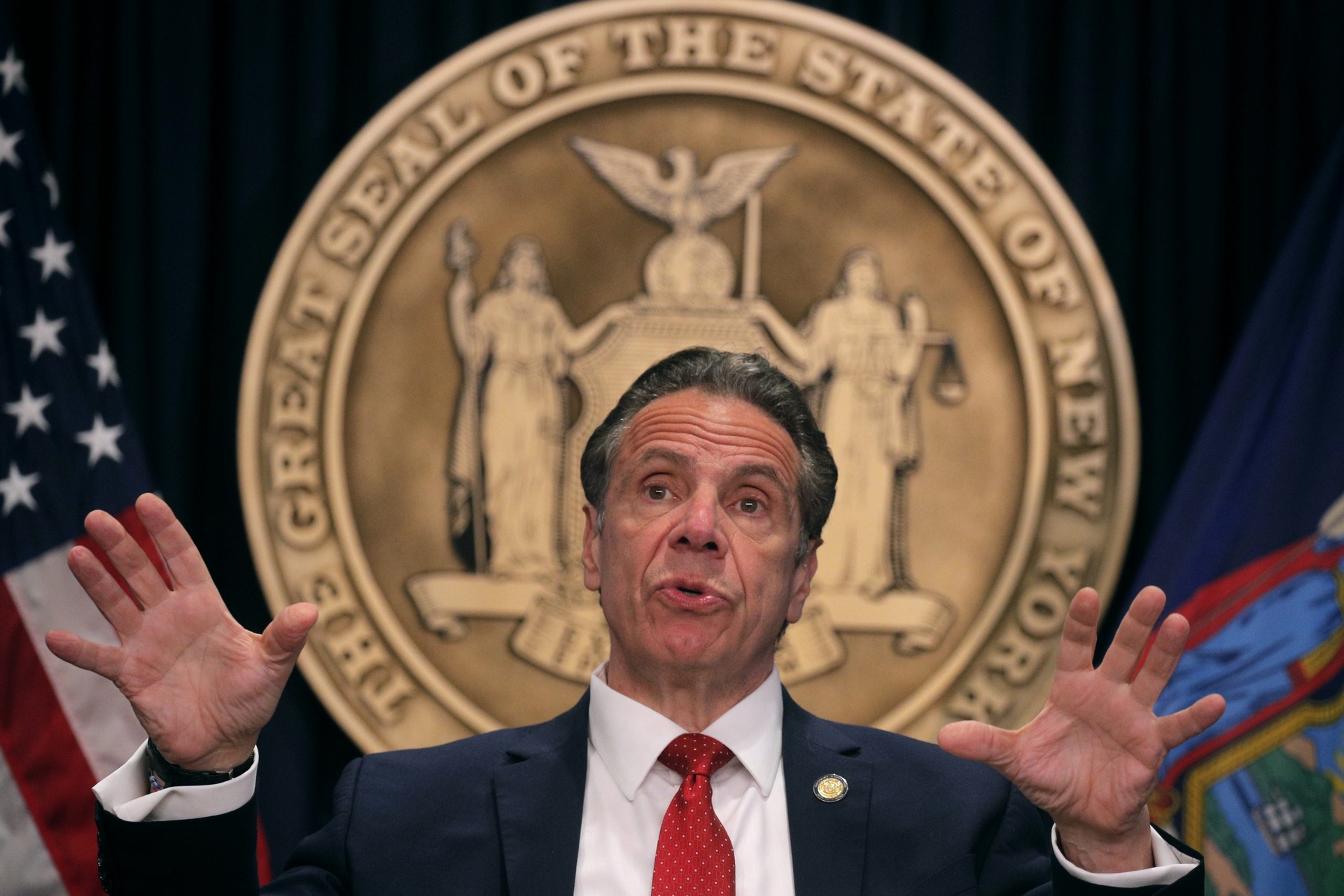 Key Takeaways
53% of New York voters approve of Andrew Cuomo, while 43% disapprove.

Cuomo's standing with his state's Democratic voters has declined 12 points since the New York nursing home scandal came to light.

Senate Majority Leader Chuck Schumer is now the state's most popular Democrat, with an 81% approval rating among Democrats and 56% among New York voters overall.
The beginning of 2021 brought a number of political pain points for New York Gov. Andrew Cuomo as he faced allegations of sexual misconduct and a scandal involving his administration's handling of COVID-19 nursing home deaths, with potentially more to come as investigations in Albany get underway.
But according to Morning Consult Political Intelligence tracking, the decline in perceptions of the third-term governor's job performance appears to have subsided despite the calls for his resignation or impeachment – at least for now. The latest surveys, conducted March 15-24, found 53 percent of New York voters approve of Cuomo and 43 percent disapprove. 
The newest numbers are similar to the findings of surveys conducted over the past several days, suggesting the decline in sentiment about Cuomo -- largely sparked by the Feb. 11 publication of a New York Post report revealing that his administration sought to hide nursing home deaths from federal prosecutors in the Trump administration -- has leveled off.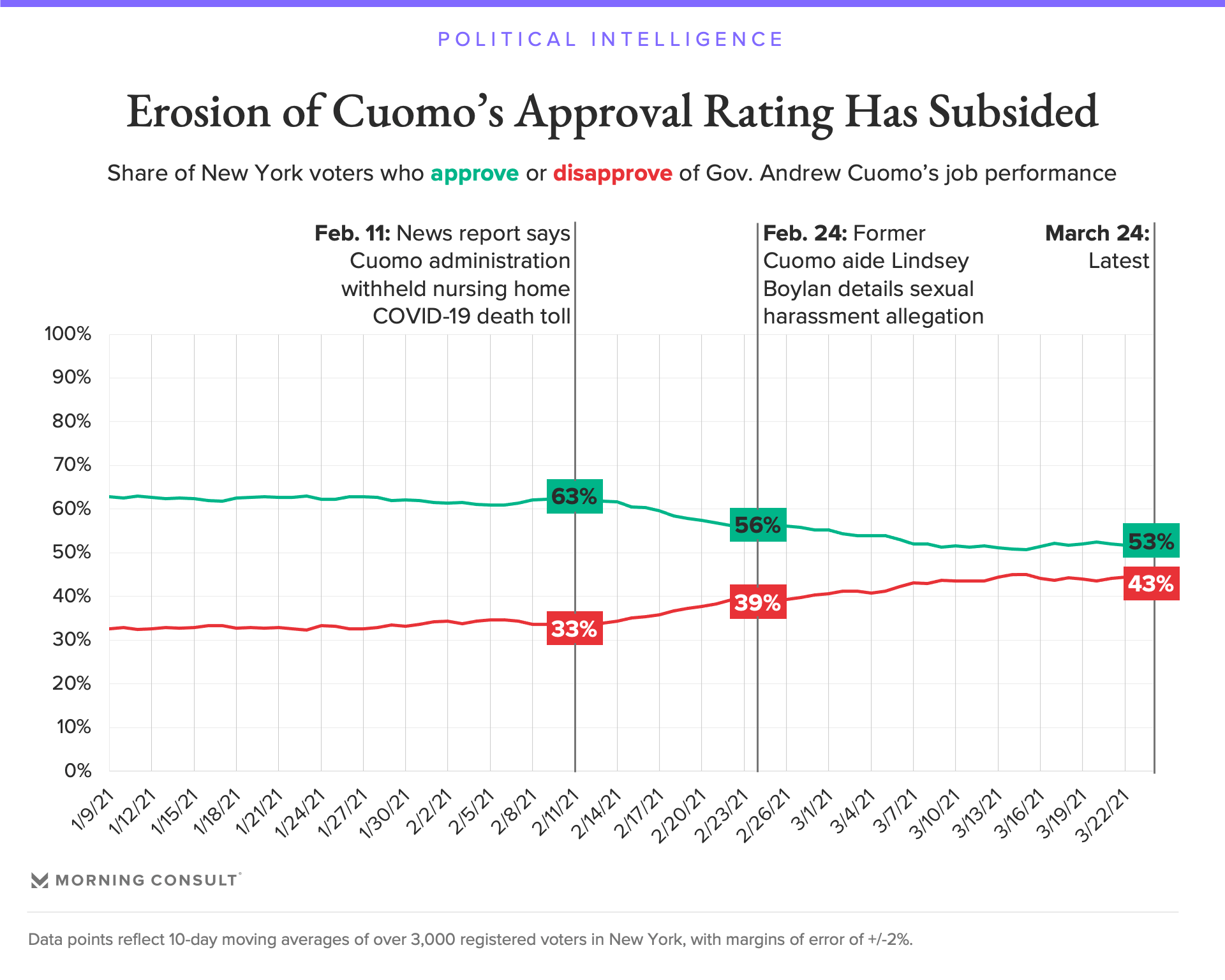 Like many other governors, Cuomo began the year riding the wave of a pandemic boost that elevated his job approval rating to 73 percent by the beginning of last summer. While that bump had begun to subside by January, he was nonetheless the most popular statewide official – particularly among Democratic voters.
After signaling his interest in seeking a fourth term next year, Cuomo is still popular with his state's Democratic voters, but the weeks of scandal have taken a toll. 
According to the latest polling, 75 percent of New York Democrats approve of Cuomo's job performance, down 12 percentage points since the New York Post's report. Nearly half of that movement came after his former aide, Lindsey Boylan, detailed an allegation of sexual misconduct that prompted other women to come forward with allegations about the governor.  
Cuomo's decline among Democratic voters has made Senate Majority Leader Chuck Schumer (D-N.Y.) the most popular Democrat with the party's base in the Empire State, with an 81 percent job approval rating – unchanged amid Cuomo's troubles but up 4 points since President Joe Biden took office in January.
With the question of a Democratic primary challenge hanging over Schumer as he faces re-election next year, he appears on much firmer ground within the party than Cuomo.
Two in 5 Democratic voters strongly approve of Schumer, up slightly since the beginning of the year, while just 28 percent of Democrats said the same of Cuomo, down 14 points since the office of New York Attorney General Tish James released a report on Jan. 28 detailing the state's response to nursing home deaths. 
In a turn of events for a governor whose popularity once soared, Cuomo's positive numbers today roughly match those of the Empire State's junior Democratic senator, Kirsten Gillibrand, who, along with Schumer, has called for Cuomo's resignation.
Eli Yokley is Morning Consult's U.S. politics analyst. Prior to his current role, Eli was Morning Consult's senior reporter covering U.S. politics. Eli joined Morning Consult in 2016 from Roll Call, where he reported on House and Senate campaigns after five years of covering state-level politics in the Show Me State while studying at the University of Missouri in Columbia, including contributions to The New York Times, Politico and The Daily Beast. Follow him on Twitter @eyokley. Interested in connecting with Eli to discuss his analysis or for a media engagement or speaking opportunity? Email [email protected].
We want to hear from you. Reach out to this author or your Morning Consult team with any questions or comments.
Contact Us