Movement to 'Defund The Police' Isn't Popular, but Voters Are More Open to Its Goal
58% oppose 'defund the police' movement, while voters are split on redirecting law enforcement money toward communities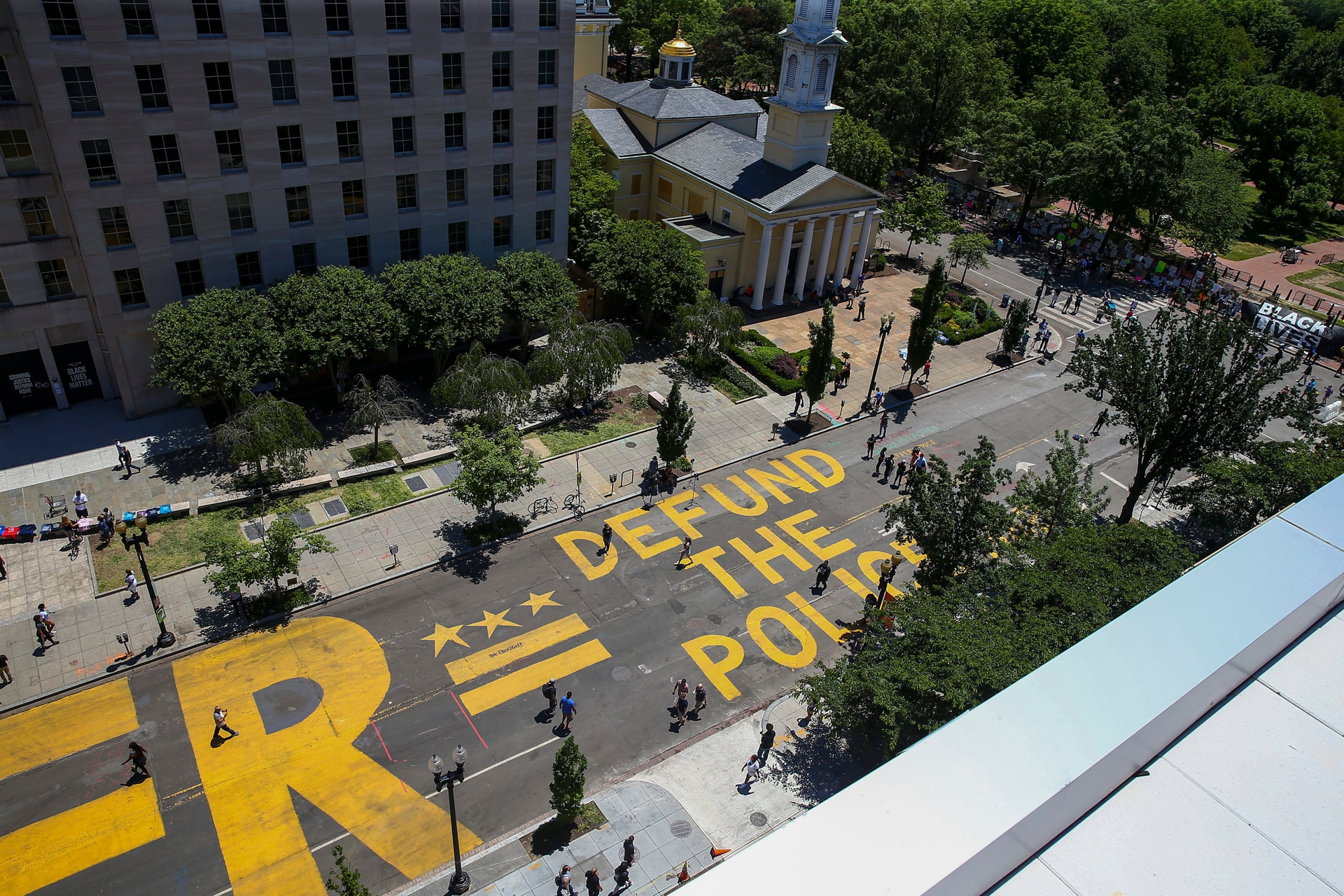 Key Takeaways
43% of voters support redirecting funding for their local police departments to bolster community development programs, while 42% oppose the proposal.

The prospect of redirecting funds divides independents and suburbanites, but is backed by majorities of Democrats, black and urban voters.

48% of Democrats generally support "defund the police," though less than a quarter do so "strongly."
Calls during nationwide demonstrations to "defund the police" are unpopular, according to a new Morning Consult/Politico poll, but voters are more open to the arguments at the root of the protest mantra. 
While 58 percent of voters oppose the "defund the police" movement, voters are virtually split -- 43 percent to 42 percent -- when asked whether they support or oppose redirecting funding for their local police departments to bolster community development programs, which some have defined as the underlying premise of the three-word slogan. The June 12-14 poll surveyed 1,987 registered voters, with a margin of error of 2 percentage points.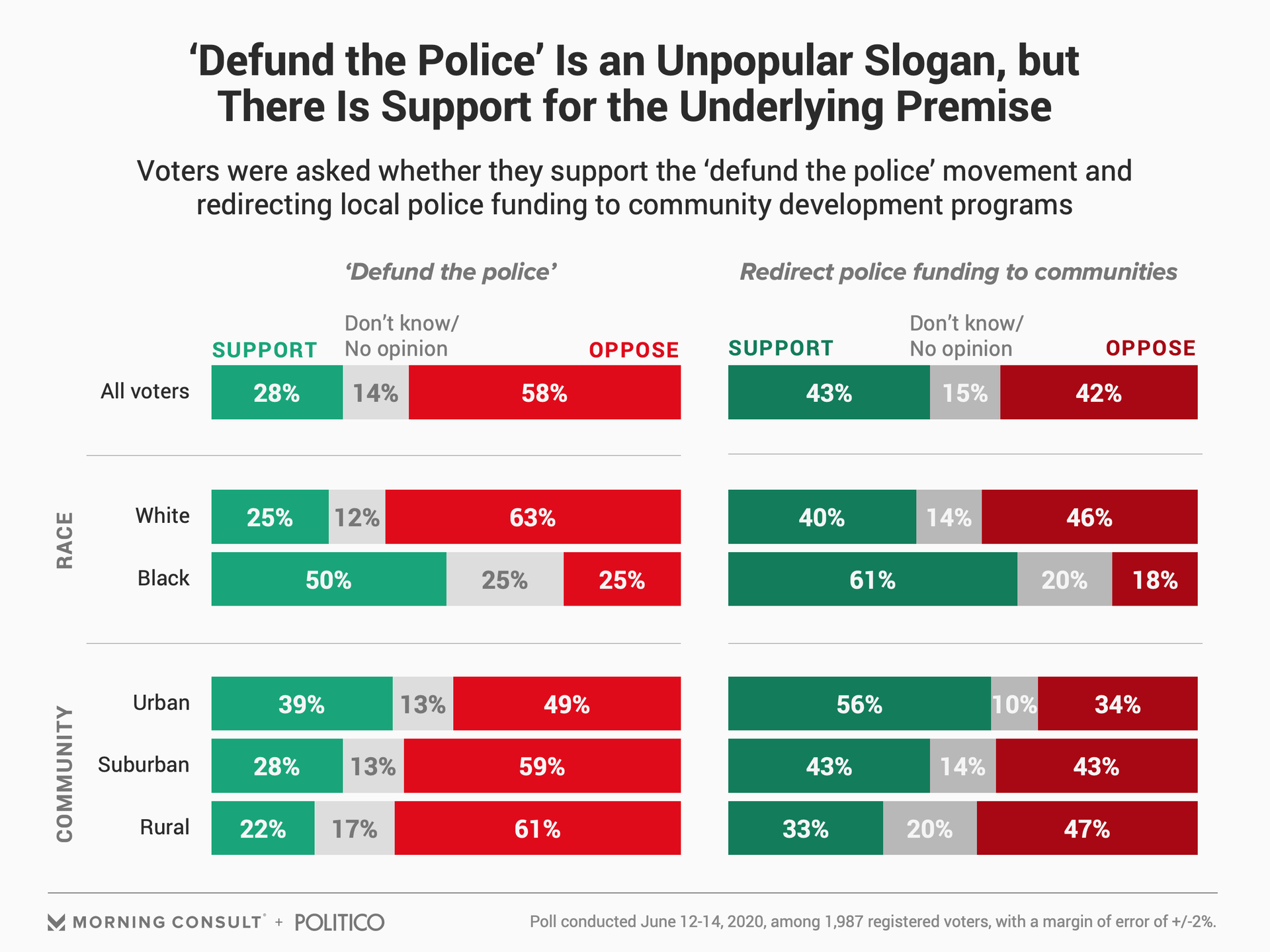 Roughly 4 in 5 voters said they have seen, read or heard at least "some" about the slogan, which gained prominence in the Black Lives Matter protests sparked by the killing of George Floyd and has been seized on by Republicans. A commercial released by President Donald Trump's re-election campaign last week said his presumptive Democratic rival, Joe Biden, "fails to stand up to the radical leftists fighting to defund and abolish the police." The former vice president, meanwhile, is also under pressure from some black activists, who say he supports too much funding for the police.
Support for "defund the police" is relatively soft among Democrats: Under half (48 percent) support the movement generally, and less than a quarter do so "strongly." The numbers are similar among black voters. 
At the same time, Biden has expanded his lead over Trump in recent weeks to 9 points, 48 percent to 39 percent, with the increase driven by the voters of color, young people and liberals most likely to support the "defund" movement. 
Amid Biden's growing support, Trump on Tuesday made his own foray into the police reform debate when he signed an executive order prioritizing the creation of a national database of police misconduct, laying out guidelines for de-escalation tactics and the use of force and urging the placement of social workers and mental health professionals in communities alongside cops. 
But in remarks at the White House, Trump took direct aim at the calls to defund the police -- comments that will likely sit well with the Republican voters he's working to fire up ahead of November, more than 4 in 5 of whom are solidly against the movement.
"I strongly oppose the radical and dangerous efforts to defund, dismantle and dissolve our police departments," he said. "Without police there is chaos, without law there is anarchy and without safety there is catastrophe. We need leaders at every level of government who have the moral clarity to state these obvious facts."
Congressional Black Caucus Chairwoman Karen Bass called the "defund the police" mantra "probably one of the worst slogans ever" in a Monday online event hosted by The Washington Post. But as she pitched House Democrats' legislation aimed at overhauling policing practices, the California Democrat sought to defend the movement's aim. 
"One of the main points that I believe the 'defund' movement is making is that cities and states -- their priorities are lopsided," she said. "A large percentage of the city budget goes to law enforcement. They're saying, 'Why doesn't the city deal with the social problems so not so much money would have to go to law enforcement?'"
The notion is popular among Democrats (67 percent support, 20 percent oppose), black voters (61 percent support, 18 percent oppose) and voters who live in urban communities (56 percent support, 34 percent oppose). But it divides independents and voters in the suburbs and is opposed by a plurality of white (46 percent) and rural (47 percent) voters.
The survey also found voters are divided on whether local law enforcement are adequately funded. A quarter said they get too much funding, 28 percent said they don't get enough funding and 26 percent said they get the right amount.
Eli Yokley is Morning Consult's U.S. politics analyst. Prior to his current role, Eli was Morning Consult's senior reporter covering U.S. politics. Eli joined Morning Consult in 2016 from Roll Call, where he reported on House and Senate campaigns after five years of covering state-level politics in the Show Me State while studying at the University of Missouri in Columbia, including contributions to The New York Times, Politico and The Daily Beast. Follow him on Twitter @eyokley. Interested in connecting with Eli to discuss his analysis or for a media engagement or speaking opportunity? Email [email protected].
We want to hear from you. Reach out to this author or your Morning Consult team with any questions or comments.
Contact Us