Democrats' Edge on #MeToo Persists Among Voting Public
Party is more trusted to handle #MeToo, despite several allegations against its own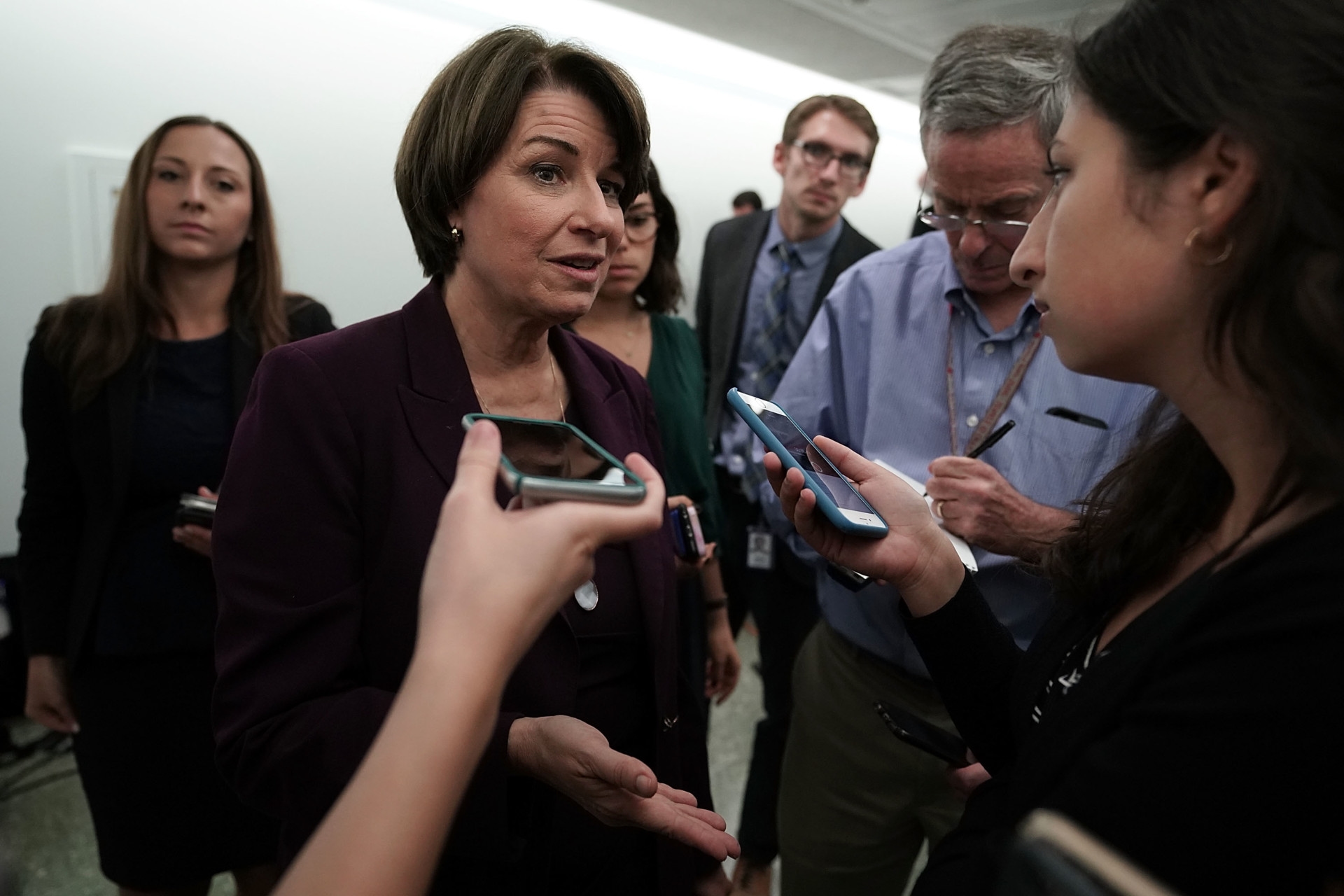 Key Takeaways
44% of voters said they trust Democrats to handle sexual harassment and misconduct.

26% said they trusted Republicans more.
A little more than a year after the #MeToo movement forced the ouster of a number of Capitol Hill lawmakers, House and Senate negotiators have agreed on legislation aiming to curb sexual harassment in the halls and offices of Congress.
In a statement, Sens. Roy Blunt (R-Mo.) and Amy Klobuchar (D-Minn.) said they reached a deal with House negotiators on legislation that would hold lawmakers personally liable for harassment settlements -- including those who had already left office -- and would allow victims to immediately pursue an administrative hearing or file a civil action if a member harassed them.
Momentum to hold lawmakers accountable, both financially and personally, for settlements over sexual harassment built rapidly as the focus of #MeToo shifted from Hollywood to Washington.
Morning Consult began tracking which party voters trusted more to handle sexual harassment and misconduct in the workplace on Nov. 16, 2017. That was the same day then-Sen. Al Franken (D-Minn.) was accused of groping and kissing a former colleague without her consent before his time in Congress, and it also came amid a series of stories about Roy Moore, the GOP candidate in Alabama's Senate race who was accused of sexually assaulting underaged girls years ago.
Data has shown voters consistently trust congressional Democrats over their Republican counterparts when it comes to handling sexual harassment and misconduct in the workplace. In the latest Morning Consult/Politico survey conducted Dec. 7-10 among 1,997 registered voters, 44 percent said they trusted Democrats in Congress to handle #MeToo allegations, compared with 26 percent who opted for Republicans.
That 18-point margin is one of the largest advantages Democrats held on topics tested in the survey, behind the environment (D+24) but ahead of education (D+14) and health care (D+11).
Democrats led on the issue by an 11-point margin among men and a 24-point margin among women. Younger voters were also much more likely to back Democrats, with 51 percent of those ages 18-29 preferring that party versus 17 percent who picked the GOP. Baby boomers (ages 54-72) also favored Democrats by a 20-point margin, 45 percent to 25 percent.
But while voters clearly prefer Democrats on #MeToo, high-profile political figures from both parties have been embroiled in those issues in roughly equal numbers.
Since Franken faced accusations, five other sitting Democrats have also been accused, compared with three GOP lawmakers who came under fire after the allegations about Moore helped derail his Senate campaign.
And every Republican lawmaker to face accusations in the past year -- Reps. Blake Farenthold of Texas, Trent Franks of Arizona and Pat Meehan of Pennsylvania -- have all resigned. Responses have been more mixed among Democrats accused of unsavory behavior.
While Franken resigned under pressure from women serving in his own caucus and Rep. John Conyers Jr. of Michigan also quit, Rep. Rubén Kihuen of Nevada did not rush for the exit, choosing instead not to run for re-election. Two other members, Rep. Bobby Scott of Virginia and Tony Cárdenas of California, were re-elected comfortably, and Rep. Keith Ellison of Minnesota went on to win his race for attorney general.
But voters may still remember President Donald Trump's "Access Hollywood" tape, which leaked during his presidential campaign and documented him making lewd sexual comments about women.
Passing legislation to curb sexual harassment on Capitol Hill may help Republicans earn back some trust from the public, but it remains to be seen what impact it will have.
Cameron Easley is Morning Consult's lead analyst for U.S. politics. Prior to moving into his current role, he led Morning Consult's editorial coverage of U.S. politics and elections from 2016 through 2022. Cameron joined Morning Consult from Roll Call, where he was managing editor. He graduated from the University of North Carolina at Chapel Hill. Follow him on Twitter @cameron_easley. Interested in connecting with Cameron to discuss his analysis or for a media engagement or speaking opportunity? Email [email protected].
We want to hear from you. Reach out to this author or your Morning Consult team with any questions or comments.
Contact Us