Democrats' Net Neutrality Push Resonates With Base, Poll Shows
Congressional efforts seen as way to energize voters for midterm elections
Key Takeaways
62% of Democratic voters say they support net neutrality, up from 48% in December.

66% of self-identified liberal voters and 49% of voters under the age of 30 say a candidate's support for net neutrality is an important factor when deciding whom to vote for in the November midterm elections.
Democratic voters are receptive to the party's efforts to use the net neutrality debate as a way to energize the base heading into the November midterms, according to Morning Consult/Politico polling.
The most recent survey -- conducted May 17-19 among 1,990 registered voters nationwide -- found that 59 percent of Democratic respondents said a candidate's support for the net neutrality rules adopted by the Federal Communications Commission in 2015 was somewhat or very important when deciding whom to vote for in the midterms, compared to 51 percent of respondents overall. Among self-identified liberals, 66 percent said that support was an important factor, compared with 42 percent of conservatives who said the same.
The survey also showed increased support for net neutrality compared with a similar poll conducted shortly after the FCC repealed the Obama-era regulations last year. The FCC, led by Chairman Ajit Pai (R), voted along party lines in December to repeal the 2015 Open Internet Order that had codified net neutrality rules.
In the Dec. 14-18 poll, 48 percent of Democratic respondents said they supported the net neutrality rules that stipulated service providers "cannot block, throttle or prioritize certain content on the Internet." That figure rose 14 percentage points to 62 percent in the new survey.
Both polls have a margin of error of plus or minus 2 percentage points.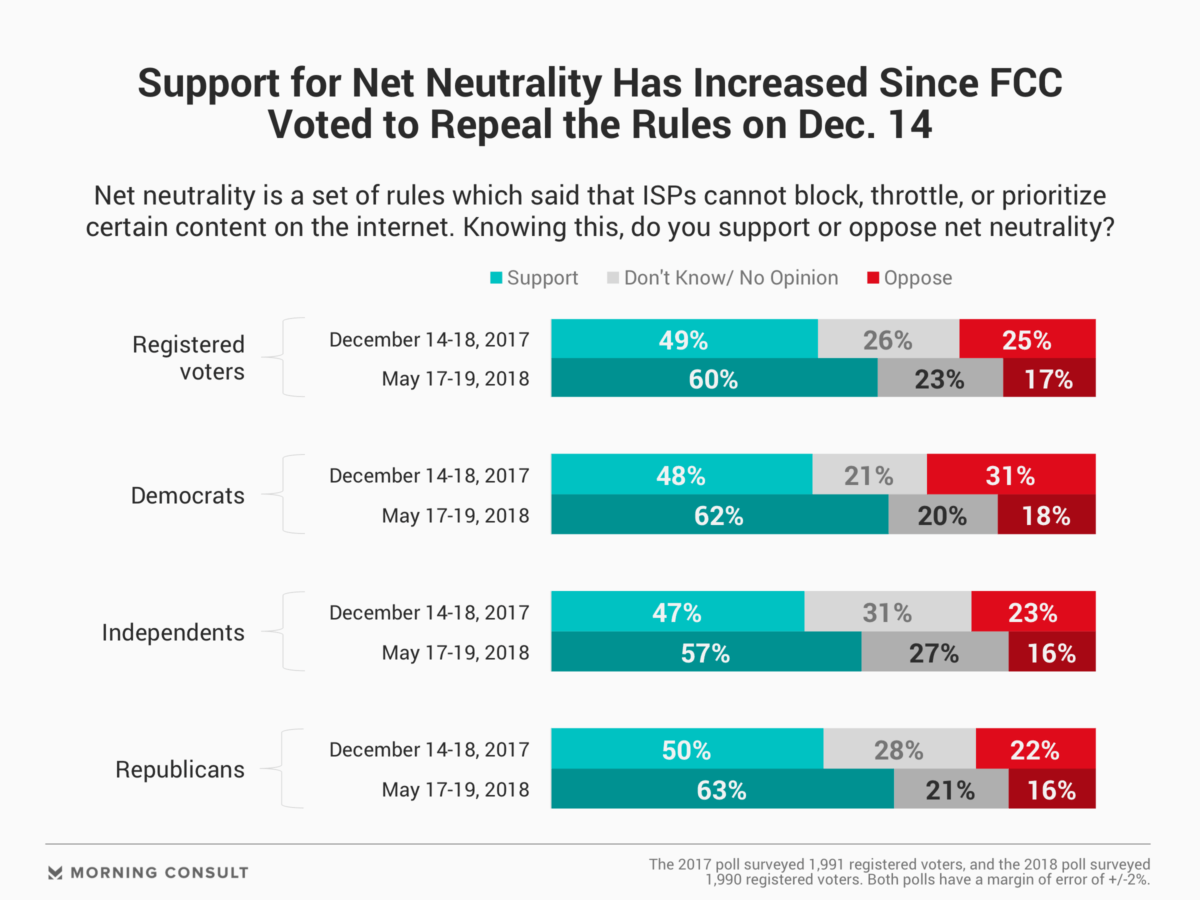 Congressional Democrats have taken steps in recent weeks to reignite a fight over net neutrality that could continue through the rest of the year. The Senate voted 52-47 on May 16 to adopt a Congressional Review Act resolution that would undo the FCC's repeal of the 2015 order.
The day after the Senate vote, Rep. Mike Doyle (D-Pa.) introduced a discharge petition that would force a House vote on the resolution if it gains support from 218 lawmakers in the chamber. In order to reverse the FCC's repeal of the Obama-era regulations, the resolution would need to be adopted by the House and then signed into law by President Donald Trump.
"The primary effort is to undo what Chairman Pai did," Doyle said in a Tuesday phone interview. "In terms of how this impacts the midterm elections -- well, we'll see."
While the resolution faces difficult odds of passage in the House, Democrats are promoting net neutrality as a midterm campaign issue.
"The vast majority of the American people support net neutrality, and you can rest assured that in 2018, they will hear from Democrats up and down the ballot who are fighting alongside them for an internet that is open for all," Democratic National Committee spokesman Michael Tyler said in a Tuesday email.
Sixty percent of registered voters in the most recent survey said they supported net neutrality, up from 49 percent in the December poll. The current figure includes 63 percent of Republicans and 57 percent of independents.
Tyler Law, national press secretary for the Democratic Congressional Campaign Committee, suggested the issue of net neutrality could benefit Democratic candidates in November.
"Net neutrality has the potential to motivate young and progressive voters to turn out in the midterms," Law said in a Monday email.
The most recent Morning Consult/Politico poll found fewer younger voters were motivated by net neutrality as a voting factor compared to other age groups.
Respondents ages 55-64 were the most likely to be concerned with a candidate's support for the 2015 net neutrality rules when it comes to their midterm votes, with 55 percent saying that support was a somewhat or very important factor. Fifty-four percent of those ages 45 to 54 years old said the same, followed by 50 percent of 30- to 44-year-olds and 49 percent of voters under 30 and respondents 65 or older.
A spokeswoman for the Republican National Committee dismissed Democrats highlighting net neutrality, saying the economy remains the top issue for U.S. voters.
"If Democrats want to spin their wheels grandstanding to their divided base, then have at it," Blair Ellis, RNC deputy national press secretary, said in a Monday email.
A 29 percent plurality of voters in the most recent survey said the economy was their top issue when considering votes for federal office.
Edward Graham previously worked at Morning Consult as a reporter covering tech.
We want to hear from you. Reach out to this author or your Morning Consult team with any questions or comments.
Contact Us