Popularity Contest: Drew Brees Is NFL Playoffs' Most-Liked Skill Player
Nearly half of U.S. adults view the New Orleans signal-caller favorably
Key Takeaways
Texans receiver DeAndre Hopkins scores highest among non-quarterbacks.

Only 6 players, led by Tom Brady, were recognized by at least half of  U.S. adults.
New Orleans Saints quarterback Drew Brees is the most popular skill-position player in the 2020 NFL playoffs, according to a new Morning Consult survey, with a net favorability rating 15 percentage points higher than the next most-liked player in the postseason.
In the Dec. 20-22 survey, Brees achieved a net favorability rating of 42 percentage points, a figure calculated by taking the 47 percent of U.S. adults who indicated they have a favorable opinion of Brees and subtracting the 5 percent who said they had an unfavorable view of the NFL's all-time leader in passing yards. That figure puts Brees, a 2010 Super Bowl winner, in a tier of his own among quarterbacks, running backs and wide receivers whose teams qualified for the postseason. When including non-playoff players, Brees is tied for first with longtime New York Giants quarterback Eli Manning, a two-time Super Bowl winner.
After Brees, the players with the highest net favorability heading into the postseason are Kansas City Chiefs quarterback Patrick Mahomes (27 points), Seattle Seahawks quarterback Russell Wilson (26 points), and at 23 points each, quarterbacks Deshaun Watson of the Houston Texans and Aaron Rodgers of the Green Bay Packers. Houston wide receiver DeAndre Hopkins (17 points) is the most popular non-quarterback, while Frank Gore (16 points) of the Buffalo Bills is the most popular running back.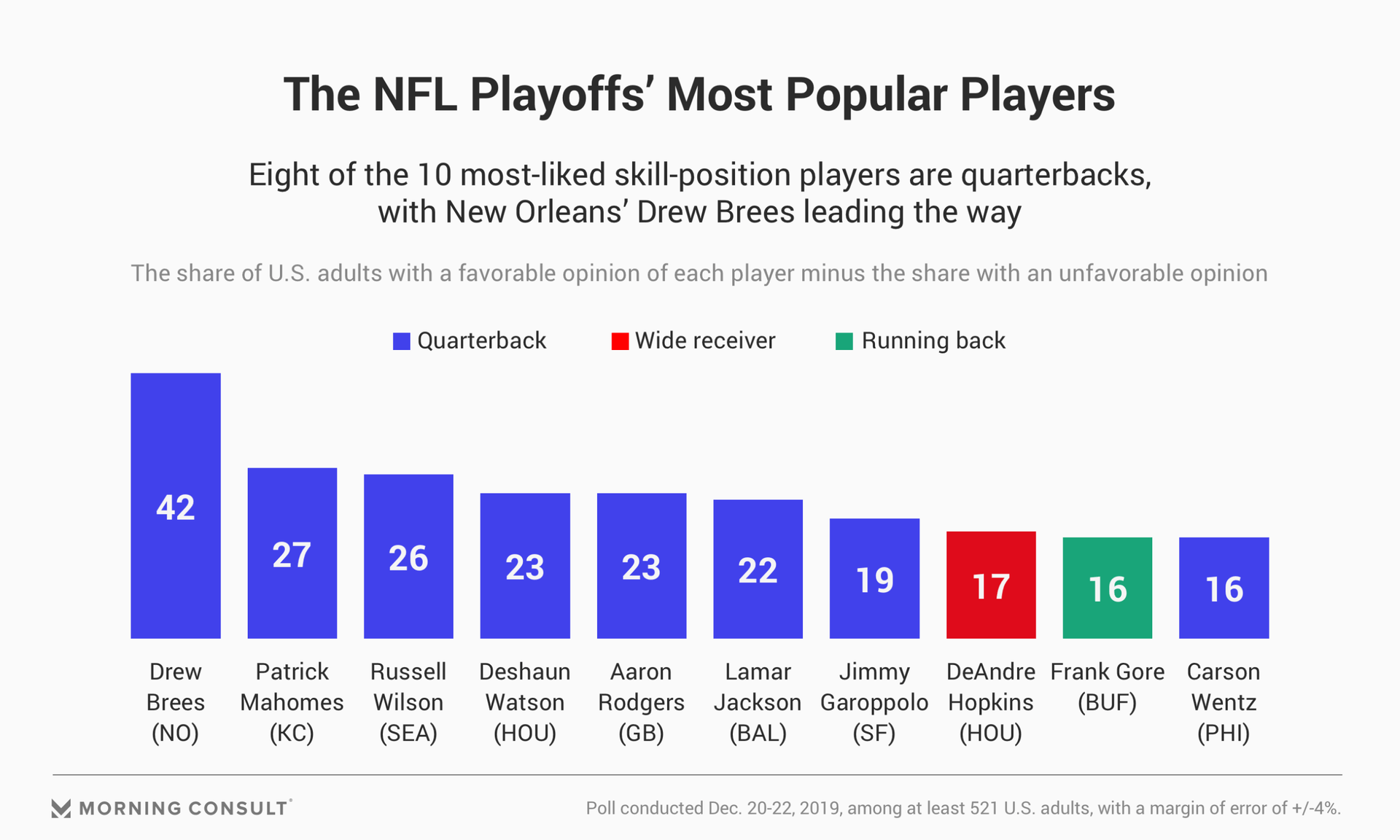 At least 521 U.S. adults were polled on every NFL team's top quarterbacks, running backs and wide receivers based on the clubs' official depth charts. The results carry a 4-point margin of error. Among just those who identified as NFL fans, nine of the top 10 players in net favorability were the same as among the broader sample of adults.
New England Patriots quarterback Tom Brady (12 points), whose six Super Bowl rings are an NFL record, proved too polarizing to crack the postseason top 10 in terms of net favorability. While 39 percent of respondents expressed a favorable opinion of Brady -- second-highest among playoff qualifiers -- a league-high 27 percent of responses were unfavorable. Rodgers had the next-highest percentage of unfavorable responses at 11 percent.
Brady is the most well-known player among respondents, with 86 percent having heard of him, and one of only six skill-position players in the postseason -- all quarterbacks -- familiar to at least half of American adults. 
Brees (67 percent), Rodgers (62 percent), Baltimore Ravens quarterback Lamar Jackson (54 percent), Wilson (52 percent) and Mahomes (50 percent) were the only other players to reach the 50 percent awareness threshold. Ravens running back Mark Ingram, a former Heisman Trophy winner at Alabama who spent the bulk of his NFL career in New Orleans, is the most recognizable non-quarterback in the postseason at 43 percent. 
Four players whose teams did not qualify for the postseason -- Manning (81 percent), Cleveland Browns wide receiver Odell Beckham Jr. (57 percent), Atlanta Falcons quarterback Matt Ryan (52 percent) and Washington Redskins running back Adrian Peterson (50 percent) -- are also known by at least half of U.S. adults.
Alex Silverman previously worked at Morning Consult as a reporter covering the business of sports.
We want to hear from you. Reach out to this author or your Morning Consult team with any questions or comments.
Contact Us