As Election Nears, the Public Is Becoming Increasingly OK With Stars Advocating for Issues
Share who said celebrities should use all channels available to opine is up 9 points from a 2018 midterm poll
Key Takeaways
54% of U.S. adults think celebrities should use events (9%), social media (22%) or both (23%) as a platform for sharing their views on political matters.

44% of Republicans said celebrities should refrain from sharing opinions, representing no statistical change from the October 2018 survey (41%).

63% of Democrats and 38% of Republicans said it is very appropriate for celebrities to encourage people to register to vote or to vote.
As Election Day approaches, more of the public believes celebrities should use all channels available to them to speak out on social and political issues than it did shortly before the 2018 midterm election, per a new Morning Consult/The Hollywood Reporter poll. And regardless of party lines, Americans said that encouraging people to vote, along with voter registration, is the most appropriate issue for stars to tackle.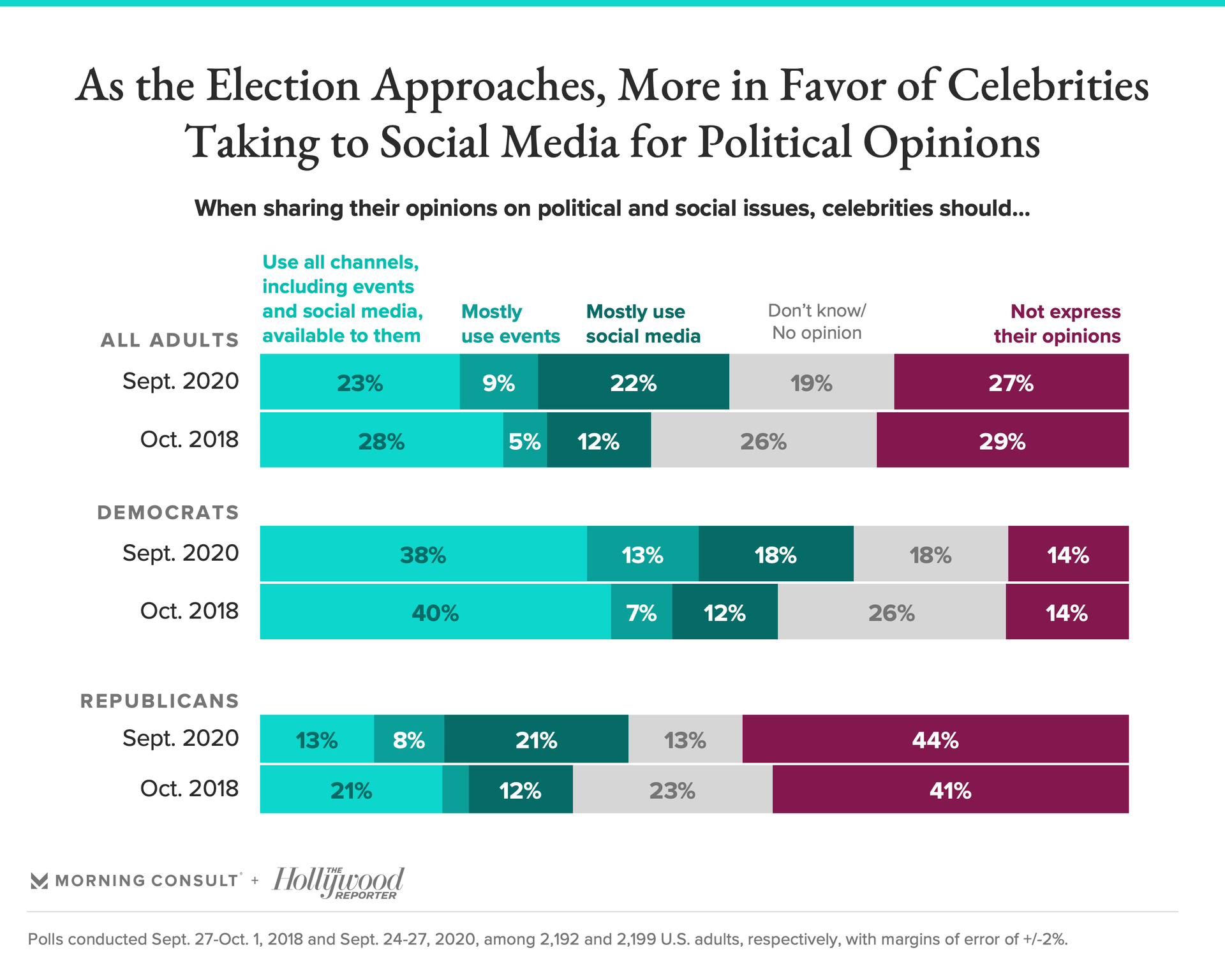 The Sept. 24-27 poll found that 54 percent of all adults said celebrities should share their views on political and social issues: 22 percent said they should mainly use social media, 9 percent said they should use events such as award shows and 23 percent said stars should use all channels available to them. The share who said stars should speak up on all platforms is down from 28 percent in a fall 2018 poll.
Democrats have become more supportive of political and social activism from stars, with 8 percent moving from expressing no opinion on the matter to saying celebrities should use at least one platform to speak. With a margin of error of 4 percentage points, Republicans' attitudes are largely unchanged on the topic during the same time period.
The 2020 election has already featured many celebrity voices. Eva Longoria, Tracee Ellis Ross, Kerry Washington and Julia Louis-Dreyfus spoke at the Democratic National Convention, while Willie Robertson and Scott Baio appeared at the RNC.
On Sept. 22, in honor of National Voter Registration Day, Leonardo DiCaprio and Ryan Reynolds were among the many stars taking to social platforms to spread the word about voter registration. Regina King and Uzo Aduba donned shirts in support of Breonna Taylor during the 2020 Primetime Emmys, while Anthony Anderson highlighted Black Lives Matter in a presentation with host Jimmy Kimmel.
Some have also come out in support of specific candidates. Dwayne "The Rock" Johnson and Billie Eilish are supporting former Vice President Joe Biden and Sen. Kamala Harris (D-Calif.), while Jon Voight and Kirstie Alley are backing President Donald Trump and Vice President Mike Pence.
Both surveys have an overall margin of error of 2 percentage points. The Democratic subsample has a 4-point margin of error in the 2018 poll and a 3-point margin of error in the 2020 poll. 
The survey also gauged respondents' attitudes on subjects that are appropriate for celebrities to speak out on. Regardless of party lines, encouraging people to register to vote or to vote was deemed the most appropriate, with 47 percent of all adults -- along with 63 percent of Democrats and 38 percent of Republicans -- saying it was "very appropriate" for celebrities to speak about that issue.
The most divisive issue was supporting the Black Lives Matter movement, with 53 percent of Democrats saying it was "very appropriate" for celebrities to speak out on that issue compared to 16 percent of Republicans. Democrats were also more likely than Republicans to say it is OK for celebrities to support efforts to reduce climate change and speak out against police brutality.
Since the death of George Floyd, famous faces including Lady Gaga, BTS and Chris Evans have donated to Black Lives Matter, while others donated to adjacent causes such as the NAACP Legal Defense and Educational Fund and Color of Change.
Sarah Shevenock previously worked at Morning Consult as a reporter covering the business of entertainment.
We want to hear from you. Reach out to this author or your Morning Consult team with any questions or comments.
Contact Us