Ellen DeGeneres' Favorability Takes a Tumble Amid Toxic Workplace Allegations
The host's net favorability fell to minus 6 points in a recent survey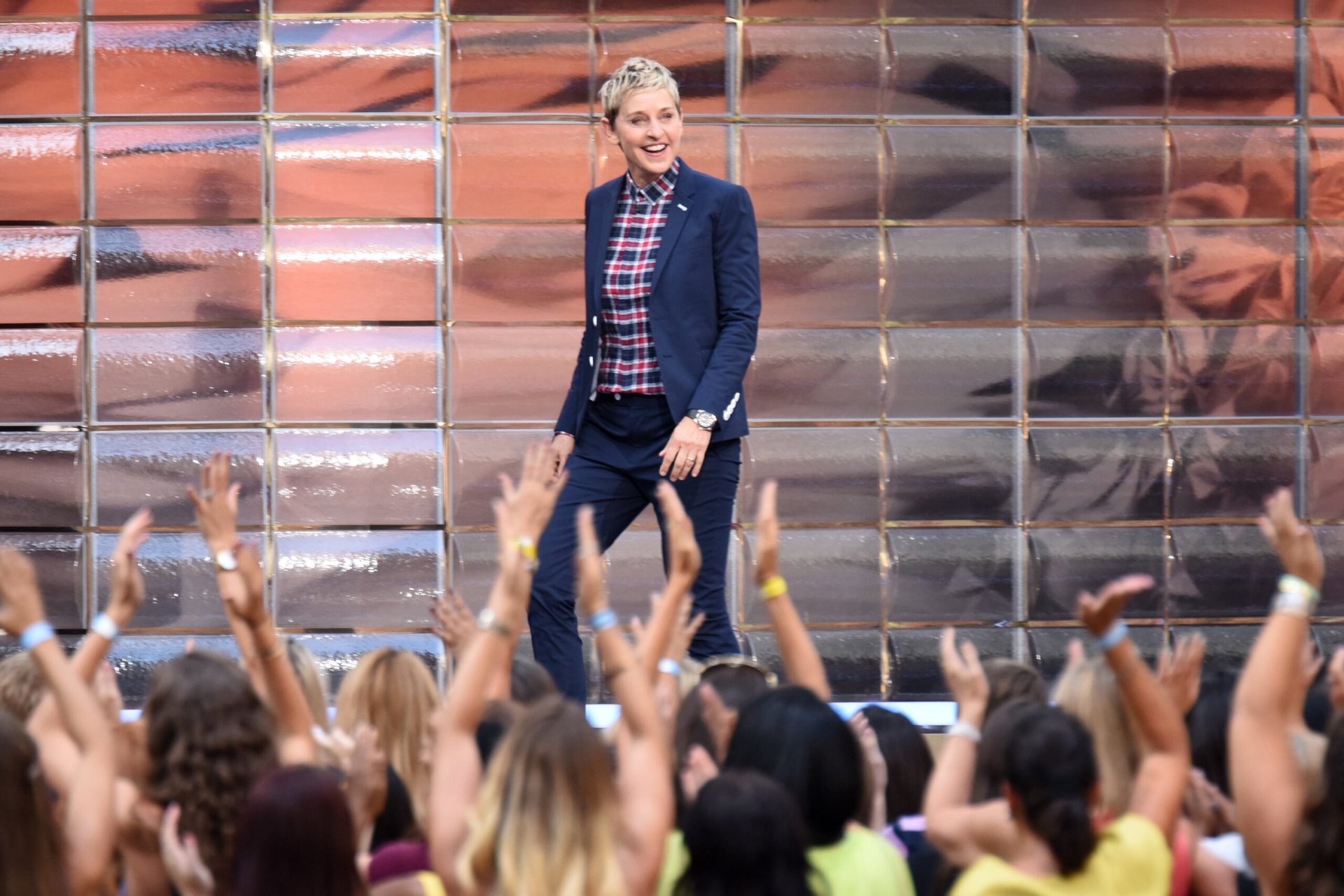 Key Takeaways
56% of U.S. adults said they had seen, read or heard "a lot" or "some" about the internal investigation into "The Ellen DeGeneres Show."

DeGeneres' favorability has dropped 29 percentage points in the past two years, from 68% in September 2018 to 39% in the recent survey.

Drew Barrymore and Kelly Clarkson were the most popular contenders for a new daytime show host, with more than half of daytime talk show fans saying they were likely to watch a show hosted by either woman.
Reports of a toxic work environment at "The Ellen DeGeneres Show" appear to have tainted public perception of the show's host, according to analysis of Morning Consult trend data, after DeGeneres and several of the show's producers were caught in a wave of allegations of racism, toxic behavior and sexual harassment.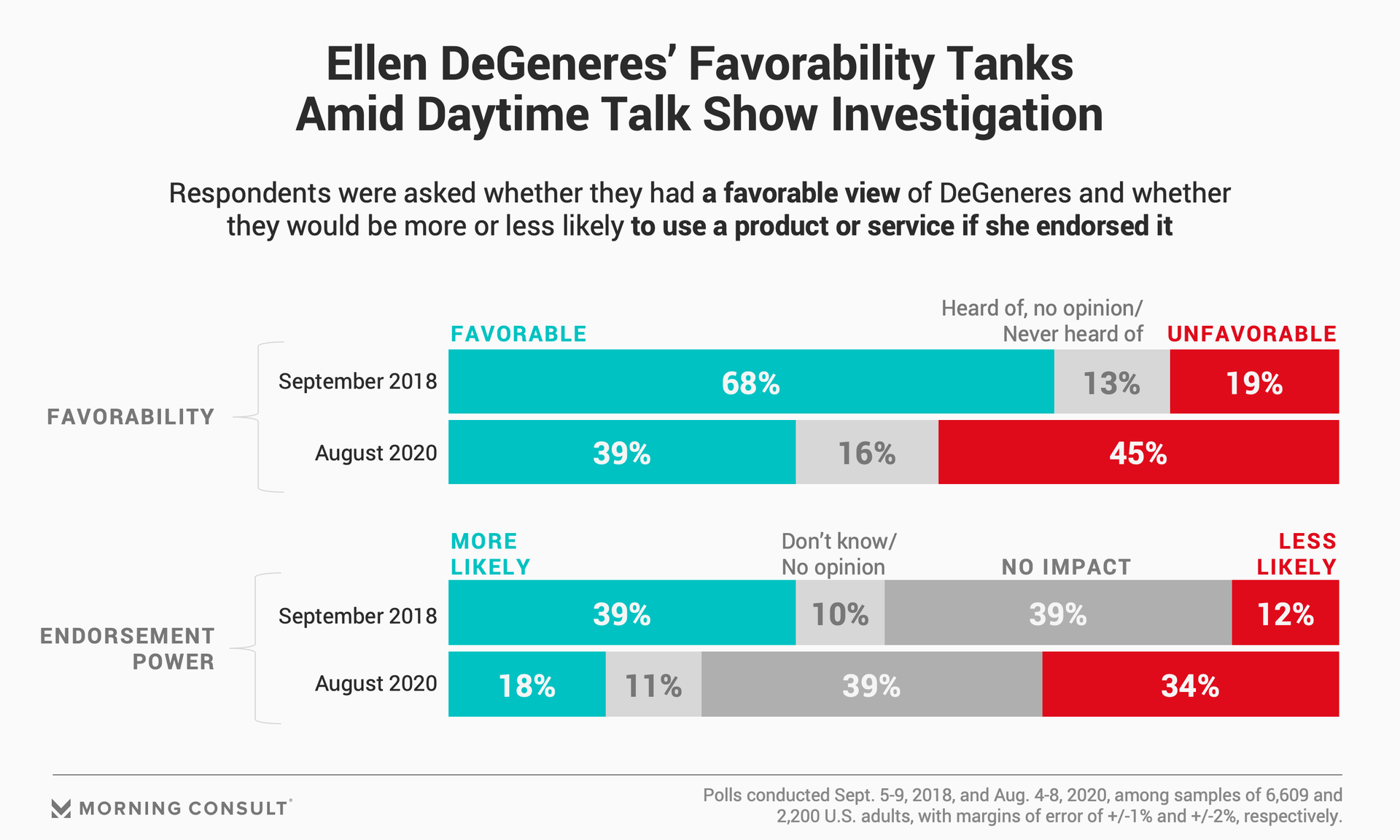 DeGeneres' favorability has dropped 29 percentage points since it was last recorded in a 2018 Morning Consult poll, from 68 percent nearly two years ago to 39 percent in an Aug. 4-8 poll. Nearly half (45 percent) of U.S. adults now have an unfavorable view of DeGeneres, more than twice the share who held the same view roughly two years ago, with more than a quarter (28 percent) saying they have "very unfavorable" views of the talk show host and comedian.
Thirty-nine percent of adults in the 2018 survey said they would be more likely to use a product or service if it was endorsed by DeGeneres. That share fell to 18 percent in the recent survey. 
DeGeneres has appeared in advertisements for The American Express Co. and previously served as a spokesperson for Procter & Gamble Co.'s Covergirl and Olay.
The August survey was conducted following a July 16 BuzzFeed report in which current and former "Ellen DeGeneres Show" employees alleged that executive producers and other senior managers created a work environment filled with racism, toxicity and intimidation where Black employees faced microaggressions and other employees were fired after taking medical or bereavement leave. A second BuzzFeed report, published at the end of last month, detailed allegations of sexual harassment from dozens of former employees against show producers such as Kevin Leman and Ed Glavin. 
Glavin did not respond to BuzzFeed's request for comment in regards to the allegations, while Leman told BuzzFeed he denied "any kind of sexual impropriety."
Representatives for "The Ellen DeGeneres Show" did not immediately comment.   
Glavin, along with fellow executive producers Mary Connelly, and Andy Lassner, issued a statement to BuzzFeed, saying they take the allegations "very seriously" and are committed to doing better. 
The 2018 survey has a 1-point margin of error while the August survey has a margin of error of 2 points. 
Variety reported that WarnerMedia launched an internal investigation into the allegations last month, with a third-party firm set to interview current and former employees. DeGeneres addressed the allegations herself in a letter to her staff obtained by The Hollywood Reporter, saying she was "disappointed" to learn that staffers had been treated disrespectfully and that the show, which has been on the air for 17 seasons, has launched an internal investigation alongside Warner Bros., with the two "taking steps, together, to correct the issues." 
Seventeen percent of the 2,200 U.S. adults surveyed said they had seen, read or heard "a lot" about the internal investigation, while 39 percent said they had seen, read or heard "some." 
Viewership of reruns of "The Ellen DeGeneres Show" for the week of July 26 was down 9 percent since the previous week and down 29 percent year over year, a historic low for the program, according to Nielsen data cited by The Wrap. 
The 18th season of "The Ellen DeGeneres Show" is slated to premiere on Sept. 9, and DeGeneres and her producers have remained adamant that the comedian and her show will remain on air. But that hasn't stopped Twitter from speculating about potential replacements. 
#ReplaceEllen was a trending topic earlier this month, with users offering suggestions both serious (James Corden, Keke Palmer) and some likely less so (Dakota Johnson, Harry Styles). 
Twenty-eight percent of adults -- including 45 percent of daytime talk show fans -- said they would be likely to watch a daytime program hosted by Corden. Drew Barrymore, whose new daytime program is slated to debut next month, and Kelly Clarkson, whose "The Kelly Clarkson Show" is entering its second season, were the most popular choices among daytime talk show fans and adults overall. 
Sarah Shevenock previously worked at Morning Consult as a reporter covering the business of entertainment.
We want to hear from you. Reach out to this author or your Morning Consult team with any questions or comments.
Contact Us