Ahead of Stimulus Talks, Voters Back Relief for Renewables More Than for Oil and Gas
Major fossil fuel companies aren't seeking intervention, despite unprecedented supply glut
Key Takeaways
38% of voters support a bailout for the oil and gas industry, compared to 54% backing for a renewables industry bailout.

Republicans are nearly as supportive of a renewables bailout (49%) as they are an oil and gas bailout (51%).

 59% of voters expect to spend less on gas because of the coronavirus.
While future legislative action to support markets affected by the coronavirus pandemic remains uncertain, lawmakers have floated relief for both the renewable energy and the oil and gas sectors. But as the oil and gas industry faces the combined pressures of low demand and a supply glut, voters are more supportive of financial support for the renewables sector.
Amid talks of a fourth stimulus package, Morning Consult asked registered voters whether they would support the federal government bailing out the two energy industries.
The survey, conducted March 31-April 1, showed that 38 percent of voters would support a government bailout for the oil and gas industry, while 54 percent support the same for renewables.  
The support reflected a partisan divide, with a slight majority of Republicans (51 percent) supportive of oil and gas relief compared to 33 percent of Democrats, while a larger majority of Democrats (63 percent) backed renewables relief compared to 49 percent of GOP voters.
The poll surveyed 1,997 voters and has a margin of error of 2 percentage points. 
So far, Democratic lawmakers have been the most vocal in championing relief measures for the renewables sector, which could include tax credit extensions, the removal of the current tax credit phaseout schedule, direct payments or refunds and "extensions of safe harbor continuity." 
The industry is concerned about the imminent expiration of certain tax credits for wind and solar, among others, and continues to face project delays and supply chain disruptions as the pandemic's impact on the United States has intensified.
The potential fourth stimulus package is still in very early stages, as the House and Senate are not in session this week.
While oil and gas industry bailout funds from Congress remain an open question, President Donald Trump and the Department of Energy took steps to provide help via buying 30 million barrels of oil from U.S. producers and filling the Strategic Petroleum Reserve. 
However, when Congress declined to include the funding in its third stimulus package, the DOE withdrew its request to make the purchase. Energy Secretary Dan Brouillette said Thursday in a statement that the department is still working on an agreement with Congress to fund the plan. 
Separately, DOE announced it will make 30 million barrels of the SPR's oil storage capacity available to producers "struggling with catastrophic financial losses due to the combined impacts of COVID-19 and the intentional disruption of world oil markets by foreign actors." 
The department expects its first crude deliveries in late April or early May, and plans to eventually make an additional 47 million barrels of storage capacity available in the future. 
Meanwhile, at least seven oil and gas executives are set to meet with Trump on Friday, where other relief measures may be up for discussion. American Fuel and Petrochemicals Manufacturers Chief Executive Chet Thompson and American Petroleum Institute CEO Mike Sommers plan to be in attendance, and will likely discuss their opposition to executive measures constraining oil supply. 
In a letter to the White House, Thompson and Sommers explained that they do not want any quotas, tariffs or bans on foreign crude oil that "would exacerbate this already difficult situation."
"We are not seeking any government subsidies or industry-specific intervention to address the recent market downturn at this time," said a spokesperson for API.
Trump indicated he will meet with independent U.S. producers — who have demonstrated more interest in government relief measures — on Friday or over the weekend, as well.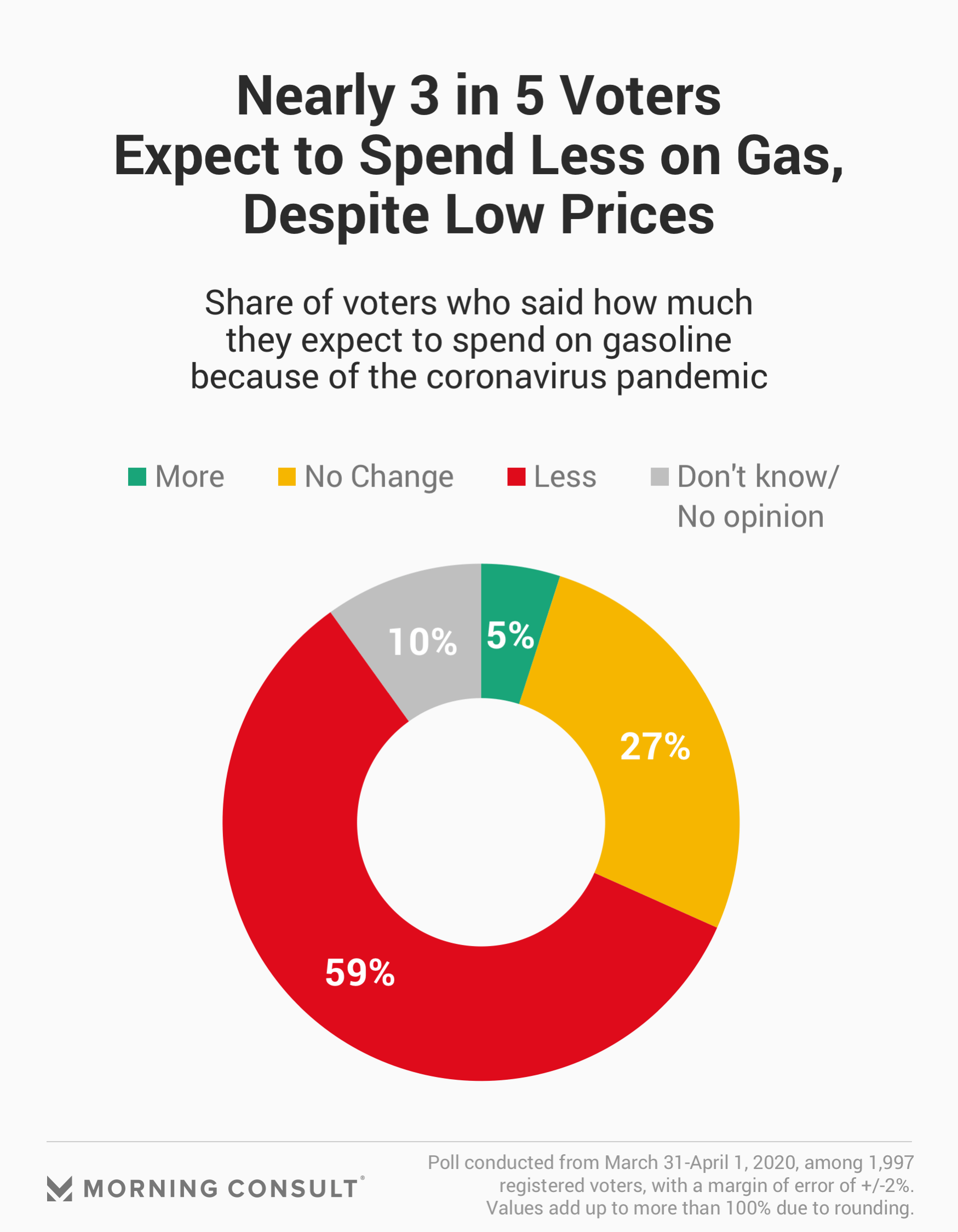 The U.S. industry's opposition comes as demand for oil is currently facing precipitous drops, as travel slows to a trickle and Americans are warned to stay home to slow the spread of the coronavirus. 
The latest Morning Consult survey indicates that even though 76 percent of voters have noted lower gas prices in their area, 59 percent expect to spend less on gas as a consequence of the coronavirus. Twenty-seven percent don't expect to change their gas-buying habits, while 5 percent plan to purchase more fuel.
But it is not just falling demand putting pressure on gas prices. After the Organization of the Petroleum Exporting Countries and its allies could not come to an agreement on production cuts last month, the alliance has effectively dissolved, with Saudi Arabia and Russia battling one another for market share and flooding the market with cheap crude.
Thursday morning, however, Trump told CNBC that he spoke to Russian President Vladimir Putin and Saudi Crown Prince Mohammed Bin Salman, and expects the two nations to announce production cuts of 10 million to 15 million barrels per day. Trump did not give a timeframe for the projected cuts. 
Lisa Martine Jenkins previously worked at Morning Consult as a senior reporter covering energy and climate change.
We want to hear from you. Reach out to this author or your Morning Consult team with any questions or comments.
Contact Us