Public More Receptive to Oil and Gas Bailout Than the Industry Itself
Major trade groups opposed to White House intervention, though more than 2 in 5 adults approve
Key Takeaways
43% of U.S. adults support economic measures to boost oil and gas industry, while 31% oppose.

Support falls to 32% when respondents were told that major players in the oil and gas industry are not seeking assistance.

Republicans (51%) more likely to support government aid for oil and gas companies than Democrats and independents (39% each).
In a bid to prop up markets reeling from the combined effects of the coronavirus and plunging crude prices, the White House is reportedly considering whether to bail out the oil and gas industry as part of a greater stimulus package. New Morning Consult data shows that such a measure would enjoy plurality support from the public — even as major oil and gas producers and trade associations say they're opposed to a bailout for their own industry. 
The survey, conducted March 10-12, showed that 43 percent of U.S. adults would support an economic relief package that includes help for the oil and gas industry, while 31 percent oppose.
In contrast, 53 percent of respondents approved bailing out the tourism industry, which President Donald Trump has indicated needs protection, and 23 percent opposed. Half approved of a more general package designed to support the American stock market, while 69 percent approved of measures to help hourly wage earners, such as a payroll tax cut or loans to small businesses.
Thirty-nine percent of both Democrats and independents and 51 percent of Republicans support oil and gas industry relief. 
The poll surveyed 1,242 U.S. adults and has a margin of error of 3 percentage points. 
While the stimulus package remains a work in progress, Trump on Wednesday night outlined some economywide provisions under consideration, including $50 billion in federal loans to small businesses and a temporary suspension of all Social Security payroll taxes. The tax holiday could on its own add nearly $1 trillion to the national debt, more than the 2008 Wall Street bank bailout and the 2009 stimulus bill.
The coronavirus pandemic is at the root of the multiple cascading shocks for the oil and gas industry. 
Demand for oil has plunged globally as countries grapple with the rapid spread of the virus. The U.S. Energy Information Administration forecasts that global petroleum and liquid fuels demand will rise by less than 400,000 barrels per day in 2020, significantly lower than the 1.7 million bpd expected in 2021. The discrepancy "reflects a reduced assumption for global economic growth along with reduced expected travel globally" due to the virus. 
But the market is also facing a shock to its supply as an indirect result of the pandemic. Last week, the Organization of the Petroleum Exporting Countries and its allies met in Vienna to discuss cutting oil production to stabilize the market in the face of reduced demand. But when Russia would not agree to cuts of 1.5 million bpd, the meeting went south and resulted in a supply spike as both Saudi Arabia and Russia jockey for market control. 
On Monday, oil markets plunged more than 30 percent, and while they have seen some recovery in the days since, Goldman Sachs Group Inc. oil strategist Damien Courvalin has been quoted as saying prices will remain near $30 for at least the next six months.
Deborah Gordon, a global oil and climate change analyst and senior fellow in international and public affairs at Brown University, said that the U.S. government should not step in to provide relief for the industry because the current markets need to re-establish equilibrium. 
"Propping up an uneconomic level of U.S. oil and gas production would have the U.S. government piling on to Saudi Arabia and Russia's geopolitically motivated actions," she said. "It could invite even greater risk and forestall resetting short-term equilibrium." 
Major segments of the industry have also vocally opposed the relief. The American Petroleum Institute — the nation's largest oil and gas lobby — has spoken to both the White House and certain senators about policies directed at the oil and gas industry. These policies could include low-interest loans to companies, federal oil purchases to replenish the Strategic Petroleum Reserve or even trade barriers.
But Frank Macchiarola, API's senior vice president of policy, economics and regulatory affairs, said in an interview that the trade association is neither seeking nor supporting any policies that would provide relief.
"We're a free-market organization that believes that historically, government intervention has not been the best way to address energy policy and energy markets," he said, "The best way is for markets to work on their own."
Macchiarola added that API "made it clear" to the White House that the group opposes industry relief measures. 
Other major trade associations have broadly agreed with API's stance. A spokesperson for the American Fuel and Petrochemical Manufacturers said "the best way the administration can help U.S. refiners is to let markets work" and to "maintain uninterrupted access to crude." 
When survey respondents were told that large swaths of the oil and gas sector have lobbied against a bailout, their support for industry-specific relief dropped to 32 percent, and opposition rose to 38 percent.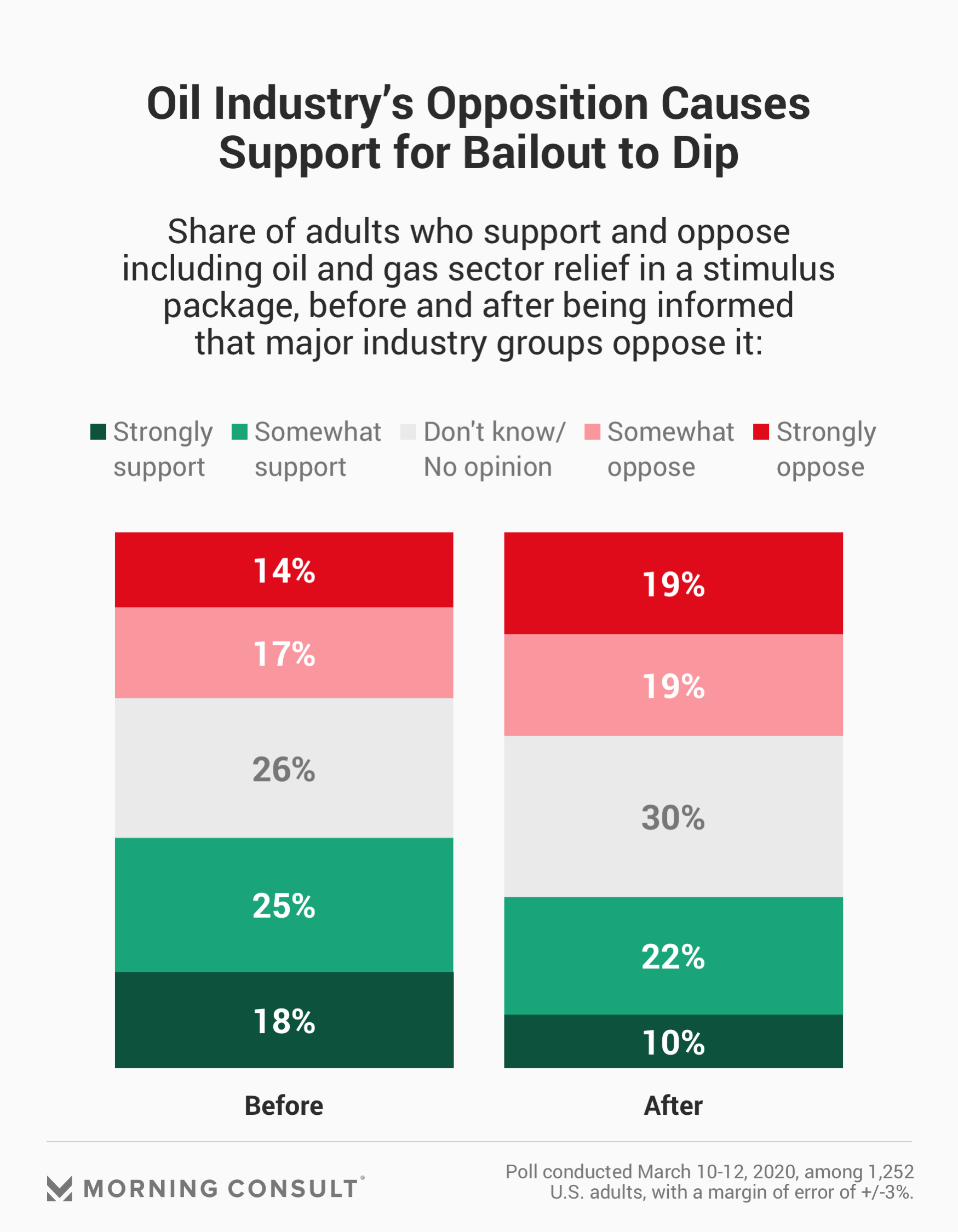 But according to Politico, some independent producers have reportedly pressed the president for help. Smaller shale companies have amassed debt in recent years and could be bankrupted by the market uncertainty. 
The American Exploration and Production Council has no official position for or against the stimulus, but Anne Bradbury, the group's CEO, left open the possibility for welcoming government action.
"Sound regulations and policies that enable U.S. independent producers to continue leading the world in energy development are needed to ensure that our allies do not need to rely on Russian-produced energy and that our country retains the energy independence we sought for decades," Bradbury said in a statement. 
None of the associations commented on the potential marketwide measures that would provide assistance to the over 10 million people that the oil and gas industry employs, such as the payroll tax holiday Trump has proposed or mandatory paid sick leave. API's Macchiarola said the association would have to take a look at the specific policies proposed, but as a general matter, API does not "engage in policies that are not specific to the oil and gas industry."  
The White House declined to comment on a timeline for the package.
Lisa Martine Jenkins previously worked at Morning Consult as a senior reporter covering energy and climate change.
We want to hear from you. Reach out to this author or your Morning Consult team with any questions or comments.
Contact Us