ESPN's 'The Ocho' Is Back, but Is Axe Throwing a Sport? We Asked.
Poll gauged attitudes on whether 99 activities, from kickball to kabaddi, were sports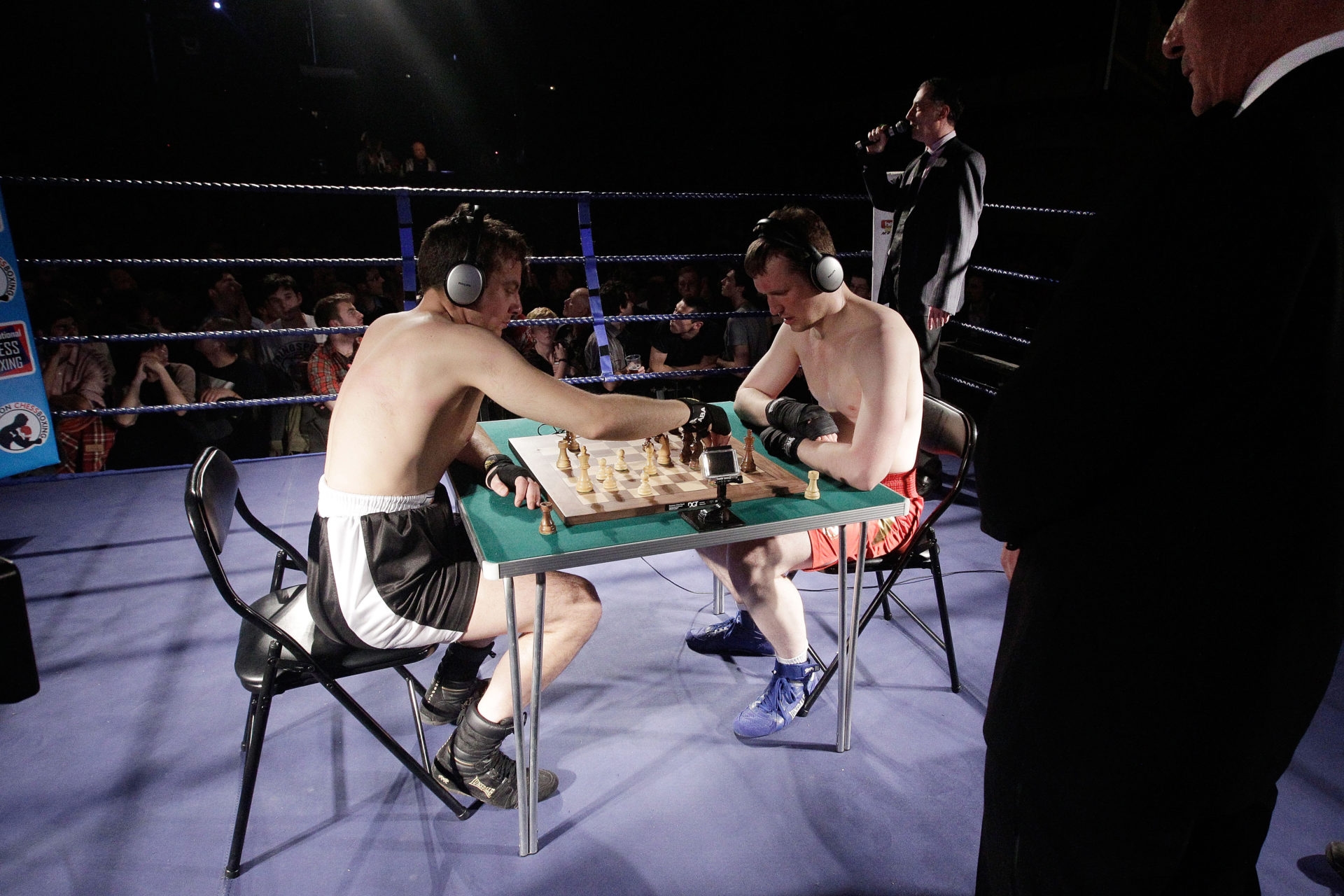 If you can dodge a wrench, you can dodge a ball. But does that make it a sport?
"The Ocho" returns Wednesday to ESPN for a third year in a row. Inspired by the 2004 comedy "Dodgeball: A True Underdog Story," which featured the satirical "ESPN8: The Ocho" channel, the day is dedicated to broadcasting "unique sporting events." This year, that includes activities such as chess boxing and lawn mower racing. 
But is arm wrestling, which airs at 8 a.m. ET on ESPN2 during The Ocho's broadcast, a sport?
Sixty-five percent of U.S. adults said it was, according to a new Morning Consult poll, which gauged the attitudes of 2,200 respondents on what qualifies as a sport and whether a long list of activities make the cut.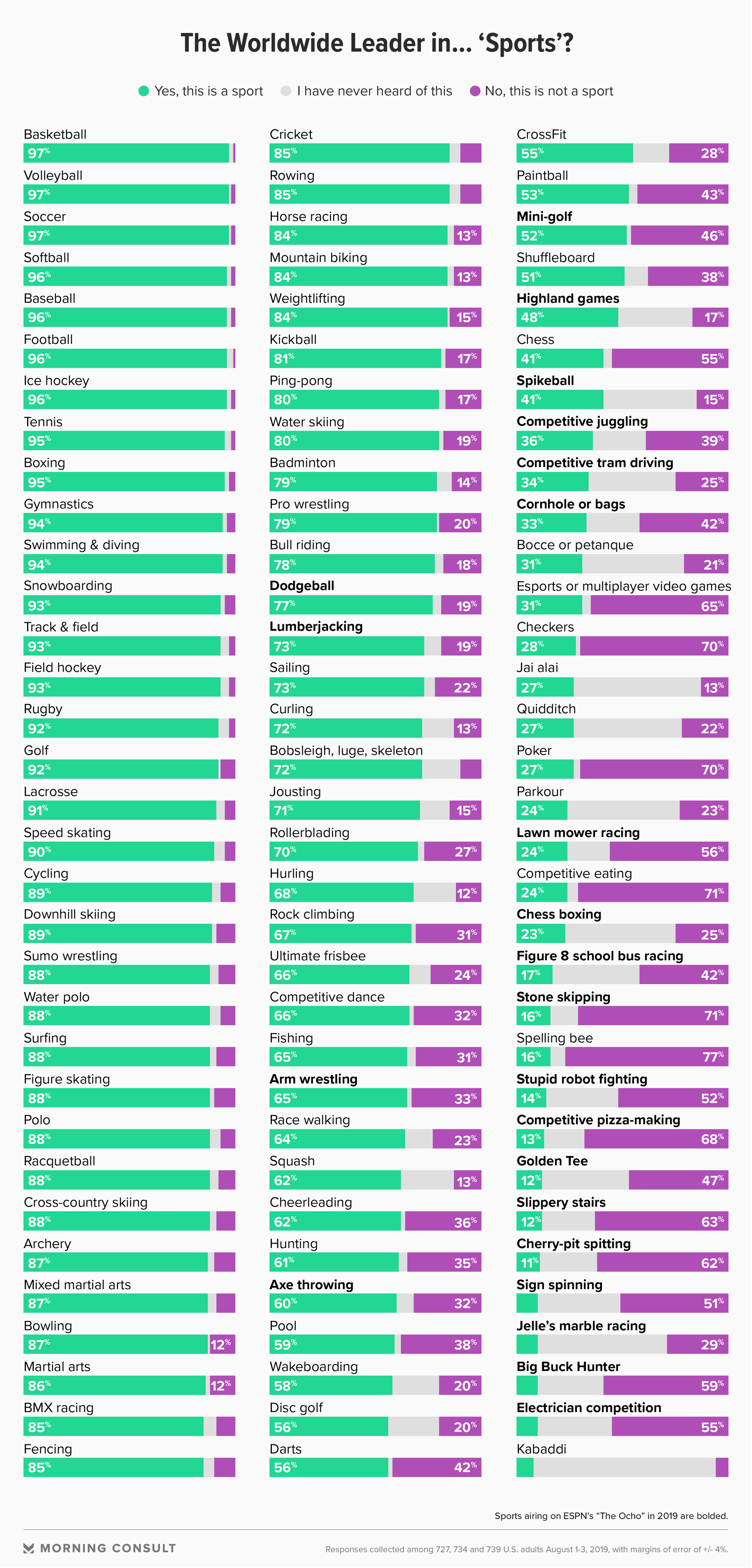 Dodgeball, the game that inspired the day-long broadcast, earned high marks: Seventy-seven percent said it was a sport, giving it the most credibility among the activities earning air time in The Ocho's latest installment. 
Last year on ESPN2, The Ocho's most-viewed event was the prime-time broadcast of the Dodgeball World Cup, which drew 247,000 average viewers. The Ocho's average total audience rose 150 percent from 2017 after it moved to "The Deuce" from ESPNU in 2018.
Definitions of what qualifies as a sport usually include some combination of three criteria: physical exertion, a demonstration of skill and a competitive element. Respondents roughly weighed each of those attributes equally.
The public ranks this week's featured events quite low in comparison with more traditional sports such as basketball or soccer, including stone skipping (16 percent say it's a sport), stupid robot fighting (14 percent) and competitive pizza making (13 percent). On average, 30 percent of the public deems The Ocho's offerings as sports. 
Forty-one percent of the public thinks anything can be a sport, while most (59 percent) disagree — but younger adults are more easily swayed. Fifty-two percent of those ages 18-29 say any activity can be a sport.
Joanna Piacenza leads Industry Analysis at Morning Consult. Prior to joining Morning Consult, she was an editor at the Public Religion Research Institute, conducting research at the intersection of religion, culture and public policy. Joanna graduated from the University of Wisconsin-Madison with a bachelor's degree in journalism and mass communications and holds a master's degree in religious studies from the University of Colorado Boulder. For speaking opportunities and booking requests, please email [email protected].
Mark J. Burns is a sports analyst on the Industry Intelligence team, where he conducts research, authors analyst notes and advises leaders in the sports industry on how to apply insights to make better business decisions. Before joining Morning Consult, he served as a beat reporter at Sports Business Journal, covering the business of hockey and soccer. Mark graduated from the University of Michigan with a bachelor's degree in history and holds a Juris Doctor from Belmont University. For speaking opportunities and booking requests, please email [email protected].
We want to hear from you. Reach out to this author or your Morning Consult team with any questions or comments.
Contact Us