Exclusive: Ex-Postmates Policy Chief Urges Gig Companies to End 'Bad Faith' Practices and Take Steps to Shore Up Workers
In exit memo, Vikrum Aiyer says they should consider allowing sectoral bargaining, adding gig workers to boards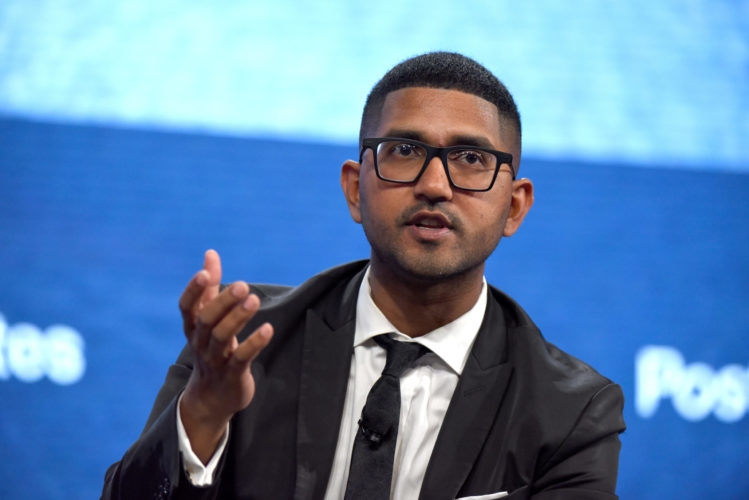 Key Takeaways
"Bad faith" practices like predatory pricing need to stop in order to ease tensions with labor unions, Aiyer says.

Re-introducing and passing a bill from Sen. Mark Warner and Rep. Suzan DelBene could be key to bringing employee benefits to gig workers.
Proposition 22 was an undisputed win for gig worker-reliant companies in California, allowing them to keep qualifying drivers and delivery workers as independent contractors while also affording them some benefits, including instituting minimum base pay and health care subsidies. 
Now, Vikrum Aiyer, who as Postmates Inc.'s policy chief led efforts to pass the initiative, is calling on the industry to go beyond Prop. 22 to give these workers more of a voice. 
Though executives at Uber Technologies Inc. and Lyft Inc. have said replicating Prop. 22 in other states is their main policy goal, Aiyer writes in a new 5,000-word exit memo shared exclusively with Morning Consult that the industry also needs to start seriously investing in research about sectoral bargaining (in which labor unions bargain on behalf of workers across an industry), give workers spots on their boards and end predatory pricing practices if they hope to achieve their overarching goal of creating a sustainable worker classification that sits somewhere between being an employee and an independent contractor.
"A lot has changed in the last four years," Aiyer said in an interview Monday. "But it feels like there is a huge chance to continue evolving, both in terms of how we respect workers and elevate their voice in the business of that industry and in terms of how we respect communities and businesses." 
Gig workforce companies have long lobbied in Washington for the creation of a "third way" of classifying workers that goes beyond the full-time employee and contractor binary.
In this system, gig workers could qualify for benefits like unemployment insurance or paid sick leave while also maintaining the schedule and commitment flexibility that comes with working for app-based services. Governments could deliver this option by pushing forward "portable benefits" attached to an individual rather than an employer, similar to some health care options provided through the Affordable Care Act, the companies typically argue.
During his four years at Postmates, Aiyer pushed federal lawmakers to consider their own worker classification legislation and added additional worker protections at the company. His memo builds upon that work by calling for gig workforce-reliant companies to be more ambitious. 
Rather than targeting portable benefits, he said in his memo, companies should be aiming to upend how the United States approaches employment. 
Companies should lead the push to get Congress, the Government Accountability Office and university labor centers to research what impact expanding sectoral bargaining can have on app-based delivery drivers and other contractors, he suggested. And they should add more workers to their company boards, he said, in addition to mending fences with labor advocates by first ending "bad faith" policies like predatory pricing and opaque tipping breakdowns for drivers and restaurant merchants.
"While I know some on both sides will scoff at such words after leaving the industry, it's not because they disagree," Aiyer wrote in the memo. "It's because they too recognize that this war has reached a fever pitch -- and trying to bridge the industry and worker divide is harder than ever to do. But that's exactly why we need a clarion call to try."
Aiyer, a former White House adviser during the Obama administration, is currently a commissioner on San Francisco Mayor London Breed's workforce investment board and said he is planning to transition into public interest work. He left his role leading Postmates' policy team amid Uber's acquisition of the company. 
Aiyer left Postmates around the same time The New York Times reported that Uber laid off more than 180 Postmates employees late last month, but he said he was not laid off and had always planned to depart following the Prop. 22 push. 
None of the ideas that Aiyer is proposing will be easy to push forward. Sectoral bargaining easily has the toughest odds, with the United States currently favoring a company-based labor union system. 
Ashley Steiner Kelly, a partner in the litigation practice group and co-chair of the employment practice group at law firm Arnall Golden Gregory LLP, said that pushing for sectoral bargaining would require a huge legislative effort given that the National Labor Relations Act, which established the right for private-sector employees to unionize in 1935, excludes independent contractors.
Another point of contention in the memo, Kelly said, is the notion of putting contractors on a company's board. While there's precedent for standing up advisory boards that feature contractors at Airbnb Inc. and Postmates, no company has gone as far as to include a driver or other app-based worker on their company's board. 
Because companies typically reserve board seats for those with business experience, Kelly said you can expect companies to be "hesitant" to follow through on that idea.
"Change is difficult," she said. "The policy changes mentioned are innovative, but there are strong feelings on both sides, so it's going to take time before we see huge changes in our whole system." 
Among the list of Aiyer's policy priorities is the reintroduction and passage of S. 541 from Sen. Mark Warner (D-Va.) and HR. 4016 from Rep. Suzan DelBene (D-Wash.), which would create a fund at the Labor Department to give states financial assistance so they can experiment with portable benefits. 
Spokespeople for both lawmakers told Morning Consult they plan to reintroduce the bill this session, although the exact timing is unclear. While Kelly said there might not be any legal challenge to the establishment of portable benefits, neither the Senate or House versions moved during the last congressional session, signaling that it could be difficult to gain momentum behind the policy area.
Another sticking point in Aiyer's vision could be the Biden administration, which hasn't shared much detail about where it plans to sit in policy debates about the future of gig worker classifications. 
During the campaign, President Joe Biden promised to put an end to employers "intentionally misclassifying their employees as independent contractors," but aside from putting a freeze on a last-minute Trump administration policy at the Labor Department that would have made it easier for employers to label some workers as contractors, not much has been revealed about how and where Biden will weigh in.
Regardless of that promise, Aiyer said he's hopeful that the administration will take a measured approach to determining its stance on the issue based on Biden's reputation as someone who is willing to compromise. In his memo, Aiyer calls for the Biden administration to create a new commission that includes workers, unions and gig company leaders to review various labor reforms. 
"We know that labor is going to push his administration on this issue. They were very unhappy with what happened with Prop. 22," Aiyer said. "There's a moment for leadership to say 'we can have this war continue,' and it probably will play out with brute strength, or they can be a meaningful convenor at addressing one core question, which is: 'How do we actually construct 21st century workforce policies that don't always have to pit workers against capital in this sort of very binary tradeoff?' "
Sam Sabin previously worked at Morning Consult as a reporter covering tech.
We want to hear from you. Reach out to this author or your Morning Consult team with any questions or comments.
Contact Us