Weekly ER Visits for Suicidal Thoughts, Attempts in 2020 Did Not Exceed Pre-Pandemic Level, Data Shows
Uptick in telehealth drove higher-than-expected number of outpatient visits for anxiety, depression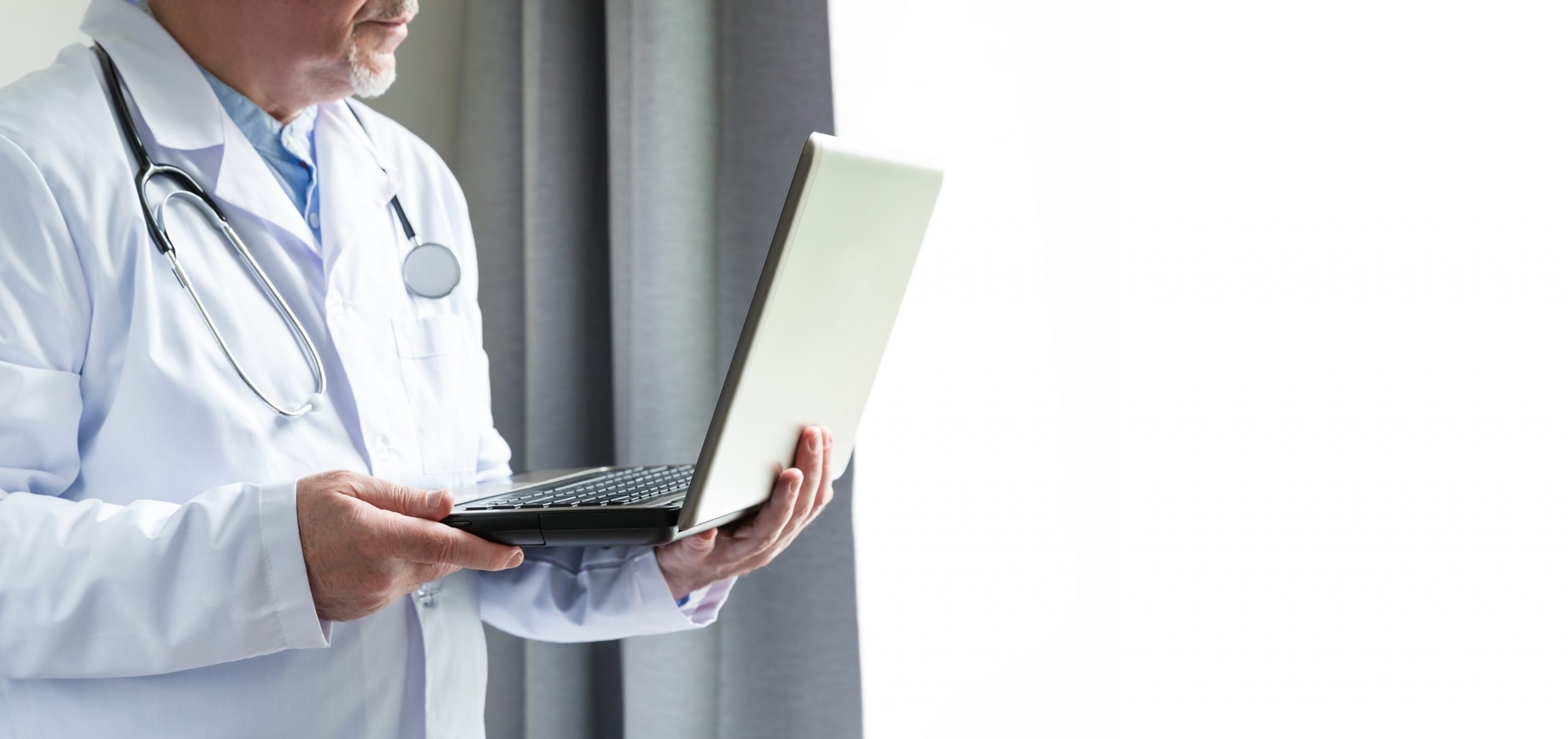 Key Takeaways
Weekly ER visits for suicide-related issues plummeted in March 2020 and nearly reached pre-pandemic levels by the end of the year.

Telehealth visits made up 28% of all outpatient visits for anxiety or depression in December 2020, reflecting a dramatic increase during the pandemic.
Amid concern over how the pandemic has affected mental health, new data shows suicide-related emergency room visits dropped off in March 2020 before ticking back up in the following months, but haven't so far surpassed pre-pandemic levels.
Public health advocates and officials have warned that a year of isolation and intense health and economic stress could lead to an uptick in deaths by suicide and increased mental health problems. But the new analysis, conducted by the Epic Health Research Network and provided exclusively to Morning Consult, indicates that even as outpatient visits for anxiety and depression climbed, suicide-related ER visits did not surge to previously unseen heights in 2020.
The analysis, which includes data from 45 health care organizations that cover 28 million patients, provides an early look at how the mental health care landscape has changed during the pandemic. ER visits for suicide-related diagnoses, including ideation, attempts or intentional self-harm, peaked in early March of last year, reaching 2,665 visits per week. Visits then plummeted as hospitals prepared for a wave of COVID-19 patients and most other provider services ground to a halt.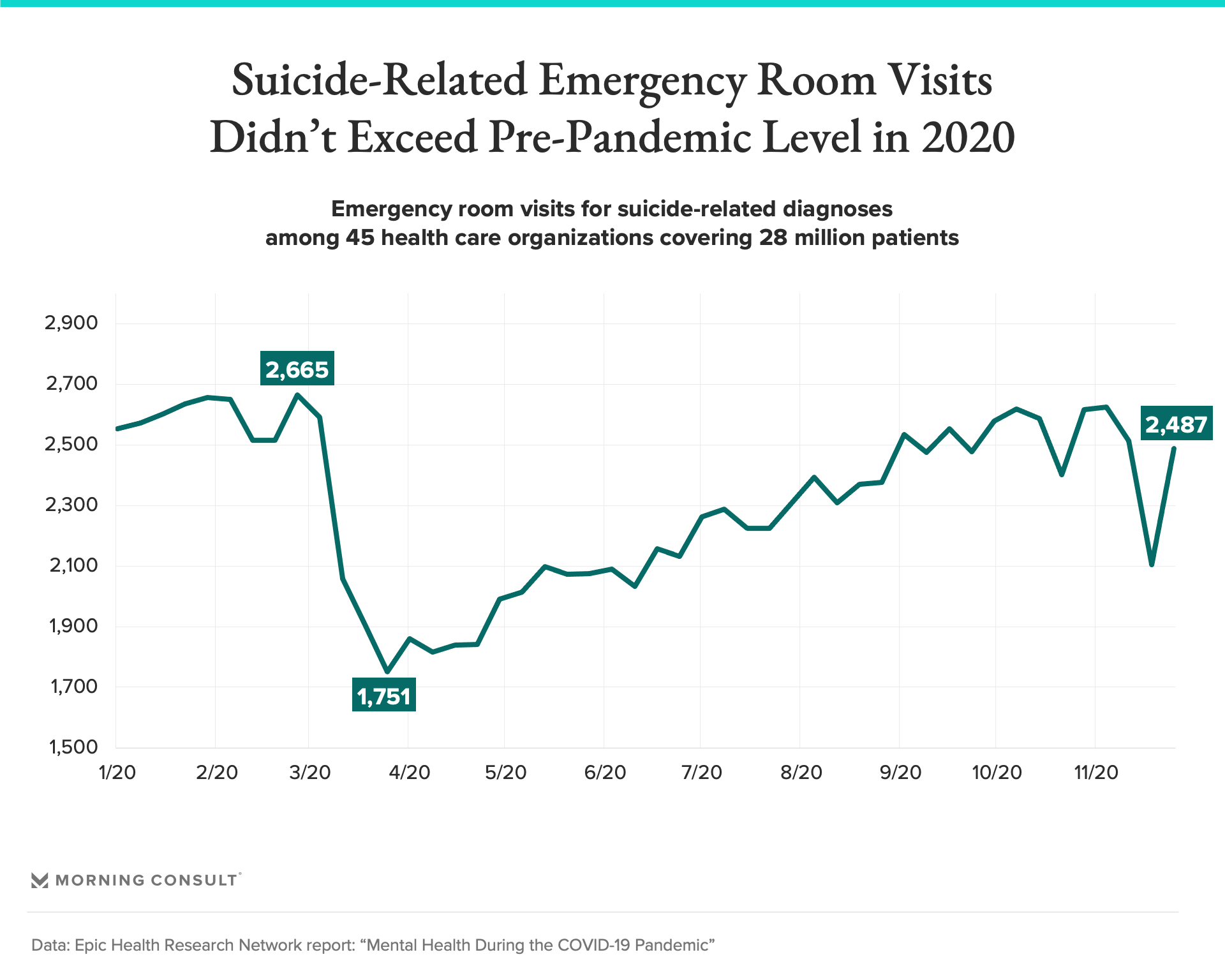 Trips to the ER then began ticking back up. By early December, there were 2,487 suicide-related ER visits per week, the analysis shows.
"That's a gap in care delivery, and/or willingness to seek care," said Dr. Dave Little, one of the study's authors and a clinical informatics physician at Epic.
The lack of a notable uptick in ER visits for suicide-related issues isn't comforting, though, said Paul Gionfriddo, president and chief executive of the nonprofit Mental Health America. It can take years for a struggling person to reach a crisis moment, making ER visits a "late-stage indicator" of the pandemic's mental health toll, he said.
"Think about it almost like a funnel: There are a lot more people with stage-one heart disease than will end up with stage-four heart disease," Gionfriddo said. "By the time you get to the hospital, you've already funneled down to a group of people generally who have been underserved for years by the time they get there."
Some of these early warning signs are already evident. The Epic analysis also shows outpatient visits for anxiety and depression had risen above expected levels by the end of 2020, driven mainly by a surge in telehealth use that peaked in mid-April but remained elevated throughout the year.
In December, telehealth made up 28 percent of mental health-related outpatient visits, the analysis shows, while in-office visits made up 53 percent and the rest were ER or telephone visits.
Part of the increase in outpatient mental health visits in the second half of 2020 could also be pent-up demand from people who delayed care in the early months of the pandemic, said Dr. Paul Nestadt, a psychiatrist and suicide researcher at Johns Hopkins University School of Medicine.
He also noted that early data from a handful of states indicates suicide rates have not increased during the pandemic, but calls to suicide and other crisis hotlines have reportedly risen. Given the people who die by suicide and those who express suicidal thoughts and behaviors don't always overlap, Nestadt said the uptick in calls, ER visits and treatment could represent a greater willingness to seek mental health care.
"It means that all the work we've been doing for years to destigmatize asking for help is having an effect," Nestadt said.
Suicide Lifeline: You can reach the National Suicide Prevention Lifeline by calling 1-800-273-8255 and the Crisis Text Line by texting HELLO to 741741.
Gaby Galvin previously worked at Morning Consult as a reporter covering health.
We want to hear from you. Reach out to this author or your Morning Consult team with any questions or comments.
Contact Us