Faith in Comey's Honesty Declines, but Voters Still Trust Him Over Trump
Fewer registered voters say Comey is honest compared to last year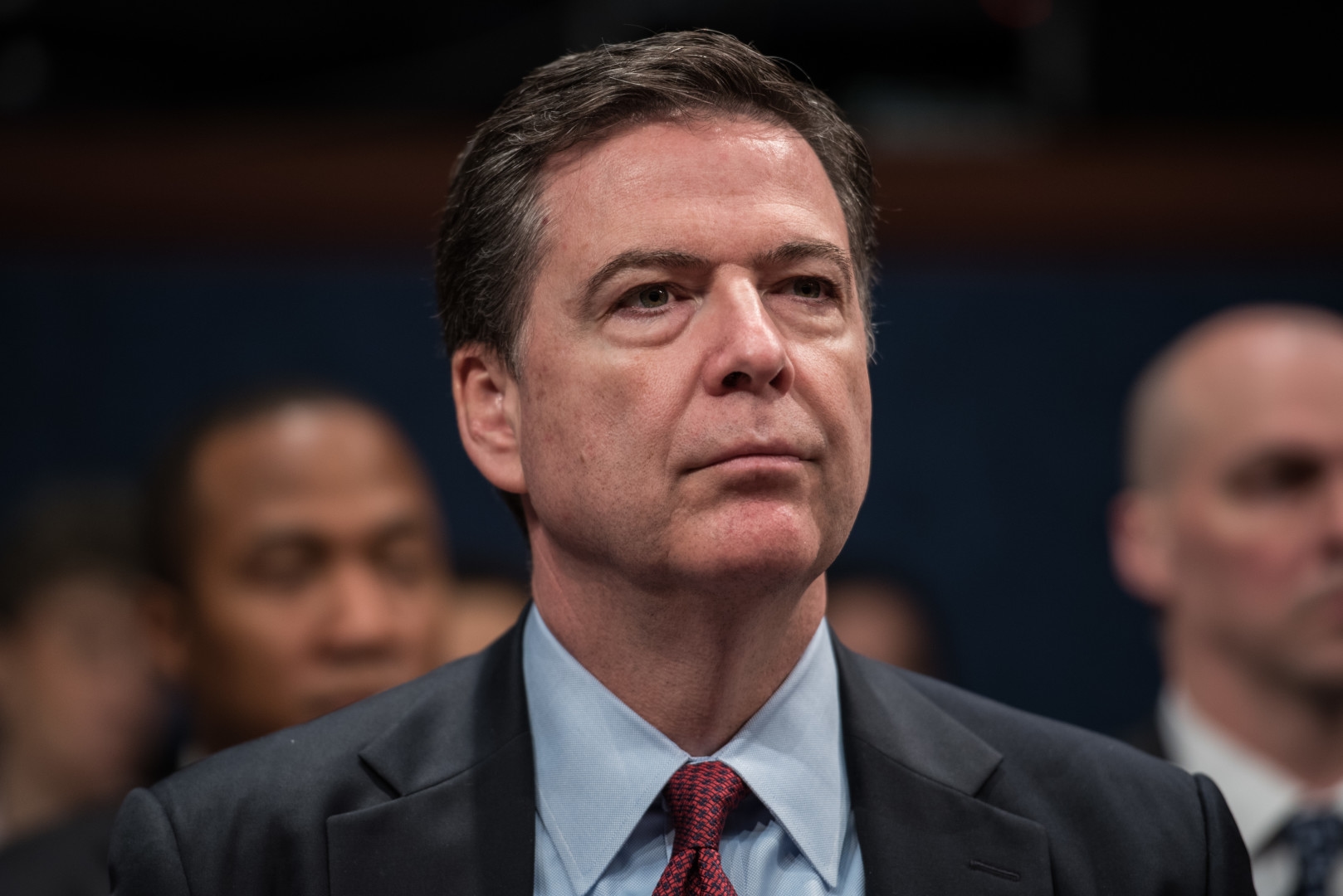 Key Takeaways
A 42% plurality of voters say Comey is honest, while 33% say he's dishonest.

Since June, there's been a negative net swing in view of 17 percentage points in views about Comey's honesty, driven largely by self-identified independents and Republicans.

A 43% plurality say they trust Comey more, compared to 29% who say they trust Trump more.
Compared with last year, more voters think James Comey is dishonest, but their views have not changed significantly when it comes to how the former FBI director's trustworthiness stacks up against President Donald Trump's.
The findings from two nationwide polls – conducted online June 8-12, 2017, shortly after Comey's testimony to the Senate Intelligence Committee, and April 12-17 – come as Comey is promoting his new book, "A Higher Loyalty," published April 17.
A 42 percent plurality of registered voters in the latest survey said Comey was honest, while 33 percent characterized him as dishonest. In last year's poll, 53 percent of voters described Comey as honest, with 27 percent disagreeing. That amounts to a negative net swing of 17 percentage points, driven largely by self-identified independents and Republicans.
Both surveys have a margin of error of plus or minus 2 percentage points.
"The president's no-holds-barred attack on Comey, which has been long-running now, is having a real effect on the opinions of people who tend to take their cues from the president," said Bill Galston, a senior fellow at the Brookings Institution, in an April 18 interview.
The share of independents who described Comey as honest dropped 10 points, to 37 percent, while 30 percent in the most recent poll described him as dishonest, a 5 point gain. Comey's honesty dropped 16 points in the eyes of Republicans, to 23 percent, while 55 percent said he was dishonest, a 14 point spike.
The Republican National Committee has set up a war room to monitor Comey's media appearances and fire back at him in the president's defense, RNC spokesman Michael Ahrens said in an April 18 interview. The RNC has pushed back against the book with a website, digital ads, a research team for fact-checking and a rapid response team issuing press releases, in addition to providing talking points for surrogates, Ahrens said.
"We've led with a real emphasis on what Democrats have said in the past about Comey," Ahrens said, noting that people close to former Democratic presidential nominee Hillary Clinton have previously criticized the former FBI director.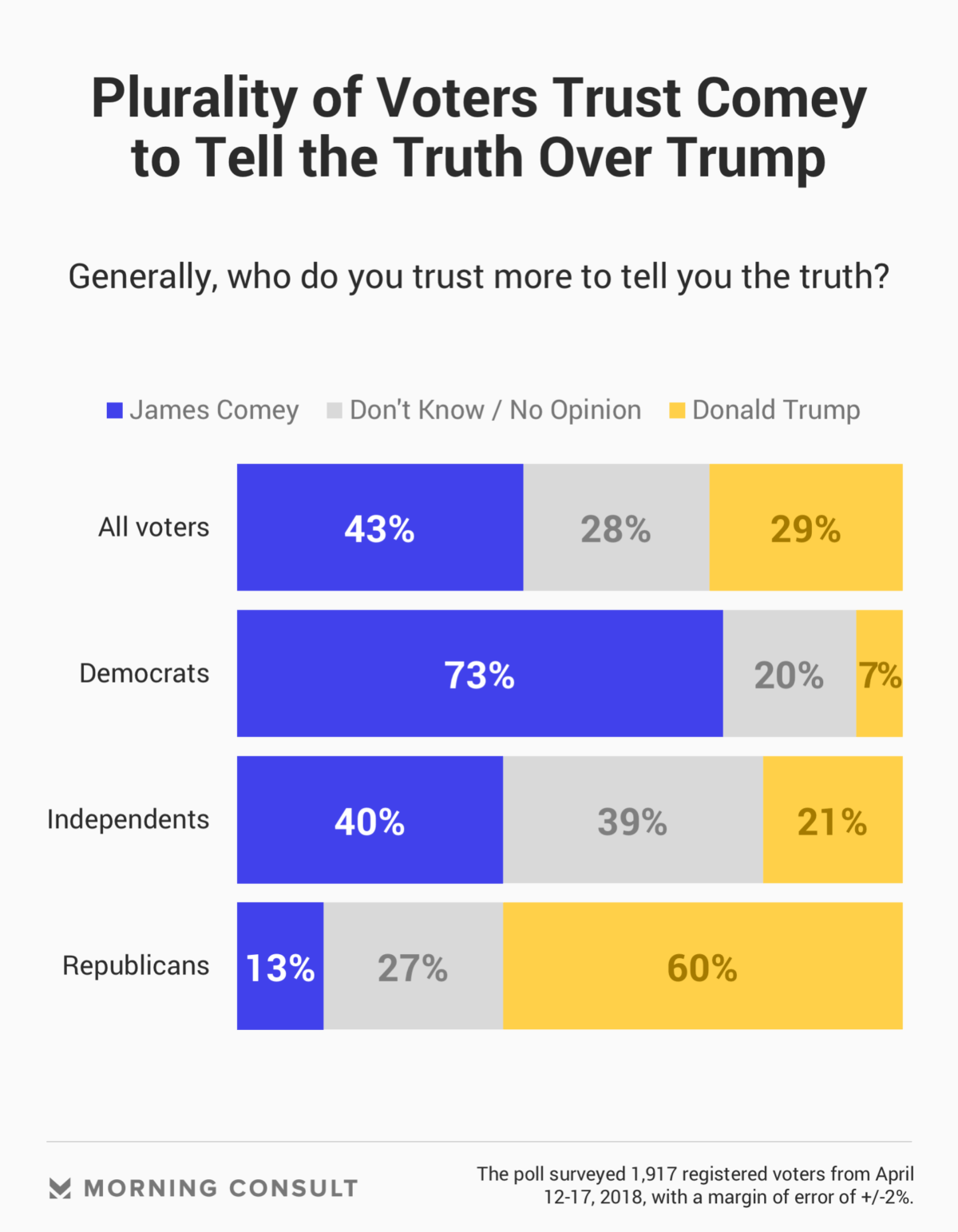 Democrats' views of Comey were little changed over the past 10 months, with 67 percent describing Comey as honest and 14 percent describing him as dishonest in the latest survey. The net change between June and April was within the 2 point margin of error.
Galston said he does not expect voter views of Comey to change much --– even with the media blitz. "The attack on Comey has drawn some blood, but it has brought him down without raising the president up," he said.
Views between June and April shifted slightly when voters were asked if they trusted Trump or Comey more to tell the truth: A 43 percent plurality in the recent poll said they trusted Comey more, within the 2 point margin of error, while 29 percent said they trusted Trump more, down 3 points from June.
A 40 percent plurality of independents in the latest survey said they trust Comey more, a view that was shared by 73 percent of Democrats, while 60 percent of Republicans trust Trump more.
Eli Yokley is Morning Consult's U.S. politics analyst. Prior to his current role, Eli was Morning Consult's senior reporter covering U.S. politics. Eli joined Morning Consult in 2016 from Roll Call, where he reported on House and Senate campaigns after five years of covering state-level politics in the Show Me State while studying at the University of Missouri in Columbia, including contributions to The New York Times, Politico and The Daily Beast. Follow him on Twitter @eyokley. Interested in connecting with Eli to discuss his analysis or for a media engagement or speaking opportunity? Email [email protected].
We want to hear from you. Reach out to this author or your Morning Consult team with any questions or comments.
Contact Us