Fans Expect Sports to Come Back Before They'll Be Comfortable Filling Venues
Less than half of sports fans think they'll be ready to attend a live sporting event in 2020
Key Takeaways
72% of fans expect pro and college sports to resume by the end of the year; 48% believe they'll be ready to attend a live sporting event by then.

30% of fans don't know when they'll be comfortable attending a sporting event again.

70% of fans want leagues to wait to resume play until it's safe to have crowds.
One of the most pressing concerns hanging over the sports industry amid the current shutdown is how long it will take after the coronavirus pandemic subsides for fans to feel comfortable packing stadiums and arenas by the thousands.
A new Morning Consult poll shows that sports fans expect professional and college sports to resume before they are comfortable attending games themselves: While 72 percent of fans believe play will resume by the end of 2020, less than half expect that they will feel comfortable going to live sporting events by that point.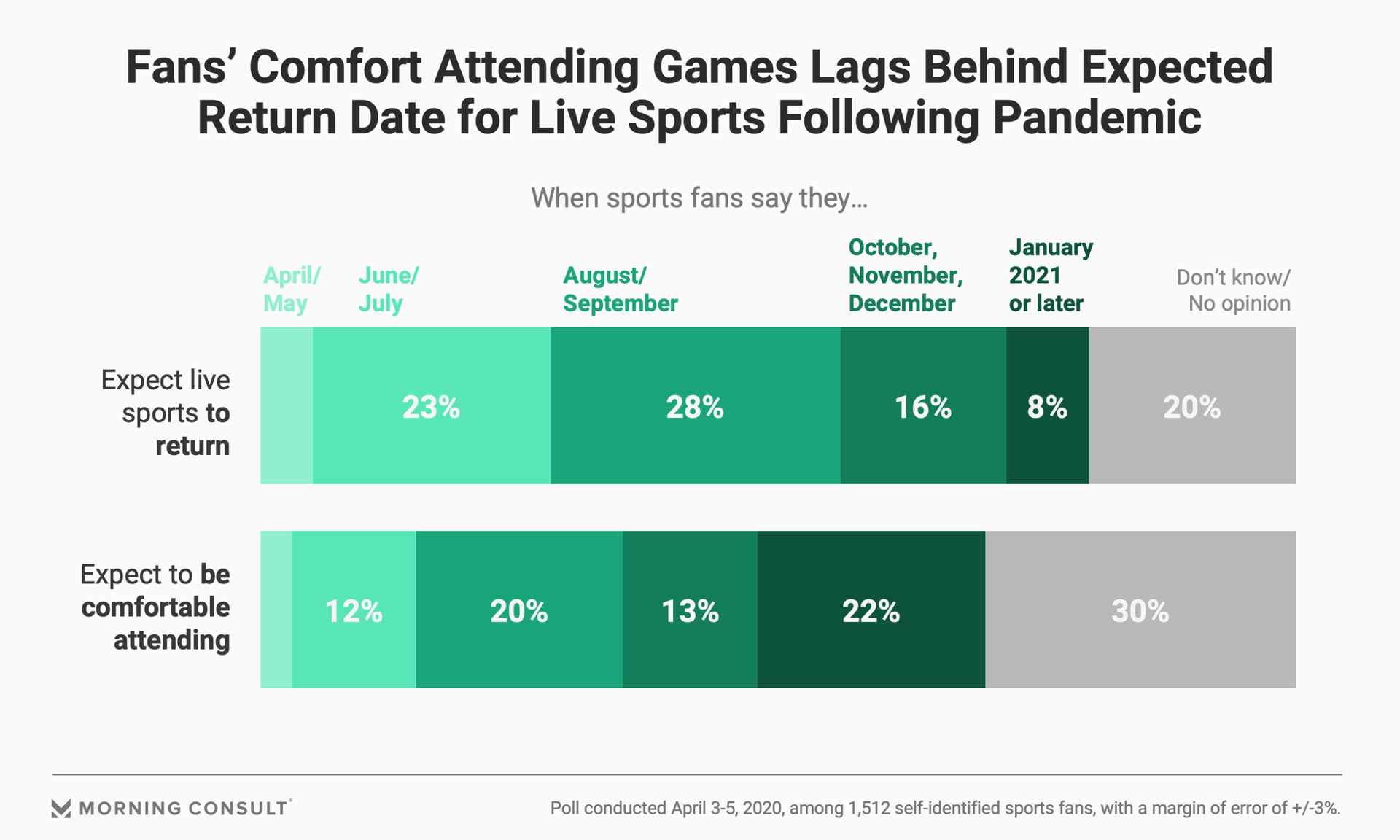 The NBA was the first major North American professional sports league to halt play, suspending its season on the evening of March 11 after Utah Jazz center Rudy Gobert became the first player to test positive for COVID-19. The NHL, MLS and MLB all followed suit the next day, and the NCAA subsequently canceled its men's and women's basketball tournaments. Today, the UFC and horse racing are the only North American sports continuing to hold events, both without fans in attendance.
Over the weekend, President Donald Trump reportedly told the leaders of top U.S. professional sports organizations on a conference call that he would like to see fans back in the stands by August. Both the PGA Championship and the Indy 500 have already been rescheduled for August, and college football is still scheduled to start its season as planned at the end of that month.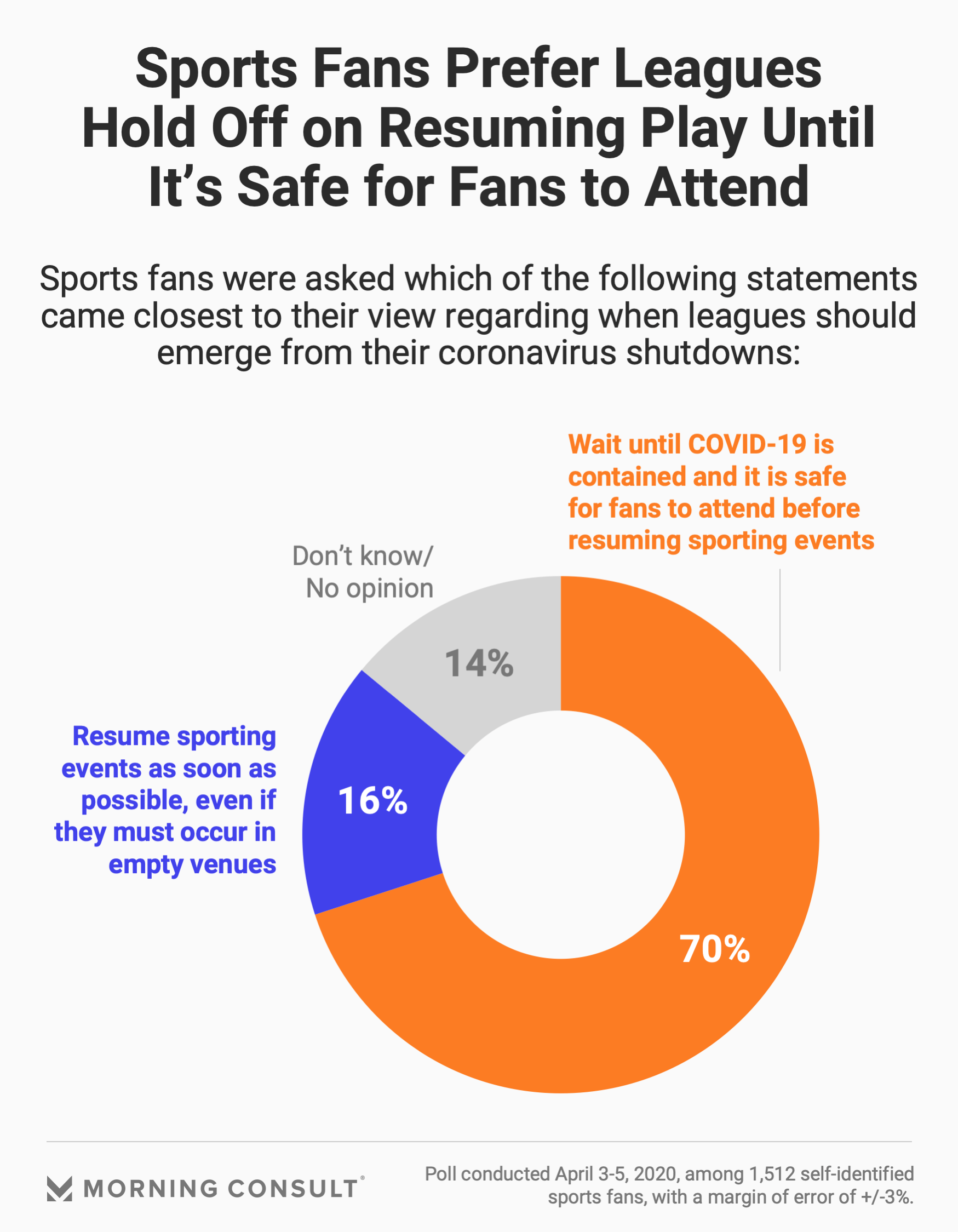 It's unclear whether the NHL and NBA will finish their respective 2019-20 seasons, but it appears unlikely that either will host fans until the start of their next seasons. If the leagues plan to begin in October per usual, teams will need to pull out all the stops to lure fans back for early-season games. Thirty-five percent of fans said they expect they will feel comfortable attending sporting events before the end of September.
In addition to reluctance about returning to live sporting events, the results of the April 3-5 poll of U.S. adults also show uncertainty. Among the 1,512 self-identified sports fans surveyed, 30 percent said they don't know or had no opinion on when they expect to feel comfortable attending games, highlighting the lack of clarity among the public about when it will be safe to congregate in large groups again.
Though fans appear reticent to head to the stadium in the near future, 70 percent of them want sports leagues to wait until the pandemic is contained and it's safe for fans to attend games before resuming play. Only 16 percent said sports organizations should resume play as soon as possible, even if that means playing in empty buildings.
The sports fans demographic has a margin of error of 3 percentage points and the broader sample has a 2-point margin of error.
Joanna Piacenza contributed.
Alex Silverman previously worked at Morning Consult as a reporter covering the business of sports.
We want to hear from you. Reach out to this author or your Morning Consult team with any questions or comments.
Contact Us