E-Rate Expansion Likely at the Top of Rosenworcel's Agenda as FCC Acting Chair
2-2 split at FCC hinders big overhaul, but ex-FCC officials say she still has power to make changes on margins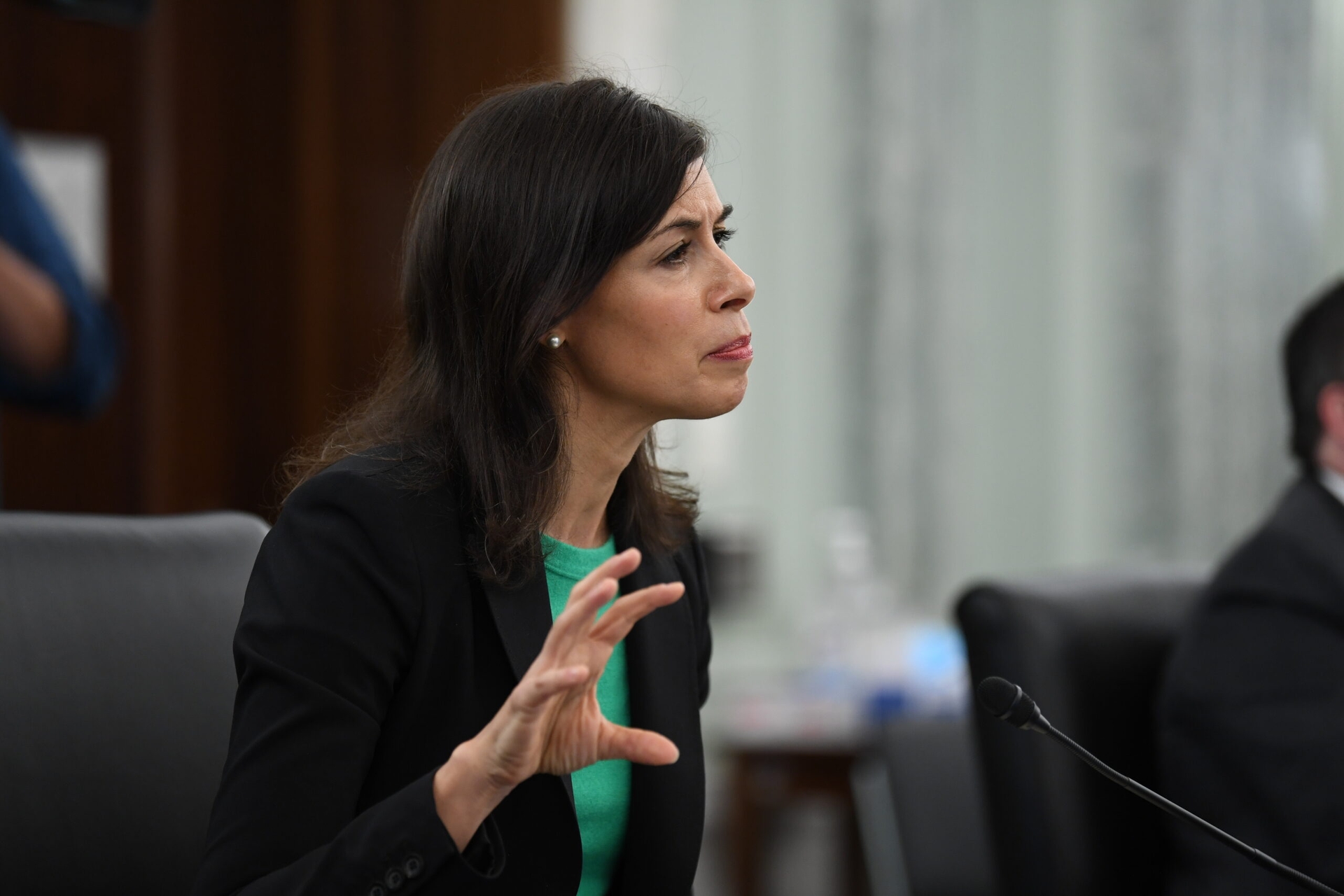 Now that Jessica Rosenworcel is officially the acting chairwoman of the Federal Communications Commission, advocates and agency experts say that one of her top priorities is likely to be an overhaul of a federal subsidy that helps schools and libraries buy laptops, hotspots and other connected devices to account for at-home virtual learning.
She has made her concerns about the program abundantly clear: The same week schools started shutting down, forcing students and teachers to rely on their at-home internet capabilities, then-Commissioner Rosenworcel was sounding the alarm about the need to expand the subsidy program known as E-rate, which only allows for funds to be used for devices on campus. 
"With schools closing and learning migrating online, this is the right moment to adjust FCC rules to expand how we think about internet access and the traditional classroom," the Democratic commissioner wrote in The Verge in March. 
But while Rosenworcel, a staunch supporter of bridging the education digital divide, now has a higher profile as acting chairwoman, the FCC's current 2-2 party line split casts an uphill battle for major reforms without congressional help, former agency commissioners and aides said in interviews with Morning Consult. 
Or, they say, Rosenworcel has the opportunity to get creative with the new powers that come with the chair position, which allows her to reinterpret some past commission decisions or expand the definition of which services qualify for certain funding.
"In addition to running an agency, and that's not inconsequential by the way, there are definitely a lot of places where you can be innovative that will definitely keep you busy," said Mignon Clyburn, a former Democratic FCC commissioner who left the agency in 2018 and was acting chair in 2013. For example, Rosenworcel can use her elevated position to gain more media attention for her priorities, even if in some cases, she might not be able to make the headway she'd like, Clyburn said.
Educators rejoice
Since the coronavirus pandemic forced students, teachers and other school officials to turn their homes into classrooms nearly a year ago, education connectivity advocates have been pushing Congress and the FCC to expand how funds for E-rate can be doled out.
Democrats, including Rosenworcel, have contended that students' homes should be considered classrooms during the pandemic. But Republicans, including former Chairman Ajit Pai, have argued that expanding the program in that way stretches beyond the legal scope of E-rate's funding. 
After funding for an E-rate expansion was left out of the latest coronavirus relief package last month, education connectivity advocates see the appointment of the commissioner credited with coining the term "homework gap" as acting chair as a boon for their once-dashed hopes. 
"She understands fast and reliable internet access should be a right, not a privilege," Randi Weingarten, the president of the labor union American Federation of Teachers, said in a statement to Morning Consult. "Commissioner Rosenworcel is driving the urgent work before us now to ensure all students -- no matter their zip code -- can learn effectively in the time of COVID and far into the future."
But questions persist as to whether Rosenworcel can make changes to E-rate without support from her Republican colleagues given the 2-2 split, said John Windhausen Jr., executive director of the advocacy group Schools, Health and Libraries Broadband Coalition.  
"We would hope that the Republicans would understand the need, especially during this emergency that we're facing," said Windhausen, who was an attorney at the FCC during the Reagan administration. "We don't know what Commissioner Carr thinks, and we certainly don't know what Commissioner Simington thinks since he's so new at the FCC." 
Spokespeople for Carr and Simington did not respond to a request for comment.
Acting chair limitations
If history provides an accurate blueprint, Rosenworcel could find herself in the interim role facing the party-line split for the better part of the year since filling the agency's vacancies aren't always the highest priorities for new administrations. For example, the two most recent former chairmen, Ajit Pai and Tom Wheeler, were confirmed in October of the first year of Trump's administration and Obama's second term, respectively.
Clyburn knows the challenges that come with a long-running interim role all too well. She said demands for affordable internet access heightened by the pandemic mean Rosenworcel won't be able to enjoy a "honeymoon," with a congressional mandate to set up the emergency broadband benefit program in the next month becoming a top priority.
While tackling loftier Democratic priorities like restoring net neutrality will be impossible with a split commission, Nathan Leamer, vice president of public affairs at Targeted Victory and Pai's former policy adviser, said issues like expanding E-rate could still have a fighting chance if Rosenworcel is willing to negotiate on some parameters with her Republican colleagues. 
"There are opportunities for the FCC to actually work together and solve that homework gap," he said. "If acting Chairwoman Rosenworcel goes into it with a mind and a real thirst for honest engagement, and I think she will, you could have some willing partners to find some solutions to these problems in a bipartisan fashion." 
Rosenworcel's office did not respond to a request for comment.
Greg Guice, director of government affairs at advocacy group Public Knowledge, said Rosenworcel will now have the power to set the agenda for the agency, which has plenty of staying power with commissioners. It's possible for Rosenworcel to make changes to E-rate without a vote by relying on the delegated powers of the position to review which approved services qualify for subsidy funds, he said. 
"The chair's authority isn't carte blanche, so you can't just go out and do whatever you want. But if it's interpretative or expanding on things that the commission has decided, then you can use delegated authority and the chair really directs that process," said Guice, who has more than a decade of experience working at the FCC in various roles. 
Clyburn added that Rosenworcel could choose to follow the same approach she did during her acting role: tackle the lower-profile docket items that often get lost in the shuffle, giving the permanent chair a clean slate. 
"There are a lot of good, worthy things that you can do at the agency that are consequential and that make a difference without you even hitting the gavel," she said. 
Prospects for permanent chair nomination
While Rosenworcel has been assumed by Washington observers to be one of the leading candidates for the permanent chair, few outside of the administration appear to know who exactly is being eyed for the role, leaving stakeholders to read the tea leaves about a potential short list. Even Clyburn, a member of Biden's FCC agency review team, said she's unclear on who the nominee will be. 
Working against Rosenworcel is the fact that under the past two Democratic administrations, no existing FCC commissioner has been tapped to be the permanent chair. And Clyburn's name continues to be eyed by stakeholders as a strong candidate for the nomination, although the former commissioner declined to say whether she'd consider the role if offered. 
A spokesperson for Sen. Maria Cantwell, the Democratic leader of the Senate Commerce Committee, which conducts the nomination hearings for the FCC, did not respond to a request for comment. 
No matter who leads the FCC at a given time, Clyburn said they will have their hands full. 
"They're going to have to walk, chew gum and skip," Clyburn said. "There are a lot of things that are going to have to happen simultaneously to meet the challenges and the need of a country that needs more affordable and ubiquitous connectivity."
Sam Sabin previously worked at Morning Consult as a reporter covering tech.
We want to hear from you. Reach out to this author or your Morning Consult team with any questions or comments.
Contact Us