Fewer GOP Voters Worried About Climate Change Since Irma and Harvey
But more Republicans say they back Paris climate accord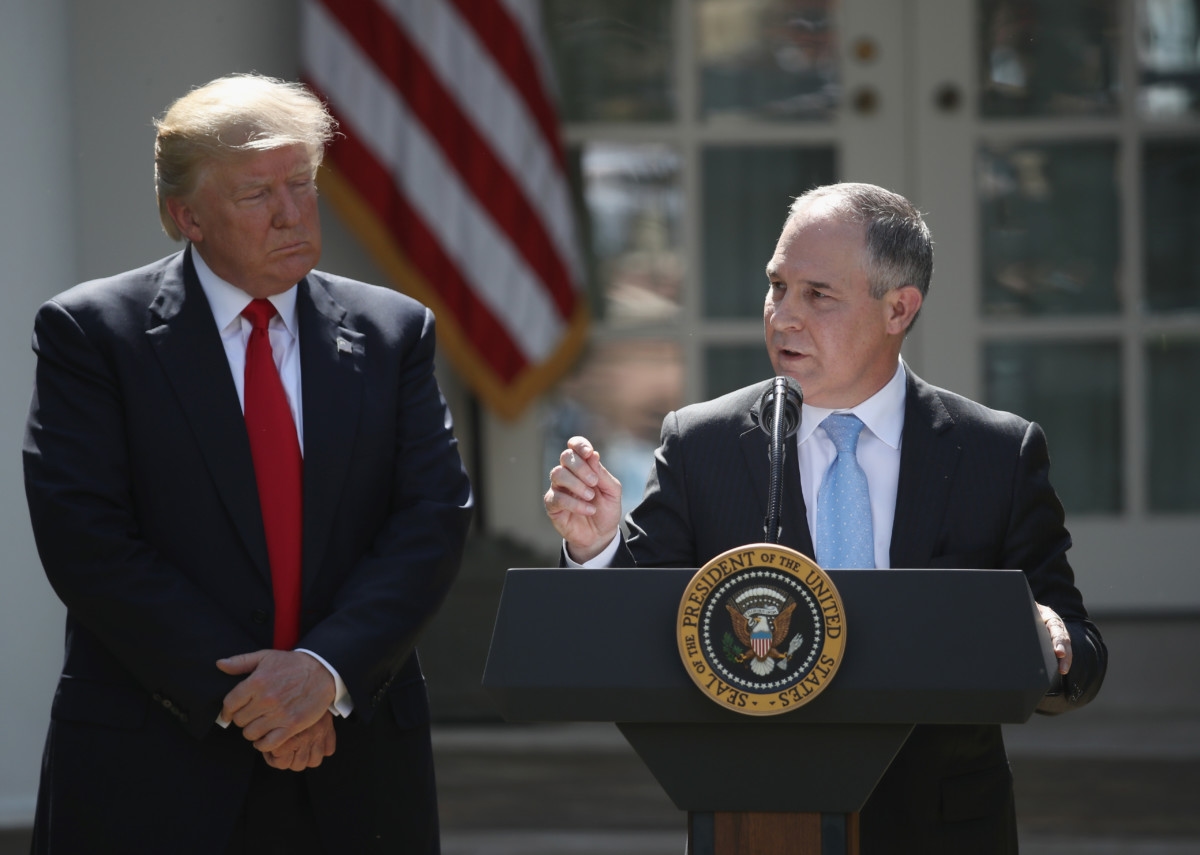 Key Takeaways
47% of Republicans are concerned about climate change, down 10 points from September.

42% of Republicans now say they think the United States should stay in the Paris agreement, a rise of 10 points since June 2017.
About eight months after Hurricanes Harvey and Irma swept through the Gulf Coast and the southeastern United States, fewer Republican voters are concerned about climate change, according to a recent Morning Consult/Politico poll.
In an April 26-May 1 survey of 1,991 registered voters, 47 percent of registered GOP voters said they are somewhat or very concerned about the issue of climate change and its effect on the environment, down from 57 percent in a Sept. 7-11 poll, which was conducted as Hurricane Irma was hitting the Caribbean and Florida. Both polls have a margin of error of 2 percentage points.
But while a majority of Republicans (57 percent) believe the United States should prioritize protecting the coal industry and other industrial jobs over the environment, the number of GOP voters who say they support the United States remaining in the Paris climate accord has increased compared to a June 1-2 survey. The share of Republicans favoring the accord rose 10 points from that poll to 42 percent.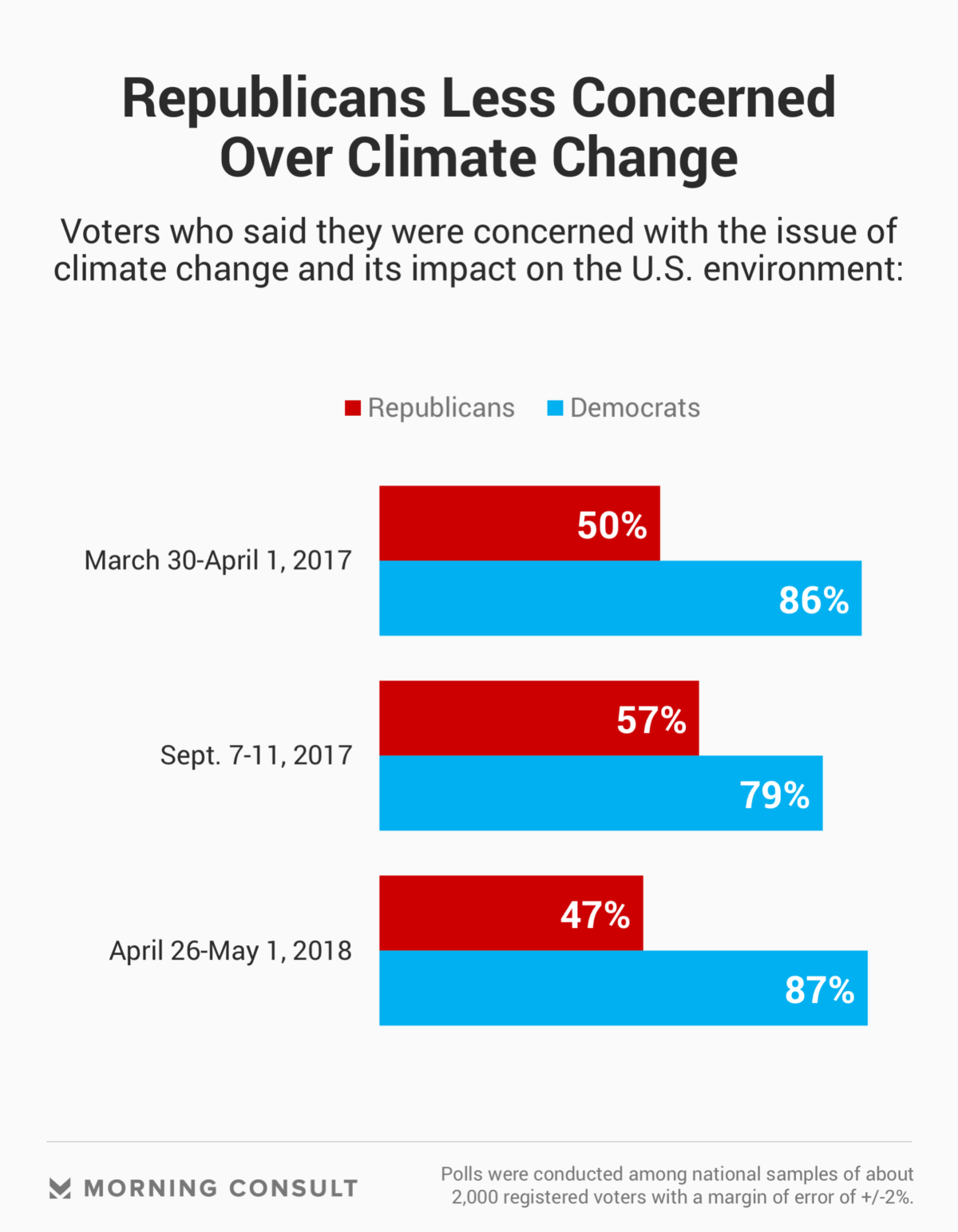 Paul Bledsoe, who served as director of communications of the White House Climate Change Task Force under President Bill Clinton from 1998-2000 and now lectures at American University in Washington, attributed the reduction in GOP concern over climate change in part to President Donald Trump, who he said "consistently denies the scientific facts on climate change."
As the Sept. 7-11 survey on climate change concerns ran, the United States was coming off the deluges in the Gulf Coast from Hurricane Harvey and was still experiencing the effects of Hurricane Irma. A conversation was playing out in the media during that time over the extent to which climate change could be impacting the strength and frequency of 2017's tumultuous hurricane season.
Bledsoe said he suspects the deeply partisan atmosphere over climate change won't last forever. "My hope is that the views of Americans will normalize once Trump is no longer on the political scene, but it will be difficult to move Republicans with his vitriolic rhetoric about fighting climate change," he said in a Wednesday phone interview.
As for the figures showing a rise in Republican support for the United States to remain party to the 2015 Paris climate agreement to reduce greenhouse gas emissions, Myron Ebell, director of the Center for Energy and Environment at the free market public policy group Competitive Enterprise Institute, blames "global warming talking points" circulating in the media.
Ebell, who also headed up Trump's transition team at the Environmental Protection Agency, said in a phone interview Wednesday that the boost in support for Paris, including among Republicans, is not likely to impact whether the United States ultimately withdraws from the pact. Now that Trump has Mike Pompeo as secretary of state, Larry Kudlow as his top economic adviser and John Bolton as national security adviser, "I think that they will do a much better job of articulating the reasons" for withdrawing from the Paris accord, he said.
Bledsoe suggested people's concerns about U.S. isolationism, whether regarding trade or defense, could be contributing to the support witnessed for the Paris agreement. "Americans don't like to be hated, and they're not very popular right now around the world," he said. "And the Paris accord has had an outsized effect on that."
Jacqueline Toth previously worked at Morning Consult as a reporter covering energy and climate change.
We want to hear from you. Reach out to this author or your Morning Consult team with any questions or comments.
Contact Us