Fewer People See Brands as Political, but It's Just Because They're Getting Used to It
In a politically polarized climate, a company's stance on a social issue gets lost in the crowd, marketing experts say
Key Takeaways
53% of the public says brands have gotten more political, down 11 points from July 2018.

Consumers are 16 points more likely to say brands have become more culturally liberal than conservative, and 11 points more likely to say the same of corporations' politics.
President Donald Trump's penchant for stoking cultural division, either via his flamethrowing rhetoric or his administration's polarizing policies, has made it harder than ever for brands to stay on the sidelines when it comes to social and political issues.
"All brands are living in the post-2016 world," said Christopher Lehmann, managing director of brand consulting firm Landor's San Francisco office. Lehmann and other brand experts say the country's intensifying political polarization makes these public acts both necessary and difficult to navigate. And they say taking the middle ground is often no longer an option — and often a stance in and of itself. 
Brands' positioning, and their intentional choice to speak out, follow a pattern: Controversy, followed by headlines and outrage on Twitter. Then another brand steps up, and the cycle restarts.
New Morning Consult/Advertising Week polling suggests that cycle is inuring consumers to the overtly political nature of advertising and marketing campaigns.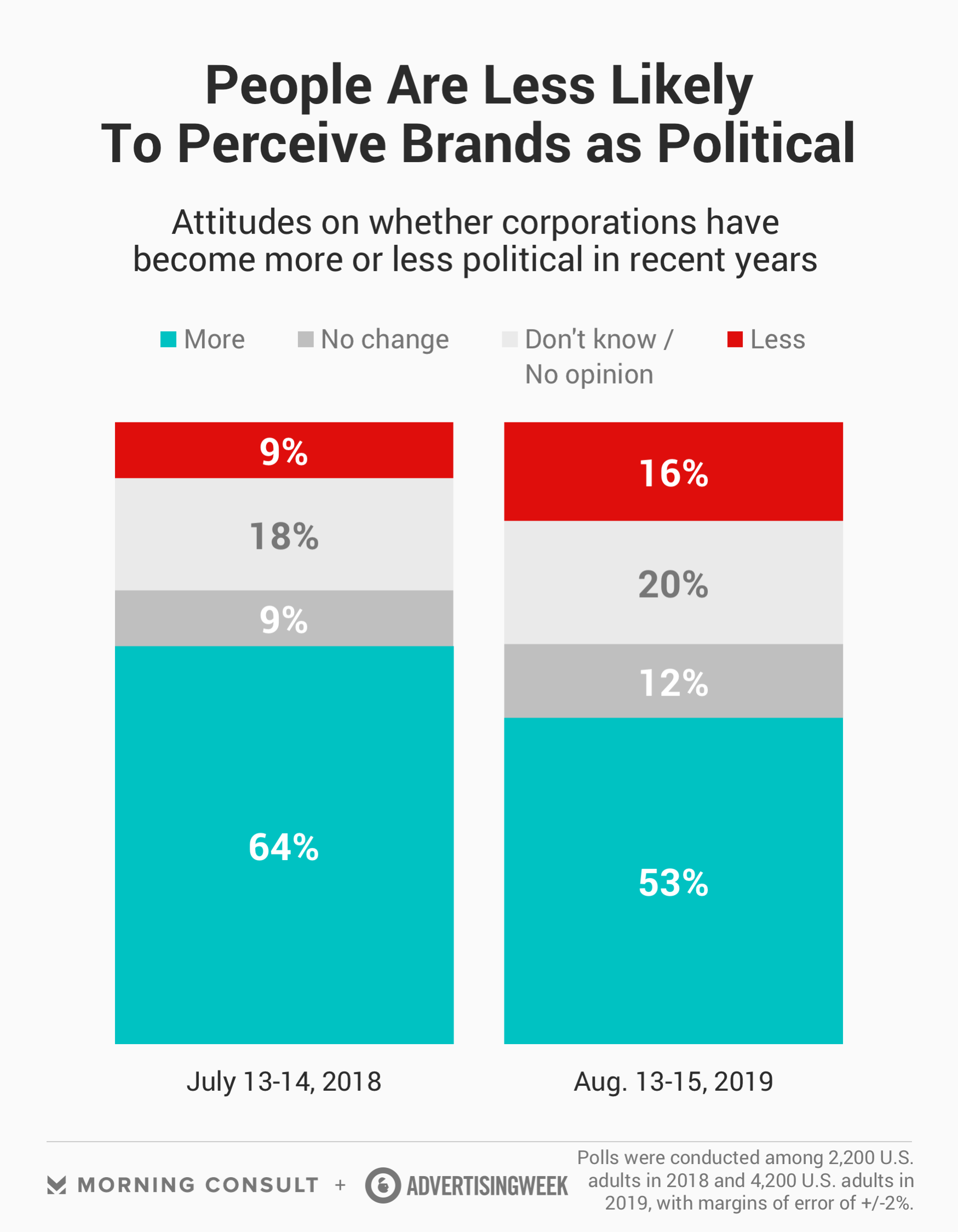 A smaller share of people in the Aug. 13-15 survey say brands are getting political compared to findings from a July 2018 poll, despite a number of high-profile campaigns in the past year, including Nike Inc.'s partnership with Colin Kaepernick and Columbia Sportswear Co.'s full-page Washington Post ad urging Congress to "Make America's Parks Open Again" amid the longest government shutdown in U.S. history. 
But marketers say this perception could shift yet again, as the 2020 presidential election starts to heat up and more Americans focus their attention on politics.
Most consumers (53 percent) say brands have gotten more political in recent years — but that's a double-digit drop from the 64 percent who said the same in July 2018. (The 2019 poll was conducted among 4,200 U.S. adults and holds a margin of error of 2 percentage points.)
The public is also about twice as likely to say brands have gotten less political. That's created an 18-point net drop in attitudes — the share who said they've gotten more political minus those who said the opposite. No one political affiliation or ideology is responsible for this decline.
What used to be considered a bold, political stand for a brand has become commonplace, said Lehmann, with consumers growing more "desensitized" to social or political messaging from companies.
Deb Gabor, CEO of brand consulting firm Sol Marketing and author of "Irrational Loyalty: Building a Brand That Thrives in Turbulent Times," also credited the decline to the whirlwind news cycle.
"People are becoming desensitized to it, but it also happens so fast — people can't catch their breath either," she said.
Gabor pointed to the disbanding of Trump's major business advisory councils in August 2017 as the seedbed for many brands' decision to get political. That month, the president announced the dissolution of the councils after several corporate leaders cut ties with the groups following the president's comments blaming both white nationalists and the counterprotesters for the deadly violence in Charlottesville, Va.
Since then, the corporate world has felt emboldened in their responsibility to take a stand, Gabor said. BlackRock Inc. CEO Larry Fink's annual letters to other chief executives over the past few years have also encouraged companies to embrace the role of moral compass and do more than sell their products and services. And just last week, 145 business leaders, including CEOs from Twitter Inc., Gap Inc. and Uber Technologies Inc., sent a letter to senators asking them to expand background checks for firearms sales and "red flag" laws.
Branding experts also noted that the July 2018 poll was conducted after a particularly tumultuous time period for brands — it was the summer after several airlines and car rental companies ended their partnership with the National Rifle Association following the Feb. 14 mass shooting at Marjory Stoneman Douglas High School in Parkland, Fla., and amid Papa John's International Inc.'s very public breakup with founder John Schnatter after he used a racial slur during a conference call. 
Companies speaking out on political issues is the "new normal" for many consumers, said Christine Moorman, a senior professor of business at Duke University and founder and managing director of The CMO Survey, which has gauged the opinions of top marketers since 2008.
"Consumers have expectations, and those expectations are created through their experiences," she said. That is, if they're seeing more brands take on zeitgeisty issues, they'll come to expect it. 
Moorman's latest biannual survey shows an uptick in marketers who believe it's appropriate for their brand to take a stance on politically charged issues in just 18 months, from 17.4 percent in February 2018 to 26.5 percent in August 2019.
Most of the prominent brand campaigns or decisions have leaned to the left, such as Walmart Inc.'s decision to end the sale of ammunition for military-style assault rifles and handguns and to stop selling handguns in Alaska, the last state in which it sold the firearms. The retailer's move came after shootings at two Walmart stores this summer.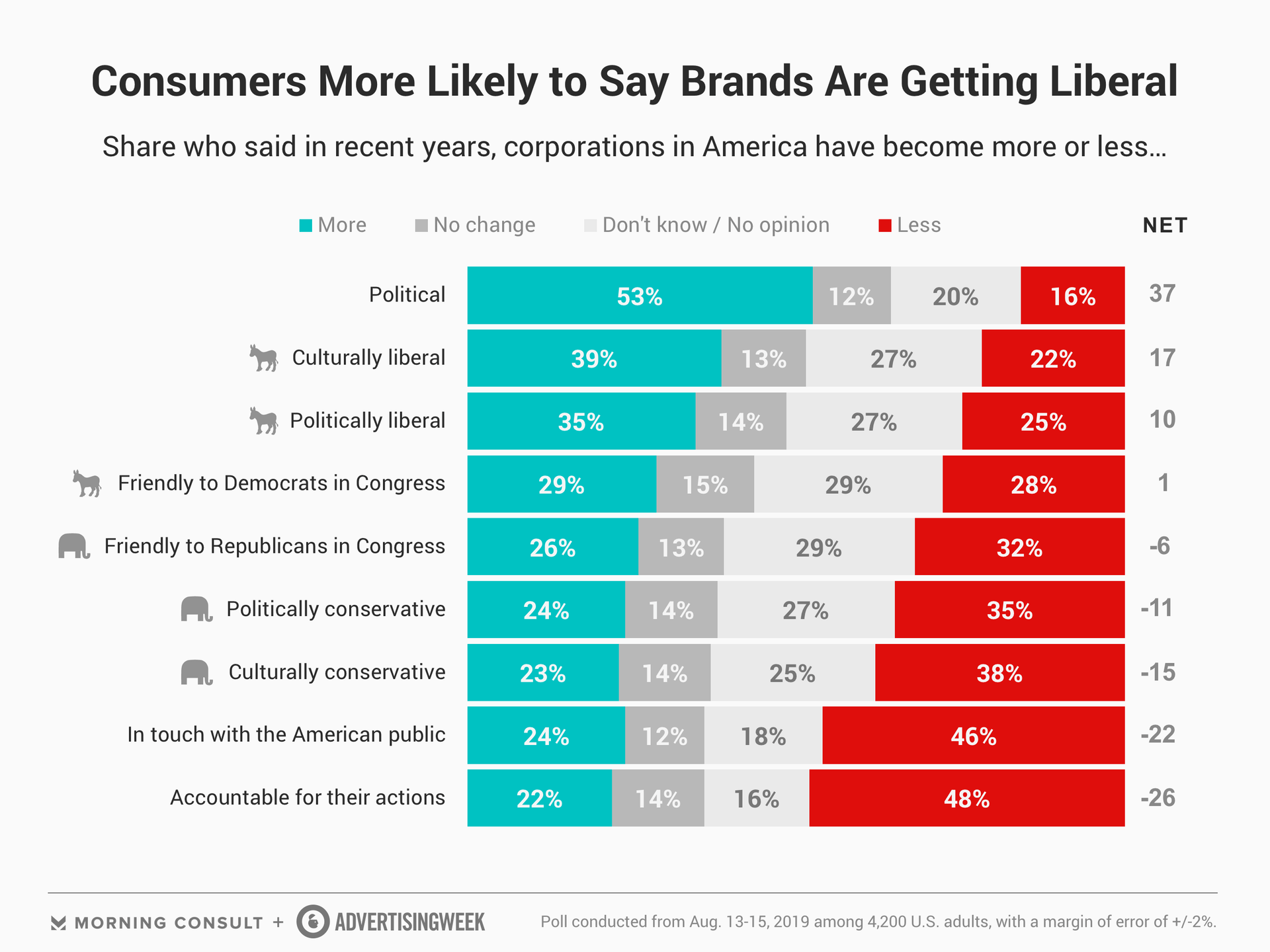 And consumers perceive this progressive lean. The public is more likely to say corporations have become more culturally liberal over recent years (39 percent) than they are to say they've become more culturally conservative (23 percent). Adults who identify as liberal are also more likely than those who identify as conservative to say that when brands take stances, those positions "often" or "sometimes" align with their views (59 percent vs. 41 percent). 
"Generally speaking, most brands want to stay in the middle," said Tim Calkins, a marketing professor at Northwestern University's Kellogg School of Management. "Most brands are not rushing to take a political stance, especially on divisive issues."
But in a country that keeps polarizing, "staying in that middle ground feels like it's getting harder," he said. "The middle ground almost seems like you're taking a stand."
And staying in that middle ground is about to get a lot harder, as the next presidential election nears. 
"There is increasing pressure from employees and consumers to have brands take stands on issues that matter," said Allen Adamson, co-founder and managing partner of the marketing firm Metaforce, which he said is only going to intensify as the news cycle returns to 24-hour politics and the country's divides are illuminated. 
His advice to brands as they look toward the 2020: "Fasten your seatbelts." 
Joanna Piacenza leads Industry Analysis at Morning Consult. Prior to joining Morning Consult, she was an editor at the Public Religion Research Institute, conducting research at the intersection of religion, culture and public policy. Joanna graduated from the University of Wisconsin-Madison with a bachelor's degree in journalism and mass communications and holds a master's degree in religious studies from the University of Colorado Boulder. For speaking opportunities and booking requests, please email [email protected].
We want to hear from you. Reach out to this author or your Morning Consult team with any questions or comments.
Contact Us