Fewer U.S. Voters Consider North Korea an Enemy, Poll Shows
Americans have downgraded North Korea from enemy to unfriendly nation over the past year
Key Takeaways
45% of registered voters in recent poll described North Korea as an enemy, down 19 percentage points since July.

52% of Republican voters said things with North Korea have gotten better since Trump took office.
U.S. voters have softened their views of North Korea over the past year, with fewer than half of Americans now describing the country as an enemy, according to a new poll that comes less than a month before a planned meeting between President Donald Trump and North Korean leader Kim Jong Un.
A Morning Consult/Politico poll conducted May 10-14 among a national sample of 1,993 registered voters found that 45 percent of respondents characterized North Korea as an enemy of the United States, down 19 percentage points from a July survey. Meanwhile, 29 percent of voters described the country as unfriendly, up 15 points from last year.
The online poll was conducted before North Korea canceled a high-level meeting with South Korea scheduled for Wednesday, the same day it threatened to nix the June 12 summit with Trump, according to the Yonhap News Agency of South Korea.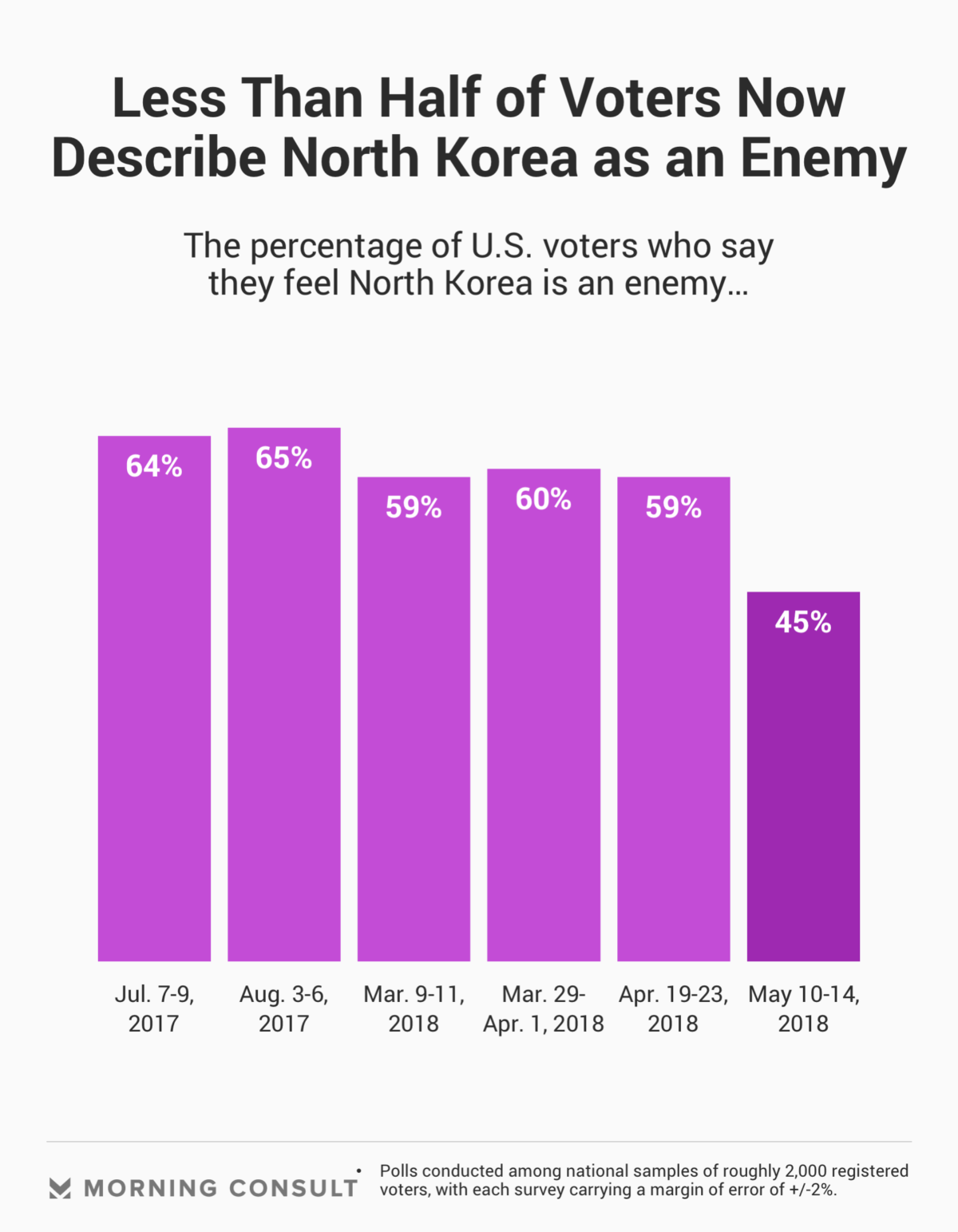 Jeff Prescott – an Obama administration official who served as former Vice President Joe Biden's special adviser for Asian affairs – said the Trump administration "escalated the rhetoric and helped escalate tensions" between the United States and North Korea that brought into focus "the kind of risk that we face."
"Now that we're talking about a potential diplomatic opportunity, that risk is less acute," Prescott, executive director at National Security Action, an organization set up by former Obama administration officials that has advocated against Trump's foreign policies, said in a Tuesday interview.
Three percent of voters said in the most recent survey that North Korea is an ally, and 8 percent said it is friendly but not an ally. In July, 4 percent said the country was an ally, and 6 percent described it as friendly but not an ally.
The polls have a margin of error of plus or minus 2 percentage points.
Voter views of North Korea have softened among all age groups, but there were bigger shifts in the opinions of older respondents, including a 33 point drop among respondents 65 years or older, and a 26 point drop among those ages 55-64.
More voters say relations with the Asian country have gotten better since Trump took office, and fewer are saying they have gotten worse. Thirty-two percent of respondents say the situation with North Korea has improved, compared with 7 percent in July, and 32 percent now say relations have worsened, down from 59 percent last year.
Olivia Enos, policy analyst at the Heritage Foundation's Asian Studies Center, said in a Tuesday interview that relations with North Korea are "definitely better than they were in January when we were considering military strikes."
A majority of Republicans – 52 percent – now say things with North Korea have gotten better since Trump took office, while 18 percent said the situation has worsened. Among Democrats, a 45 percent plurality – down 21 points since July – said things have gotten worse, while 17 percent said relations have improved, marking an 11 point increase from last year.
Adam Mount, senior fellow and director of the Defense Posture Project at the Federation of American Scientists who directed the Council on Foreign Relations' Independent Task Force on U.S. Policy Toward North Korea from 2015-2016, said the Trump administration has been more assertive about military force, and possibly more effective in applying financial pressure, while at the same time elevating the status of the North Korean issue more than previous administrations had.
But he cautioned against setting high expectations for striking a deal with North Korea at the June 12 summit in Singapore.
"If Donald Trump is looking for a domestic political win from the negotiations, we could end up with a deal that is not effective and not advantageous," he said.
Eli Yokley is Morning Consult's U.S. politics analyst. Prior to his current role, Eli was Morning Consult's senior reporter covering U.S. politics. Eli joined Morning Consult in 2016 from Roll Call, where he reported on House and Senate campaigns after five years of covering state-level politics in the Show Me State while studying at the University of Missouri in Columbia, including contributions to The New York Times, Politico and The Daily Beast. Follow him on Twitter @eyokley. Interested in connecting with Eli to discuss his analysis or for a media engagement or speaking opportunity? Email [email protected].
We want to hear from you. Reach out to this author or your Morning Consult team with any questions or comments.
Contact Us