Fox News' Upper Hand Next Year: The Country's Eyeballs, Down to Districts
Cable giant is most-watched news outlet in nearly 70% of U.S. congressional districts
People tend to seek out news that reinforces their own ideologies, and a new analysis of more than 1 million responses gathered over the past year suggests the country is much hungrier for red meat.
Morning Consult data from 1,124,368 responses gathered Nov. 1, 2018, through Oct. 31, 2019, provides a unique look at weekly viewership of CNN, Fox News Channel and MSNBC among Democrats, independents and Republicans in every U.S. congressional district — and reveals the awesome reach of one outlet in particular: Fox News.
Fox News is the most-watched cable news outlet in 299 of the country's 436 districts by a margin of at least 2 percentage points. (The analysis was based on the share of adults who said they watched each outlet at least once a week and was performed using Pennsylvania's pre-2018 districting.) The conservative-leaning cable giant, which launched in 1996, has led basic cable in total day viewers for the past 40 months, per Nielsen ratings.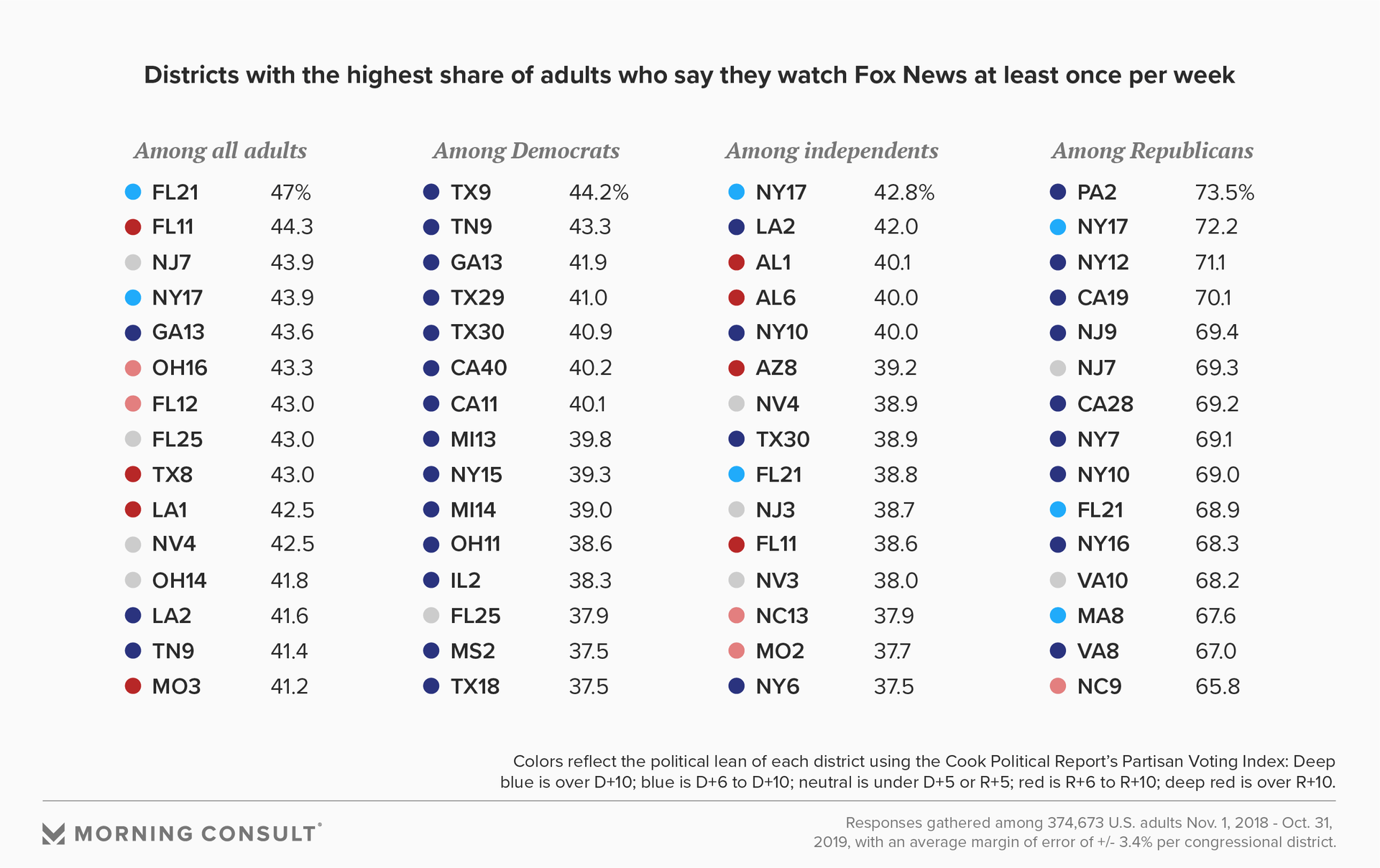 Residents in 63 districts watch nonpartisan CNN the most by the same margin, and left-leaning MSNBC is the most-watched cable news network in just one district: California's 2nd, a historically Democratic district that encompasses the state's coast north of San Francisco.
Expanding that margin underscores the power of Fox News, which boasts a consumption advantage of at least 10 points over the other outlets in 104 districts, including 10 in Florida and 15 in Texas, while CNN reigns in 16 districts, seven of which are in California. MSNBC disappears as a top outlet at this margin.
Just one district has a majority of residents tuning in to one outlet regularly: New York's 12th, where 56.3 percent of residents watch CNN at least once a week. 
Independents, who according to the data consume the three cable news networks at a lower rate than Republicans or Democrats and are often a decisive voting bloc, are slightly more likely to consume Fox News. It's the most-watched cable channel among independents in 306 districts by a 2-point margin, while independents in 56 districts watch CNN the most. MSNBC was not the most-watched cable news outlet among independents in any district.
Fox News also has the highest floor among all adults by congressional district: California's 27th — which has been solidly Democratic since 2001 — has the lowest viewership, yet nearly 1 in 5 still tune in at least once a week.
CNN and MSNBC did not respond to requests for comment, and Fox News did not comment.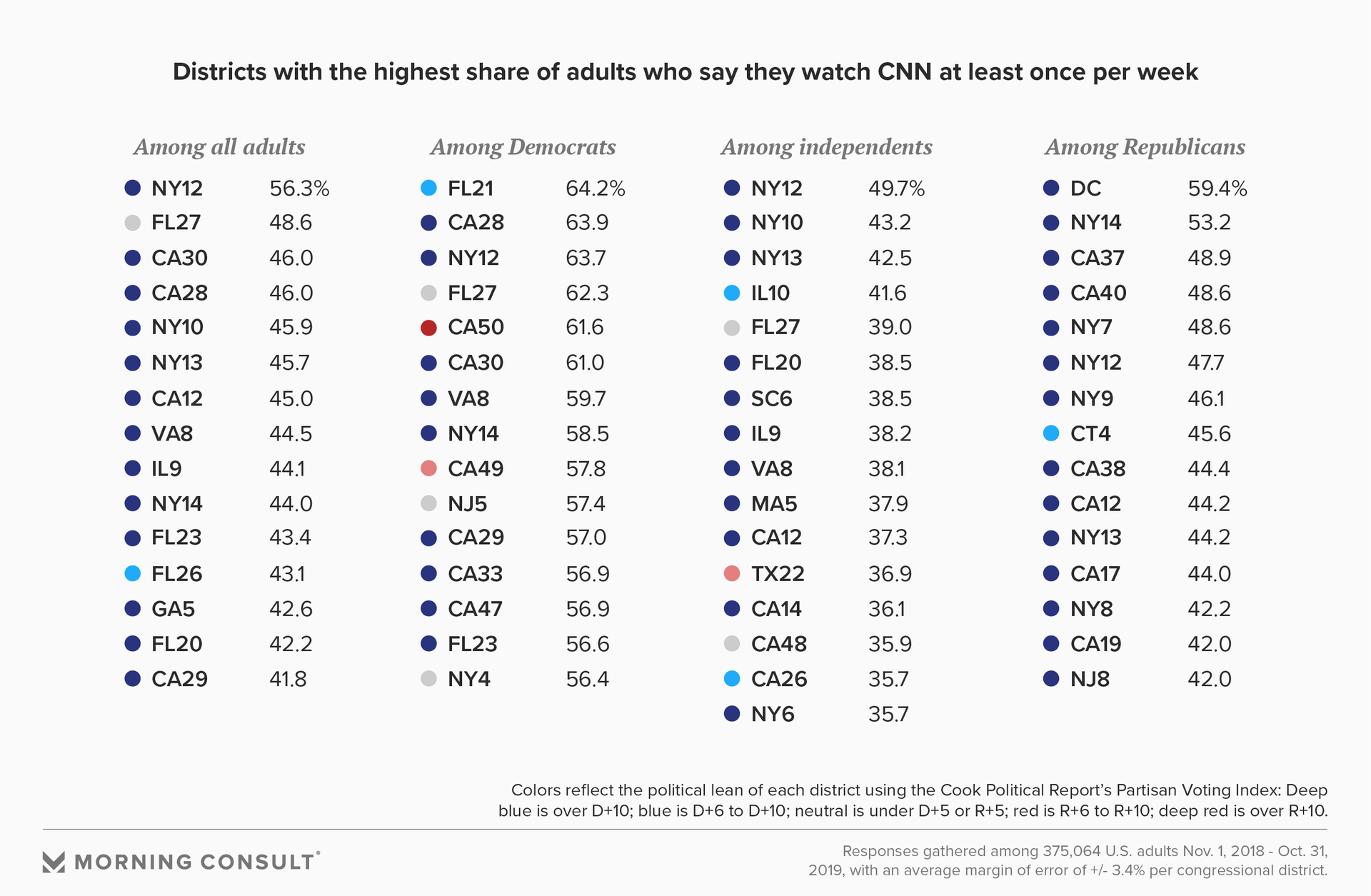 There was also no correlation between concentration in Fox News viewership and the political leanings of a district. Six of the 15 districts with the highest share of weekly Fox News viewers register as red (with a Cook Political Report partisan voting index of at least "R+6"), while five are blue. Districts with intense Republican viewership of Fox News, on the other hand, were overwhelmingly blue.
The political leanings of districts with large shares of weekly CNN and MSNBC viewers tended to be blue. 
With so much focus on digital spaces such as Facebook Inc. and Twitter, conversations about the impact of cable news' influence in elections are often lost in the shuffle. 
But they remain an important part of the media landscape, said Gregory J. Martin, an assistant professor of political economy at Stanford University's Graduate School of Business. Forty-nine percent of U.S. adults said they often get their news from television, and 3 in 10 of those respondents said they often go to cable news, according to a 2018 Pew Research Center analysis. Forty-three percent get news often from either news websites or social media.
One important caveat is that people tend to overreport their media consumption, cable news or otherwise, said Matt Grossmann, an associate political science professor at Michigan State University. 
Republicans' comparative lack of variation in media diet has the potential to give the party an edge next year. One of the biggest, if not somewhat invisible, advantages is consistency in party messaging, which aids Republicans in shaping public opinion, said Kyle Kondik, managing editor of Sabato's Crystal Ball at the University of Virginia Center for Politics. 
That's particularly important amid the impeachment news cycle. 
"Republicans in Congress are not just feeling pressure from the president, but they're also feeling pressure from the conservative media ecosystem and from Republican voters in their district to maintain party discipline on impeachment," he said.
This "top-down and a bottom-up approach" helps keep the party in line and united, he said.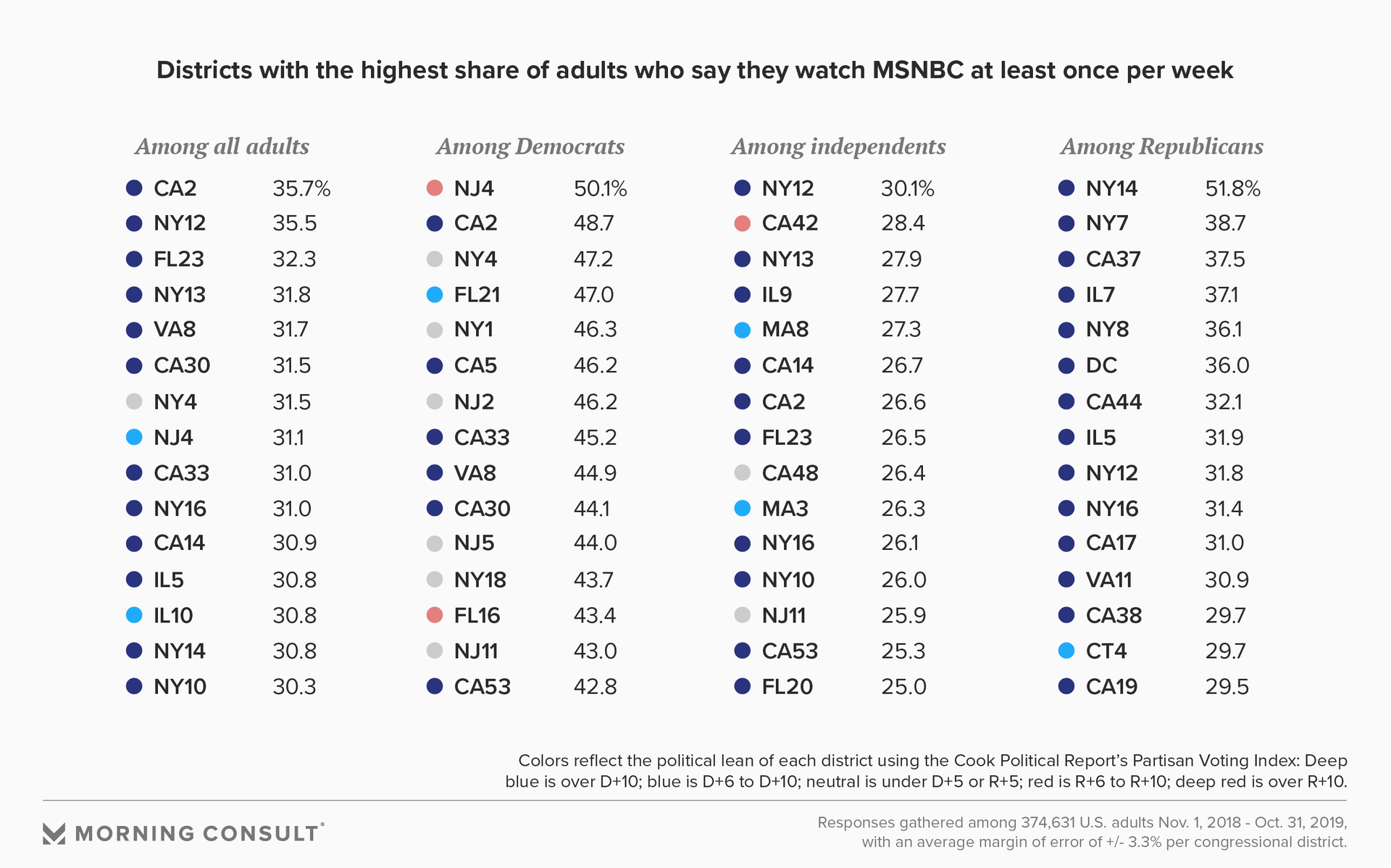 But partisan outlets also affect non-viewers, according to one August 2017 study published by the American Journal of Political Science. The attitudes of people who did not watch partisan media, which the researchers identified as Fox News and MSNBC, more closely resembled those who did watch after they simply had a conversation with them, an effect that was stronger if both identified with the same ideology. 
Fox News can also influence how elected office holders vote, too. A June 2013 study published by the Journal of Politics used data from 1998 and 2000 and found that House members became less supportive of then-President Bill Clinton in districts where Fox News was available compared to similar representatives in similar districts where it was not aired.
The new Morning Consult analysis comes on the heels of another that shows media trust has eroded over the past three years. The share of U.S. adults who said nine leading media outlets were credible has dropped 5 percentage points since 2016. That's largely due to a drop in trust of 12 points among Republicans, whose trust of Fox News has remained fairly stable.
While media consumption alone can't tell us everything there is to know about the political landscape and what portends for 2020, experts interviewed for this story all agreed that the news we watch is an important piece of the puzzle.
Jared Berry, Samantha Elbouez, Vladimir Gorshkov and Erin Morris assisted with data and visual production.
Joanna Piacenza leads Industry Analysis at Morning Consult. Prior to joining Morning Consult, she was an editor at the Public Religion Research Institute, conducting research at the intersection of religion, culture and public policy. Joanna graduated from the University of Wisconsin-Madison with a bachelor's degree in journalism and mass communications and holds a master's degree in religious studies from the University of Colorado Boulder. For speaking opportunities and booking requests, please email [email protected].
We want to hear from you. Reach out to this author or your Morning Consult team with any questions or comments.
Contact Us