French Public Sours on United States Following Submarine Deal With Australia
French leaders have cast the agreement as underhanded after Australia dropped submarine agreement with Paris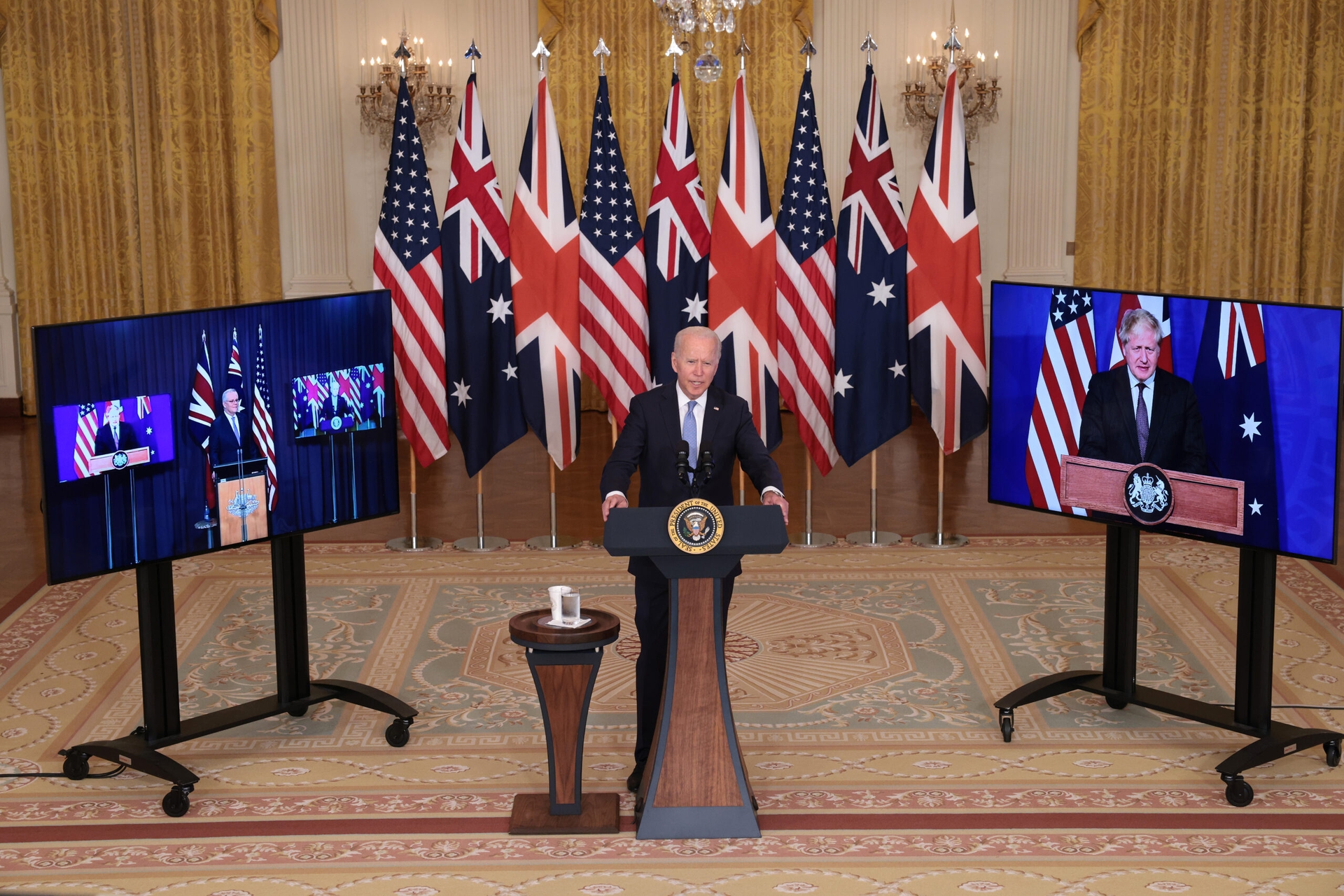 Key Takeaways
44% of French adults view the United States favorably, down from 49% before the deal was announced; unfavorable views rose by 3 points, to 31%.

The share of Australians with favorable views of the United States ticked up to 51%.

46% of adults in the U.K. view the U.S. favorably, unchanged since before the announcement.
President Joe Biden hailed a foreign policy win last week when he announced a new security pact with the United Kingdom and Australia aimed at countering Chinese influence in the Indo-Pacific regions. But the deal's negative impact on France has sparked a backlash in Paris that appears to be filtering down to the country's public. 
According to global polling conducted by Morning Consult from Sept. 12-18, 44 percent of adults in France have a favorable impression of the United States, down 5 percentage points since surveys taken Sept. 8-14, before Biden announced the trilateral agreement that drew condemnation from French President Emmanuel Macron and his government. Thirty-one percent of French adults have an unfavorable view of America, up 3 points since the deal was announced.
The French government has pushed back forcefully on the AUKUS deal, which it framed as underhanded, and recalled its ambassadors from Washington and Sydney after Australia pulled out of an existing submarine-procurement agreement with a French shipbuilder in order to accept nuclear submarine technology from the United States and the United Kingdom.
Biden is expected to speak with Macron this week to try to ease tensions.
While U.S. popularity with the French public has declined, America under the Biden administration is still enjoying a relative honeymoon period with its oldest ally. Positive views of the United States are up 16 points since polling conducted Jan. 13-19 — just before Biden's inauguration — while the share with unfavorable views is down 18 points.
The new agreement has done little to change views about the United States in the United Kingdom, where 46 percent hold favorable opinions, but it did precede a slight improvement for America's brand Down Under: 51 percent of Australians said they have a favorable impression of the United States, up 2 points since before Sept. 15.
The surveys were conducted among more than 2,200 adults each in Australia and the U.K., and more than 1,700 in France, with 2-point margins of error. 
Eli Yokley is Morning Consult's U.S. politics analyst. Prior to his current role, Eli was Morning Consult's senior reporter covering U.S. politics. Eli joined Morning Consult in 2016 from Roll Call, where he reported on House and Senate campaigns after five years of covering state-level politics in the Show Me State while studying at the University of Missouri in Columbia, including contributions to The New York Times, Politico and The Daily Beast. Follow him on Twitter @eyokley. Interested in connecting with Eli to discuss his analysis or for a media engagement or speaking opportunity? Email [email protected].
We want to hear from you. Reach out to this author or your Morning Consult team with any questions or comments.
Contact Us