'Game of Thrones' Favored to Take Home Top Prize at the Emmys
But the public and experts disagree on several categories
Key Takeaways
28% of the public thinks "Game of Thrones" should take home the trophy for outstanding drama series and 26% think "The Good Place" should win for outstanding comedy series.

"Thrones" stars Kit Harington (27%) and Emilia Clarke (25%)  are the public's top picks for outstanding actor and actress in a drama.

Christina Applegate (29%) and Ted Danson (25%) are fan favorites for comedy acting.
"Game of Thrones" made history earlier this year when the final season of the show earned more nominations — 32 to be exact — than any other show in a single season, a feat that helped HBO beat out rivals such as Netflix Inc. to become the most-nominated network. But dominating the nominations doesn't necessarily translate to overwhelming success in viewers' — or critics' — eyes, with new data showing that HBO may not be picking up the gold in every category. 
An Aug. 20-24 Morning Consult/The Hollywood Reporter poll found the long-running fantasy show just beat out "This Is Us" as the fan favorite for Outstanding Drama Series, with 28 percent of the 2,200 U.S. adults surveyed saying "Game of Thrones" should win compared to 25 percent who said the same of the network drama. The poll's margin of error is 2 percentage points. 
But while experts on GoldDerby, a website that evaluates awards season odds, predict "Veep" will win on the comedy side, respondents were more likely to pick NBC's "The Good Place," with 26 percent choosing the afterlife comedy and 11 percent choosing the HBO show as the winner. "Veep" has previously won the award for Outstanding Comedy Series three times — in 2015, 2016 and 2017.
Chris Beachum, managing editor of GoldDerby, said that a show's final season may not influence voters, adding that it comes down to the other shows competing in each category. While both "Game of Thrones" and "Veep" are up for awards for their final seasons, Beachum noted "Veep" was ranked third or fourth by some experts, meaning another series could take home that trophy. All GoldDerby predictions are as of 4 p.m. EST on Sept. 16. 
And among the nine "Game of Thrones" stars nominated in the lead or supporting drama acting categories, critics surveyed by GoldDerby expect Peter Dinklage to be the only one to take home a trophy, which would be his fourth for Outstanding Supporting Actor in a Drama. While the public is rooting for Kit Harington and Emilia Clarke to win their first acting awards for the show, at 27 percent and 25 percent, respectively, those trophies are predicted to go to Sandra Oh of "Killing Eve" and Billy Porter of "Pose." Ten percent of respondents expect Oh to get the award for best actress, while 8 percent said the same for Porter as best actor.  
Neither the critics nor the public is rooting for the four "Game of Thrones" women in the supporting actress category: Julia Garner of "Ozark" and Fiona Shaw of "Killing Eve" tied with equal shares of the public voting for them, with GoldDerby pegging Garner as the winner. Of the "Thrones" actresses, Sophie Turner had the most support at 16 percent, with Gwendoline Christie garnering the least at 11 percent.
Beachum said that with four nominees in the supporting actress category, the stars of the show may fall victim vote splitting, with voters divvying their votes among the "Thrones" nominees and paving the way for another actress to emerge as the winner.
Back on the comedy side, Ted Danson and Christina Applegate have won over America with their respective work on "The Good Place" and "Dead to Me." But most experts are predicting Julia Louis-Dreyfus, who has won eight Emmys for acting during her career — and six for her work on "Veep" — to pick up another trophy in her final year as Selina Meyer. And while four experts on GoldDerby think Danson has a chance to take home the prize, Bill Hader is the favorite, with 20 experts listing him as their top pick.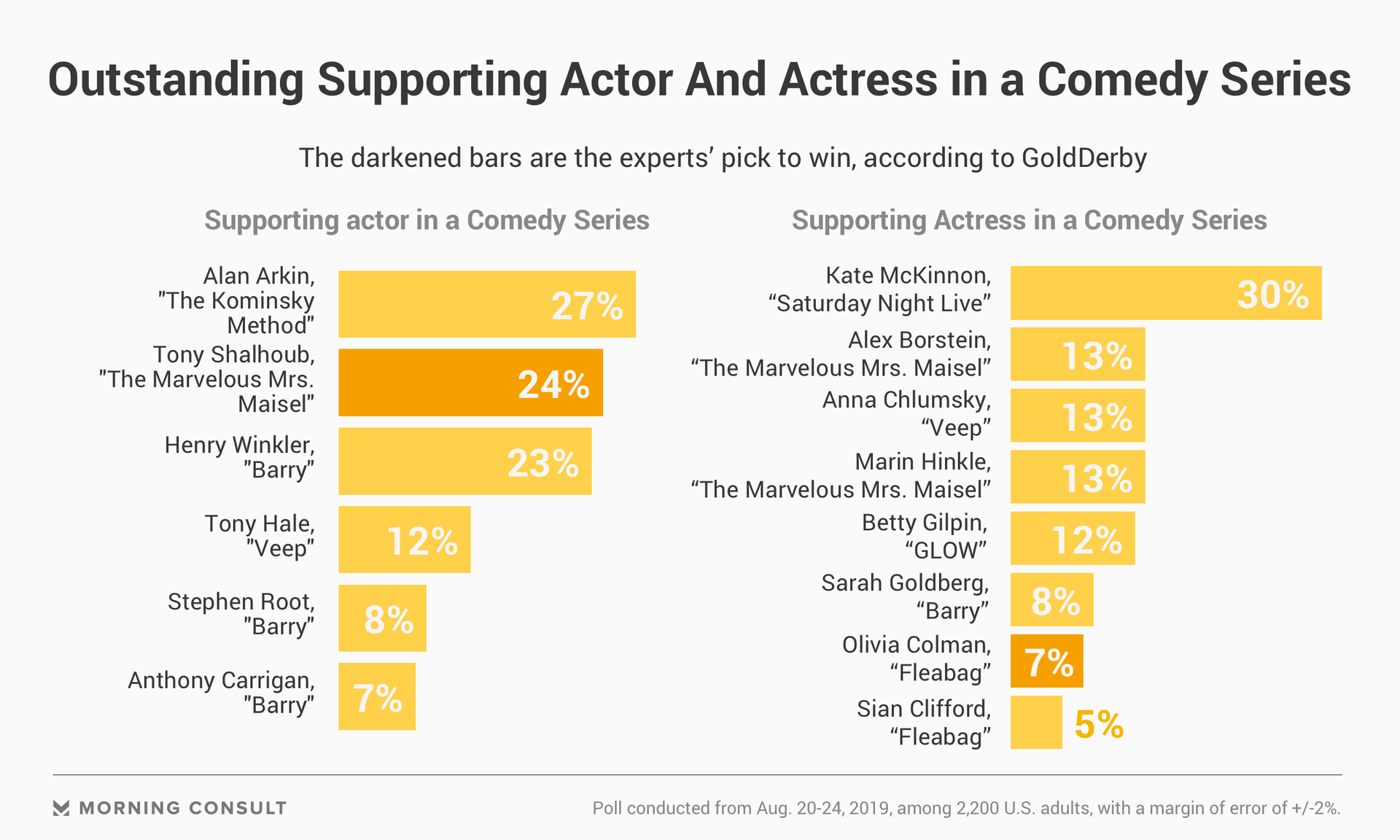 Tony Shalhoub of "The Marvelous Mrs. Maisel" and Olivia Colman of "Fleabag" are critics' favorites in the supporting actor and actress comedy categories, while America favors Alan Arkin of "The Kominsky Method" and Kate McKinnon of "Saturday Night Live." HBO's "Chernobyl" and "Deadwood: The Movie" are also favored by the public to win Outstanding Limited Series and Outstanding Television Movie, respectively. But while the critics agree that "Deadwood: The Movie" is trophy worthy, their pick on the limited series side is Netflix's "When They See Us."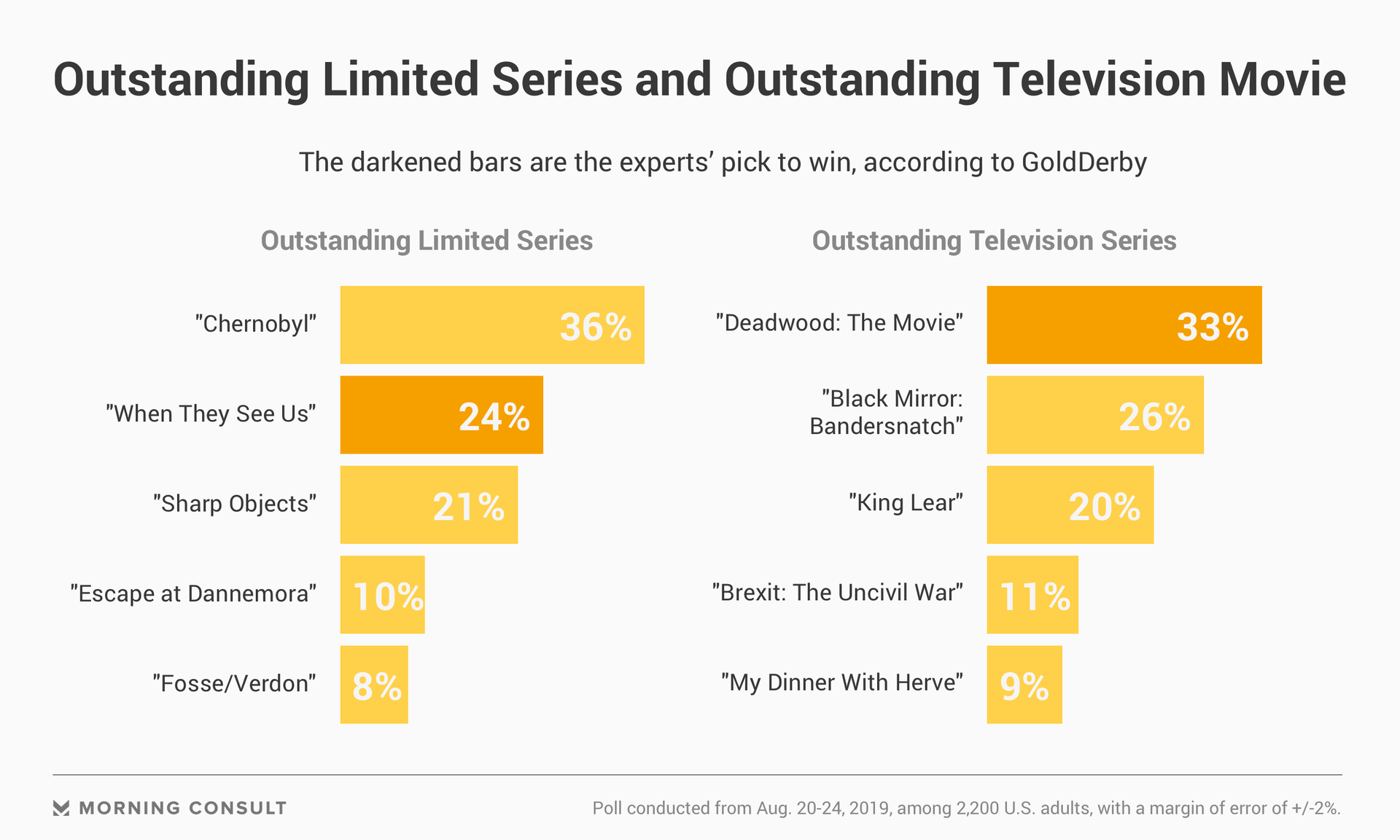 According to Russell Williams, a Primetime Emmy Award winner and a former member of the Television Academy, expert critics and viewers often have differing opinions on who should take home the big prizes because they're not watching television in the same way. For critics and experts, watching TV is their job, while casual viewers may only watch and be fans of a few shows. Furthermore, critics and those in the industry also have a deeper understanding as to why certain technical and acting choices elevate television to an award-worthy level, Williams said. 
Beachum noted that with the vast amount of content that is available to watch, the public tends to side with the highest-rated shows.
One common thread among expert predictions: the chosen winners are all on cable or streaming services — not broadcast television. While America may be more inclined to favor nominees from broadcast networks, which tend to have the most reach, cable and streaming outlets have more freedom to move away from the traditional narrative formats and dive into content that might not be appropriate for broadcast TV, earning them points among critics and voters. 
Beachum said that broadcast networks tend to focus on shows, such as procedurals, that typically don't garner awards attention, whereas cable and streaming can have more of a creative edge that is rewarded by academy voters. 
"On cable or streaming, the creators of those shows can do really anything they want," he said. "They can be, in the minds of a viewer or voter, cooler than a broadcast show can be."
Sarah Shevenock previously worked at Morning Consult as a reporter covering the business of entertainment.
We want to hear from you. Reach out to this author or your Morning Consult team with any questions or comments.
Contact Us