Beyond Gen Z: What the Parents of Generation Alpha Say About Their Kids' Interest in Sports
Parent survey hints at a leveling off in sports enthusiasm after drop-off between millennials and Gen Z
Key Takeaways
73% of U.S. parents with kids born from 2013-2017 said they've encouraged them to play sports, while 65% said they've encouraged them to be fans.

Roughly 1 in 3 kids born from 2013-2017 watch sports on TV or via streaming, parents said.

35% of parents with kids born from 2013-2017 said they lost interest in sports during the pandemic.
While the sports industry bends over backwards to reinvent itself for Generation Z, there's another cohort of future consumers around the corner that's certain to pick up an iPad before a ball or a bat: Generation Alpha.
Earlier this year, the NFL launched the most visible salvo yet in sports' battle for Alphas' hearts and minds by partnering with ViacomCBS Inc. to bring a live game telecast to Nickelodeon. The "Nick-ified" production -- complete with kid-friendly commentary, augmented reality slime cannons and appearances from many of the network's most popular cartoon characters -- was the cable channel's most-viewed program in nearly four years and seems likely to inspire copycat efforts from other properties.
With Generation Z seemingly less interested in sports than previous generations thus far, it'll be particularly important for the sports industry to appeal to the Alphas, the first generation born entirely in the 21st century. 
In a Morning Consult survey last year, 53 percent of Gen Z respondents, ages 13-23, identified as either avid or casual sports fans, a smaller share than the 63 percent of U.S. adults and 69 percent of millennials who considered themselves fans.
The survey also found that Gen Zers were about half as likely as millennials to say they sometimes watch live sports and twice as likely to say they never watch. In subsequent surveys, Gen Zers have consistently been less likely than older adults to identify as fans.
The juxtaposition between the sports-hungry millennials and the relatively disinterested Gen Zers raises the question of what to expect from Generation Alpha, primarily the offspring of millennials and the first cohort born entirely in the social media era. While the oldest of them just turned 8 years old, and the youngest won't be born for another few years, Australian researcher Mark McCrindle, who coined the "Alpha" moniker, said they will eventually number almost 2 billion and be the planet's wealthiest generation.
An analysis of new Morning Consult survey results suggests that Alphas' appetite for sports as they come of age could wind up looking similar to that of Gen Z based on similarities between the parents of the two generations and how they're raising their kids. The parallels could foreshadow a stabilization in sports interest between Gen Zers and Gen Alphas after the decline seen between millennials and Gen Zers.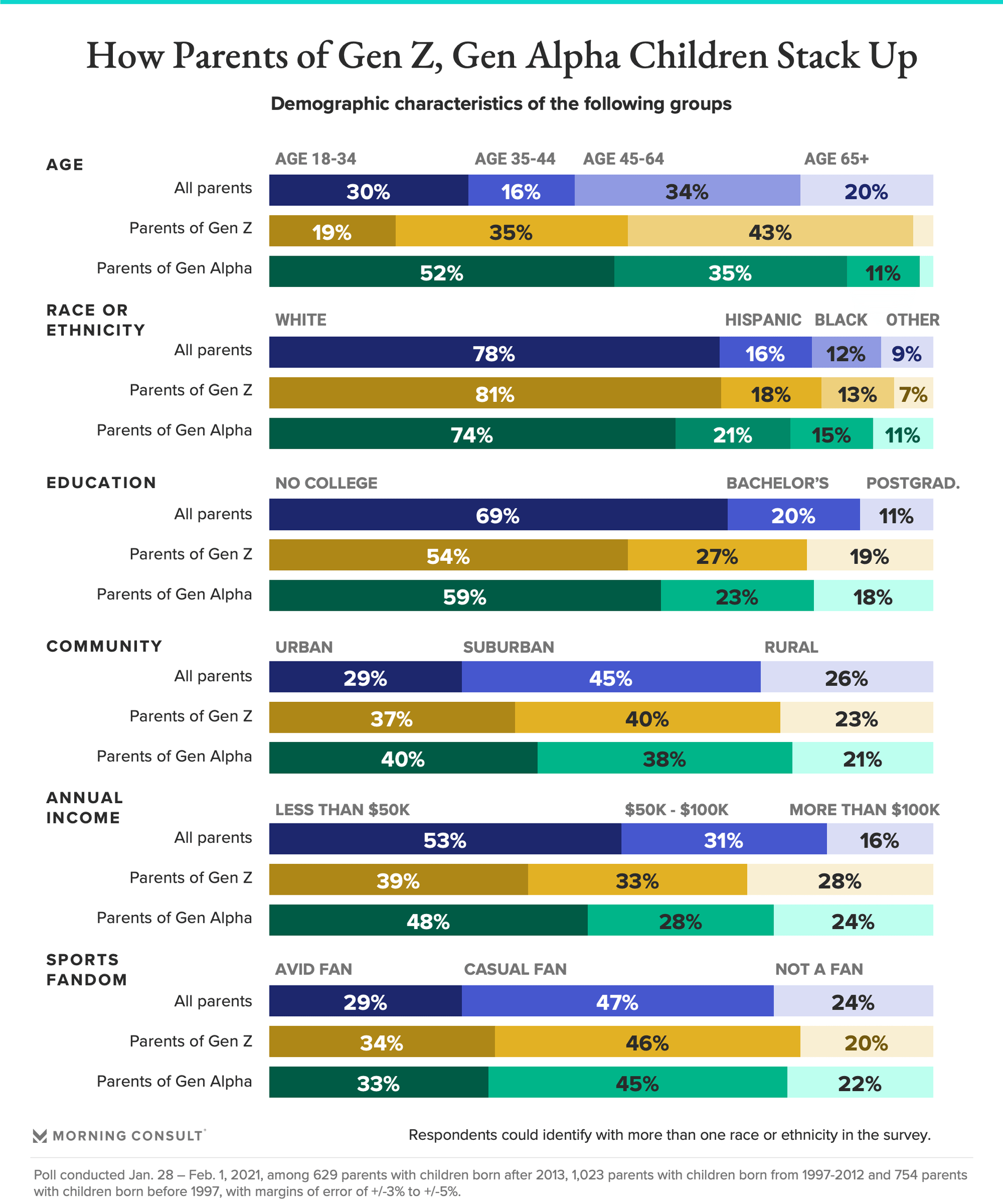 The responses of more than 600 U.S. parents of Gen Alpha children produced several insights that, without context, seem to warrant optimism in the sports industry about the next generation of consumers: Parents of Alphas were significantly more likely than the general population to identify as sports fans, and the majority of them said they are encouraging their kids to both play and watch sports.
The Alpha parents' responses, however, nearly mirrored those provided by the parents of Gen Z, many of whom don't appear to have passed on their passion for sports to their kids. Overall, there are more similarities than differences between how the two parental cohorts have encouraged their children to engage with sports.
McCrindle suggested Alphas are more likely to take after their direct predecessors -- Generation Z -- than their sporty millennial parents, calling Generation Alpha a "more pure version of Generation Z" born entirely in a world with iPads and Instagram (both of which hit the market in 2010).
Some of the forces that might have contributed to decreased interest in sports among Gen Z -- migration to more densely populated urban areas, a reduction in "free-rein play" based on parents' safety concerns and a virtually infinite supply of non-sports content for consumption -- are likely to become more entrenched for the Alphas.
"It's a generation that vicariously experiences sports and, in a sense, marvels at physical skills through YouTube," McCrindle said. "It doesn't actually develop that deep connection with a sport. In fact, it can almost be an inoculation against watching a full game because they're so used to watching the 90-second highlights."
He went as far as to suggest the shift in consumption habits could impact sports properties' bottom lines.
"That's where the value of these sports -- the franchise values, the broadcast values -- will diminish a little bit with the Gen Alphas," McCrindle added.
Parents of Gen Zers and Alphas alike were almost equally likely to identify as sports fans, with roughly 4 in 5 saying they consider themselves "avid" or "casual" sports fans. That's higher than the 73 percent of parents with children born before 1997 that identified as sports fans in the same survey, as well as the 66 percent of the general population that identified as sports fans in a survey conducted over the same time period.
Similarly, 73 percent of Alpha parents with children born from 2013-2017 -- the Alphas old enough to conceivably develop an interest in sports -- said they have encouraged their children to play sports, and 65 percent said they have encouraged them to be sports fans. Both are heartening figures, but are also virtually equal to the share of Gen Z parents who said the same thing.
Sixty-eight percent of parents with children in the same age range said sports are important to their family, and more than half said their children see professional athletes as role models. More than 3 in 4 said their kids are interested in playing sports, and more than half said they are interested in professional and collegiate sports.
Among the parents of Alphas ages 3-8, 34 percent said their children watch sports either on TV or via streaming, compared to 43 percent of Gen Z parents who said their kids watch sports. It's reasonable to expect the share of Alphas who watch sports would increase to a similar level as they come of age. Thirty-three percent of Alphas ages 3-8 said their children played sports either currently or prior to the pandemic.
It's unclear how the COVID-19 pandemic will ultimately impact the development of Alphas as athletes and sports fans. Thirty-five percent of parents to Alphas ages 3-8 agreed that their children have lost interest in sports amid the pandemic, which has kept kids off the field and out of professional and collegiate venues.
Tony Reagins, a former MLB general manager who now serves as the league's chief baseball development officer, believes the pandemic has driven home for parents just how important athletic participation is to their children.
"Obviously technology is at their fingertips, but there is still a strong desire to interact with your peers and compete and just have fun and have conversations around sport," Reagins said. "We're trying to utilize technology to create more fans, but the pandemic has shown that human contact is still really important."
While the bulk of MLB's youth initiatives has revolved around in-person participation, the league has sought to tailor its programming to the new normal in ways that might outlast the pandemic. The league and USA Baseball have repackaged their Fun At Bat program, an introductory baseball and softball program that had been part of schools' physical education classes, as a set of at-home activities with a guide book and instructional YouTube videos.
Similarly, the NHL recently launched a pilot program called Breaking the Ice through three of its clubs amid the pandemic that involves sending participants a street hockey stick and ball and offering live instruction via video chat from NHL alumni or other kids.
In addition to encouraging participation, the league continues to grow its Future Goals educational program that teaches kids STEM subjects through hockey-themed computer games. While it had previously focused on getting schools to adopt Future Goals, the league started offering it to parents for at-home use amid the pandemic.
"What we're trying to do is connect with kids where they're at," said Rob Knesaurek, the league's vice president of youth development and industry growth. "Instead of fighting this resistance against technology and all the other things that keep their attention longer than school and other things, it's 'How do we embrace that?'"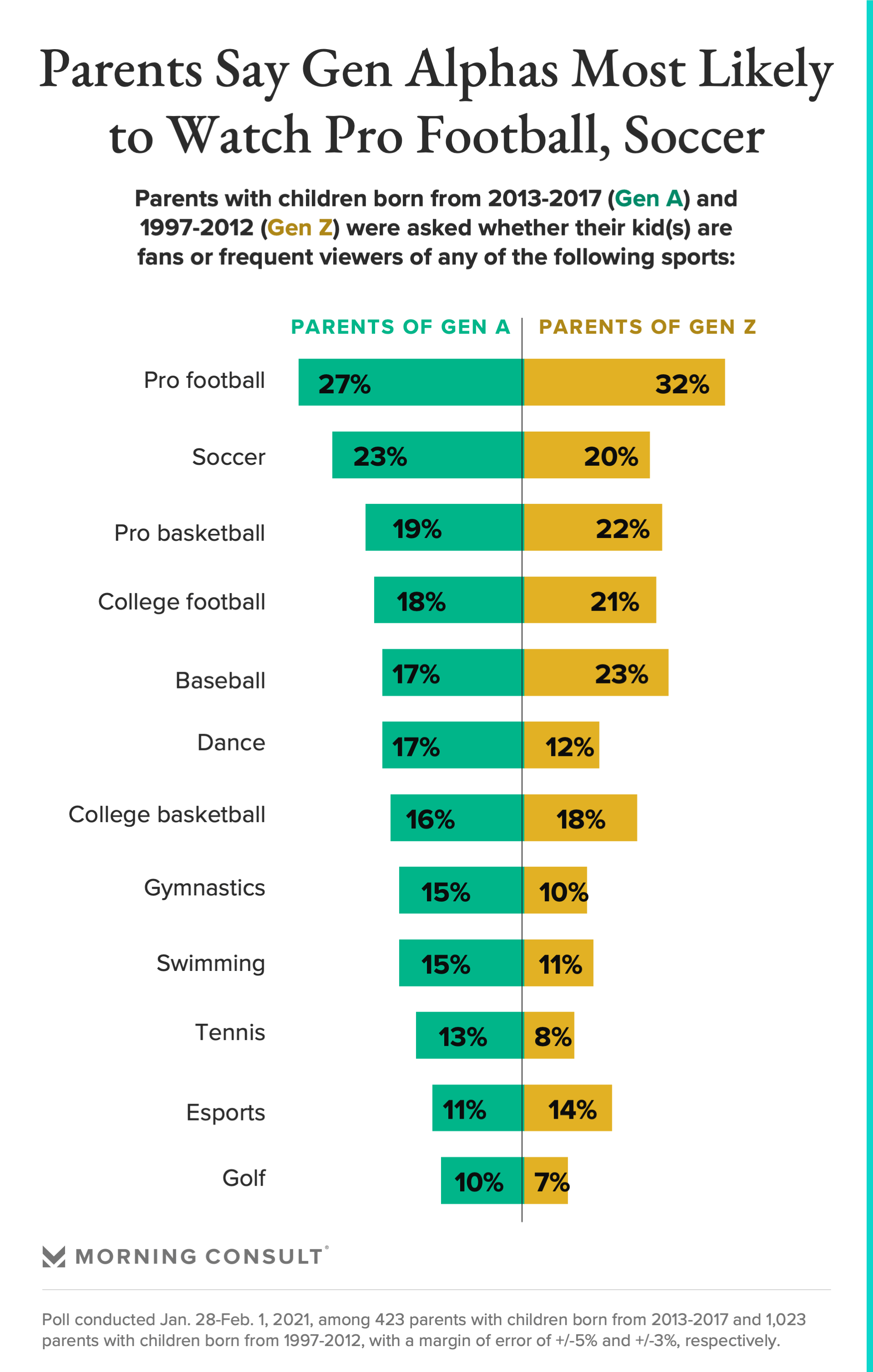 Video games will continue to be a touchpoint for children to become familiar with teams and athletes, and McCrindle suggests that collectibles, both physical and digital, are popular with the Alphas. Knesaurek said the NHL is considering a kid-friendly, digital trading card initiative as part of a future kids club program, seemingly a far cry from the NBA's adult-oriented, blockchain-backed Top Shot program.
Morning Consult's survey consisted of 2,036 parents, including 629 parents with children born after 2013 (Alphas), 1,023 parents with children born from 1997-2012 (Gen Zers) and 754 parents with children born before 1997. The Gen Z parents demographic carried a margin of error of 3 percentage points, while the margin of error for the Alpha parents demographic was 4 points. 
Within the Alpha parents demographic, 423 parents had children born from 2013-2017 that are at least 3 years of age, conceivably making them old enough to be interested in or participate in sports. This group carried a margin of error of 5 points.
The NFL's Nickelodeon effort was particularly noteworthy because, rather than feeding young digital natives the short-form content they have been conditioned to crave, the league and network adapted the long-form live television experience to kids' sensibilities by incorporating familiar entertainment franchises and livening up the production. It's a formula that tested well with the parents of Alphas in Morning Consult's survey.
After being shown video highlights of Nickelodeon's NFL production, 61 percent of Alpha parents said their children would enjoy the Nick version more than a traditional sports telecast, and 72 percent said they would watch a similar program with their children.
The NFL is also starting from a position of strength with the Alphas relative to other sports properties, as 27 percent of the 2013-2017 parents subgroup said their child is a fan or frequent viewer of professional football. That's higher than any other sport, with soccer placing second and within the margin of error with 23 percent.
What's more, 44 percent of all Alpha parents said they either grew up watching or currently watch pro football, making their kids more likely to follow suit. The share of parents that has or currently watches soccer has increased significantly over the past several generations, with 31 percent of Alpha parents saying they watched or watch it. That's within the margin of error of both baseball and pro basketball.
Meanwhile, 26 percent of parents with Alphas ages 3 and older said their children played soccer either recreationally or in an organized program, a higher share than any other sport, though football (25 percent), basketball (24 percent) and swimming (24 percent) all landed within the group's margin of error. Respondents were asked to count pre-pandemic participation that might have been interrupted during the past year.
As for their own participation, 38 percent of Alpha parents said they played basketball either growing up or as adults, while 37 percent said they participated in either recreational or organized football.
While the sports industry should embrace many of these early findings as encouraging signs about Alphas' potential to develop into athletes and sports fans, with the majority of their parents saying they'll be pushing for it, sports will have more competition for Alphas' attention, similar to the reality with the Gen Z market. Capturing and maintaining Alphas' attention will require innovation on the part of the industry to make live sports appealing to a generation being conditioned to move away from long-form entertainment.
Alex Silverman previously worked at Morning Consult as a reporter covering the business of sports.
We want to hear from you. Reach out to this author or your Morning Consult team with any questions or comments.
Contact Us