The Sports Industry's Gen Z Problem
The next generation of consumers isn't following in the footsteps of sports-hungry millennials
Key Takeaways
53% of Gen Zers identify as sports fans, compared to 63% of all adults and 69% of millennials.

Gen Zers are half as likely as millennials to watch live sports regularly and twice as likely to never watch.

Esports are more popular among Gen Z than MLB, NASCAR and the NHL, with 35% identifying as fans.

Kobe Bryant and LeBron James ranked as Gen Z's favorite sports figures with 11% and 10% of selections, respectively.
The millennial generation's coming-of-age coincided with massive growth in the North American sports industry. Between 2010 and 2018, the North American sports market grew more than 40 percent from $49.9 billion to $71.1 billion, according to PricewaterhouseCoopers, fueled primarily by skyrocketing media rights and sponsorship revenue.
With more access than ever to a wider range of competitions, the men and women born between 1981 and 1996 developed an insatiable appetite for live sports, lifting leagues, teams, networks and brands to unprecedented heights.
New research, however, indicates the next wave of consumers -- Generation Z -- is much less enthusiastic about sports. According to a Brookings Institution analysis of Census Bureau population estimates, those born between 1997 and 2012 accounted for 20.3 percent of the U.S. population as of July 2019.
An analysis of recent Morning Consult poll results found that Gen Zers currently between ages 13 and 23 are less likely than the general population to identify as sports fans. Fifty-three percent of the 1,000 Gen Zers surveyed considered themselves sports fans, compared with 63 percent of U.S. adults and 69 percent of millennials in a subsequent survey.
The generation gap was starker on the male side: 58 percent of male Gen Zers said they are sports fans compared to 75 percent of all adult men.
In addition, members of Gen Z were less likely to identify as fans of specific sports properties relative to the broader adult population in another corresponding poll. Of the 27 sports or competitions included in the survey, members of the general adult population were more likely than Gen Zers to identify as fans of 24 of them. The only sports wherein Gen Zers overindexed as fans relative to the general public were esports and the NBA, while the share of all adults that identified as fans of UFC was equal to that of Gen Z.
Gen Z's relative disinterest in sports is reflected in its viewing habits: While 42 percent of all adults, and 50 percent of millennials, said they watch live sports at least once a week, only 1 in 4 individuals ages 13-23 said the same. In addition, Gen Zers were twice as likely as millennials to say they "never" watch live sports.
Zach Leonsis, senior vice president of strategic initiatives at franchise ownership group and media company Monumental Sports & Entertainment, said the keys to growing live viewership among young fans are accessibility and opportunities for engagement.
"Sports properties need to make sure that their games are digestible and available via streaming products," Leonsis said. "They need to make their games engaging by fostering gamification, daily fantasy, free-to-play games and, ultimately, sports betting."
Monumental owns the NBA's Washington Wizards, NHL's Washington Capitals, WNBA's Washington Mystics and esports powerhouse Team Liquid.
While most professional, collegiate and amateur sports properties have sought to reach Gen Z via social media, leaders in the industry said individual athletes play an outsize role in generating interest in teams and leagues among younger fans.
"You see this shift in sports where kids are following athletes first, then they're following clubs and then they're following leagues because they want that one-to-one connection with the athletes, or athletes that they admire," said Heidi Browning, chief marketing officer for the NHL.
Leonsis pointed to the prominent personalities of athletes in esports and the NBA as the driving force behind those sports' popularity with young fans.
Esports properties in particular, he said, benefit from the fact that their athletes are far more accessible to fans than those in traditional sports.
"Esports athletes are streaming for hours on end outside of their typical competition, and when they're streaming, they're exposing their personality, they're interacting with their audience," Leonsis said. "That authenticity and that accessibility certainly has contributed to esports being a very popular live event category with Gen Z."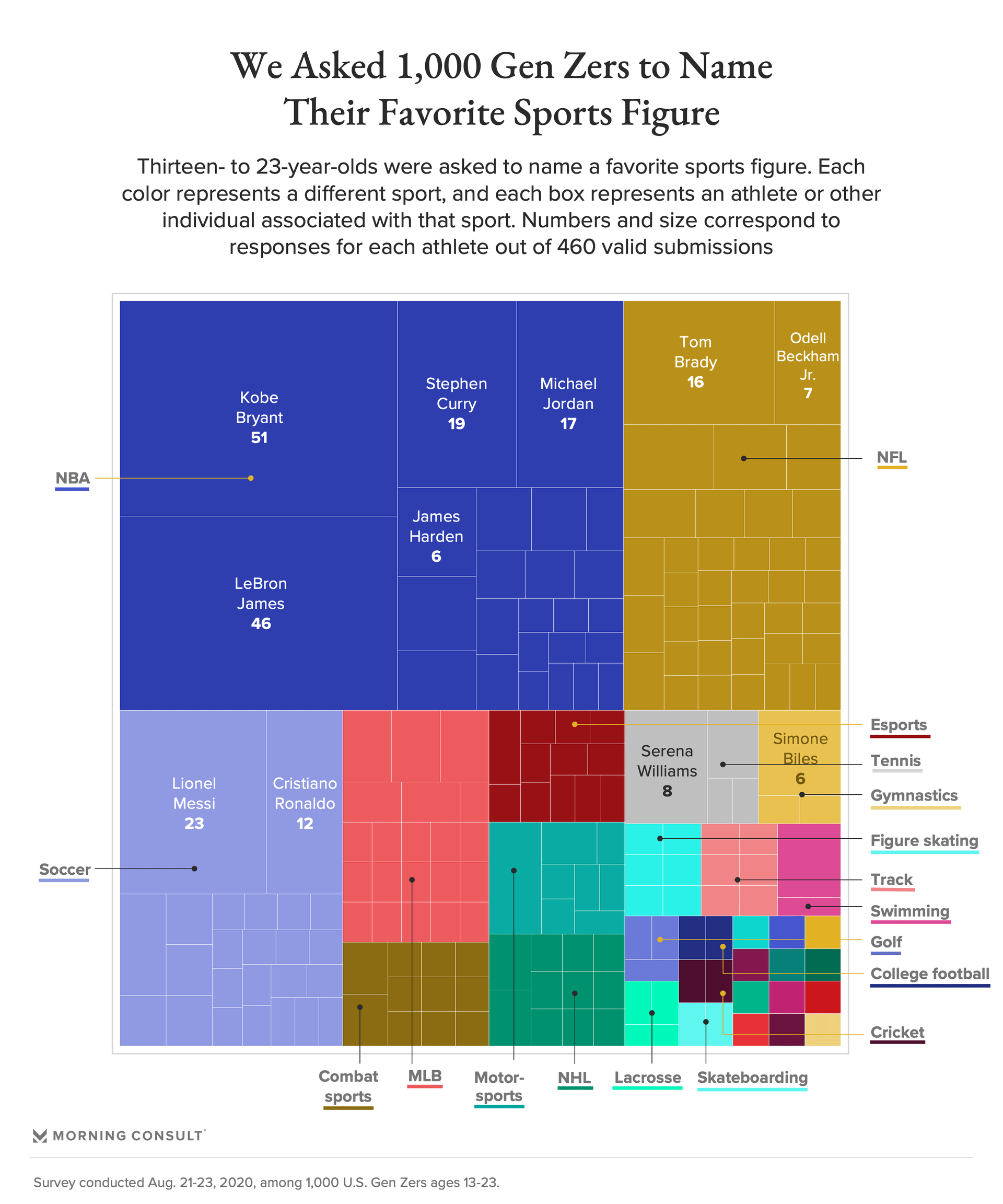 Four of Gen Z's five favorite sports figures, based on an open-ended survey question, were either former or current NBA players. Seven months after his death, late Los Angeles Lakers legend Kobe Bryant (51 selections) topped current Lakers star LeBron James (46 selections) as the most popular athletic icon among young fans.
The most popular non-NBA athlete was Argentinian soccer player Lionel Messi (23 selections), who at No. 3 accounted for 5 percent of valid responses. Men's and women's soccer players accounted for 14 percent of all "favorite" responses and 12 percent of unique athletes named by Gen Zers, third in both metrics behind the NBA and NFL.
While the NBA and NFL performed strongly with Gen Zers, the other half of the "Big 4" team sports -- MLB and the NHL -- didn't resonate quite as well. Thirty-two percent of Gen Zers said they are either avid or casual fans of MLB, while 25 percent identified as fans of the NHL, placing them sixth and ninth among the most popular sports with the demographic.
In the favorite sports figure portion of the survey, no current baseball or hockey player received more than two selections. Baseball players ranked fourth in terms of the number of total selections and number of unique athletes mentioned, while hockey players ranked fifth and sixth respectively, putting them virtually on par with esports figures.
Browning said the NHL is investing in educating its players about how to effectively use social media to engage fans and grow their profiles based on feedback from the NHL Power Players, an advisory council of young fans the league formed in 2019.
"One of the things they shared with us is that hockey athletes are so quiet off the ice," Browning said. "They're amazing and the best athletes on ice, but when they're off ice, they're not present on social media, they're quiet, fans don't know much about them. There's this desire to know everything about their lives: their wives and girlfriends, their dogs, their babies and all that kind of stuff."
An online presence is all but required for athletes looking to capture Gen Z fans. Users on Gen Z's app of choice, TikTok, like to see athletes in the "raw and authentic, full-screen, vertical style" that the platform is known for, a TikTok spokesperson said.
College athletes are seeing strong growth on the platform, TikTok said, which could be partially due to the fact that most of these athletes are members of Gen Z themselves. However, most of Gen Z's "favorites" are pros: Collegiate players made up less than 1 percent of favorite sports figure responses in the poll.
Leonsis and Browning also said esports are an effective way for traditional sports properties to reach young fans, something the NHL has done through the NHL Gaming World Championship.
"The NHL is slowly but surely making its own footprint in the esports world to hopefully bridge the gap with young fans who maybe don't live near an ice rink, but play the NHL video game and get to know different teams and different players that way," Leonsis said.
Alex Silverman previously worked at Morning Consult as a reporter covering the business of sports.
We want to hear from you. Reach out to this author or your Morning Consult team with any questions or comments.
Contact Us