Half of Voters Back Trump Administration's Limits on 'Birth Tourism'
New State Department policy more likely to be supported by men than women
President Donald Trump's new plan to limit pregnant women from traveling to the United States on tourist visas, which aims to crack down on so-called "birth tourism," is popular with the lion's share of the American public. 
A new Morning Consult/Politico poll found that half of voters approve of the clampdown, which was announced last week by the State Department, compared with 36 percent who disapprove. The policy shift would prevent foreign pregnant women from obtaining tourist visas unless they can prove that they must give birth in the United States for medical or other compelling reasons.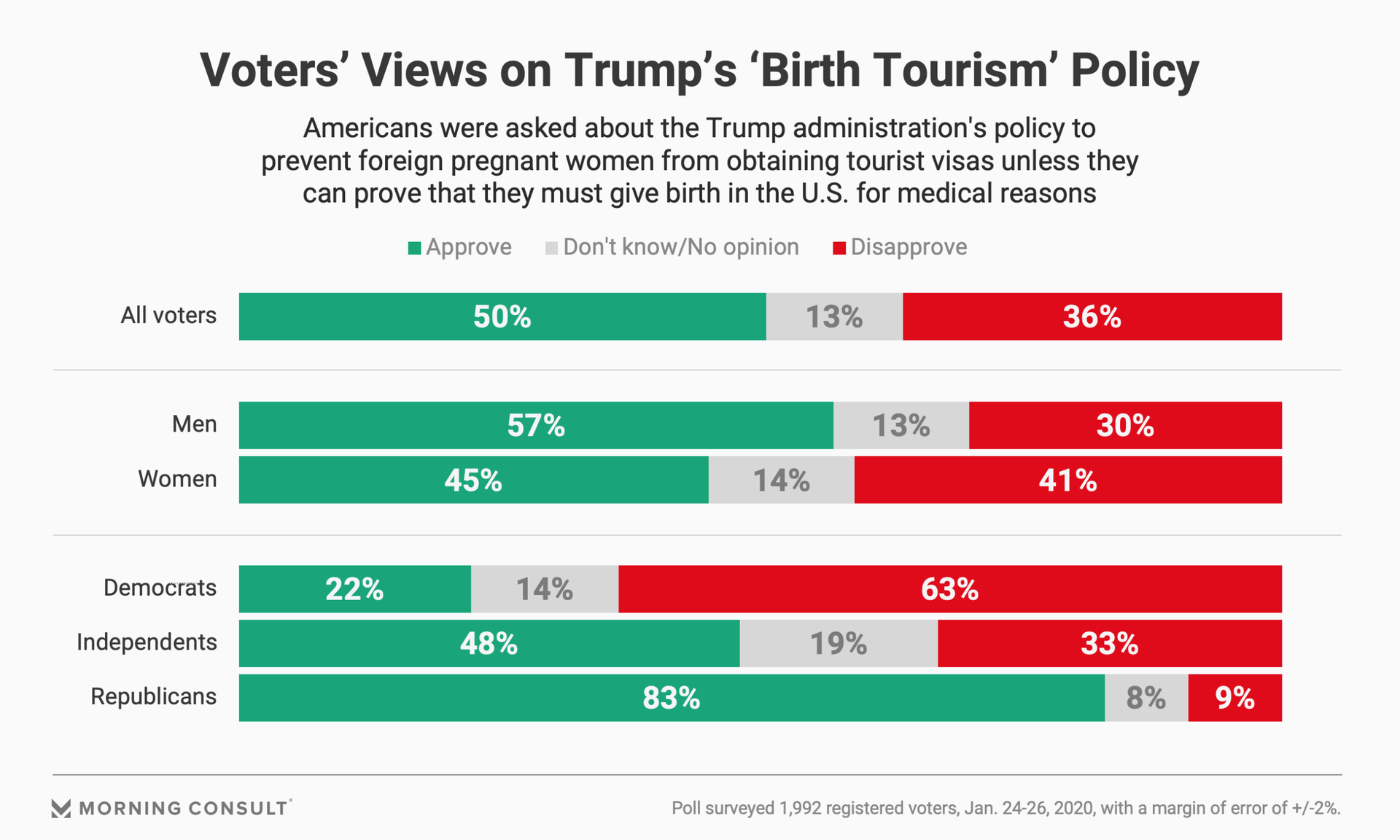 The Jan. 24-26 poll of 1,992 registered voters found notable differences in support and opposition for the policy between men and women, a trend that persisted across either side of the partisan aisle. Democratic women were 9 percentage points more likely to oppose the new policy than Democratic men (67 percent to 58 percent), while Republican women were 6 points less likely to support it than Republican men (80 percent to 86 percent). 
The policy seeks to reduce the number of babies born to foreign women in the United States, restricting their ability to get their children citizenship if they are born within U.S. borders as prescribed in the Constitution. Citizens from Russia, China and Nigeria have been linked to the practice, The Associated Press reported last year. 
According to the rule, the State Department "does not believe that visiting the United States for the primary purpose of obtaining U.S. citizenship for a child, by giving birth in the United States—an activity commonly referred to as 'birth tourism'—is a legitimate activity for pleasure or of a recreational nature," though the ultimate decision of whether someone can obtain a visa will remain up to State Department consular officers.
The Trump administration has cited "national security and law enforcement concerns" for the move, but critics have voiced both constitutional and moral qualms. 
In a Jan. 24 letter to Secretary of State Mike Pompeo, five Senate Democrats -- including Foreign Relations Committee ranking member Bob Menendez of New Jersey -- called for more explanation, saying the policy was "often advanced by nativist, restrictionist groups."
The rule marks another move from the Trump administration aimed at limiting immigration to the United States. 
It was also widely reported last week that Trump was considering expanding his controversial travel ban to add U.S. entry restrictions for visitors from additional countries. The new poll found voters divided on that move: Thirty-nine percent approve and 41 percent disapprove (the survey has a 2-point margin of error). 
Eli Yokley is Morning Consult's U.S. politics analyst. Eli joined Morning Consult in 2016 from Roll Call, where he reported on House and Senate campaigns after five years of covering state-level politics in the Show Me State while studying at the University of Missouri in Columbia, including contributions to The New York Times, Politico and The Daily Beast. Follow him on Twitter @eyokley. Interested in connecting with Eli to discuss his analysis or for a media engagement or speaking opportunity? Email [email protected].
We want to hear from you. Reach out to this author or your Morning Consult team with any questions or comments.
Contact Us