Harry Styles' 'Dream with Me' Gives Meditation App Calm a Boost in Installs and In-App Spending
App downloads increased 94% globally the week the story went live, with worldwide revenue doubling week after
When meditation app Calm announced singer Harry Styles would be narrating one of the service's "sleep stories" -- audio recordings designed to lull listeners to sleep -- the singer's fans were anything but calm.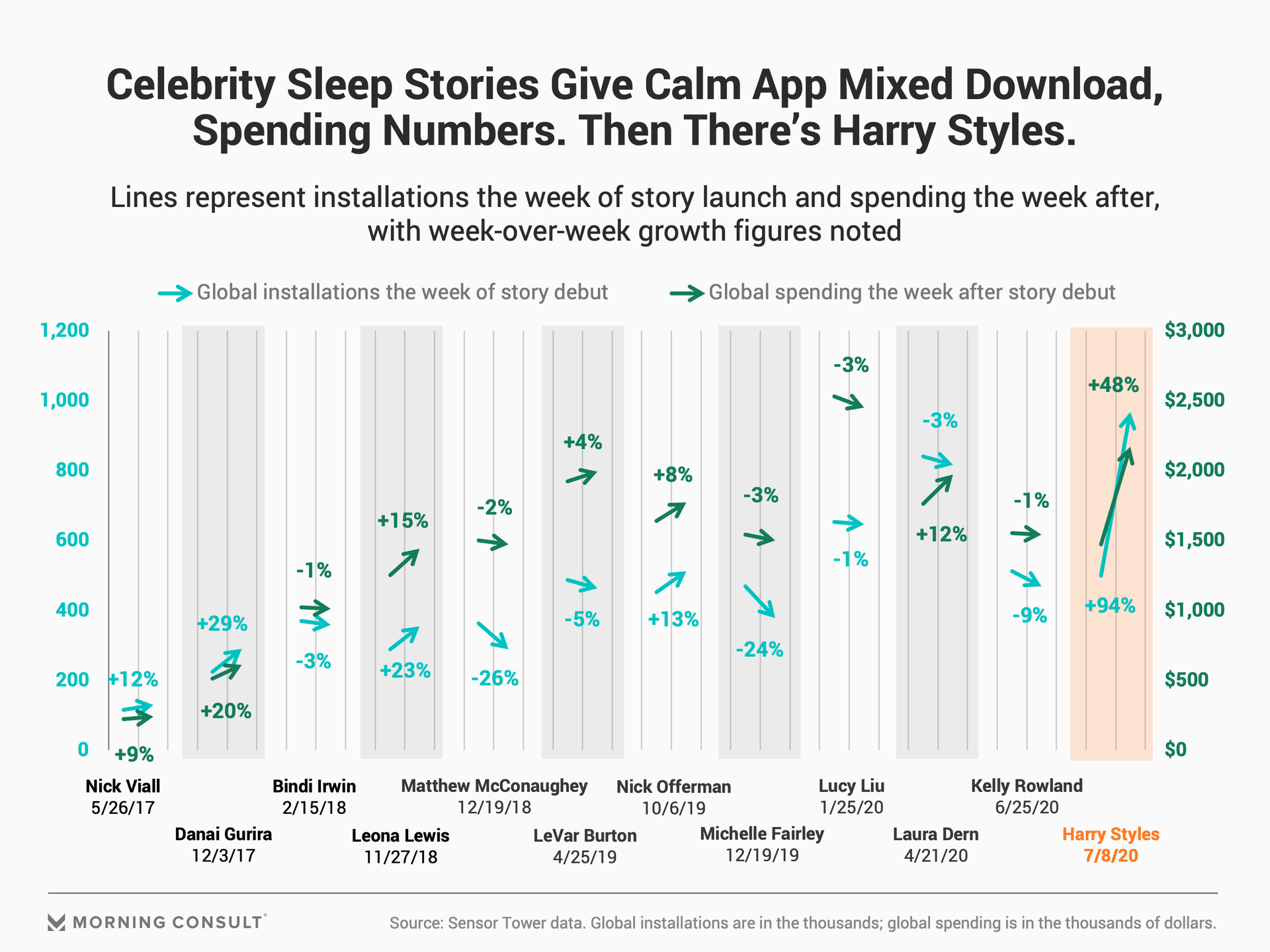 Data from Sensor Tower Inc., shared exclusively with Morning Consult, shows that during the week of July 5 -- when Styles' story was announced and went live -- the Calm app was downloaded from the App Store and Google Play store 967,000 times globally, a 94 percent week-over-week increase, and downloaded 356,000 times in the United States, climbing 81 percent week-over-week.
Spending in the app also increased for the week of July 12: Global spending totaled $2.17 million, a 48 percent increase week-over-week, while U.S. spending was up 52 percent to $1.14 million.
Calm offers users a seven-day free trial, which switches to a premium subscription if the user doesn't cancel, which Stephanie Chan, a mobile insights strategist with Sensor Tower said in an email, could explain the spending increase the week after installs surged.
Chan added that premium memberships are Calm's most popular in-app purchase and that it's likely that at least the bulk of new revenue came from those conversions.  
When "Dream with Me" went live July 8, the Calm app crashed, with some users experiencing outages when trying to access the recording. Styles' name was also the top keyword in user reviews during the week of July 5, per Sensor Tower. Styles is an investor in Calm.
Celebrity partnerships are a common marketing tactic for Calm. They have previously released stories narrated by the actors Matthew McConaughey, Nick Offerman and Danai Gurira and the singer Kelly Rowland, among others. But none of those collaborations have generated the amount of interest or revenue that Styles' has. For example, U.S. installs were down 32 percent week over week when McConaughey's story premiered and 13 percent lower when Rowland's debuted.
Calm declined to comment for this story. 
Sarah Shevenock previously worked at Morning Consult as a reporter covering the business of entertainment.
We want to hear from you. Reach out to this author or your Morning Consult team with any questions or comments.
Contact Us