HBO Max's Day-and-Date Films Draw in Audiences. Its Original Shows and Movies Are Struggling.
Subscribers, consumers overall still struggle to identify programming on the service nine months after launch
Key Takeaways
Nearly 7 in 10 U.S. adults said they would be more likely to subscribe to a streaming service that featured free "day-and-date" films, or movies available to stream the same day they are released in theaters.

$13 is consumers' ideal price point for a streaming service offering day-and-date releases, $2 less than HBO Max's monthly price.

On average, 18% of HBO Max subscribers could identify a Max Original, compared to 9% of adults overall.
Nine months after its launch, HBO Max is generating buzz -- not necessarily for its original programming but rather the inclusion of day-and-date films on its platform, the feature most likely to entice consumers to sign up for a streaming service, according to new polling. 
A Feb. 25-28 Morning Consult/The Hollywood Reporter poll found that 68 percent of the 2,200 U.S. adults surveyed said that the inclusion of day-and-date movies at no extra cost— new titles made available to stream the same day they're released in theaters — would make them more likely to subscribe to a streaming service. The survey has a margin of error of 2 percentage points.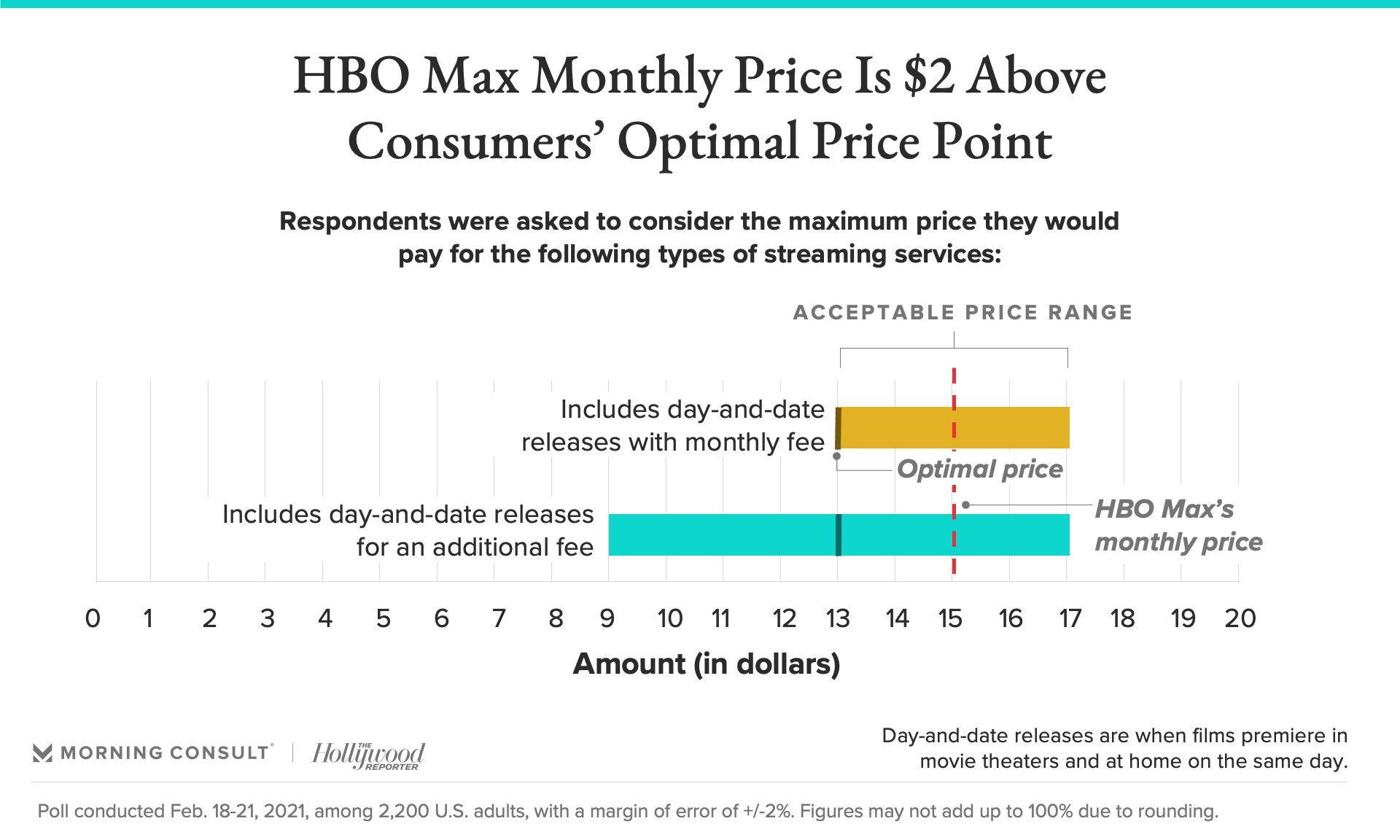 WarnerMedia, which announced it would debut its entire 2021 film slate day-and-date on HBO Max, is not the only service willing to experiment with the theatrical window. ViacomCBS Inc.'s Paramount+ service will feature some titles 30 to 45 days after their theatrical premieres, while Walt Disney Co. has introduced Premier Access, which allows Disney+ subscribers to pay $29.99 to watch a newly released film at home the same day it hits theaters. 
Consumers' ideal price point for platforms that include day-and-date releases is $13, according to a Morning Consult poll conducted Feb. 18-21, a figure that was calculated via a van Westendorp model, which finds an optimum price point for a good or service by considering what prices consumers find to be "too expensive" and "too good to be true."
Starting March 26, the monthly cost of Disney+ will increase $1 to $7.99. HBO Max costs $14.99 a month.
When HBO Max launched in May 2020, it lacked new theatrical films and critically acclaimed originals, and instead relied on popular library titles, such as "Friends" and "The Big Bang Theory," to draw in consumers. The pandemic prevented the service from filming its highly anticipated "Friends" reunion, which was set to be released on the platform at launch.
In a May 14-17, 2020 poll, 24 percent of adults knew "Game of Thrones" would be included with the service, while roughly half that share knew "Friends" would be there as well. Nine months later, the share who could identify "Thrones" increased 13 points, while the share who knew "Friends" was on the platform inched up 4 points. 
Even among HBO Max subscribers, awareness of originals and library titles was low.
On average, 18 percent of HBO Max subscribers could identify a Max Original, compared to 9 percent overall. Twenty-nine percent of subscribers could recognize library content, 12 points higher than adults overall. Critically acclaimed dark comedy "The Flight Attendant" was the most recognizable original among both adults overall and subscribers.  
Bruce Leichtman, president and principal analyst with Leichtman Research Group Inc., said a platform's library content drives consumers to subscribe, with original programming serving as "the icing on the cake."
As of Dec. 31, HBO Max had 17.2 million activations, with HBO Max and HBO having a combined total of more than 41 million domestic subscribers. 
More day-and-date releases and Max Originals could be the key to locking in more viewers. Among those who don't subscribe to the service, content from Warner Bros. and HBO, as well as DC Extended Universe titles and Max Originals, is most likely to entice new viewers, according to the Feb. 25-28 poll.
Sarah Shevenock previously worked at Morning Consult as a reporter covering the business of entertainment.
We want to hear from you. Reach out to this author or your Morning Consult team with any questions or comments.
Contact Us