Health Care Was Voters' Top SOTU Topic. Trump Emphasized Immigration.
The president spent considerably more time discussing his multi-pronged immigration plan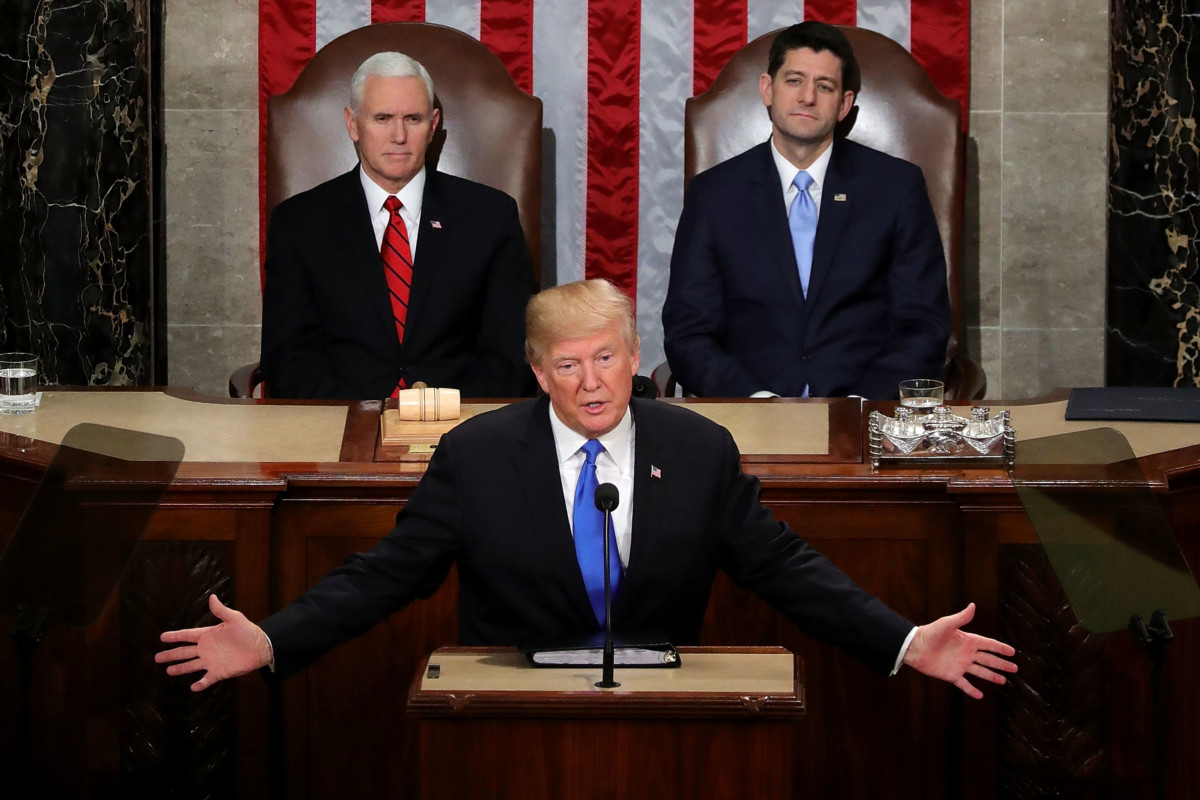 Health care was voters' top priority for President Donald Trump to discuss in his first State of the Union address, but when he spoke Tuesday night, the issues surrounding it took up little real estate in his 80-minute speech compared to immigration.
According to a Morning Consult/Politico poll conducted Jan. 18-20 – ahead of Trump's speech – 82 percent of registered voters said improving the health care system was either very important or somewhat important for the president to discuss. Seventy-three percent of voters said improving the immigration system was a top issue for the speech, while 66 percent cited reducing illegal immigration. The poll, which surveyed 1,994 registered voters, has a margin of error of plus or minus 2 percentage points.
Trump in the joint address to Congress paid more attention to immigration than to health care, detailing his plan that would provide a path to citizenship for young people who were brought to the United States as children, paired with conservative-backed limits on immigration and funding for a wall along the border with Mexico, among other provisions.
Of the more than 5,800 words in Trump's State of the Union speech, his talk of immigration – including MS-13 gang violence – took up more than 1,100 words. Health care topics – including repeal of Obamacare's individual mandate, the opioid crisis and his call for "fixing the injustice of high drug prices" – amounted to less than half that word count. References to State of the Union attendees, such as the parents of a University of Virginia student who died after being held in a North Korean prison, comprised significant portions of the overall address.
Christopher Holt, director of health care policy at the conservative American Action Forum, said in a Tuesday phone interview he was surprised Trump mentioned the drug pricing issues, but added that the White House was "pretty clear that the president wasn't going to spend a lot of time on health policy" ahead of the speech.
When broaching an issue as broad as health care with voters, he noted, "It's not a foregone conclusion that what you say about health care will satisfy them."
Sen. Chris Van Hollen (D-Md.) hit back at Trump's verbal commitment to fighting the opioid crisis. "The problem is his rhetoric has never matched the real reality of the situation, which is we've got to do something about it," he said. Van Hollen suggested part of the reason lawmakers were unable to reach a budget agreement earlier this month was that the White House refused to "provide adequate resources for fighting the opioid epidemic," and said Trump should "actually endorse some legislation" in Congress that would address prescription drug prices.
"Lots of proposals here that are not one-liners in a State of the Union speech," he told reporters in the Capitol Tuesday night.
House Majority Leader Kevin McCarthy (R-Calif.), speaking alongside Van Hollen after the event, defended what Trump said about opioids. "He talked about we have to solve it. So that's going to be about money and other items," he told reporters.
The White House did not respond to a request for comment.
Eli Yokley is Morning Consult's U.S. politics analyst. Prior to his current role, Eli was Morning Consult's senior reporter covering U.S. politics. Eli joined Morning Consult in 2016 from Roll Call, where he reported on House and Senate campaigns after five years of covering state-level politics in the Show Me State while studying at the University of Missouri in Columbia, including contributions to The New York Times, Politico and The Daily Beast. Follow him on Twitter @eyokley. Interested in connecting with Eli to discuss his analysis or for a media engagement or speaking opportunity? Email [email protected].
We want to hear from you. Reach out to this author or your Morning Consult team with any questions or comments.
Contact Us