Here's What People Will Pay for Unlimited Movies
A new data analysis shows the "sweet spot" for theater subscription services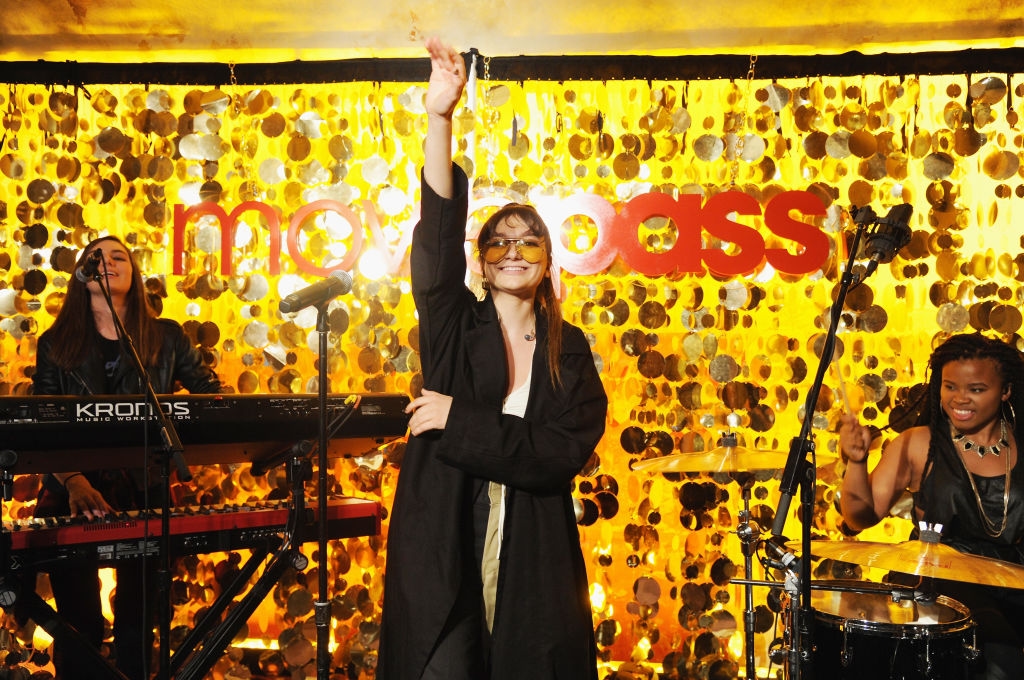 Key Takeaways
Consumers will pay up to $22 to see three films per month in theaters, up to $25 to see three films a week and up to $33 for unlimited viewing.

AMC's subscription service this month reached 400,000 members; Cinemark's equivalent garnered 350,000 as of August.
MoviePass disrupted the industry with its movie subscription service, but it has since hit financial hurdles. Theater chains launched their own alternatives to compete with the upstart and get more customers in the door. At least when it comes to pricing, a Morning Consult analysis suggests newer versions may have more success.
For example, AMC Entertainment Holdings Inc., the biggest U.S. movie chain, in June started offering a three-movie-per-week subscription called Stubs A-List that includes access to IMAX and 3D films and costs $19.95 a month.
AMC may be on to something: Its price is below the $25 a month that is the maximum consumers say they will pay for three movies a week, according to a Morning Consult/Hollywood Reporter poll conducted Oct. 11-14. It is also close to the optimal price of $21, according to an analysis based on the Van Westendorp model, which gauges what people are willing to pay for goods or services between prices that are "too good to be true" and those that are too expensive.
The Morning Consult survey, which polled 2,201 adults, did not calculate an optimal price for a once-a-month film subscription, but did find people would pay up to $22 a month to see three films a month in theaters, and up to $33 for unlimited viewing.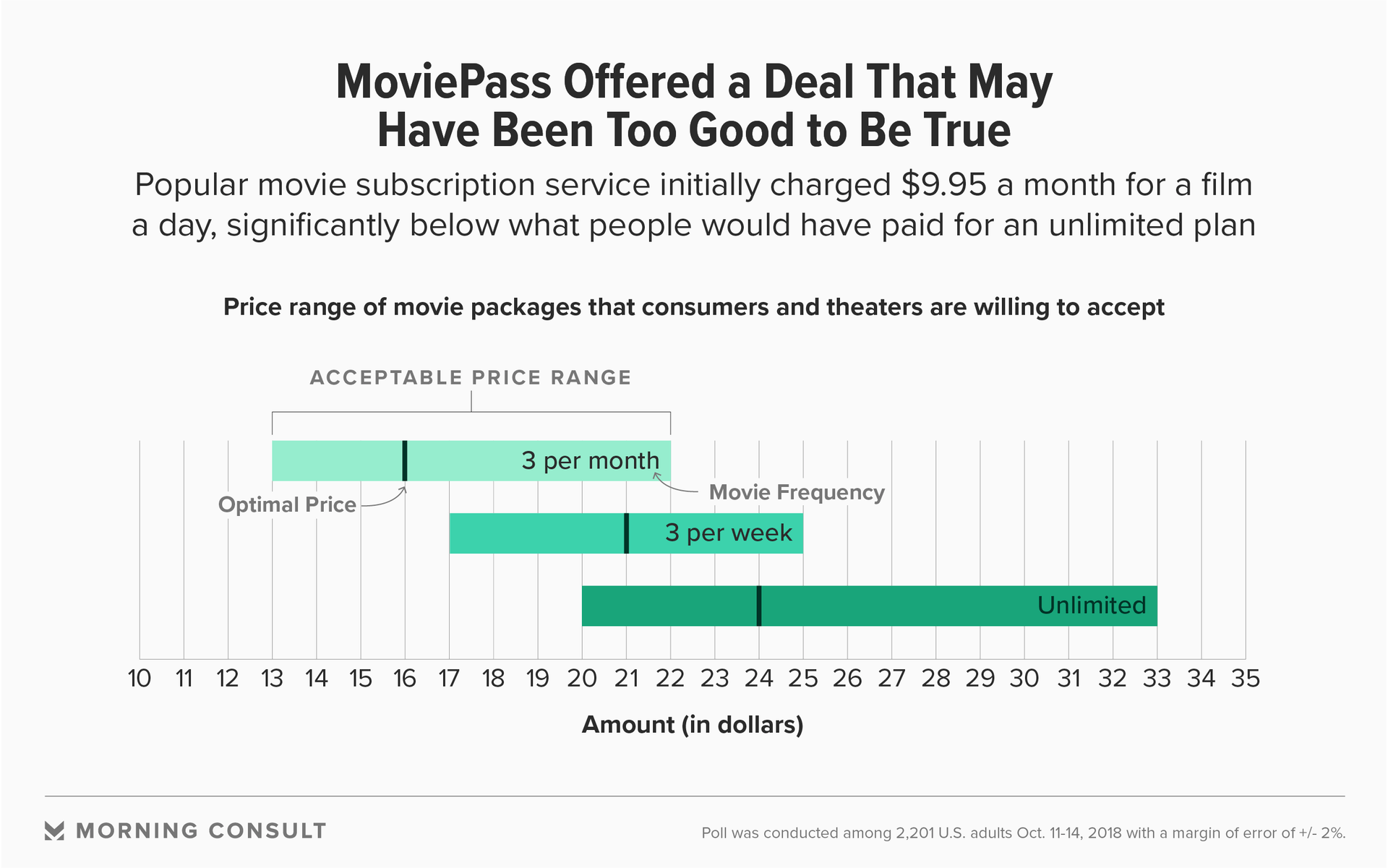 Subscription models offer theaters a chance to retain loyal moviegoers by offering perks, like Cinemark Holdings Inc.'s Movie Club, which charges $8.99 a month for one movie, allows customers to roll over unused movies each month, offers 20 percent off concessions and waives online ticket fees.
These subscriptions also can help bring in new moviegoers as theaters have been seeing less foot traffic in recent years. To make up the revenue shortfall, they've charged more for tickets and increased concession margins.
Getting more people through the door, even with cheaper tickets, gives theaters more opportunity to sell them candy and popcorn - a key revenue driver for some of the biggest U.S. movie chains.
At AMC, Cinemark and Cineworld Group's Regal, growth in concessions revenue outpaced growth in ticket revenues over the last couple of years, despite shrinking attendance numbers.
According to filings with the Securities and Exchange Commission, AMC brought in $5.06 in concessions per guest in 2017, a 9.5 percent increase from 2015; Regal, the second-largest U.S. theater chain, saw a $4.72 concessions price tag per person, up 13.5 percent from two years earlier; and Cinemark totaled $4.53 per guest in concessions, a 14.7 percent increase from $3.95 in 2015.
In the same period, attendance shrunk 6.7 percent at AMC, 9.1 percent at Regal and 2.9 percent at Cinemark, according to SEC filings.
AMC operates in the United States and Europe, Regal operates in the United States and U.S. territories, and Cinemark operates in the Western Hemisphere.
Several of the theater chains have started their own subscription offers to compete with MoviePass, which started to gain traction when Helios and Matheson Analytics Inc. bought a majority stake in the firm in August 2017 and started offering people a $9.95-per-month movie subscription for one movie a day -- significantly lower than consumers' optimal price, according to the Morning Consult analysis.
But MoviePass has struggled to keep up with its financial obligations in recent months and on at least one occasion ran out of cash, causing a user outage. (The New York attorney general is now looking into whether MoviePass' parent misled investors, CNBC reported.) MoviePass, which says it has more than 3 million subscribers, now offers a $9.95-per-month plan for three movies a month.
According to the Morning Consult calculations, that's still below the $22 maximum people are willing to pay for three films a month, and the $16 optimal price. But MoviePass' missteps may have cost it customer loyalty.
While MoviePass was struggling, AMC's Stubs A-List reached 400,000 subscribers earlier this month after 14 weeks of operation, the company said, already making 80 percent of its one-year enrollment goal for the program.
"We got A-List into the marketplace at a time when we could take advantage of all this demand that seems to be out there for buying tickets the new way in multiples, rather than the old fashioned way of one at a time," AMC CEO Adam Aron said on a second-quarter earnings call in August to explain the company decision.
And Cinemark's membership plan grew to 350,000 enrollees after debuting in December, CEO Mark Zoradi said on an earnings call in August.
Experimenting with a subscription model isn't new for movie theaters, said Tom Nunan, a lecturer at the UCLA School of Theater, Film and Television, but each time the model has made a comeback, theaters lost interest because they ended up catering to those who were already loyal theatergoers.
He said the subscription services' main benefit to theaters has been audience retention, saying that "it hasn't been proven so far that they are improving and expanding their audience base."
But this year, North American box office revenue, which is already nearly 10 percent higher compared to the same period in 2017, is expected to reach $11.6 billion to $11.8 billion, according to The Hollywood Reporter. Patrick Corcoran, vice president of the National Association of Theatre Owners, said subscription services have contributed to the upward trend, Axios reported.
AMC predicts it will eventually make up 10 percent of ticket sales through A-List, while Cinemark's CEO Mark Zoradi said Movie Club members represented about 6 percent of box office revenues. But about 40 percent of A-List subscribers, and 45 percent of those signing up for Movie Club, weren't part of the theater's previous loyalty programs, they said.
Nunan said theaters should see subscription models as an opportunity to get more people through the doors outside of weekends and to further incentivize their existing customers.
"It's funny that even with these giant box office hits, you can go to a cinema on a regular weeknight, and it's like visiting a ghost town," Nunan said. "It seems like there's a missed opportunity somewhere in the relationship between the consumer and exhibitor."
Anna Yukhananov contributed to this report.
Joanna Piacenza leads Industry Analysis at Morning Consult. Prior to joining Morning Consult, she was an editor at the Public Religion Research Institute, conducting research at the intersection of religion, culture and public policy. Joanna graduated from the University of Wisconsin-Madison with a bachelor's degree in journalism and mass communications and holds a master's degree in religious studies from the University of Colorado Boulder. For speaking opportunities and booking requests, please email [email protected].
Sam Sabin previously worked at Morning Consult as a reporter covering tech.
We want to hear from you. Reach out to this author or your Morning Consult team with any questions or comments.
Contact Us