Hoeven, Heinrich Express Shared Interest in Upgrading Electric Infrastructure
But at event, the two Senate Energy and Natural Resources members diverge on support for 'baseload' power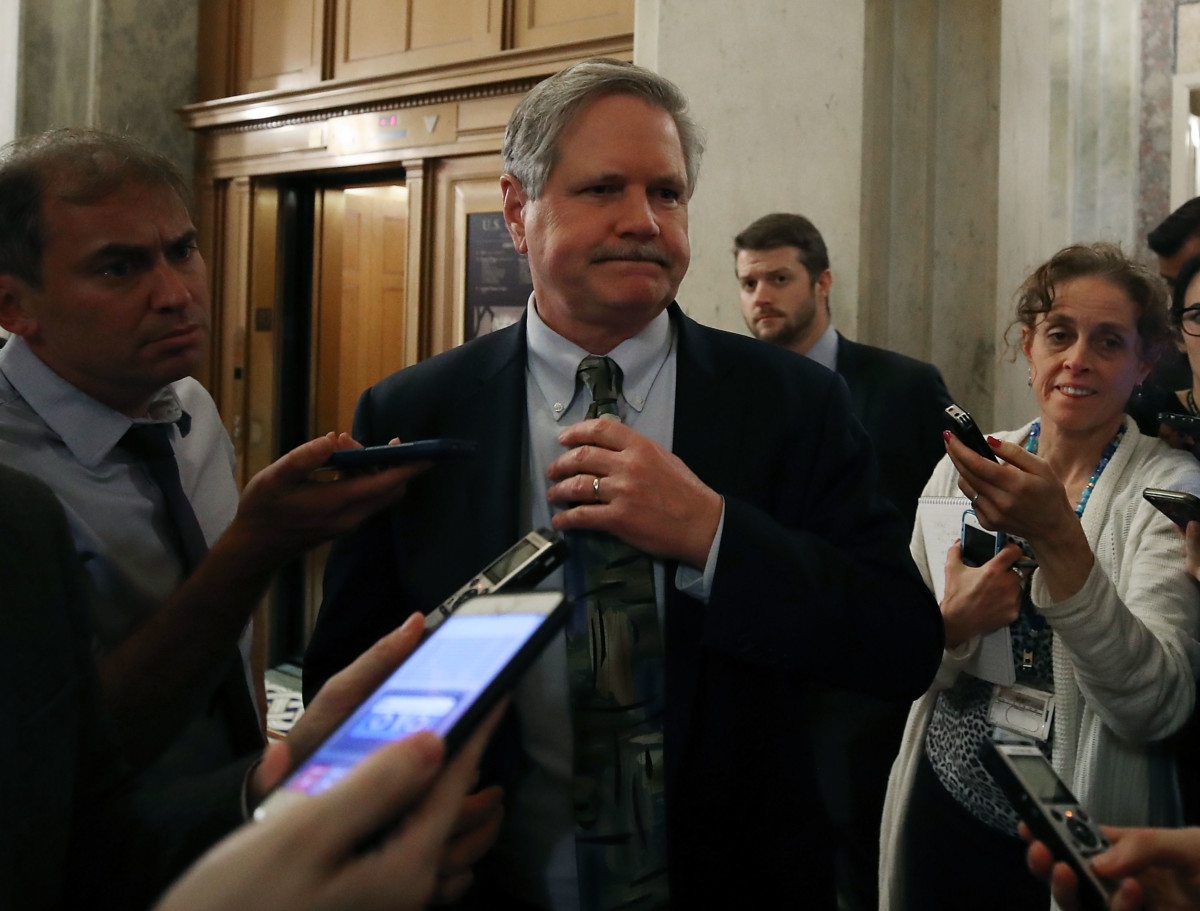 They may not agree on all of the details, but Sen. John Hoeven (R-N.D.) and Sen. Martin Heinrich (D-N.M.), who both sit on the Energy and Natural Resources Committee, concur on the necessity of updating national energy policies and addressing questions surrounding national electric transmission infrastructure.
A nationwide conversation is playing out over how to modernize U.S. energy laws to incorporate the impacts of new grid technologies and ensure the resiliency and security of the electric grid.
That grid was built at a time when one generator would reach a transmission line, which in turn would extend to distribution lines and then to customers, Heinrich told the audience at an event hosted by The Washington Post on Thursday morning. Now, Heinrich said, "it's a multidirectional machine," with new developments like customers producing energy themselves, such as with a wind turbine or solar panels.
Hoeven, who joined Heinrich onstage, said, "The challenge is getting everybody to work together to make sure that that distribution system for our energy grid in this country works." 
Producers of any type of energy – wind, solar, gas or "baseload" resources like coal, Hoeven said – have a common interest in ensuring a distribution system is available, because they each share in the cost of constructing and using transmission infrastructure.
Hoeven, whose home state of North Dakota is second only to Texas in U.S. crude oil production, highlighted the importance of baseload resources in keeping the power on when solar, wind and other variable resources aren't present.
Heinrich, however, said the concept of baseload energy is "a political term," and that coal-fired plants can lose power at unplanned times. He said Energy Secretary Rick Perry's proposed regulation last year "to bail out uneconomic generators" is not a market-based endeavor.
But there are regulatory and tax burdens in the energy sector that are not market-based, Hoeven countered, before musing whether it is fair for one type of energy source to gain access to transmission lines before a producer of a different energy source who paid to build the line. That's a problem within North Dakota, he said, where baseload providers that invested in transmission infrastructure now have secondary access.
Support for baseload resources aside, Hoeven expressed some skepticism about the latest approach at the Energy Department to consider supporting struggling coal plants by using the 1950 Defense Production Act, which was reauthorized in 2014 and lets the government nationalize private industry if it provides required services.
"In general, I don't favor nationalizing anything, but I do think you've got to make sure that baseload has access to the grid in a way that works," he said.
The investment for energy infrastructure projects is available if companies can receive the required federal permits, said Hoeven, while Heinrich noted that what he wants most from the Trump administration is for it to "make agencies work with one another" regarding the federal environmental review process.
"I have been through some 10-year, drug-out efforts trying to get transmission built," Heinrich said.
Whether Congress will be able to enact legislation addressing these and other issues surrounding transmission infrastructure in the near term remains an open question. The last time Congress came close to passing a comprehensive update to the nation's energy laws in 2016, the effort collapsed when the Senate and House sought to iron out the differences between the chambers' two passed versions.
On Thursday, neither Hoeven nor Heinrich said definitively that energy overhaul legislation would get enacted this year.
"I think we'll get there on the energy bill," said Hoeven. "We all have some different ideas in this area, but the idea of trying to drive the investment and the technology forward in terms of the energy world, both to get more energy and better environmental stewardship – we agree on that as a baseline."
Jacqueline Toth previously worked at Morning Consult as a reporter covering energy and climate change.
We want to hear from you. Reach out to this author or your Morning Consult team with any questions or comments.
Contact Us