Nearly Half of Voters Support Using Drug Touted by Trump as COVID-19 Treatment
But a much smaller share of voters (17%) say they would likely seek out hydroxychloroquine for themselves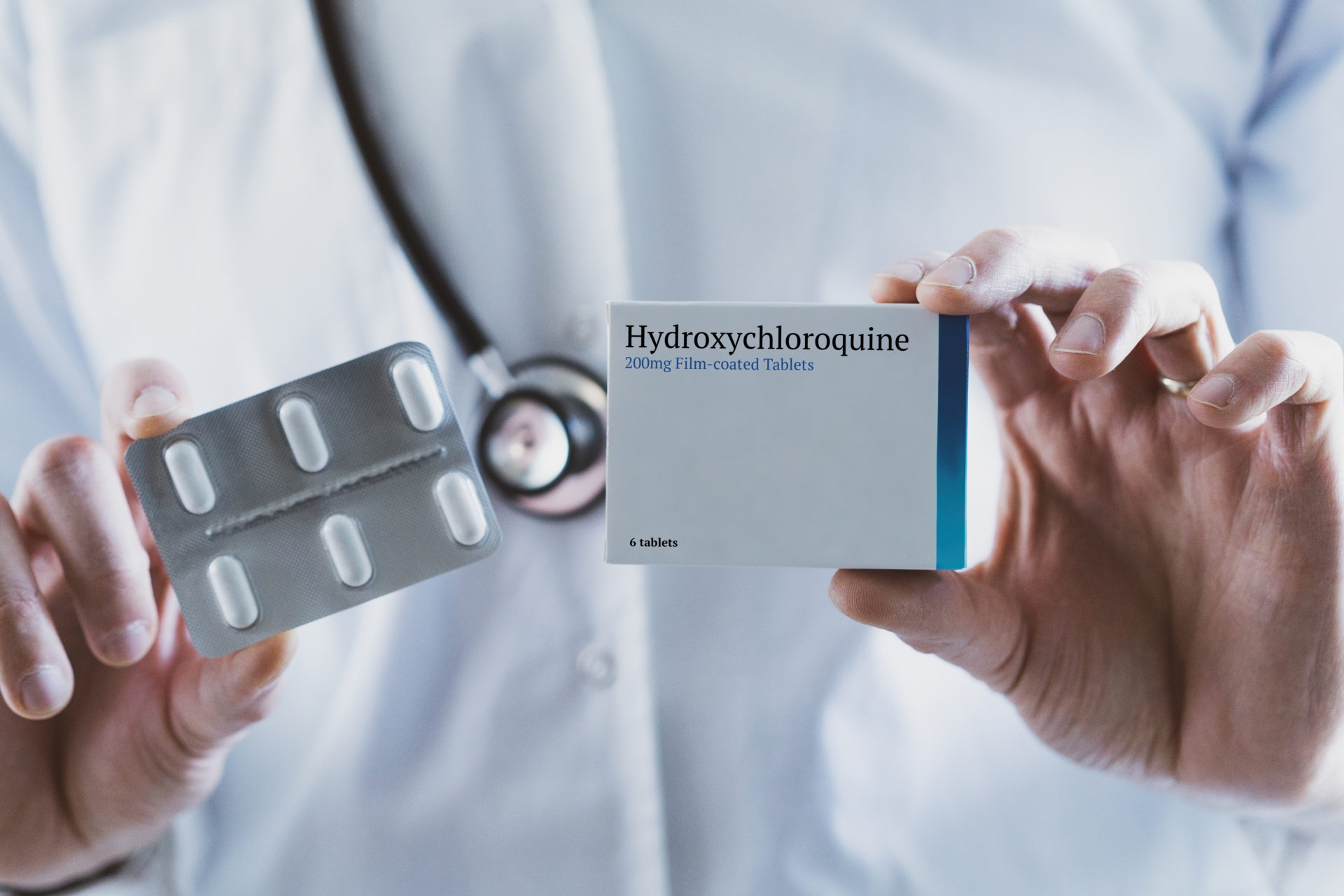 Key Takeaways
46% of voters said they support the use of hydroxychloroquine as a treatment for COVID-19 before research on the drug by NIH is concluded.

71% of Republicans said they support the use of the drug; 24% said they would likely seek it out for themselves.

Majorities of Democrats (65%) and independents (57%) are unlikely to seek out hydroxychloroquine, as well as a 48% plurality of GOP voters.
During several media appearances, President Donald Trump has advocated for the anti-malarial drug hydroxychloroquine as a potential treatment for COVID-19 despite public health experts' warnings that there is not enough evidence to support the claim.
In light of the news that the National Institutes of Health has launched its own research into the effectiveness of hydroxychloroquine, new Morning Consult/Politico data shows almost half of voters support the drug's use as a coronavirus treatment before the NIH concludes its study, but a much smaller percentage would seek out the drug for themselves.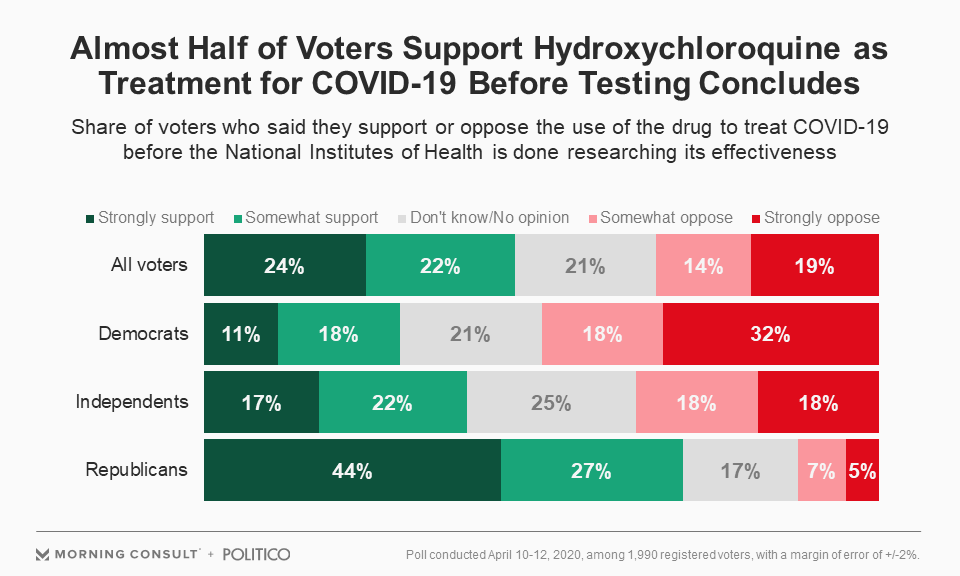 Forty-six percent of the 1,990 registered voters sampled said they support the use of hydroxychloroquine to treat the coronavirus before the results of the NIH study are released, according to the poll conducted April 10-12. 
A large swath of the support came from Republicans, with 71 percent saying they would support the use of the drug for treatment, while 29 percent of Democrats and 39 percent of independents said the same. The poll has a margin of error of 2 percentage points.
NIH said Thursday that it has begun a clinical trial at the Vanderbilt University Medical Center in Nashville, Tenn., to determine the safety and efficacy of hydroxychloroquine -- commonly used to treat malaria and rheumatoid conditions -- as a treatment for adults who have been hospitalized with COVID-19. In addition to the NIH study, Sanford Health, based in Sioux Falls, S.D., said it will conduct a clinical trial of hydroxychloroquine, starting with 2,000 outpatients exposed to COVID-19.
In a press release about its clinical trial, NIH said various studies have shown hydroxychloroquine has an "established safety profile at appropriate doses" but warned that side effects can include cardiac arrhythmias, seizures, dermatological reactions and hypoglycemia.
While nearly half of voters are supportive of using the drug to treat COVID-19, the Morning Consult poll shows fewer than 1 in 5 voters (17 percent) said they would likely seek out hydroxychloroquine in light of the coronavirus pandemic, with a majority (57 percent) saying they would be unlikely to do so.
Nearly a quarter of Republicans (24 percent) said they would seek the drug, while 48 percent said the opposite. 
A roughly equal share of Democrats and independents said they would likely pursue the drug, but majorities of both groups, 65 percent and 57 percent, respectively, are unlikely to do so.
Brian Yermal is a research editor on the Industry Intelligence team, where he edits the team's email newsletters, written analysis and reports. Brian previously worked as a copy editor at the Altoona Mirror newspaper in central Pennsylvania. He graduated from Penn State University with a bachelor's degree in journalism.
We want to hear from you. Reach out to this author or your Morning Consult team with any questions or comments.
Contact Us