Hyperloop Hype Struggles to Break Through to Car-Dependent Public
70% of adults said they've heard nothing about hyperloop, despite flashy promotional efforts from Virgin Hyperloop and others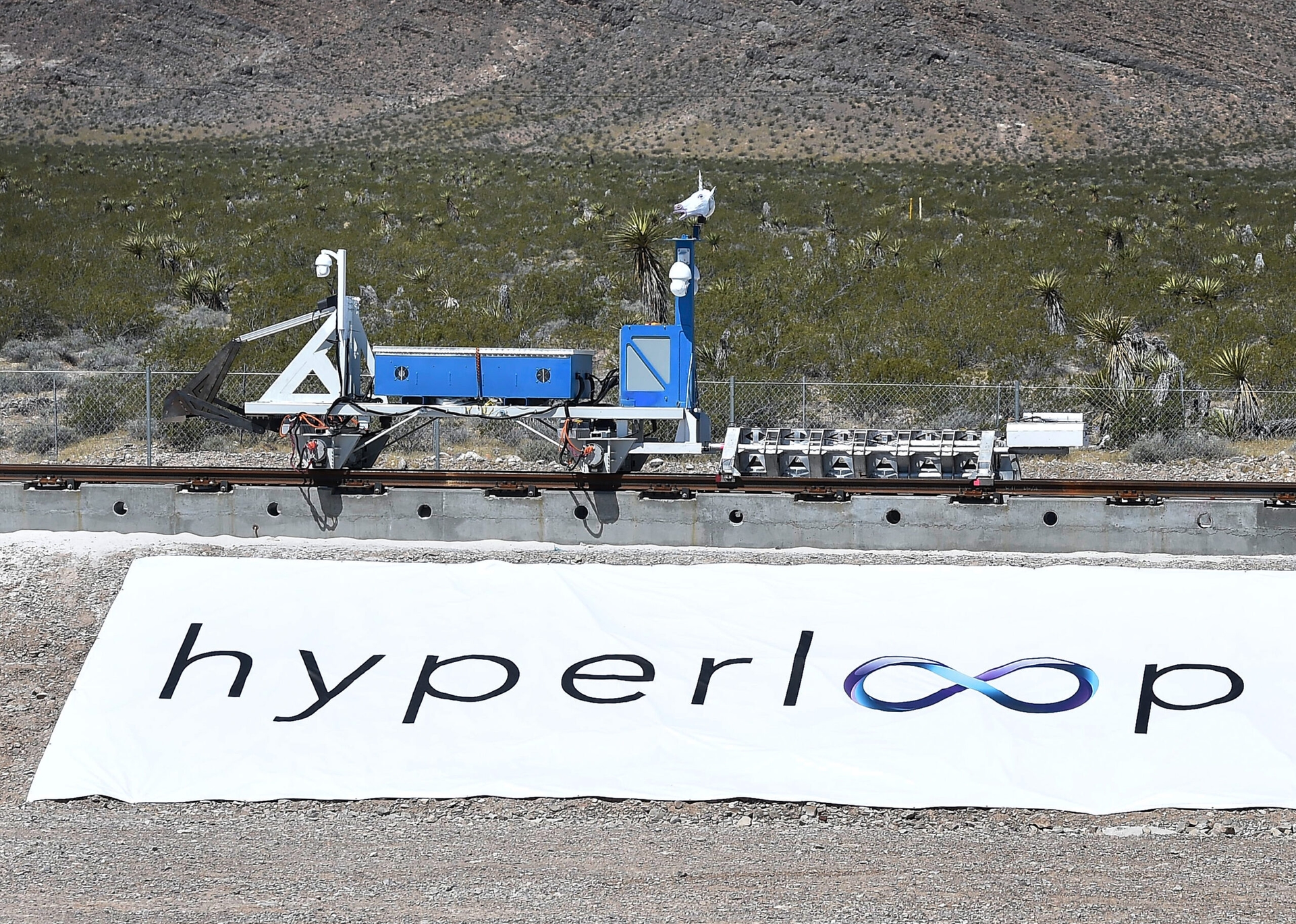 Key Takeaways
After the technology is explained to them, 67% of urban residents said they would be interested in the technology, compared to 57% of all adults and 59% of suburban residents.

Majorities question hyperloop's safety, reliability and environmental impacts and appear unsure on how much they would be willing to pay to ride.

71% said driving their own car would be their preferred commuting method, with that number dropping to 63% after receiving information and answering questions about hyperloop.
Virgin Hyperloop tried to make a splash with a concept video of its passenger pods last month, but new polling suggests the futuristic transportation method is making little impact on the public's commuting preferences and that cars will continue to dominate the scene.
A Morning Consult survey found that 70 percent of U.S. adults said they had heard "nothing at all" about hyperloop, even after years of public efforts touting the mass transportation technology from companies such as Virgin Hyperloop and companies involving Tesla Inc. Chief Executive Elon Musk, including SpaceX and The Boring Co.
Virgin Hyperloop says the technology would allow passengers to travel up to 700 miles per hour in a pod inside large low-pressure tubes, reducing estimated travel times from Los Angeles to San Francisco or from Washington, D.C., to New York City to around 30 minutes.
When respondents were provided with detailed information about hyperloop's potential capabilities, 57 percent said they would be interested in using the transportation when it becomes available. That share includes 67 percent of city residents and 59 percent of those who live in the suburbs, while interest among those in rural areas was much lower, at 45 percent.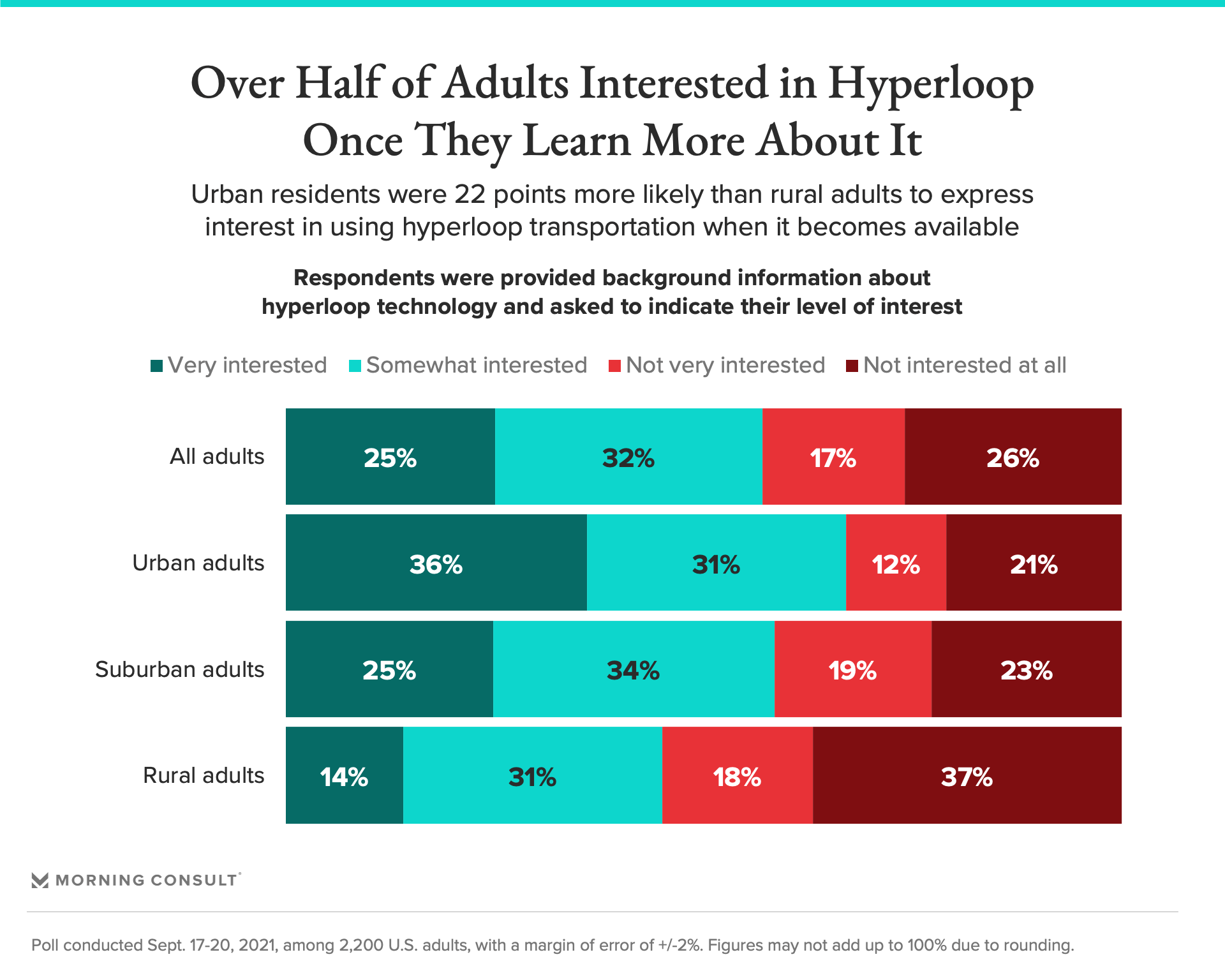 Virgin Hyperloop's new pod concept video shows an artist's impression of what the pods will look like, as well as the tubes they travel in and where passengers will be located. But it has been derided by critics, including railway engineer and writer Gareth Dennis, who called it a "glossy video" featuring "nothing more than some CGI."
The public also remains skeptical. Seventy-eight percent said they are concerned about hyperloop's safety, while 73 percent questioned its reliability. Sixty-two percent of respondents said they're worried about the environmental impact of its construction, and 60 percent said they were concerned about how its operations will impact the environment.
The public appears unsure about how much they are willing to pay to ride hyperloop compared to other methods of transportation.
Thirty percent said they would be willing to pay a price comparable to long-distance bus travel, and 26 percent said they would pay a ticket price comparable to long-distance train travel. Virgin Hyperloop and its competitors have pledged prices comparable to rail and bus fares. Just 22 percent said they would pay a price comparable to a long-distance plane ride.
There also appears to be a long way to go before hyperloop breaks through the dominance of the car in the United States.
Seventy-one percent said they prefer to commute by car, with that number dropping to 63 percent later in the survey after respondents had received more information about hyperloop. Most urban residents still favor driving, too, with 62 percent saying they prefer that as their commuting method, and that share only came down to 54 percent after being educated about hyperloop.
Hyperloop was listed as the preferred commuting method by just 1 percent of all respondents in the initial question, but rose to 13 percent later in the survey after they received information about it. For urban adults, the share jumped from 1 percent to 15 percent.
Hyperloop advocates have called for federal funding to build out the technology, but the poll indicates lukewarm support for such spending compared to other infrastructure projects. Forty-six percent said they supported taxpayer dollars for hyperloop, compared to 73 percent for spending on fixing roads and bridges, 62 percent on long-distance public train transportation like Amtrak and 68 percent on public transportation such as buses and subways.
The survey was conducted Sept. 17-20, 2021, among 2,200 U.S. adults and has a margin of error of 2 percentage points.
Chris Teale previously worked at Morning Consult as a reporter covering technology.
We want to hear from you. Reach out to this author or your Morning Consult team with any questions or comments.
Contact Us