Impeachment Probe Isn't Making Trump Less Popular
Since Sept., Trump's net approval statistically unchanged in 37 states, including some key 2020 battlegrounds
Key Takeaways
Since September, Trump's net approval has improved in New Hampshire and Nevada, but fallen in Georgia, Michigan and Wisconsin.

Trump's November net approval was underwater in 28 states and the District of Columbia.

56% of Republicans said they "strongly approve" of Trump's job performance in November, the largest share since he took office.
More than two months after the beginning of the Ukraine scandal at the center of the House's impeachment inquiry -- and through many critical news cycles about President Donald Trump -- little has changed in how voters rate his job performance.
The latest Morning Consult polling tracking the president's job approval in each state found that between September and November, there has been no statistical change in Trump's net approval rating -- the share of registered voters who approve minus those who disapprove -- in 37 states, including key 2020 battlegrounds such as Arizona, Florida, Ohio, Pennsylvania and North Carolina.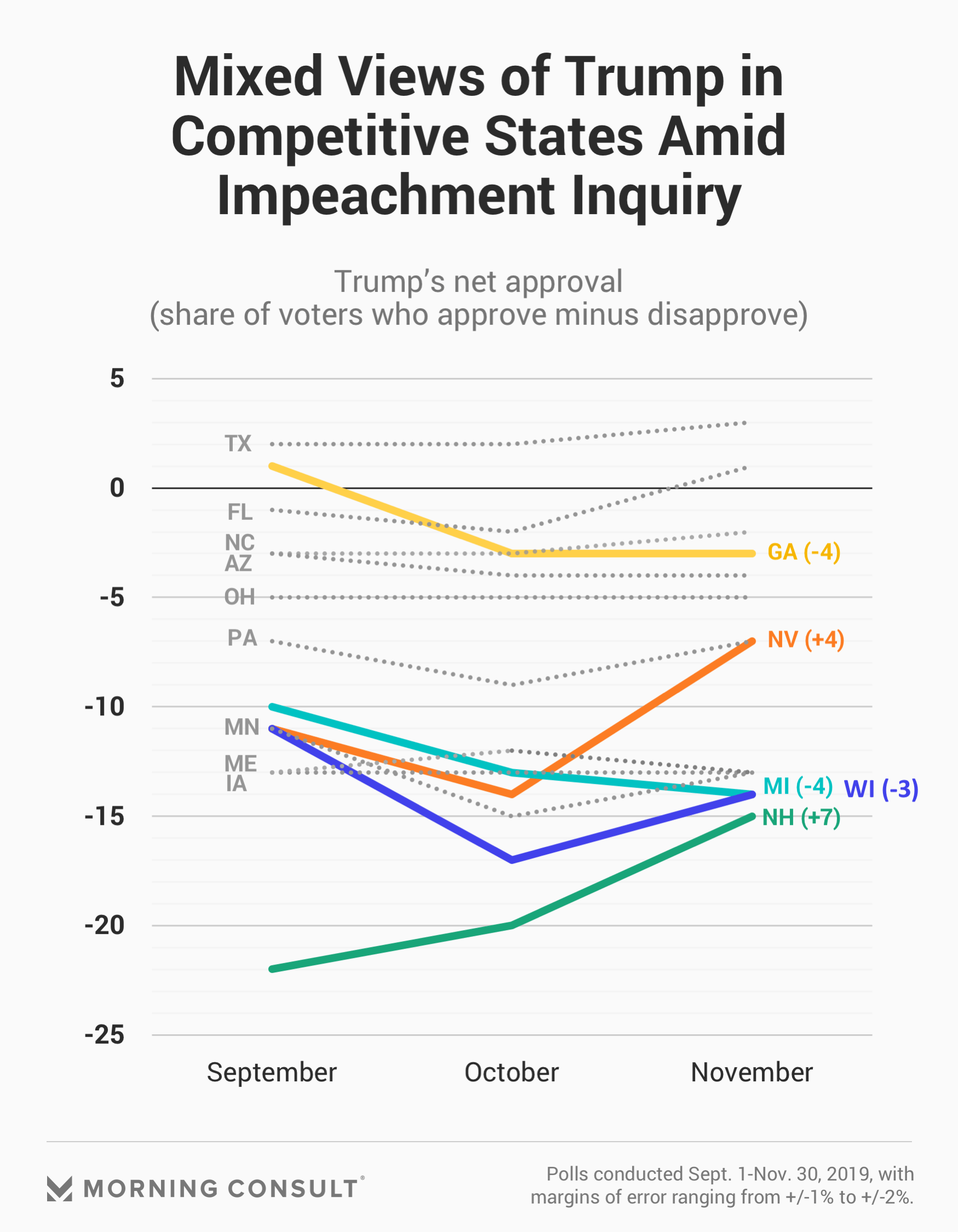 That was reflected in Trump's job approval nationwide. Among the 165,468 registered voters surveyed in November, 43 percent approved of Trump's job performance and 54 percent disapproved, similar to the 42 percent who approved and 54 percent who disapproved before the impeachment probe began at the end of September.
Among 14 key states to watch next year, Trump's net approval is above water only in Texas (49 percent approve, 46 percent disapprove), and is statistically tied in Florida (49 percent approve, 48 percent disapprove). It is in the red in all the others, with his worst marks coming in New Hampshire and the hotly contested states of Minnesota, Michigan and Wisconsin in the upper Midwest. 
The president's net approval has fallen in Georgia, Michigan and Wisconsin amid the impeachment investigation, while it improved in Nevada and New Hampshire. In the other key states, there was no significant change.
The general solidity in views about Trump mirror their views about impeachment, itself, which have hardly moved as House Democrats took their investigation public as news about specific pieces in their probe has struggled to break through. 
Nationwide in November, Trump's net approval was underwater outside the margin of error in 28 states and the District of Columbia, while it was in positive territory in 13 states, with his best showings in conservative strongholds such as Wyoming, Alabama, Mississippi and West Virginia. 
Across the country, partisans hardened their views. In November, the nationwide polling clocked the largest share of Republicans (56 percent) saying they "strongly approve" of Trump's job performance since he took office, while 78 percent of Democrats said they strongly disapprove -- tied for second behind last month's 79 percent high. 
Eli Yokley is Morning Consult's U.S. politics analyst. Prior to his current role, Eli was Morning Consult's senior reporter covering U.S. politics. Eli joined Morning Consult in 2016 from Roll Call, where he reported on House and Senate campaigns after five years of covering state-level politics in the Show Me State while studying at the University of Missouri in Columbia, including contributions to The New York Times, Politico and The Daily Beast. Follow him on Twitter @eyokley. Interested in connecting with Eli to discuss his analysis or for a media engagement or speaking opportunity? Email [email protected].
We want to hear from you. Reach out to this author or your Morning Consult team with any questions or comments.
Contact Us