In Oklahoma, A Warning for Proponents of Value-Based Pharma Payment
State's experimental Medicaid program has seen only four contracts as drugmakers leery of risk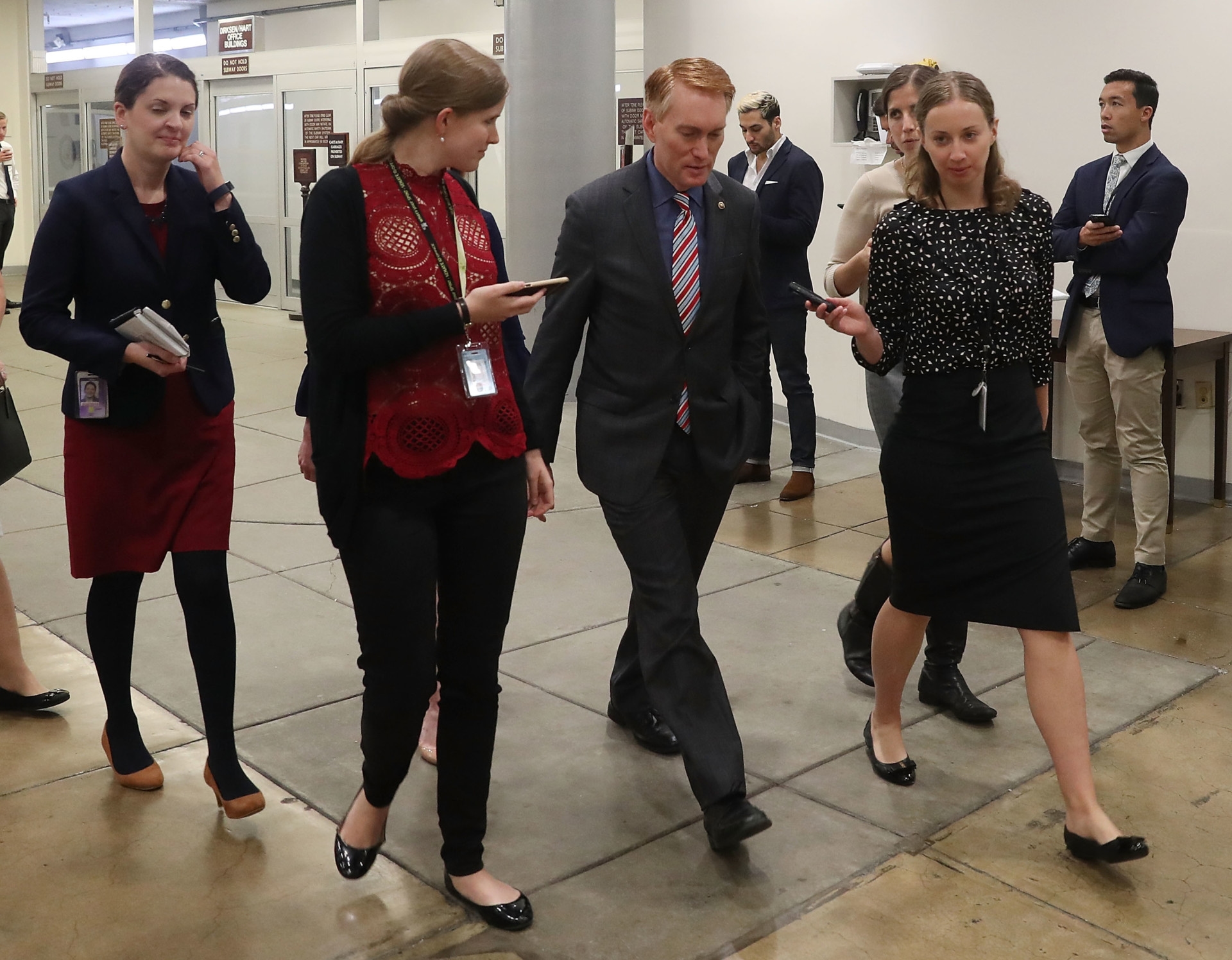 As pressure on Congress to address rising costs of prescription drugs mounts, lawmakers on the powerful Senate Finance Committee and pharmaceutical companies have coalesced around value-based payment, or setting drug prices based on efficacy, as a method to reduce drug costs.
But before going full speed ahead toward value-based agreements in federal health programs, it could be worth checking with Oklahoma -- the first state in the country with approval from the federal government to negotiate value-based contracts with drugmakers -- where the state Medicaid program's pharmacy director is warning other states to think twice.
Value-based models have long been espoused as mechanisms to hold providers accountable for the quality of their care by linking costs to value-add for the health system. At the 116th Congress' Senate Finance Committee's inaugural drug pricing hearing on Jan. 29, top lawmakers, including Oklahoma Sen. James Lankford (R), highlighted the need for better aligning incentives in the pharmacological market by empowering insurers and states to demand prices reflective of outcomes.
Last summer, the Centers for Medicare and Medicaid Services approved a first-of-its-kind state plan amendment from Oklahoma allowing the Oklahoma Health Care Authority to do just that. Since August 2018, Oklahoma has signed four contracts with pharmaceutical companies in which rebates vary based on performance, appraised by metrics such as patient adherence, reduced hospitalizations and rate of distribution.
But over the last five months, the state has faced significant roadblocks, said Nancy Nesser, OHCA's pharmacy director. For one, Oklahoma has dedicated an enormous amount of time to enter contracts that may not have been very meaningful: All four apply to treatments covering a total of approximately 1,700 patients, a meager slice of the 808,000 beneficiaries with coverage through the state.
"We've met with 27 companies more than once, more than twice — most of them we met with at least three times," said Nesser. "And we only have four contracts to show for that."
Although "value-based" is often used as a catch-all term, experts noted that understanding where and how value-based and outcomes-based contracts diverge is essential.
Stephen Majors, director of health care practice at DuckerFrontier, explained that value-based pricing involves setting initial prices based on the magnitude of the benefits, taking a more holistic approach to assessing impact on the health care system by considering the cost of care for a patient in the absence of a treatment. Outcomes-based contracts focus on narrower goals based on the achievement of milestones, such as whether a patient is cured, and offer refunds or rebates from manufacturers if certain outcomes are unmet -- as in Oklahoma.
The definitions will need to be finely tuned in any legislation or regulation, Majors said, which is no small task.
Both concepts affect the players in the pharmaceutical supply chain in different ways. For example, in Oklahoma's outcomes-based contracts, the state enjoys better rebates for well-performing drugs, Nesser said, but patients don't see a dollar of the cost-savings.
Value-based contracts are tremendously oversimplified in public discourse, Nesser said. Simply defining outcomes that are sufficient indicators of efficacy has been a challenge, let alone fastening them to corresponding rebates.
The experience in Oklahoma speaks to broader concerns about rushing into value-based agreements, especially as "value" has proven difficult to define in the pharmaceutical context. Becca Davison, director at health care advisory company ADVI Health and former director at the Pharmaceutical Research and Manufacturers of America, said some of the more rote, formulaic ways that have been used to place "value" on drugs in the past have failed to take into account metrics that are important to society, such as quality of life and the overall effect on the health care system.  
While the pharmaceutical industry has a cut-and-dried definition in terms of change in health status, patients think about value not just in terms of their treatment outcomes, but how a medication or procedure affects overall quality of life, said Ben Isgur, research director at PwC.
The conflict between what the industry and patients value is further complicated by what data is accessible in the first place.
Value has to be defined by "something that we actually can measure," Nesser said.
"Sometimes that is hard to get the pharmaceutical reps to see the difference between a clinical trial and a value-based contract," she said. "They want to measure something clinical or see some laboratory measure that we don't get. What we get is claims data."
That data can allow OHCA to extrapolate adherence or cost of care, but not, for example, how a person is doing with schizophrenia.
In a Jan. 30 interview, Lankford acknowledged the difficulty of arriving at a consensus on the definition of value-based payment. For Congress, the aim is to ensure drugmakers receive compensation based on the accomplishments of their product and cost-savings potential, but the Oklahoma senator noted that these are "relative, subjective decisions."
"It's hard for me to be able to say if the value-based pricing is working yet, because it's too early," Lankford said. None of the contracts in Oklahoma have reached their point of evaluation, and the state doesn't expect to complete its analysis before January 2020. If the data reveals no meaningful cost-savings, the state will consider terminating its contracts, Nesser said.
In a PwC survey of pharmaceutical executives released September 2017, only a quarter reported being involved in value-based contracts.
"Most executives are not seeing how the risk outweighs the reward, and it's very hard to agree on the data you're measuring for the outcomes," Isgur said. "It goes back to what providers have told us: There are so many externalities. Did they take the drug; did they take it correctly; are there other lifestyle factors that should be involved?"
In Oklahoma, the state is confronted with this reluctance firsthand, as drugmakers often decline to work with OHCA because their products are already subject to Medicaid rebates, and outcomes-based contracts are risky, Nesser said.
"If their drug doesn't perform like they say it does, they're going to have to pay us back, and that's eventually going to get well-known across the country -- whether their drugs perform or not," she said.
Some patient advocates warn of another potential pitfall to the value-based payment strategy: Without a an agreed-upon definition of value-based pricing, drugmakers could define it in a way that allows them to raise prices even more than current levels, said Leigh Purvis, director of health services research in AARP's Public Policy Institute. If that happens, these arrangements not only fail to get at the root of the pricing problem, but exacerbate the existing dilemma, she said.
If their drug doesn't perform like they say it does, they're going to have to pay us back, and that's eventually going to get well-known across the country -- whether their drugs perform or not.
Nancy Nesser, Oklahoma Health Care Authority's pharmacy director
Though value-based payment is a laudable strategy, Purvis said, the current lack of comparative effectiveness research when it comes to drugs hinders the ability to determine value.
PhRMA did not respond to requests for comment for this story.
Lankford, too, acknowledged that there is no current strategy in Congress to mitigate the threat of drugmakers taking advantage of the concept to maximize their profits, but the Senate Finance Committee is supportive of trying out value-based arrangements.
Sens. Bill Cassidy (R-La.) and Mark Warner (D-Va.) have introduced draft legislation encouraging states to explore value-based arrangements.
"We're bringing stakeholders together to hear everyone's thoughts," said Ty Bofferding, Cassidy's press secretary. "For us, value means the patient is better off than they would be otherwise."
In Oklahoma, Nesser remains skeptical the state will save any money or that the strategy is effective beyond "one-offs," and she said it is clear that not every state should follow its model. To really help states control drug costs, she said, Congress needs to work on larger solutions -- such as price controls.
For now, to rein in costs associated with specialty drugs, the state is weighing applying for another waiver, allowing OHCA to negotiate what Nesser called "milestone contracts." Under such agreements, the state would make payments to the manufacturer over time as patients meet temporal milestones -- hitting a certain number of days without needing another dose.
But even as the state clarifies details with CMS, Oklahoma is in no rush to once again be the first state to experiment with a new value-based payment model.  
"We might have let someone else go first," Nesser said.
Yusra Murad previously worked at Morning Consult as a reporter covering health.
We want to hear from you. Reach out to this author or your Morning Consult team with any questions or comments.
Contact Us