Incoming NRCC Chair Says GOP Is 'Way Too Focused on Nancy' Pelosi
Emmer says Republican Party should focus beyond issues that drive base such as immigration
Key Takeaways
Ahead of the midterms, voters were nearly four times as likely to say they were thinking a lot about Trump than about Pelosi, 51% to 13%.

Pelosi remains unpopular among all voters, but she's rebounded with Democrats since the party retook the House.
Since at least the 2010 midterms, Republicans have made a concerted effort to villainize House Democratic Leader Nancy Pelosi as an out-of-touch liberal, messaging that strategists say contributed to victories during the Obama era.
But after a painful loss in the House, the man Republican lawmakers have tasked with leading their efforts to grab back the speaker's gavel said his party has focused too much on Washington's most powerful woman.
"I think we're way too focused on Nancy," said Rep. Tom Emmer (R-Minn.), the incoming chairman of the National Republican Congressional Committee.
In a wide-ranging interview with Morning Consult at the party headquarters in Washington, Emmer said there's "no question" Pelosi, who's served in House Democratic leadership positions since January 2002, was a messaging boon for the GOP in past elections -- and wouldn't rule out turning to that trope again in the future.
But looking ahead to the 2020 campaign, he said Republicans should instead focus on what they are selling to voters, particularly those in the middle, to win back the House. When it comes to Pelosi, Emmer said, voters "are about as interested in that as their interest -- at least leading up to the election -- in Russia."
When it came to a name on voters' minds, both Morning Consult polling and Republican strategists interviewed for this article said President Donald Trump was the overriding factor.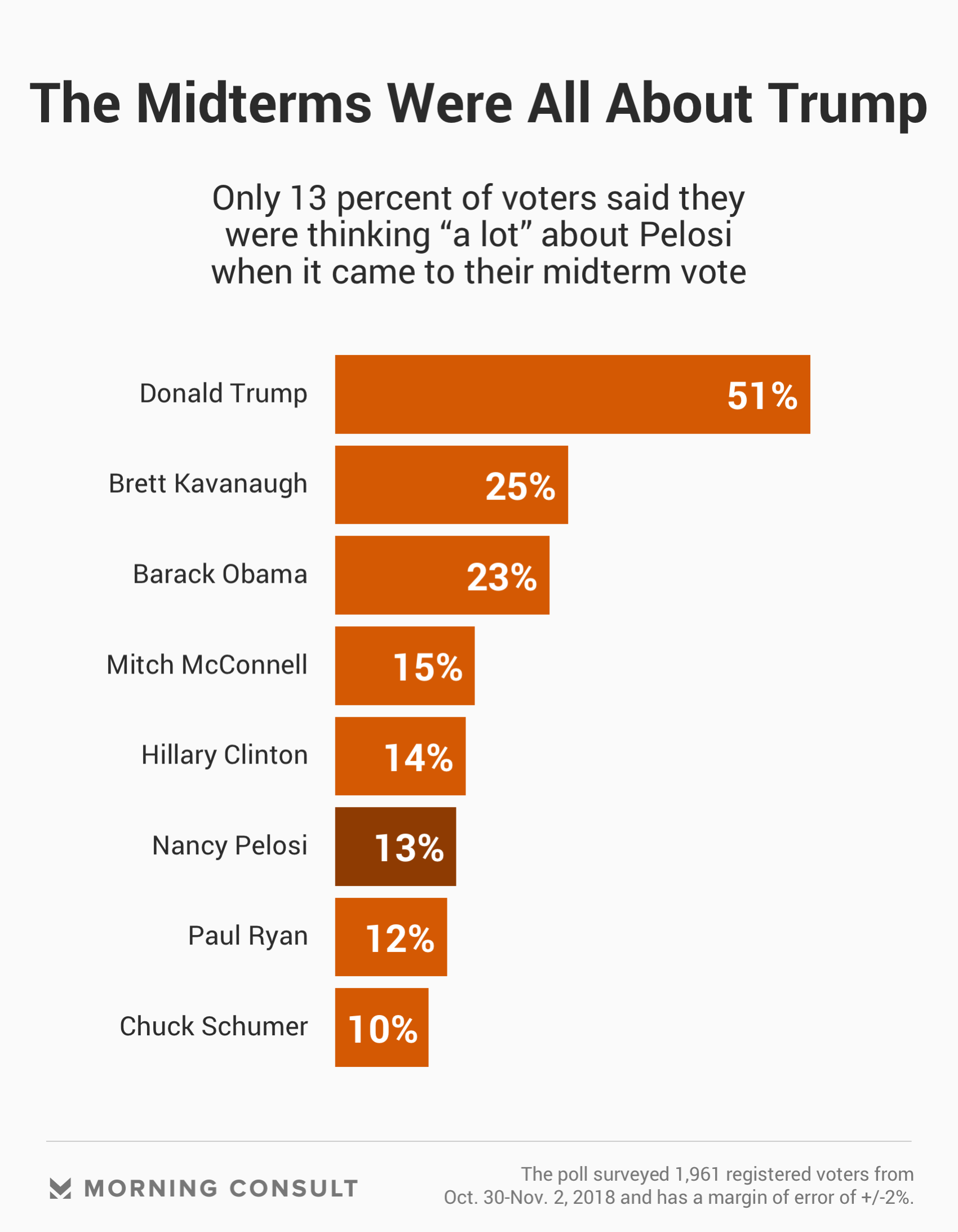 Voters were nearly four times as likely to say they were thinking "a lot" about Trump than Pelosi, 51 percent to 13 percent, when it came to their midterm vote, according to Morning Consult/Politico polling. Independents were twice as likely (60 percent to 29 percent) to say Trump was atop their minds, compared with Pelosi, and even 53 percent of Republicans said they weren't thinking about her at all.
One Republican strategist, privately discussing party strategy, called the midterm campaign's attacks on Pelosi a necessary "diversion" for candidates to attempt to counter the downside from Trump, who is nationally unpopular.
Emmer would not directly blame the president for the party's messaging problem in the midterms, but he did say that a focus on immigration – Trump's top message that was also embraced by many Republican candidates – was "clearly" not the way to appeal to independents.
Morning Consult polling in July that focused on independents found that a quarter of voters who don't identify with either major party cared about economic issues, while 14 percent picked health care, above opposition to Trump or security issues.
Instead, he said Republicans should have touted a good jobs report, had a cohesive health care message and "personalized" the tax bill.
"We're supposed to be selling the basic principles of the Republican Party," he said. "We're doing well in rural America, but we've got to personalize this with people in the urban and suburban areas."
How Pelosi governs the House could give Republicans a thread to tug on to win those voters back.
Among all voters, the largest share who disapproved of Pelosi said they do so because she's "too liberal," not because she's ineffective or too compromising, according to a November poll.
Indeed, Emmer believes the critique that Pelosi and her ilk are too liberal could resonate in America's suburbs in the future, particularly if young progressives angling for power in her caucus -- such as New York Rep.-elect Alexandria Ocasio-Cortez -- gain more prominence.
"I love candidates like the new lady from New York, because she's going to make that stark contrast, which will make the 2020 election – if it shapes up this way – a very sharp contrast between what we propose, our candidates, and what they propose," he said. "This is not my grandfather's Democratic Party."
Jeff Roe, a veteran Republican strategist whose firm Axiom Strategies has worked on House and Senate races nationwide, said Pelosi's impact on Democratic candidates will depend on how she manages the liberals in her caucus.  
"Is it chaos or did she actually instill some discipline on her conference?" he said. "She has an opportunity next year that there are people in her caucus who are more liberal than she is. There's a situation where she looks more like a leader and less like a loon."
Polling suggests the attacks on Pelosi, who has never polled above water with registered voters in Morning Consult surveys, did move her numbers even further south. In October, at the height of campaign season, Pelosi's popularity among registered voters was 26 percentage points underwater, with 26 percent of voters taking a favorable view of her and 52 percent taking a negative view, according to an average of five surveys conducted that month.
Among Democrats that month, 48 percent viewed her favorably and 30 percent unfavorably.
But after Democrats won the House in November, Pelosi's standing rocketed among her base, averaging 30 points above water in November -- driven largely by a drop in Democrats with unfavorable views. Among all voters, the November average was her best since January, according to Morning Consult tracking.
Doug Heye, a Republican strategist who shepherded the party's "Fire Pelosi" slogan, which emerged in 2010 for the Republican National Committee, said he expects Pelosi to remain part of the party's messaging going forward, "depending on how long she sticks around."
Both Heye and Emmer said the next targets of anti-Pelosi messaging should be Democrats who vowed not to back her bid for speaker -- and then end up voting for her in January. The Democratic caucus already nominated Pelosi, whose office did not comment for this story, for the role last month after an internal vote.
Ahead of Pelosi's successful bid for her party's nod, one of her top allies in the caucus, Rep. Rosa DeLauro (D-Conn.), scoffed at concerns that the likely speaker would be a drag on the party's future electoral chances.
"There were so many people who said, 'Oh my god, if Nancy Pelosi is the speaker, we can never win the House of Representatives,'" she said. "My friends, the proof is in the pudding."
Eli Yokley is Morning Consult's U.S. politics analyst. Prior to his current role, Eli was Morning Consult's senior reporter covering U.S. politics. Eli joined Morning Consult in 2016 from Roll Call, where he reported on House and Senate campaigns after five years of covering state-level politics in the Show Me State while studying at the University of Missouri in Columbia, including contributions to The New York Times, Politico and The Daily Beast. Follow him on Twitter @eyokley. Interested in connecting with Eli to discuss his analysis or for a media engagement or speaking opportunity? Email [email protected].
We want to hear from you. Reach out to this author or your Morning Consult team with any questions or comments.
Contact Us