Voters Back Corporate Income Taxes Over Targeted Gas, Mileage Taxes to Pay for Infrastructure Investments
Democrats more likely to support all the tax options than their GOP counterparts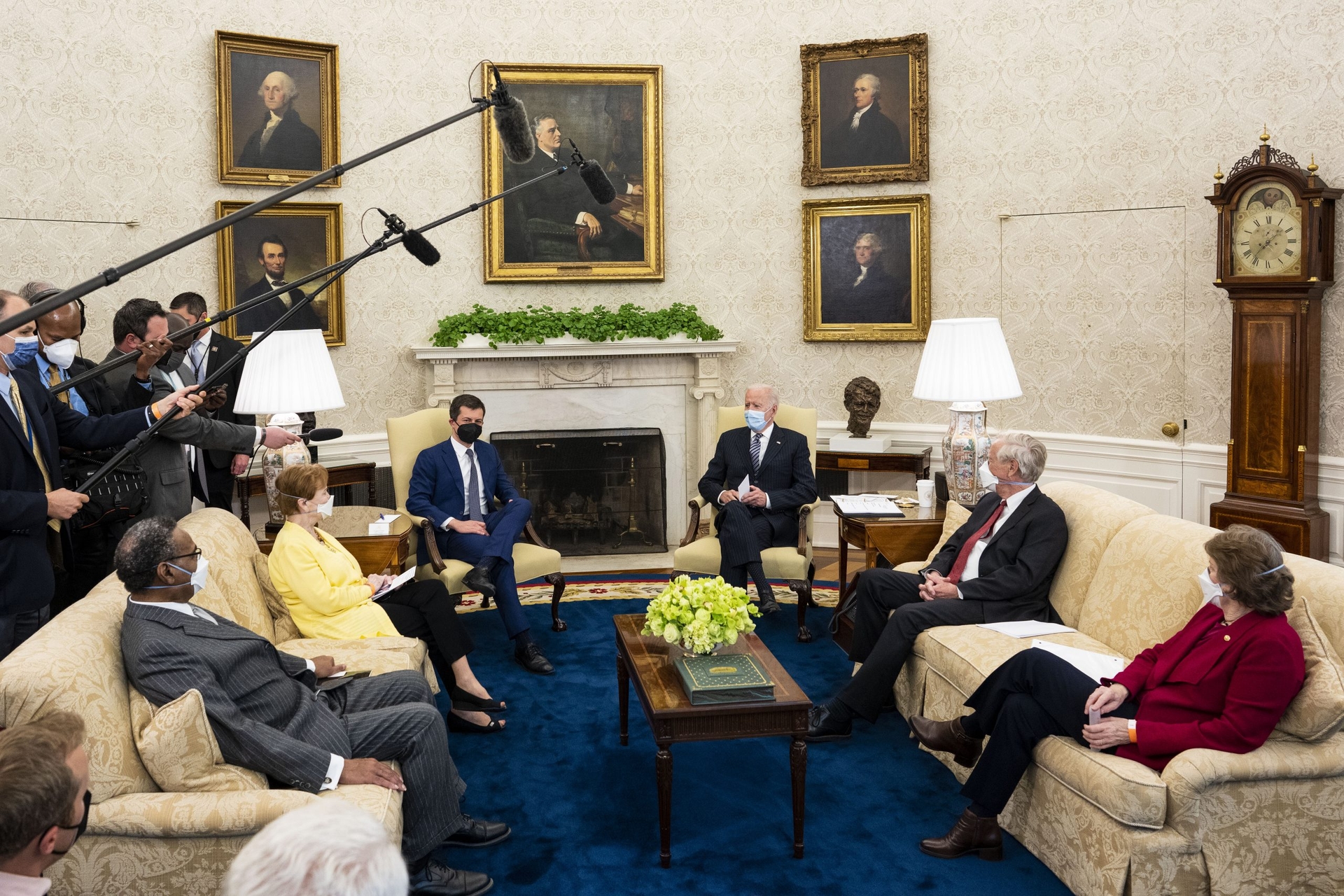 Key Takeaways
54% of voters back a 25% corporate income tax, and 31% oppose.

The controversial but largely bipartisan proposal of a carbon tax on those emitting greenhouse gases was roughly as popular as the corporate income taxes, at 52% in support and 34% opposed.

An increased gasoline tax is comparably unpopular with voters (at 31% in support and 59% opposed), especially with Republicans (16% vs. 76%).
In the weeks since President Joe Biden announced the first component of his plan to make major investments in U.S. infrastructure, the news has been met with a handful of proposals to help pay for the upgrades from both Democrats and Republicans. 
While Biden initially proposed paying for his plan in part through upping the country's corporate income tax rate to 28 percent, certain lawmakers -- including key swing vote Sen. Joe Manchin (D-W.Va.) -- have resisted the possibility, instead pushing for other taxes that would target those benefiting from the infrastructure investments most, such as raising the existing rate for  gasoline.
However, new polling from Morning Consult polling found that none of these more targeted options is as popular with voters as a 25 percent corporate income tax (a rate Manchin has said he would be open to), backed by a share of 54 percent and opposed by 31 percent.
A 28 percent corporate income tax was only marginally less popular, at 51 percent in support and 35 percent opposed. Both plans targeting corporations -- which would unfold over the course of 15 years -- saw significantly more support from Democrats than from Republicans: 75 percent vs. 31 percent, respectively, for the lower tax rate and 73 percent vs. 27 percent for the higher level. 
But this partisan division was mirrored in responses to the other options, even those that have been pushed by Republican lawmakers.
The controversial but largely bipartisan proposal of a carbon tax on those emitting greenhouse gases was roughly as popular among voters as the corporate income taxes, at 52 percent in support and 34 percent opposed. 
Meanwhile, it has been suggested that a carbon tax would be an appropriate mechanism for paying for the investments, especially in light of the American Petroleum Institute recently calling for the government to set a price on carbon emissions (though the trade association did not specifically use the words "carbon tax"). Sen. Mitt Romney (R-Utah) has also floated the idea to mitigate climate change more broadly.
However, more recently Romney and his colleague Sen. John Hoeven (R-N.D.) said they would support an infrastructure plan in some form paid for by user fees, such as an increased gasoline tax that would put the onus to pay on "the people who actually use a facility," per Romney. 
Another user fee option that has gained traction is a "vehicle-miles-traveled" tax, which would impact all drivers of both conventional and electric vehicles and not just those who use gasoline or diesel. Transportation Secretary Pete Buttigieg has spoken favorably of a VMT, or mileage tax.
These user fee options are comparably unpopular with voters, especially with Republicans. Just 31 percent of voters back a gas tax, and 59 percent oppose, while a VMT polled at 29 percent for and 60 percent against. 
Shares of 76 percent and 75 percent of Republicans oppose the measures, respectively. And while Democrats are more supportive, they are roughly split on both.
The April 21-25 poll surveyed 1,986 registered voters and has a margin of error of 2 percentage points. 
Lisa Martine Jenkins previously worked at Morning Consult as a senior reporter covering energy and climate change.
We want to hear from you. Reach out to this author or your Morning Consult team with any questions or comments.
Contact Us