Interest Down Ahead of NCAA Tournament, But Bracket Playing About Steady
Poll shows viewers' plans for how they intend to watch this year's games on both TV and online also changed
Key Takeaways
36% of respondents said they intend to watch tournament hoops.

Similar polling conducted ahead of last year's tournament found that 43 percent of respondents planned to watch.
The 68 March Madness teams are set to be announced Sunday, but fewer Americans plan on tuning in to games than before last year's NCAA Division I Men's Basketball Tournament, Morning Consult polling shows.
In a survey of 2,201 U.S. adults conducted March 1-5, 36 percent said they intend to watch tournament hoops. Fifty percent said they didn't plan to watch any games, with another 14 percent saying they don't know or have no opinion. Similar polling conducted ahead of last year's tournament found that 43 percent of respondents planned on watching March Madness games.
The drop spanned across age ranges. Thirty-seven percent of 18- to 29-year-olds polled said they planned to watch tournament games this year, down from 47 percent last year. Forty percent of 30- to 44-year-olds expressed similar interest in following the NCAA tournament this year, a decline from the 50 percent of similar-aged respondents last year.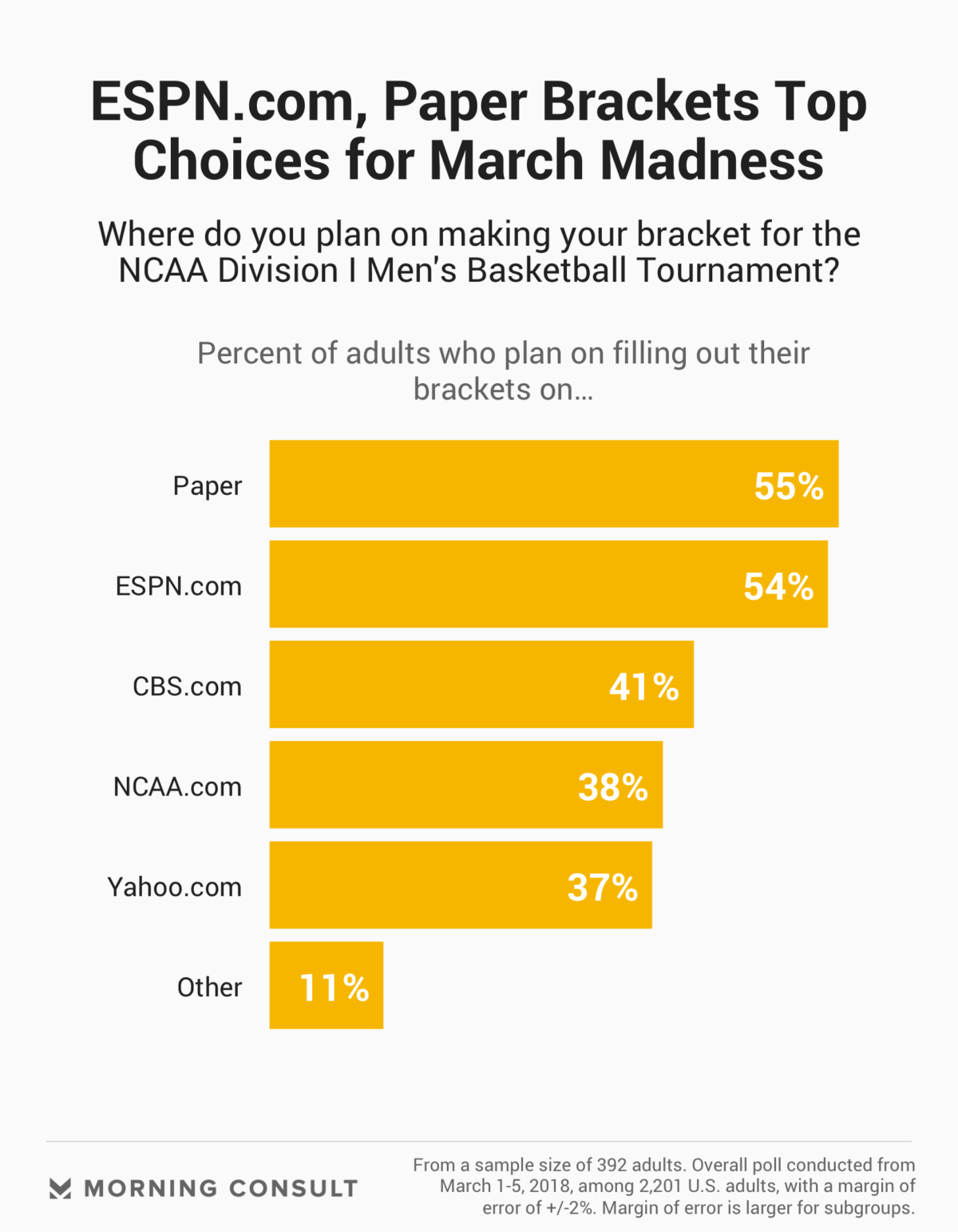 CBS Sports and Turner Sports' 2017 tournament coverage averaged 9.8 million viewers through the Elite Eight finals, the NCAA reported last year. That made for the third most-viewed tournament in 24 years, with the University of North Carolina eventually claiming the championship.
Viewers' plans for how they intend to watch this year's games on both television and online also changed, according to the Morning Consult poll, which has a margin of error of plus or minus 2 percentage points.
Charles T. Clotfelter, a public policy, economics and law professor at Duke University and the author of "Big-Time Sports in American Universities," cited several possible factors for the declines, including NCAA corruption probes and star players' beeline for the NBA draft after a single college season.
"It's got to have an effect when you just don't know the players on your favorite team because they're new every year," Clotfelter said in a March 7 phone interview.
The NCAA did not respond to requests for comment.
In a subgroup of the poll -- 801 respondents -- 41 percent said they plan on watching tournament games through online streaming services from a specific TV channel. TBS, TNT, CBS and truTV are sharing streaming rights for the tournament. A year ago, 46 percent said they planned to view March Madness games that way.
Thirty-one percent of applicable respondents said they planned to watch games through the NCAA March Madness Live app. Ahead of the 2017 tournament, 38 percent said they planned to do so through the app. The NCAA previously reported that March Madness Live garnered 29 million live video starts over the first full Thursday of play during last year's tournament, up 19 percent from 2016.
Some tournament-related viewing activities were little changed. Eighteen percent said they plan on filling out a March Madness tournament bracket this year, in which people pick winners for every head-to-head matchup throughout the tournament. A year ago, 20 percent said they planned to fill out brackets.
Laura Albert, assistant dean for graduate affairs at the University of Wisconsin-Madison's College of Engineering and a bracketologist, said that part of the allure of March Madness brackets is that it's free and easy for people to participate.
"You don't have to be in the public ESPN or CBS leaderboard," Albert said in a March 6 phone interview. "You can also just do it privately and compete among your friends. So that kind of still has that social element of, even if you're not really that into basketball, you can fill out a bracket and be part of a social community."
Edward Graham previously worked at Morning Consult as a reporter covering tech.
We want to hear from you. Reach out to this author or your Morning Consult team with any questions or comments.
Contact Us