Is Vaping Reducing Smoking? It's Hazy.
Poll shows most smokers who try vaping still enjoy smoking more, but there's some overlap between the two
Key Takeaways
Most (57%) habitual smokers who have tested out vaping still prefer smoking; 22% enjoy vaping and 14% like both equally.

Only 12% of U.S. adults have vaped or currently do so, compared to 44% who have smoked or currently smoke.
Vaping sales have skyrocketed over the past year, while smoking rates have dropped to their lowest numbers ever. But vaping is not necessarily pulling people away from conventional smoking, according to experts and new data analysis.
E-cigarette sales jumped 97 percent over the past year, per a June Wells Fargo Securities LLC research note, with sales only expected to grow.
Meanwhile, traditional cigarette sales were flat over the same period. And a June report from the Centers for Disease Control and Prevention showed there are fewer smokers than ever before, with 14 percent of the country smoking.
But it's unclear whether vaping's popularity is contributing to smoking's demise. A growing body of science is researching that relationship, said Brian King, the deputy director for research translation at the CDC's Office on Smoking and Health.
"The situation is far more complicated than noting that one thing is going up and one thing is going down," King said in an interview last month.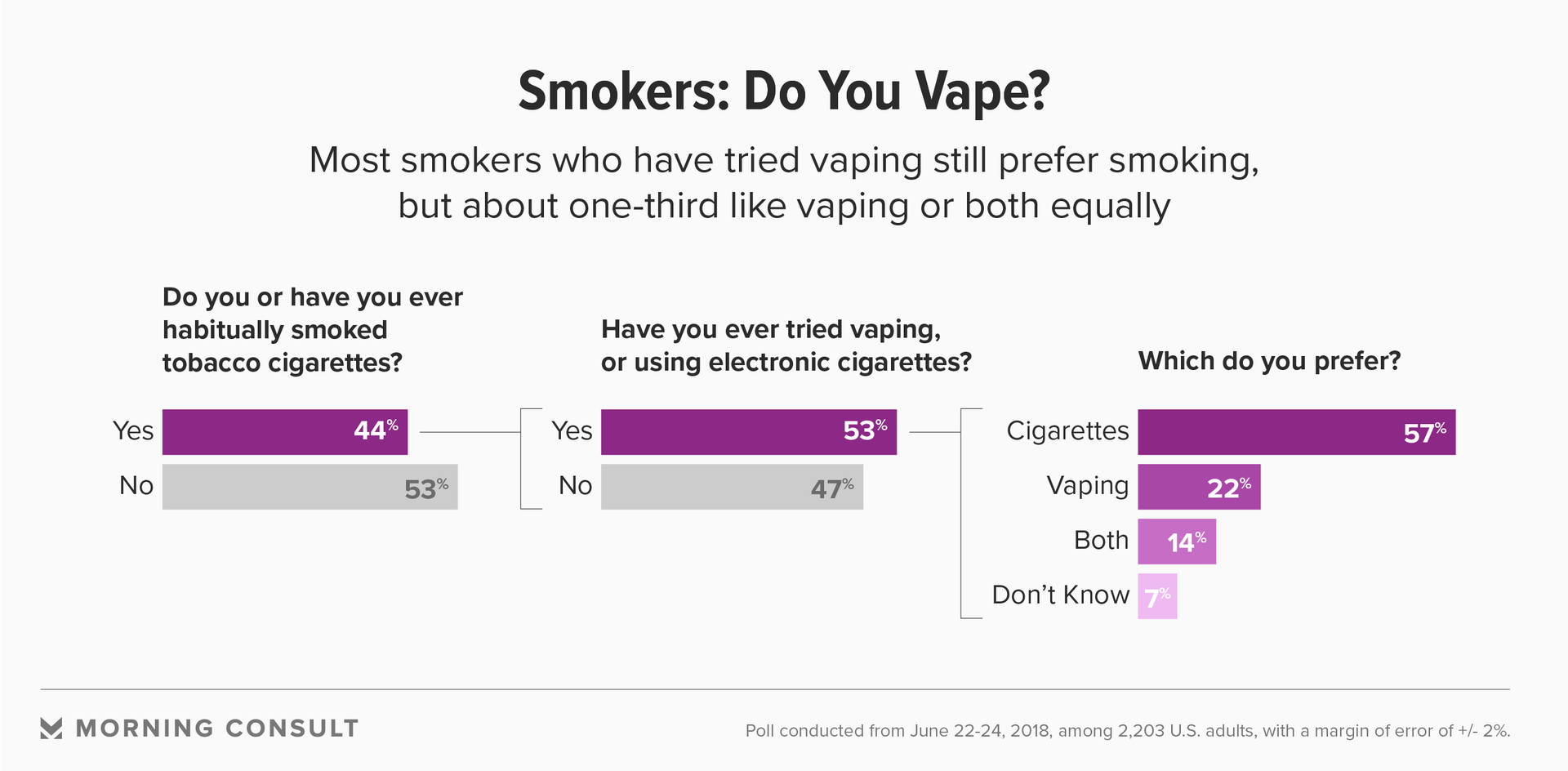 The $1.96 billion vaping market is still about 3 percent of U.S. cigarette sales, though it should balloon to $5.5 billion by the end of 2018, according to Wells Fargo estimates.
A new survey from Morning Consult shows a fair amount of overlap among smokers and vapers, though smoking is nearly four times more common, with 44 percent of respondents saying they've smoked or still do, versus 12 percent who said the same about vaping.
And the data shows smokers still prefer traditional cigarettes.
Of current or past cigarette smokers who have tried vaping tobacco, most (57 percent) said they still preferred traditional cigarettes.
But just over one-third said they either prefer vaping (22 percent) or like both habits equally (14 percent), an opportunity for the vaping industry. The June poll was conducted among 2,203 U.S. adults with a margin of error of 2 percentage points.
Gregory Conley, president of the American Vaping Association, a nonprofit advocacy group, said these numbers are a "plus" and something public health officials should be taking advantage of.
"We should be doing everything in our power to shift them to becoming full-time vapor from dual users," he said of smokers, in an interview last month, referring to e-cigarettes' less harmful health effects when compared to smoking conventional cigarettes, according to some studies.
Many people who vape are "dual users," which has generally meant those who start with regular cigarettes and dabble in vaping.
The polling also suggests that once users become habitual vapers, a plurality prefer vaping tobacco products over smoking them.
Among those who vape or have habitually done so in the past, 39 percent prefer vaping, while 29 percent prefer smoking cigarettes. Three in 10 prefer both equally.
Although the long-term effects of vaping tobacco products are unknown, Nancy Rigotti, director of the Tobacco Research and Treatment Center at Massachusetts General Hospital, expressed optimism that many users were willing to explore a less-harmful product.
"If you switch completely from smoking to vaping, you're certainly reducing your health risks and harm," she said in an interview last month, but noted full conversions aren't very common.
E-cigarettes usually contain less nicotine than conventional cigarettes, making a full transition to vaping difficult for addicted smokers.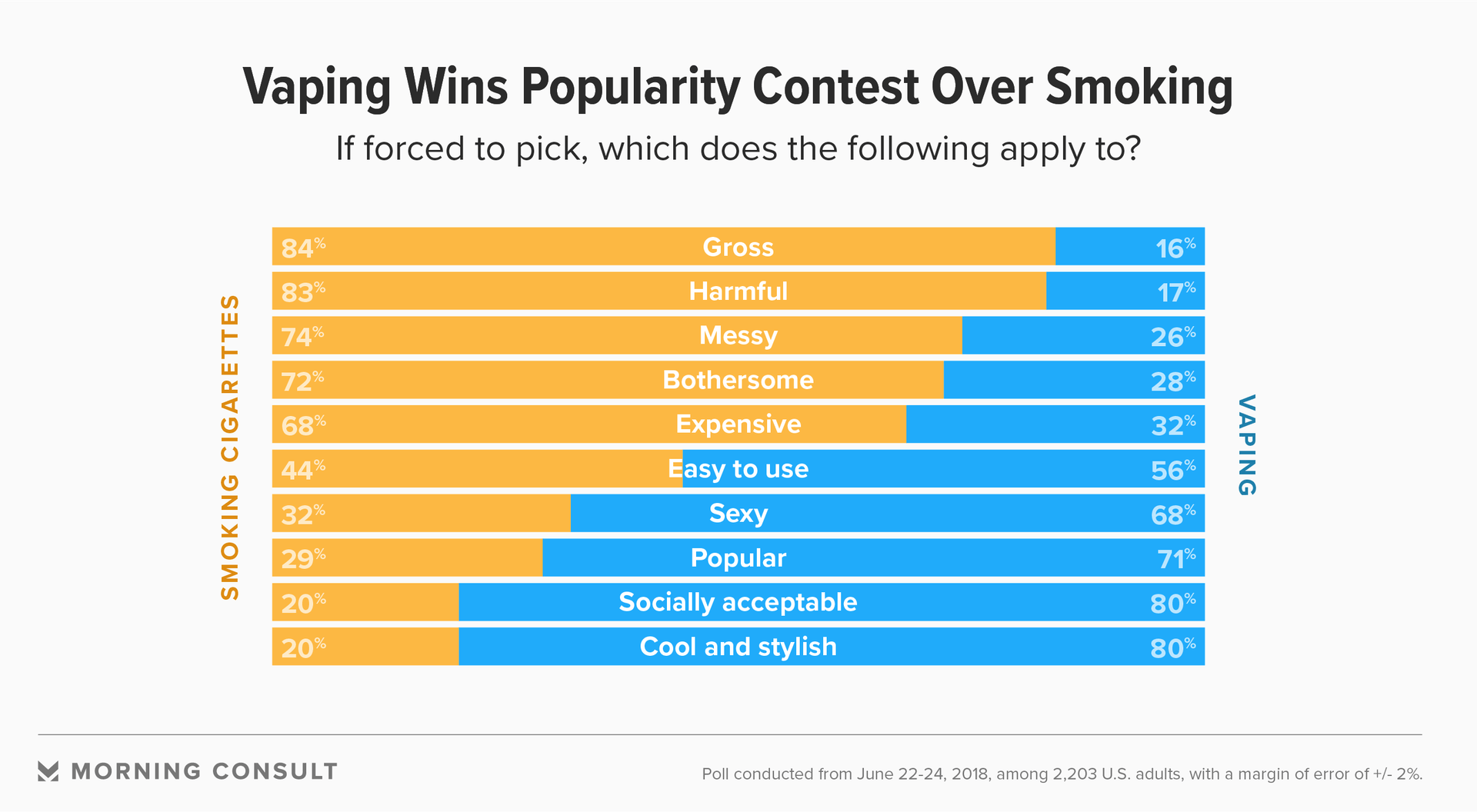 Regardless of its impact on cigarette growth, vaping is building a brighter reputation than smoking.
The public is more likely to associate "gross" and "harmful" with tobacco cigarettes than with vaping, according to Morning Consult's poll. Vaping is also more likely to be characterized as "cool and stylish" and "socially acceptable." Just over two-thirds of the public think "sexy" better describes vaping over smoking cigarettes.
Notably, attitudes on smoking and vaping among smokers -- those who say they've smoked at least 100 cigarettes in their life -- did not differ strongly from that of the rest of the public; Eighty-one percent of smokers think smoking is "gross," versus 84 percent of the public overall.
Despite smoking's unsavory reputation, vaping could actually be encouraging more people to stick with nicotine, said King from the CDC.
"The slope of decline or the extent to which cigarette smoking is declining was not changed significantly by the introduction of e-cigarettes," he said, adding that it could be possible that traditional tobacco cigarettes could have declined even more if e-cigarettes had not entered the marketplace in the 2000s.
Joanna Piacenza leads Industry Analysis at Morning Consult. Prior to joining Morning Consult, she was an editor at the Public Religion Research Institute, conducting research at the intersection of religion, culture and public policy. Joanna graduated from the University of Wisconsin-Madison with a bachelor's degree in journalism and mass communications and holds a master's degree in religious studies from the University of Colorado Boulder. For speaking opportunities and booking requests, please email [email protected].
We want to hear from you. Reach out to this author or your Morning Consult team with any questions or comments.
Contact Us