It Keeps Getting Harder for Republicans to Separate From Trump
Trump's lack of popularity among Democrats, independents may become bigger issue for down-ballot candidates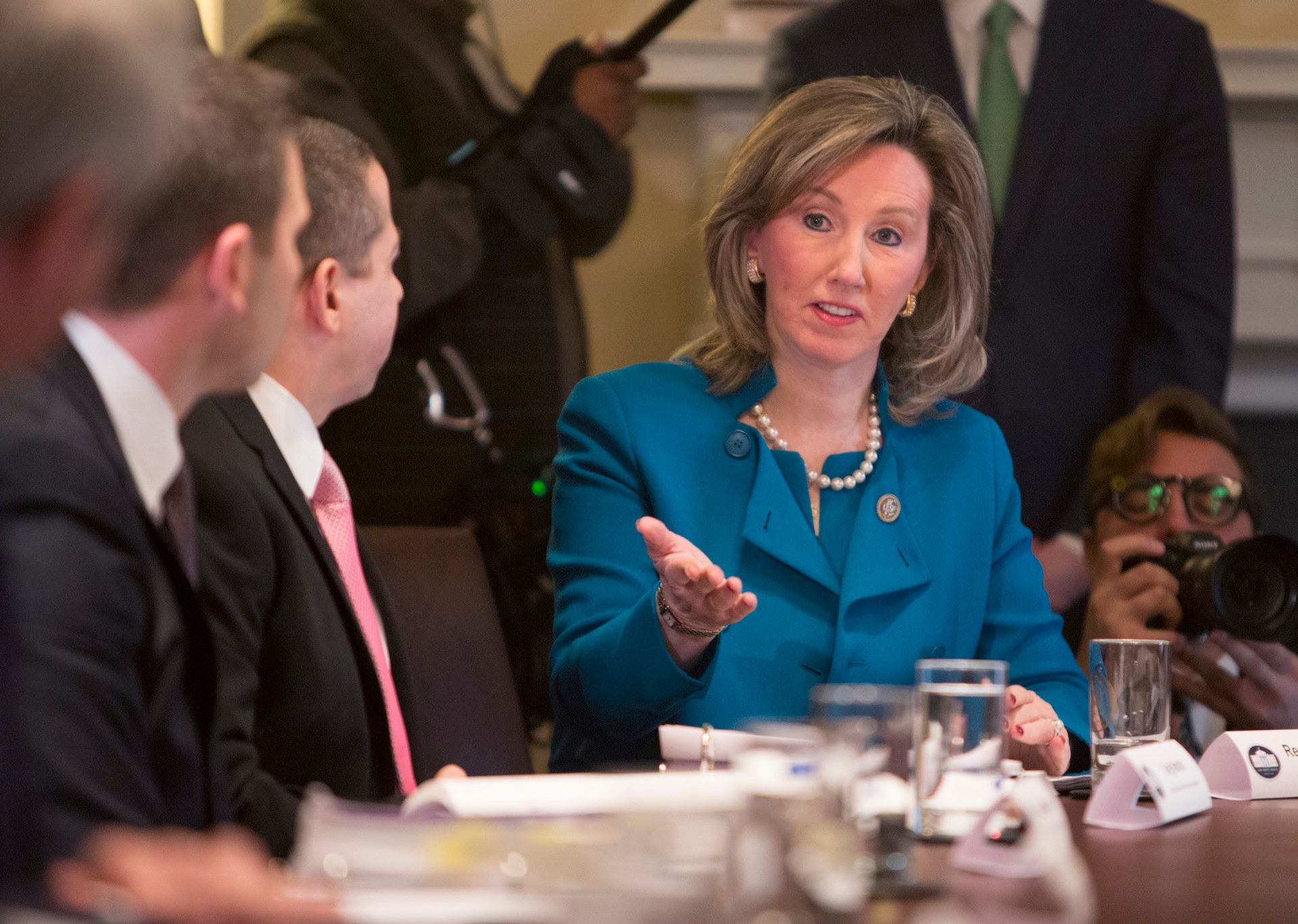 Key Takeaways
Voters have grown 45 net percentage points more likely to say Trump represents the majority viewpoint of Republicans in Washington.

That includes 45% of independents, 56% of Democrats and 63% of Republicans.

43% approved of Trump's job performance in the latest poll.
Less than three weeks before the midterm elections, voters across the country are finding it harder than ever to distinguish President Donald Trump from other Republicans in Washington.
In the latest Morning Consult/Politico poll -- conducted Oct. 11-14 among 1,959 registered voters -- 56 percent of respondents said Trump represents the majority viewpoint of Washington Republicans. That is 13 percentage points higher than a similar poll conducted in April, and up 23 points since August 2017. All three surveys had 2-point margin of error.
Together, it marks a net 45-point swing toward Trump as the face of the GOP in D.C., since Morning Consult first asked the question eight months into his first term as president. The trend polling shows Democrats, Republicans and independents all growing more likely to say Republicans in Washington are reflective of their party's standard bearer.
"When you have so few Republicans on the Hill publicly challenging President Trump, it's not a surprise that people start believing that he represents the broader view of the Republican Party," Nathan Gonzales, a veteran political handicapper who edits and publishes the nonpartisan website Inside Elections, said in an email Tuesday.
Midterm elections tend to serve as a referendum on the party in power. In 18 of the past 20 midterm elections, the president's party has lost an average of 33 House seats, according to the Brookings Institution. And the two midterm cycles that bucked that trend, in 1998 and 2002, featured presidents who were popular on Election Day. Historical data from Gallup shows Presidents George W. Bush and Bill Clinton with approval ratings in the mid-60s around the time voters cast their ballots during those years.
It's a different story for Trump: In the latest online, national survey, 43 percent of voters approved of his job performance. And according to Morning Consult's Midterm Wave Watcher, Trump's net approval is 14 points underwater in the dozens of toss-up districts this cycle, and 3 points underwater in districts that lean Republican.
On the campaign trail, Democratic challengers have sought to capitalize on the president's unpopularity. In one of the aforementioned toss-up districts -- Virginia's 10th -- Democratic candidate Jennifer Wexton has used an ad to brand vulnerable Republican Rep. Barbara Comstock, "Barbara Trumpstock."
Jesse Hunt, a spokesman for the National Republican Congressional Committee, said Tuesday that Republican candidates "are running localized races, talking about issues that are important to their districts."
But Eric Ostermeier, a research fellow at the University of Minnesota's Center for the Study of Politics and Governance and writer of the nonpartisan website Smart Politics, said those local issues are likely to be overshadowed, and the president's popularity on Election Day -- or lack thereof -- will have an outsized influence on election returns for both parties.
"In determining vote choice for their member of Congress, not only will local issues take a back seat to how the electorate feels about the president, but so too will many of the candidates themselves," he said in an email Tuesday.
The new survey shows that the president's lack of popularity among Democrats (86 percent disapprove) and independents (52 percent disapprove) may be becoming a bigger problem for candidates down the ballot who are trying to run on their own brand.
A plurality of independents (45 percent) said they saw little difference between Trump and Washington Republicans – up 15 points since April. And the majority of Democratic voters – who had been split in April over whether Trump represented Republicans in Washington – are now certain: Fifty-six percent said Trump represents Republicans in Washington, compared to 29 percent who said he does not.
But it's not all bad news for Republicans. As GOP voters grew more likely -- from 54 percent to 63 percent -- to link their elected representatives in Washington with Trump, he is still popular with the base, with 76 percent approving of his job performance.
Eli Yokley is Morning Consult's U.S. politics analyst. Prior to his current role, Eli was Morning Consult's senior reporter covering U.S. politics. Eli joined Morning Consult in 2016 from Roll Call, where he reported on House and Senate campaigns after five years of covering state-level politics in the Show Me State while studying at the University of Missouri in Columbia, including contributions to The New York Times, Politico and The Daily Beast. Follow him on Twitter @eyokley. Interested in connecting with Eli to discuss his analysis or for a media engagement or speaking opportunity? Email [email protected].
We want to hear from you. Reach out to this author or your Morning Consult team with any questions or comments.
Contact Us