Roughly 60% of Japanese Adults Say Tokyo Olympics Should Be Postponed or Canceled
Organizers' decision to ban overseas fans has strong support among the Japanese public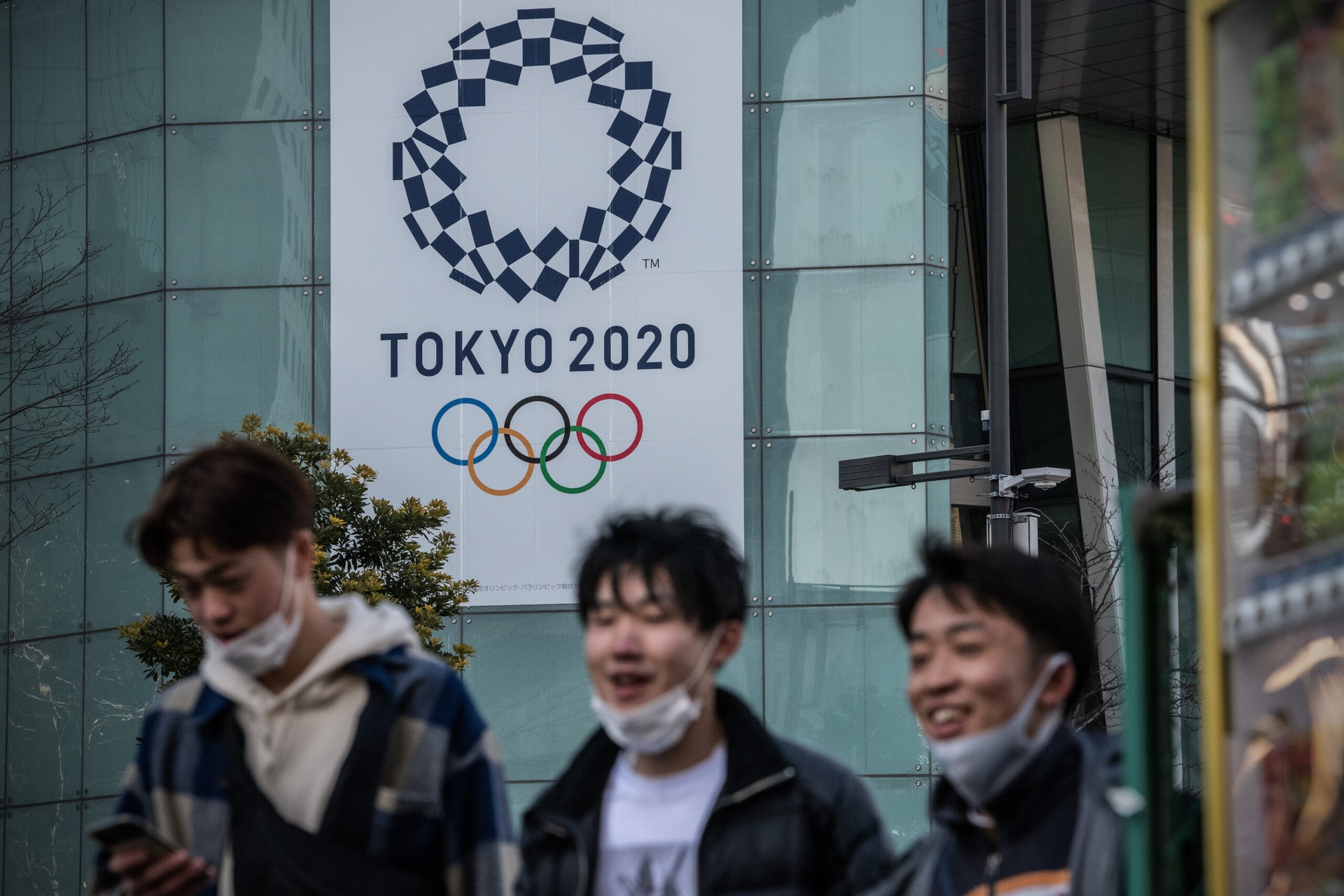 Key Takeaways
1 in 4 Japanese adults said the Tokyo Games should be held as scheduled this summer.

38% of respondents in Japan support canceling the Tokyo Games altogether, while 23% favor postponement.
With about four months remaining until the scheduled start of the Tokyo Games, Japanese enthusiasm about hosting the Olympics remains lukewarm, according to a new survey of Japanese adults.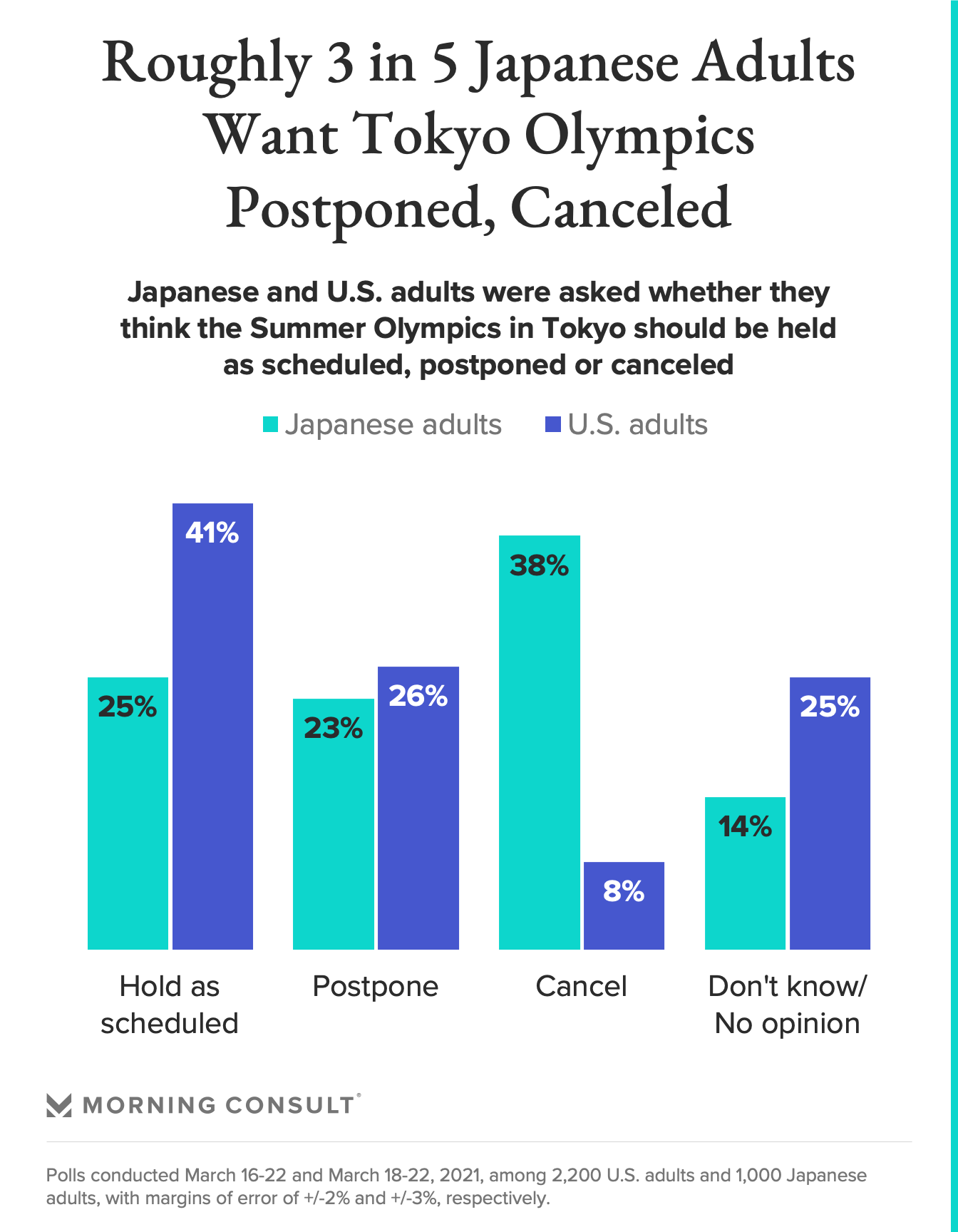 In a Morning Consult poll conducted March 18-22, the share of Japanese adults who said the Tokyo Games should either be postponed again or canceled outright was more than twice as large as the contingent that favored moving forward with the Olympics this summer as scheduled. 
Sixty-one percent of respondents said the games should not be held this summer, with 38 percent calling for cancellation and 23 percent advocating for postponement. By comparison, 1 in 4 Japanese adults said the games should be held this summer, according to the poll, which surveyed 1,000 Japanese adults.
While the majority of the Japanese public opposes the Olympics being held this summer, there is broad support for the latest precautionary measure taken by organizers: banning overseas fans from attending the games. About 2 in 3 respondents said they supported the decision, including 42 percent who said they are "strongly" in favor.
Requiring that participating athletes be vaccinated against COVID-19 -- which the International Olympic Committee and organizers have encouraged but stopped short of mandating -- was also very popular among Japanese adults, with about 3 in 4 respondents supporting making vaccines obligatory. There was also strong support for granting athletes priority access to vaccines in their home countries, with 72 percent of Japanese adults supporting such efforts.
One year ago this week, the IOC and the Japanese government agreed to postpone the games scheduled to be held last summer amid the onset of the COVID-19 pandemic. Since then, organizers and the government have been steadfast in their commitment to holding the games, which are scheduled to take place July 23-Aug. 8.
According to organizers' latest budget update, the Tokyo Games are expected to cost $15.4 billion to stage, though Japan's National Audit Board has reportedly said the true cost will be at least $25 billion. 
While the roughly 458,000 infections and 8,900 deaths Japan has incurred since January 2020 is far less than what other developed nations have experienced, the country is also lagging behind in its distribution of COVID-19 vaccines. As of March 21, less than 1 percent of the Japanese population was fully vaccinated, compared to the United States' roughly 14 percent.
Even without a global pandemic to consider, hosting the Olympics can be a controversial proposition, with detractors citing the expenses of building athletic facilities and other infrastructure to accommodate the events and influx of visitors. In fact, Japanese Olympic officials have acknowledged that a lack of public support derailed Tokyo's initial bid to host the 2016 Games, which ended up being held in Rio de Janeiro, Brazil.
In the years after Japan locked up the 2020 Games, however, the public largely supported bringing the Olympics to Tokyo. In an October 2016 survey conducted by public broadcaster NHK, 86 percent of respondents said it was either "good" or "fairly good" that Tokyo would host the 2020 Games. And in a July 2019 poll, about 70 percent of respondents said preparation was "going well."
But the Japanese public's desire to host the games plummeted amid the pandemic. In a July 2020 Kyodo News poll, fewer than 1 in 4 respondents said the country should hold the games this summer. The results of the latest Morning Consult poll, which carried a margin of error of 3 percentage points, show the movement has gained little support since last summer despite organizers' efforts to reassure the public that the event can be held safely.
Though the Japanese public isn't bullish on hosting the Olympics this summer, about half of respondents said they would watch either "a lot" (17 percent) or "some" (32 percent) of the games if they are held as scheduled. Sixteen percent of adults said they were either "very" (4 percent) or "somewhat" (12 percent) likely to attend one or more events in person if permitted to do so, including 19 percent of those living in the Kantō region, where Tokyo is located.
In a separate survey of U.S. adults, 41 percent of respondents said they believe the Tokyo Games should be held this summer, while 26 percent said the event should be postponed again and 8 percent said it should be canceled altogether. Fifty-six percent of Republicans said the games should go on, compared to 34 percent of Democrats. The poll of 2,200 U.S. adults conducted March 16-22 carried a margin of error of 2 points.
Alex Silverman previously worked at Morning Consult as a reporter covering the business of sports.
We want to hear from you. Reach out to this author or your Morning Consult team with any questions or comments.
Contact Us