Opposition to Olympics Among Japanese Adults Softens as COVID-19 Cases Increase Again
62% of Japanese adults believe the Summer Games should be postponed again or canceled, down from 71% last month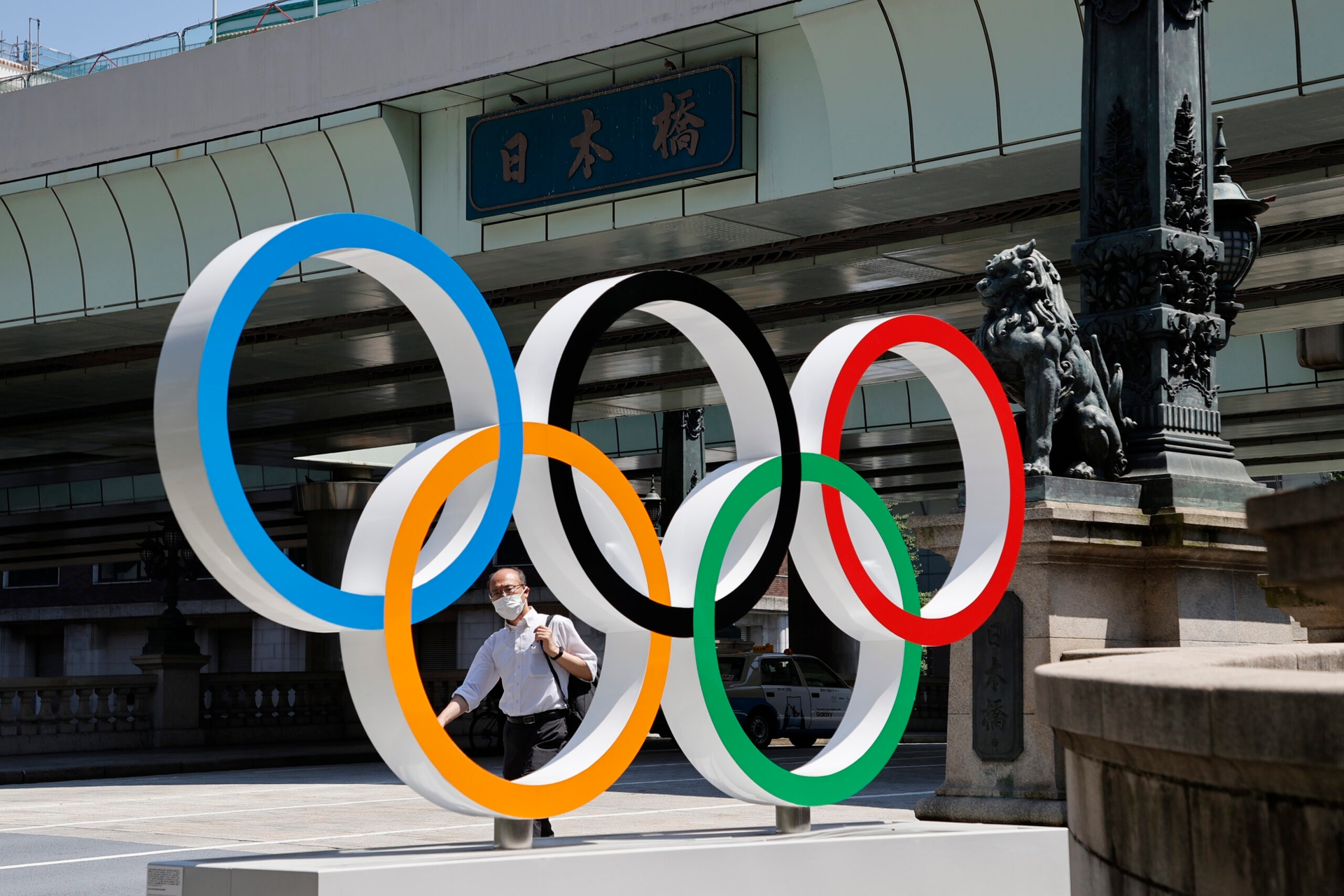 Key Takeaways
22% of Japanese adults favor the Tokyo Games being held as scheduled, up from 17% in the prior poll.

60% of respondents said they support the decision to ban fans from the majority of Olympic venues.
With the opening ceremony of the Summer Olympics just days away, organizers remain unable to persuade the majority of the Japanese public that the games should be held as planned amid the COVID-19 pandemic. New research shows, however, that there has been a slight uptick in local support for holding the Tokyo Games.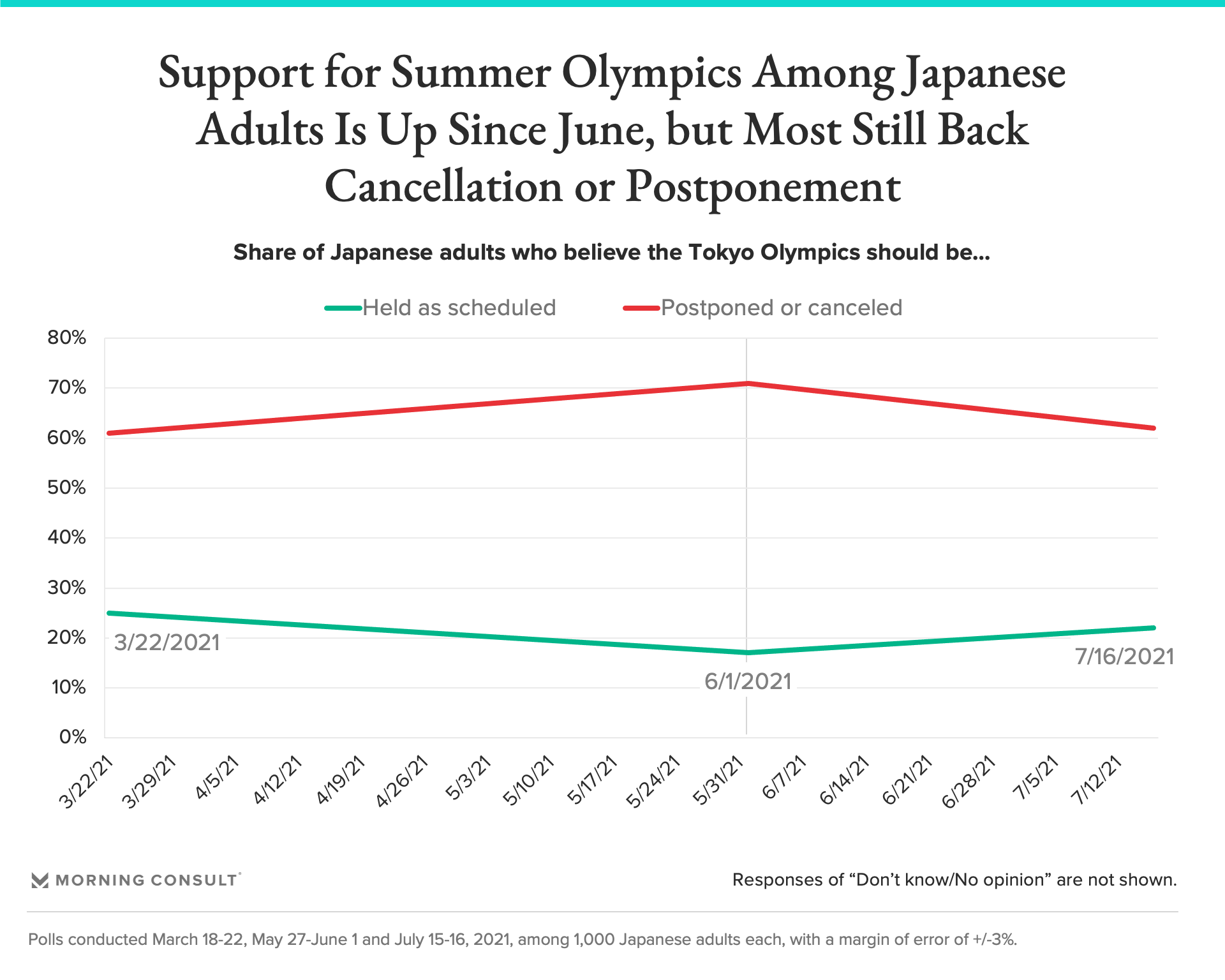 In a Morning Consult survey conducted July 15-16, 62 percent of Japanese adults said they believe the Summer Olympics should be either canceled (41 percent) or postponed again (21 percent), while 22 percent said the games should be held as scheduled, starting Friday through Aug. 8. That actually represents a slight improvement from a May 27-June 1 poll, in which 71 percent of Japanese adults opposed holding the Olympics as planned and just 17 percent expressed support for the games beginning this week.
After COVID-19 cases in Japan surged to more than 6,000 per day nationwide in mid-May, infections declined consistently through most of June. This month, however, cases have risen again, including at least 60 Olympics-related infections reported since July 1. In Tokyo, which is operating under a state of emergency that is expected to be in place throughout the Summer Games, the number of new infections reported Monday fell below 1,000 for the first time in six days.
Japanese automaker Toyota Motor Corp., one of the International Olympic Committee's top corporate sponsors, responded to the public's negative sentiment toward the Tokyo Games on Monday by nixing plans to air any Olympic-themed advertising in Japan during the competition. The extraordinary decision shows just how harmful the company believes being associated with the controversial event could be for its brand.
Fifty-eight percent of Japanese adults said they support Prime Minister Yoshihide Suga's decision to declare a state of emergency in Tokyo through Aug. 22, according to the survey, while 27 percent said they oppose the decision. Similarly, 60 percent of respondents said they favor the decision by the government and Olympic organizers not to allow fans in most venues, while 26 percent said they oppose the ban. Prior to Suga's state of emergency declaration, the IOC and organizers planned to allow venues to be filled to 50 percent capacity or with up to 10,000 spectators.
Despite the safety measures put in place, there is still overwhelming concern about the potential for the Summer Olympics in Tokyo to jeopardize the safety of the public. In fact, 83 percent of Japanese adults said they are concerned about the potential for the Olympics to worsen the health risks associated with the coronavirus in Japan. 
Even with the lack of support for the Olympics being held as scheduled, 53 percent of Japanese adults said they plan to watch the games on TV or via streaming, with 14 percent saying they plan to watch "a lot," according to the survey of 999 Japanese adults, which carries a margin of error of 3 percentage points.  
The Japanese public is most interested in watching baseball/softball and track and field, with 49 percent of adults saying they're interested in watching each sport. Other popular Summer Olympic sports among Japanese adults include gymnastics (48 percent), swimming (47 percent), tennis (46 percent) and table tennis (45 percent).
Though sports fans in Japan aren't allowed to attend most Olympic events, they were still slightly more likely than the general population to favor the games moving forward as scheduled, with 30 percent expressing support. Among self-identified Olympic fans, 37 percent favored the Tokyo Games being held as planned.
Alex Silverman previously worked at Morning Consult as a reporter covering the business of sports.
We want to hear from you. Reach out to this author or your Morning Consult team with any questions or comments.
Contact Us