Voters See Harris as More Moderate Than Trump or Pence
Slim majority approves of Biden's choice, which generated more buzz than 2016 Tim Kaine pick
Key Takeaways
37% of voters heard "a lot" about presumptive Democratic nominee Joe Biden's selection of Sen. Kamala Harris (D-Calif.) as his running mate; 17% heard a lot about the Kaine pick four years ago.

After hearing about Harris' background and policy positions, 53% approved her selection.

Following the pick, 50% of likely voters said they had a favorable view of Biden, his highest rating since mid-June.
While President Donald Trump and his re-election campaign have sought to brand Sen. Kamala Harris, the newly named Democratic vice presidential candidate, as a radical liberal, that framing is being met with some initial skepticism among voters, new Morning Consult/Politico polling shows.
The poll, conducted the day after former Vice President Joe Biden selected the California Democrat as his running mate, found that voters placed Harris just to Biden's ideological left -- and to the right of where voters placed Sens. Bernie Sanders (I-Vt.) and Elizabeth Warren (D-Mass.) in a Morning Consult poll conducted early this year.
The Trump campaign's attempt to frame Harris as a radical who would be the one actually pulling the strings in a Biden administration also faces another roadblock: Trump and Vice President Mike Pence are perceived as more extreme than either candidate on the Democratic ticket and, by a smaller margin, are further from voters' ideal candidates, according to another ideological test conducted by Morning Consult last month.
The Wednesday poll of 1,990 registered voters, which had a margin of error of 2 percentage points, also found that Harris' policy record -- including her support for raising taxes on the rich and placing restrictions on gun ownership, as well as her implementation of racial bias training for police officers while serving as San Francisco's district attorney -- inspired the most positive reception.  
Less powerful were messages regarding her age (55 years old), her Christian denomination (Baptist) and her college alma mater (Howard University, a historically Black university in Washington, D.C.). More than 3 in 5 voters said the biographical traits had no impact on their views. 
The strongest knocks against Harris had to do with immigration policies: 42 percent said her support for providing undocumented immigrants with government-funded health care gave them them a less favorable view of the California Democrat, while 41 percent said the same of her support for decriminalizing illegal border crossings. Her backing of both issues was indicated in hand-raise questions during a June 2019 Democratic primary debate highlighted this week by the Trump campaign.
After hearing more than two dozen contentions for and against Harris, 53 percent of voters -- including 86 percent of self-identified liberals, 84 percent of Democrats and a 48 percent plurality of independents -- said they approved of Biden's decision, statistically unchanged from the answers received prior to the message test. 
The news of Harris' placement on Biden's ticket made a bigger initial splash than Hillary Clinton's selection of Sen. Tim Kaine (D-Va.) as her running mate against Trump in 2016. In Harris' first full day on the ticket, 37 percent of voters said they had seen, read or heard "a lot" about Biden's selection, compared with 17 percent who said they'd heard a lot about Clinton's choice four years ago. 
The news had strongest resonance among Democrats, 45 percent of whom heard a lot about it (up 24 points from the 2016 announcement), while a third of Republicans and 27 percent of independent voters said the same.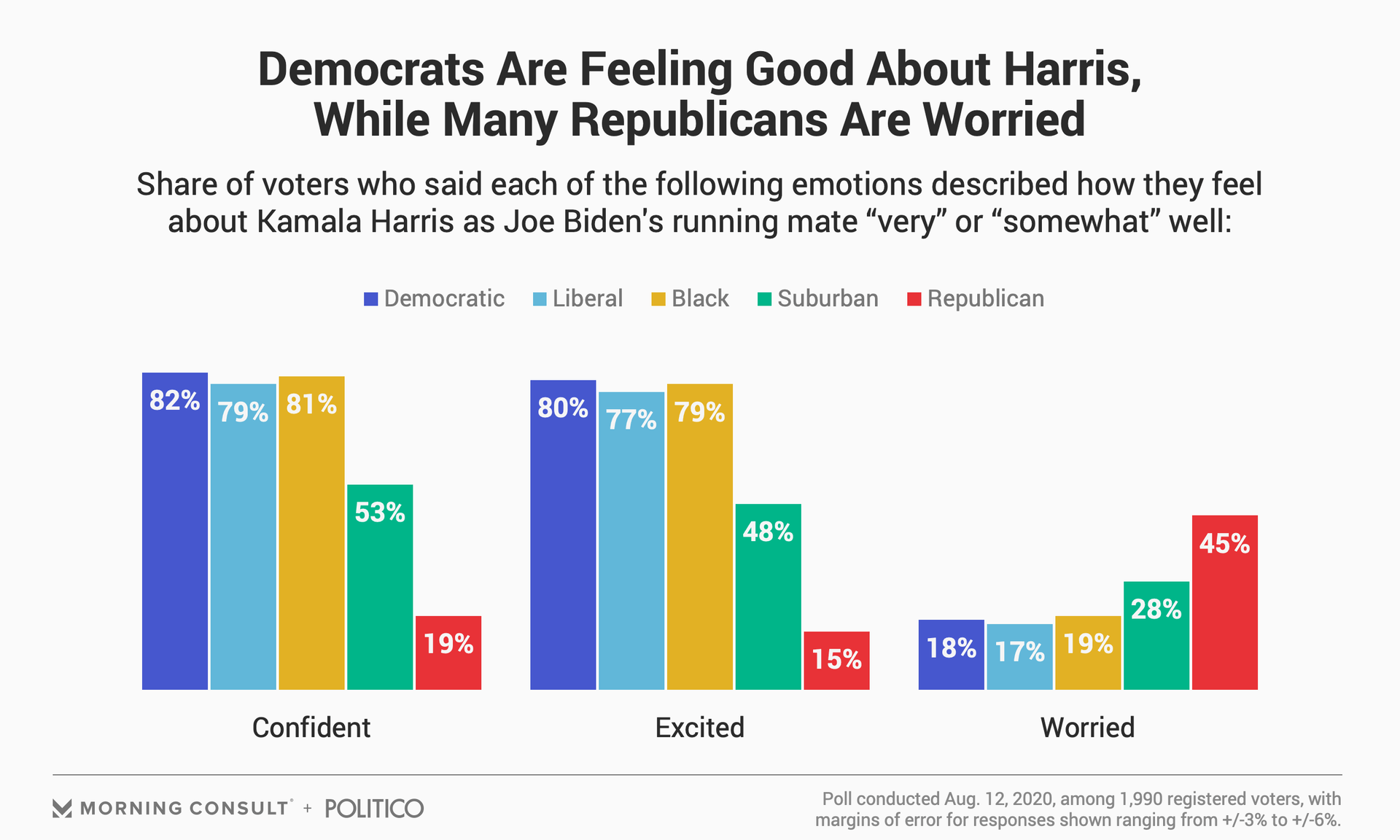 Democrats were pleased with Biden's selection: 88 percent said it made them hopeful, and roughly 4 in 5 said it made them confident, proud, happy or excited. Among Black voters and liberals, the sentiment was roughly the same. While Trump has portrayed Harris as a candidate who will weaken Biden, calling her "my No. 1 draft pick," nearly half of Republicans (45 percent) said they were worried by Biden's choice.
Harris was already a prominent figure in American politics, with 79 percent of voters at least recognizing her name in a survey conducted ahead of Biden's selection. The latest survey found 94 percent of voters had heard of her following the announcement, and 45 percent view her favorably (up 12 points) while 37 percent hold unfavorable views (up 3 points). 
Morning Consult polling of 3,820 likely voters conducted Wednesday found 50 percent have favorable views of Biden and 46 percent have unfavorable views, his best marks since mid-June. That survey also has a 2-point margin of error. 
Like Biden, Harris is more popular than Trump or Pence, and more than half of moderate voters (52 percent) and a plurality of suburban voters (45 percent) have favorable views of her.
Researchers have repeatedly found vice presidential nominees have little impact on the outcome of elections, though some in Trump's orbit have suggested that 2020 may defy that as they raise questions about Biden's age and whether or not he'll seek a second term.
The survey found that for half of voters (49 percent), Biden's choice would make no impact on their vote. It was most likely to have a "major impact" for Black Americans (43 percent), who turned out at a lower rate in 2016 for the first time in 20 years.
And while research has shown that voters are not the best arbiters of their own intentions, the survey also found Harris has swayed more voters in the immediate aftermath of her selection than Kaine did four years ago: By a 10-point margin, voters said they were now more likely than less likely to vote for Biden, compared with a 5-point positive impact on voting intent following Clinton's VP pick four years ago.  
Morning Consult's daily tracking of the contest found Biden leads Trump 51 percent to 43 percent among likely voters, statistically unchanged from polling conducted ahead of the announcement.
Eli Yokley is Morning Consult's U.S. politics analyst. Prior to his current role, Eli was Morning Consult's senior reporter covering U.S. politics. Eli joined Morning Consult in 2016 from Roll Call, where he reported on House and Senate campaigns after five years of covering state-level politics in the Show Me State while studying at the University of Missouri in Columbia, including contributions to The New York Times, Politico and The Daily Beast. Follow him on Twitter @eyokley. Interested in connecting with Eli to discuss his analysis or for a media engagement or speaking opportunity? Email [email protected].
We want to hear from you. Reach out to this author or your Morning Consult team with any questions or comments.
Contact Us