The Ideological Case Against Nominating Sanders for President
Vermont independent is viewed as more extreme than Trump, polling shows
During the 2016 election, voters considered President Donald Trump to be more moderate than Democratic nominee Hillary Clinton, a characteristic that has typically benefited candidates in general elections.
But the Republican incumbent may be hard-pressed to enjoy that advantage this time around, according to a new Morning Consult/Politico poll -- unless Democrats nominate Sen. Bernie Sanders (I-Vt.) to challenge him.
The survey, conducted Feb. 28 through March 1, asked 1,992 registered voters to place Trump and each Democratic presidential candidate on a scale of one to seven, with one meaning "very liberal," four meaning "moderate," and seven meaning "very conservative." It has a margin of error of 2 percentage points.
Using averages of responses about each candidate, voters placed former Vice President Joe Biden closest to the middle, at 3.2, and also closest to voters' definition of an "ideal candidate," which fell just right of center on the scale, at 4.3.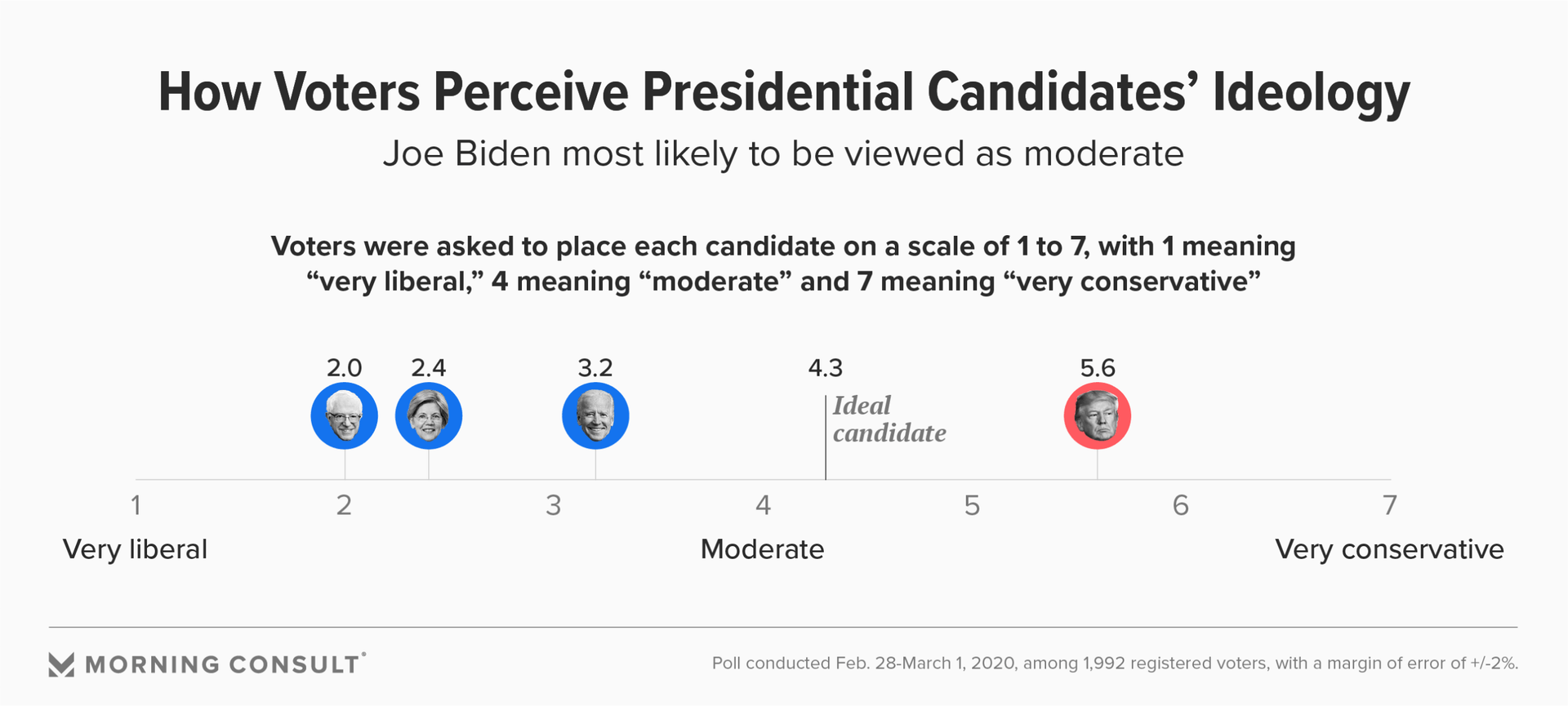 The polling shows Biden is viewed as more centrist, and slightly more ideal in terms of ideology, than Trump, who landed at 5.6 on the seven-point scale.
But Sanders -- a self-described democratic socialist who backs progressive policies such as steep tax increases on the wealthy, a "Medicare for All" health plan, free college and a fracking ban -- was considered the most extreme candidate at 2.0 on the scale, falling farthest from voters' definition of an ideal candidate.
Republican voters were far more likely to say Sanders was liberal than Biden, while neither Biden nor Trump were viewed as significantly more extreme by their opposing party. Biden's position among Democrats (3.7) was also closest to the ideal candidate rating for the party's voters (3.2), compared with 2.4 for Sanders.
Biden also enjoyed a sizable advantage against Trump among independent voters, who placed their ideal candidate at 4.1. While those voters placed Biden at 3.5, Trump was nearly two points farther from the middle, at 5.4. Sanders, on the other hand, was rated as 2.1, the greatest distance from independents' ideal score.
Researchers have found that candidates whom voters view as extreme have traditionally suffered electorally, particularly in gubernatorial elections -- executive contests that occur more often than presidential elections and are easier to study. Findings indicate that politicians viewed as extreme end up suppressing their own party's share of the electorate in the general election, while activating the base of their rivals.
While Trump embraced many extreme positions during the 2016 Republican primary -- most notably calling for a ban on Muslims entering the United States -- he also broke from conservative orthodoxy in calling for tax increases and vowing to protect Social Security and Medicare from cuts. Those latter positions came in handy against Clinton, a well-known liberal from her years in the public spotlight who embraced the party's historically progressive platform. 
But throughout his first term, Trump has tended to embrace traditional Republican positions -- particularly on the party's two big legislative pushes: a successful tax overhaul and a failed effort to repeal and replace the Affordable Care Act.
If Democrats nominate Biden in July at their convention in Milwaukee, Trump will have his work cut out for him in pulling perceptions of the longtime politician leftward, the poll indicates. That doesn't appear to be as much of an issue in a potential race against Sanders.
Eli Yokley is Morning Consult's U.S. politics analyst. Prior to his current role, Eli was Morning Consult's senior reporter covering U.S. politics. Eli joined Morning Consult in 2016 from Roll Call, where he reported on House and Senate campaigns after five years of covering state-level politics in the Show Me State while studying at the University of Missouri in Columbia, including contributions to The New York Times, Politico and The Daily Beast. Follow him on Twitter @eyokley. Interested in connecting with Eli to discuss his analysis or for a media engagement or speaking opportunity? Email [email protected].
We want to hear from you. Reach out to this author or your Morning Consult team with any questions or comments.
Contact Us