Voting Law Strengthens Brian Kemp's Standing With Georgia Republicans. Is It Enough to Stop a Divisive Primary?
The Georgia governor's popularity is on the upswing with GOP voters, but it hasn't fully recovered from Trump's 2020 attacks
Key Takeaways
74% of GOP voters approve of Kemp's job performance – up 15 percentage points from a low set just before he signed the state's controversial voting law.

Kemp's GOP dissenters do not yet have a formidable challenger lined up, and Republican strategists hope he can avoid an intraparty fight.

The dynamics put Trump's kingmaker status on the line as he pushes a GOP challenge to a man whose popularity is on the upswing.
Georgia Gov. Brian Kemp felt heat from his Republican base as then-President Donald Trump zeroed in on the Peach State as part of his baseless attack on the legitimacy of the 2020 election results and egged on a 2022 primary challenger. 
But with Trump out of office and banned from major social media platforms – and Kemp now being lauded as a virtual hero by influential conservatives for signing controversial legislation overhauling the state's election laws – the Republican governor's popularity among GOP voters has started to tick back up, a sign of strength against a potential primary challenge for re-election next year.
"I think you have seen a sea change in his prospects," said Republican strategist Brian Robinson, a former aide to two-term Georgia Gov. Nathan Deal. "Republicans see him standing up in the face of the cancel culture theory – in the face of the mob – and that is such an important characteristic for Republican base voters."
According to the latest Morning Consult Political Intelligence tracking, conducted March 28-April 6, 74 percent of Republican voters approve of Kemp's job performance – up 15 percentage points from a low of 59 percent reached in polling conducted in the 10 days before he signed the state's controversial voting law, which followed months of intraparty pressure on him and other Georgia officials who defended President Joe Biden's victory in the state as legitimate. 
Still, Kemp's job GOP approval rating has yet to fully recover from the double-digit decline that Morning Consult tracking measured after Trump's attacks, a drop that the former president appeared to relish in, saying, "Don't believe it, must be more!" According to the latest data, 25 percent of Republicans "strongly approve" of the governor, up from a nadir of 13 percent at the beginning of March. But that is still down nearly 20 points from the 44 percent who were strongly on his side on Nov. 12, the day before Trump began his public pressure campaign.
"I would not be surprised to see some short-term bounce in the polls for a Republican governor who is willing to engage in this kind of fear-mongering," said Joshua Karp, a Democratic strategist who worked on Jon Ossoff's winning Senate campaign, who added that, by backing the voting bill, Kemp is "in many ways coming around now to the big lie that he did not fully endorse last year."
A spokesman for Kemp did not respond to a request for comment.
Kemp's growth in GOP approval is joined by a negligible impact among independents and increasing antipathy among Democrats, who had softened their opposition to him from November to early March. The latest responses, gathered among 1,488 registered voters in Georgia, found that despite the shift in the coalition approving of him, Kemp's topline job rating has gone virtually unchanged since the day before he signed the voting bill into law: 54 percent of Georgia voters approve of him and 36 percent disapprove, within the overall samples' 3-point margins of error.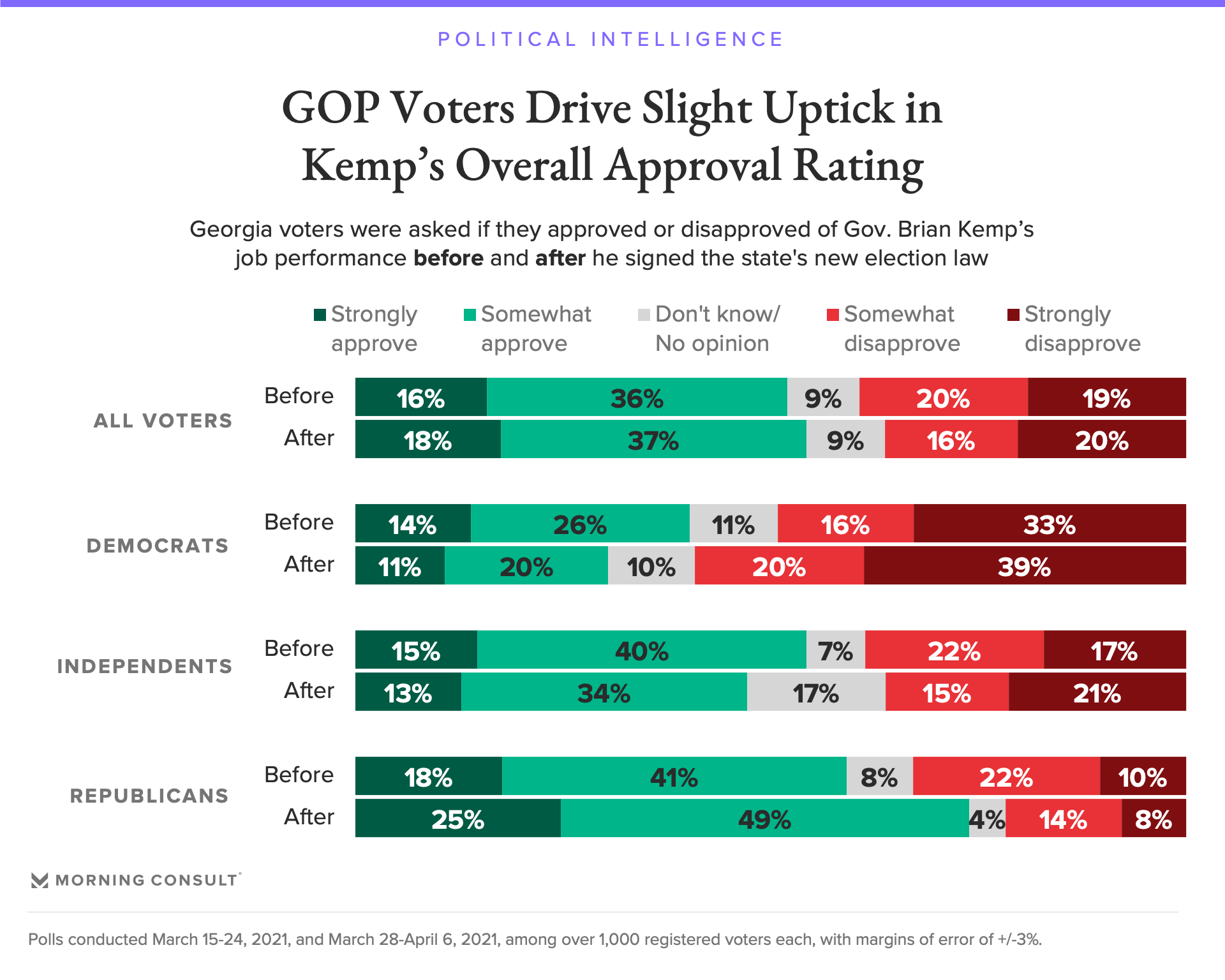 The consensus among Georgia-focused Republican strategists interviewed for this piece is that what comes next for Kemp is largely up to Trump: Does the former president stay on the sidelines, or does he lean harder into efforts to unseat the governor and back a challenger? For now, Trump appears to be somewhere in between, releasing two campaign statements this week in which he attacked Georgia's new voting law as "weak" and called Kemp out by name despite his earlier praise of the legislation.
Jay Williams, another Georgia Republican strategist, said that while it would be good for Kemp if Trump stayed out of the race, nobody expects that to happen. He said the governor is "Public Enemy No. 1" for the former president, who has been making calls to potential candidates, according to several Republicans in the state. A Trump spokesman did not respond to a request for comment about the 45th president's plans to wade into Kemp's re-election campaign. 
"An incumbent governor of Georgia is still hard to beat, and there's still a lot of time left on the clock for him to get to next year," Williams said. "He's got to find a couple issues that get the Republican base jazzed up, but there's a significant number of people who said they would not vote for him under any circumstances."
Republican strategists worry that a divisive primary campaign would be poisonous for the GOP – even if Kemp makes it to the general election – since it would likely relitigate the "stop the steal" talk that state and national GOP officials partly blame for the January runoff losses of Sens. David Perdue and Kelly Loeffler.
"A primary against Kemp that is divisive and nasty is like a mass suicide – it's just Jonestown," Robinson said.
Kemp enters the fight with all the good trappings of an incumbent governor: a revved-up campaign team, access to financial networks, good graces from many GOP state legislators following his signature on the voting legislation, and the reality that, despite the Trump attacks, he has hardly laid a glove on his MAGA dissenters and even said he'd support Trump if he ran in 2024.
Then there is the prospect of a potential general election rematch between Kemp and former state House Democratic leader Stacey Abrams – a formidable foe whom Republicans see as a potential impetus for primary voters to unify and take the race seriously rather than as an act of vengeance. The voting rights activist has yet to announce a bid, but the names Democrats toss around as possible alternatives – such as businesswoman Sarah Riggs Amico, DeKalb County District Attorney Sherry Boston, Atlanta Mayor Keisha Lance Bottoms, state Sen. Jen Jordan or former Columbus Mayor Teresa Tomlinson – are still on the sidelines awaiting her decision.
For now, no Republican challenger candidate has emerged. But everyone is eyeing former Rep. Doug Collins, who was beaten to a runoff spot by Loeffler in November and who Trump had openly floated for a campaign against Kemp during a rally late last year.
A primary against Kemp that is divisive and nasty is like a mass suicide – it's just Jonestown.
Republican strategist Brian Robinson
However, the moves made by Collins thus far indicate he is more seriously considering a challenge to freshman Democratic Sen. Raphael Warnock, who is up for election to a full six-year term next year after defeating Loeffler in January. One Republican strategist close to Collins said if the former congressman were to mount a bid for office next year, it'd likely be against Warnock – a contest that could serve as a relief valve for GOP anger at Kemp.
Former state Rep. Vernon Jones, a newly minted Republican who announced his exit from the Democratic Party during the Washington, D.C., rally that immediately preceded the Jan. 6 Capitol Hill riot, has also been vocal in his criticism of the governor and is said to be a potential challenger. Republicans involved in the state also floated the possible candidacies of Burt Jones, a Republican state senator who has aligned himself with Trump-style critiques of the state's election system, and Buddy Carter, who represents Georgia's 1st District in Congress.
But aside from Collins, Republican strategists say most potential Kemp challengers are either uneasy about the prospects despite Trump's urging, or appear to lack what it takes to unseat an incumbent governor. That raises questions about whether Trump would want to put his finger on the scales for someone who could potentially damage his status as a kingmaker – particularly as the governor's popularity sees improvement. 
"He may hate Kemp, but he hates the thought of getting behind someone who loses to Kemp even more," Robinson said.
Eli Yokley is Morning Consult's U.S. politics analyst. Prior to his current role, Eli was Morning Consult's senior reporter covering U.S. politics. Eli joined Morning Consult in 2016 from Roll Call, where he reported on House and Senate campaigns after five years of covering state-level politics in the Show Me State while studying at the University of Missouri in Columbia, including contributions to The New York Times, Politico and The Daily Beast. Follow him on Twitter @eyokley. Interested in connecting with Eli to discuss his analysis or for a media engagement or speaking opportunity? Email [email protected].
We want to hear from you. Reach out to this author or your Morning Consult team with any questions or comments.
Contact Us