Kentucky, Louisiana Governors Bolster Their Standing With Voters Ahead of Election Day
Matt Bevin (R-Ky.) and John Bel Edwards (D-La.) boost approval ratings ahead of November
Key Takeaways
Bevin's approval is still underwater, with 34% of Kentuckians approving and 53% disapproving.

52% of Louisiana voters approve of Edwards, who faces GOP businessman Eddie Rispone in a Nov. 16 runoff.
The governors of Kentucky and Louisiana, both on the ballot next month, are heading into the home stretch of their grueling re-election campaigns on the upswing with voters in their states. 
According to the latest edition of Morning Consult's quarterly Governor Approval Rankings, based on nearly 534,000 responses from registered voters collected July 1 through Sept. 30, Kentucky Republican Matt Bevin remains underwater, with 34 percent of Kentucky voters approving of him and 53 percent disapproving. But his net approval -- the share of voters who approve of his job performance minus the share who disapprove -- increased 5 percentage points since the second quarter of 2019. 
The improvement was enough to lift Bevin out of his spot as America's least popular governor, a distinction that now goes to Rhode Island Democrat Gina Raimondo.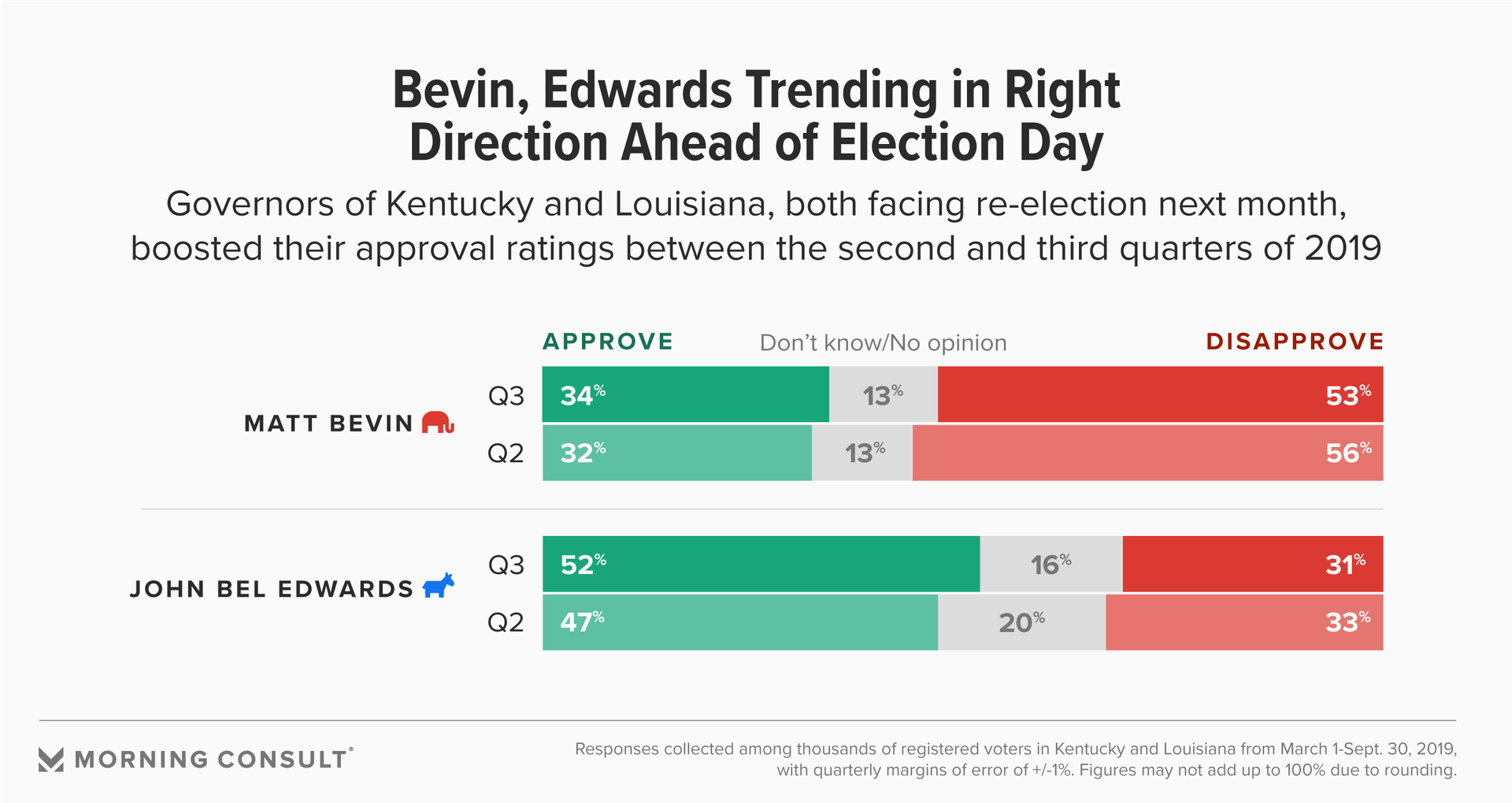 Bevin's Democratic opponent, Attorney General Andy Beshear, has worked to capitalize on the incumbent's unpopularity, calling him a "bully" on the campaign trail and pointing in particular to the governor's criticism of teachers, a constituency whose respect in local communities is viewed as key to a potential Beshear win on Nov. 5. 
Bevin, on the other hand, is trying to make the contest about issues that tend to animate the Republican base across the country, such as gun rights and abortion.
"They can be called national issues, but they are near and dear to the people of Kentucky," Bevin said at a gubernatorial debate Tuesday night.
Bevin has also played up his ties to President Donald Trump, who at 53 percent approval among Kentucky voters is significantly more popular than the governor. Trump is expected to campaign with Bevin in Kentucky at an election-eve rally. 
"This race isn't about the White House, it's about what's going on in your house," Beshear said during Tuesday's debate.
In Louisiana, Democratic Gov. John Bel Edwards may have come up short in the state's jungle primary this past weekend, but ahead of a Nov. 16 runoff against Republican businessman Eddie Rispone, Morning Consult data finds him in a commanding position. 
Edwards' net approval improved by 7 points since the second quarter, with 52 percent of voters approving and 31 disapproving. Half of Louisiana voters who identify as independent approve of Edwards, as well as 71 percent of Democrats and 38 percent of Republicans.
In the Oct. 12 primary, Edwards earned 47 percent of the vote, compared to the combined 51 percent split by Rispone and Republican Rep. Ralph Abraham, both of whom Trump campaigned for last week.  
Since Saturday's outcome, Rispone has already released a campaign ad featuring Trump criticizing the incumbent Democrat. 
Correction: A previous version of this story misstated the approval and disapproval ratings for Bevin.
Eli Yokley is Morning Consult's U.S. politics analyst. Prior to his current role, Eli was Morning Consult's senior reporter covering U.S. politics. Eli joined Morning Consult in 2016 from Roll Call, where he reported on House and Senate campaigns after five years of covering state-level politics in the Show Me State while studying at the University of Missouri in Columbia, including contributions to The New York Times, Politico and The Daily Beast. Follow him on Twitter @eyokley. Interested in connecting with Eli to discuss his analysis or for a media engagement or speaking opportunity? Email [email protected].
We want to hear from you. Reach out to this author or your Morning Consult team with any questions or comments.
Contact Us